Refutation of the Polemical Claims of Brazilian Calvinists Francisco Tourinho & Frankle Brunno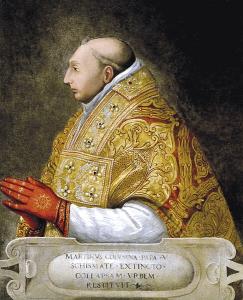 Brazilian Calvinist apologists Francisco Tourinho (whom I've debated in great depth) and his friend Frankle Brunno presented the following contra-Catholic argument on Instagram (their words in blue):
John Wycliffe was an English pre-Reformer condemned at  (1415). Wycliffe's thesis #6 ("Those who assert that the children of the faithful who die without sacramental baptism will not be saved, are stupid and presumptuous in saying so") was condemned at the Council of Constance by Pope Martin V (session 15, July 6, 1415). Afterwards , Pope Martin V, in the Council, decided: "The books and pamphlets of John Wyclif, of accursed memory, were carefully examined by the doctors and masters of the University of Oxford (…) This holy synod (..) repudiates and condemns, by this perpetual decree, each and every one in particular of the aforementioned articles; and henceforth forbids any and all Catholics, under penalty of anathema, to preach, teach, or profess faith in the articles herein described or any of them."
The Dogmatic Teaching of the Church of Rome, defined in an Ecumenical Council, is that children who were not baptized would not be saved. The Church of Rome condemned this thesis of the pre-reformer, reaffirming that unbaptized children, even if they were children of Christians, could not be saved. The Church of Rome today has abandoned this teaching. According to the new guidelines, we must deduce, from the universal salvific will, that there is a way of salvation for children who died without baptism: "The principle that God wants the salvation of all human beings allows us to hope that there is a way of salvation for children who die without baptism" (cf. Catechism, 1261).

There is undoubtedly an explicit contradiction here, but the question goes further. If the Council of Constance had already solemnly decided on this question, what allows the Church of Rome to review this matter? Second, if Wycliffe's thesis would not be condemned today, then he was right, it follows that his condemnation was not fair, and if it was not fair, what makes us think that the others were correct? What guarantee would I have from the Church of Rome, if I were a Roman Catholic, that the faith professed today is true, if in the future the Church of Rome can change even what has already been definitely decided? As we see, the Church of Rome's doctrine of papal infallibility falls before us, with these and other contradictions.
First things first. Let's examine whether the damnation or consignment to limbo (let alone to hell), of infants who die unbaptized was ever Catholic dogma, as Tourinho and Brunno claim. It has never been, as a matter of fact. See the relevant articles:
*