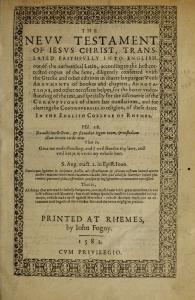 [originally posted on 8-11-22 on Facebook]
Protestants on the whole are certainly more familiar with the Bible than Catholics. I don't think anyone who has interacted with them much (or has been one, like myself) will disagree with that. It's unarguable.
*
I will be forever grateful for the great love of the Bible that I learned while I was an evangelical. It has been a thing of immeasurable use in my ministry. Largely because of that, one of my biggest emphases has been "biblical evidence for Catholicism" (the name of my blog).
*
This love of Scripture that I was taught as an evangelical has enabled me to do things like go toe-to-toe with a Calvinist professor and former pastor, in my current debate about justification in the Bible. If I hadn't known my Scripture, he would have run rings around me and it would have been a total rout in his favor. Instead, there is gonna be a book made of the debate, to be published in Portugese in Brazil.
*
How Protestants use the biblical information they know (oftentimes highly selective pet verses, as several have rightly noted) and how they interpret (particularly when they differ with us on one of our beliefs that they reject) are separate issues. Here there is a lot to be desired, for sure, and again, I know, having debated them countless times and having seen this tactic innumerable times.
*
But at least they know the contents of the Bible much better than Catholics as a whole, and must be commended for that (qualified by what I said above). We should be humble enough to learn from their example in that respect and then advance in our knowledge with the guidance of Holy Mother Church and Sacred Tradition.
*
Protestants read the Bible more than we do, and love it more than we do. This ought not be the case. We need to do better. Sola Scriptura is one thing, and it is a dangerous falsehood. But our responsibility to read and know the Bible is quite another.
*
I should add that when I say "Protestants" here it is largely the evangelicals and more conservative Protestants. The mainline Protestants, who are theologically liberal, are probably more ignorant of the Bible than even us Catholics. And they don't believe what they read even if they do read it, because of the hostile skepticism they have been taught.
*
Catholics traditionally settled for being "spoon-fed" by the homily at Mass and the readings and living off of the "fumes" of their childhood catechesis (to the extent that it had much independent Bible reading itself). And some in the Church continued to have the view that more Bible-reading by laypeople who aren't theologically educated was dangerous.
*
In some cases that is true, but we can't discourage all Bible-reading because some will take that knowledge and distort it and go in the wrong direction. That's "throwing the baby out with the bathwater." Pope Leo XIII and Ven. Pope Pius XII strongly encouraged regular Bible-reading. They "got" it.
*
*
*