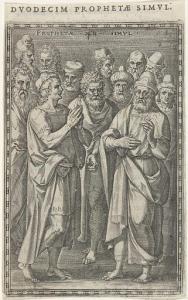 As I did with the prophets Isaiah and Jeremiah, I will now take a look at the twelve "minor prophets" (Hosea, Joel, Amos, Obadiah, Jonah, Micah, Nahum, Habakkuk, Zephaniah, Haggai, Zechariah, and Malachi) and see whether their theology of salvation (soteriology) is closer in spirit and substance to Catholic or Protestant soteriology. I've never done this before, so I look forward to what will certainly be an exciting journey of discovery.
To briefly recap the differences: the Protestant idea is that people can do absolutely nothing to be saved. Accordingly, the Good News Bible paraphrased Isaiah 64:6 in a spectacularly biased and incorrect way: "even our best actions are filthy through and through". Catholics wholeheartedly agree that Pelagianism or works-salvation is a heresy. What we disagree with is the notion that no good works that come from this grace are meritorious, as the proof of genuine faith, or that none of them can play a role in our ultimate salvation, as the "fruit" of faith or "work of faith" (1 Thess 1:3; 2 Thess 1:11) or "faith working through love" (Gal 5:6) or "good works, which God prepared beforehand, that we should walk in them" (Eph 2:10), as "God's fellow workers" (1 Cor 3:9), "working together with" God (2 Cor 6:1), and working "harder" as a result of "the grace of God which is with" us (1 Cor 15:10), "abounding in the work of the Lord" (1 Cor 15:58), since "God is at work in" us, "both to will and to work for his good pleasure" (Phil 2:13), etc., etc.
The minor prophets teach the New Testament and Catholic doctrine of grace, works, and faith all being involved in the process of salvation (see fifty passages from Paul about this). But they also teach the biblical and Catholic doctrine of good, meritorious works and obedience to God's law and moral commands playing a central role in God's determination of every person's ultimate salvation or damnation (see fifty passages about that, too). All verses will be from the RSV.
God is Loving
Hosea 11:1, 3-4, 8 When Israel was a child, I loved him, . . . [3] . . . but they did not know that I healed them. [4] I led them with cords of compassion, with the bands of love, and I became to them as one, who eases the yoke on their jaws, and I bent down to them and fed them. . . . [8] . . . my compassion grows warm and tender.

Hosea 14:4 . . . I will love them freely, . . . 

Joel 2:13 for he is gracious . . . slow to anger, and abounding in steadfast love, . . . 

Jonah 4:2 . . . I knew that thou art a gracious God . . . slow to anger, and abounding in steadfast love, . . . 

Micah 7:18, 20 . . . God . . . delights in steadfast love. . . . [20] Thou wilt show faithfulness to Jacob and steadfast love to Abraham, . . . 

Nahum 1:3 The LORD is slow to anger . . . 

Malachi 1:2 "I have loved you," says the LORD. . . . 
God is Merciful
Hosea 2:19-20 And I will betroth you to me for ever; I will betroth you to me in righteousness and in justice, in steadfast love, and in mercy. [20] I will betroth you to me in faithfulness; and you shall know the LORD.

Hosea 6:1 "Come, let us return to the LORD; for he has torn, that he may heal us; he has stricken, and he will bind us up."

Hosea 6:11 For you also, O Judah, a harvest is appointed. When I would restore the fortunes of my people,

Hosea 14:4 I will heal their faithlessness; . . . for my anger has turned from them.

Joel 2:13 for he is gracious and merciful, . . . and repents of evil. [i.e., exercises mercy when repentance occurs]

Joel 2:18 Then the LORD became jealous for his land, and had pity on his people.

Amos 9:14-15 I will restore the fortunes of my people Israel, and they shall rebuild the ruined cities and inhabit them; they shall plant vineyards and drink their wine, and they shall make gardens and eat their fruit. [15] I will plant them upon their land, and they shall never again be plucked up out of the land which I have given them," says the LORD your God.

Jonah 3:10 When God saw what they did, how they turned from their evil way, God repented of the evil which he had said he would do to them; and he did not do it.

Jonah 4:2 . . . I knew that thou art . . . merciful,. . . and repentest of evil.

Jonah 4:11 "And should not I pity Nin'eveh, that great city, in which there are more than a hundred and twenty thousand persons who do not know their right hand from their left, and also much cattle?"

Micah 4:6-7, 10 In that day, says the LORD, I will assemble the lame and gather those who have been driven away, and those whom I have afflicted; [7] and the lame I will make the remnant; and those who were cast off, a strong nation; . . . [10] . . . the LORD will redeem you from the hand of your enemies.

Micah 7:18-19 Who is a God like thee, pardoning iniquity and passing over transgression for the remnant of his inheritance? He does not retain his anger for ever . . . [19] He will again have compassion upon us, he will tread our iniquities under foot. Thou wilt cast all our sins into the depths of the sea. 

Nahum 1:12 . . . Though I have afflicted you, I will afflict you no more.

Zephaniah 2:7 . . . For the LORD their God will be mindful of them and restore their fortunes.

Zephaniah 3:14 Sing aloud, O daughter of Zion; shout, O Israel! Rejoice and exult with all your heart, O daughter of Jerusalem! [15] The LORD has taken away the judgments against you, he has cast out your enemies. The King of Israel, the LORD, is in your midst; you shall fear evil no more.

Haggai 2:19 ". . . From this day on I will bless you."

Zechariah 1:16-17 "Therefore, thus says the LORD, I have returned to Jerusalem with compassion; my house shall be built in it, says the LORD of hosts, and the measuring line shall be stretched out over Jerusalem. [17] Cry again, Thus says the LORD of hosts: My cities shall again overflow with prosperity, and the LORD will again comfort Zion and again choose Jerusalem.'" (cf. 2:8-13; 3:9)

Zechariah 8:3 Thus says the LORD: I will return to Zion, and will dwell in the midst of Jerusalem, and Jerusalem shall be called the faithful city, and the mountain of the LORD of hosts, the holy mountain. (cf. 8:7-8, 11-15; 10:6)
Salvation is By God's Grace Through Faith; Justification; God Calls His Elect
Hosea 10:12 . . . it is the time to seek the LORD, that he may come and rain salvation upon you.

Hosea 13:4 . . . besides me there is no savior.

Joel 2:32 . . . for in Mount Zion and in Jerusalem there shall be those who escape, as the LORD has said, and among the survivors shall be those whom the LORD calls.

Micah 7:7-8 But as for me, I will look to the LORD, I will wait for the God of my salvation; my God will hear me. [8] . . . the LORD will be a light to me. (cf. 7:9)

Nahum 1:7 The LORD is good, a stronghold in the day of trouble; he knows those who take refuge in him.

Habakkuk 3:13, 18-19 Thou wentest forth for the salvation of thy people, for the salvation of thy anointed. . . . [18] yet I will rejoice in the LORD, I will joy in the God of my salvation. [19] GOD, the Lord, is my strength; he makes my feet like hinds' feet, he makes me tread upon my high places. . . . 

Haggai 2:4 Yet now take courage, O Zerub'babel, says the LORD; take courage, O Joshua, son of Jehoz'adak, the high priest; take courage, all you people of the land, says the LORD; work, for I am with you, says the LORD of hosts,

Zechariah 3:3-4 Now Joshua was standing before the angel, clothed with filthy garments. [4] And the angel said to those who were standing before him, "Remove the filthy garments from him." And to him he said, "Behold, I have taken your iniquity away from you, and I will clothe you with rich apparel."

Zechariah 10:8 . . . I have redeemed them, . . . 
True Faith Must Be Preceded by Repentance
Joel 2:12-13 "Yet even now," says the LORD, "return to me with all your heart, with fasting, with weeping, and with mourning; [13] and rend your hearts and not your garments." Return to the LORD, your God, . . . 

Joel 2:32 And it shall come to pass that all who call upon the name of the LORD shall be delivered . . . 

Amos 4:6 ". . . you did not return to me . . ." (cf. 4:8-11)

Jonah 3:7-8  And he made proclamation and published through Nin'eveh, "By the decree of the king and his nobles: Let neither man nor beast, herd nor flock, taste anything; let them not feed, or drink water, [8] but let man and beast be covered with sackcloth, and let them cry mightily to God; yea, let every one turn from his evil way and from the violence which is in his hands.

Zechariah 1:3-4, 6 . . . Thus says the LORD of hosts: Return to me, says the LORD of hosts, and I will return to you, says the LORD of hosts. [4] Be not like your fathers, to whom the former prophets cried out, 'Thus says the LORD of hosts, Return from your evil ways and from your evil deeds.' But they did not hear or heed me, says the LORD. . . . [6] But my words and my statutes, which I commanded my servants the prophets, did they not overtake your fathers? So they repented and said, As the LORD of hosts purposed to deal with us for our ways and deeds, so has he dealt with us."
Faith Must be Wholehearted
Hosea 7:14 They do not cry to me from the heart, . . . 

Hosea 10:2, 4 Their heart is false; . . . [4] They utter mere words; with empty oaths they make covenants; . . . 

Amos 5:21-23 "I hate, I despise your feasts, and I take no delight in your solemn assemblies. [22] Even though you offer me your burnt offerings and cereal offerings, I will not accept them, and the peace offerings of your fatted beasts I will not look upon. [23] Take away from me the noise of your songs; to the melody of your harps I will not listen."
Faith Alone and Verbal Proclamations Are Not Sufficient for Salvation
Micah 3:8-12 But as for me, I am filled with power, with the Spirit of the LORD, and with justice and might, to declare to Jacob his transgression and to Israel his sin. [9] Hear this, you heads of the house of Jacob and rulers of the house of Israel, who abhor justice and pervert all equity, [10] who build Zion with blood and Jerusalem with wrong. [11] Its heads give judgment for a bribe, its priests teach for hire, its prophets divine for money; yet they lean upon the LORD and say, "Is not the LORD in the midst of us? No evil shall come upon us." [12] Therefore because of you Zion shall be plowed as a field; Jerusalem shall become a heap of ruins, and the mountain of the house a wooded height.

Faith and Works Are Organically United and Two Sides of the Same Coin
Hosea 5:7 They have dealt faithlessly with the LORD; for they have borne alien children. . . . 

Hosea 6:7 But at Adam they transgressed the covenant; there they dealt faithlessly with me.

Hosea 10:12 Sow for yourselves righteousness, reap the fruit of steadfast love; break up your fallow ground, . . . 

Hosea 11:12 E'phraim has encompassed me with lies, and the house of Israel with deceit; but Judah is still known by God, and is faithful to the Holy One.

Hosea 12:6 "So you, by the help of your God, return, hold fast to love and justice, and wait continually for your God."

Amos 5:24 "But let justice roll down like waters, and righteousness like an ever-flowing stream."

Micah 6:8 He has showed you, O man, what is good; and what does the LORD require of you but to do justice, and to love kindness, and to walk humbly with your God?

Habakkuk 2:4 Behold, he whose soul is not upright in him shall fail, but the righteous shall live by his faith.
I interpret this passage as saying that living the faith is inseparable from faith in the sense of belief. In the Hebrew mind the two things are the same. To believe a thing is to live it out. Accordingly, James 2:18 states: "I by my works will show you my faith." Paul cites Habakkuk 2:4 twice (Rom 1:17; Gal 3:11, RSV) as "He who through faith is righteous shall live." This doesn't support the Protestant view unless they attempt to eisegete it and falsely contend that "righteous" here is merely imputed.
Note that "righteous" comes before salvation — i.e., it's required for salvation, as opposed to merely being an optional action in the Christian life, or the notion that we do the works in gratefulness for an already achieved salvation (separating sanctification from justification), but they have no intrinsic connection to salvation. In near-context, Paul makes clear what he means by "righteous" in Romans 1:17:
Romans 2:6-8, 13 For he will render to every man according to his works: [7] to those who by patience in well-doing seek for glory and honor and immortality, he will give eternal life; [8] but for those who are factious and do not obey the truth, but obey wickedness, there will be wrath and fury. . . . [13] For it is not the hearers of the law who are righteous before God, but the doers of the law who will be justified.
Hebrews 10:38 also cites this verse: "my righteous one shall live by faith." And again, context (10:36) mentions works ("do") as part and parcel of faith: "you have need of endurance, so that you may do the will of God and receive what is promised." Catholicism is everywhere in the Bible.
***
Zephaniah 2:3 Seek the LORD, all you humble of the land, who do his commands; seek righteousness, seek humility; . . .

Zechariah 3:7 . . . If you will walk in my ways and keep my charge, then you shall rule my house . . . 

Zechariah 7:9-10 "Thus says the LORD of hosts, Render true judgments, show kindness and mercy each to his brother, [10] do not oppress the widow, the fatherless, the sojourner, or the poor; and let none of you devise evil against his brother in your heart."

Zechariah 8:16-17 These are the things that you shall do: Speak the truth to one another, render in your gates judgments that are true and make for peace, [17] do not devise evil in your hearts against one another, and love no false oath, for all these things I hate, says the LORD."

Malachi 2:6, 10-11 True instruction was in his mouth, and no wrong was found on his lips. He walked with me in peace and uprightness, and he turned many from iniquity. . . . [10] Have we not all one father? Has not one God created us? Why then are we faithless to one another, profaning the covenant of our fathers? [11] Judah has been faithless, and abomination has been committed in Israel and in Jerusalem; for Judah has profaned the sanctuary of the LORD, which he loves, and has married the daughter of a foreign god.
Indwelling of the Holy Spirit
Joel 2:28-29 "And it shall come to pass afterward, that I will pour out my spirit on all flesh; your sons and your daughters shall prophesy, your old men shall dream dreams, and your young men shall see visions. [29] Even upon the menservants and maidservants in those days, I will pour out my spirit."

Haggai 2:5 . . . My Spirit abides among you; fear not.
Disobedience to God's Moral Laws and Lack of Good Works Bring About Judgment and Ultimate Damnation
Hosea 4:6 My people are destroyed for lack of knowledge; because you have rejected knowledge, I reject you from being a priest to me. And since you have forgotten the law of your God, I also will forget your children.

Hosea 4:9 . . . I will punish them for their ways, and requite them for their deeds.

Hosea 5:4 Their deeds do not permit them to return to their God. . . . 

Hosea 6:6 For I desire steadfast love and not sacrifice, the knowledge of God, rather than burnt offerings.

Hosea 7:2 But they do not consider that I remember all their evil works. Now their deeds encompass them, they are before my face.

Hosea 7:12-14 . . . I will chastise them for their wicked deeds. [13] Woe to them, for they have strayed from me! Destruction to them, for they have rebelled against me! I would redeem them, but they speak lies against me. [14] . . . they rebel against me.

Hosea 8:1, 3, 7 . . . a vulture is over the house of the LORD, because they have broken my covenant, and transgressed my law. . . . [3] Israel has spurned the good; the enemy shall pursue him. . . . [7] For they sow the wind, and they shall reap the whirlwind. . . . 

Hosea 12:2 The LORD has an indictment against Judah, and will punish Jacob according to his ways, and requite him according to his deeds.

Hosea 14:9 . . . the ways of the LORD are right, and the upright walk in them, . . . 

Amos 2:4 . . . they have rejected the law of the LORD, and have not kept his statutes, but their lies have led them astray, after which their fathers walked.

Amos 3:10-11 "They do not know how to do right," says the LORD, "those who store up violence and robbery in their strongholds." [11] Therefore thus says the Lord GOD: "An adversary shall surround the land, and bring down your defenses from you, and your strongholds shall be plundered."

Amos 5:11-12, 14-15 Therefore because you trample upon the poor and take from him exactions of wheat, you have built houses of hewn stone, but you shall not dwell in them; you have planted pleasant vineyards, but you shall not drink their wine. [12] For I know how many are your transgressions, and how great are your sins — you who afflict the righteous, who take a bribe, and turn aside the needy in the gate. . . . [14] Seek good, and not evil, that you may live; and so the LORD, the God of hosts, will be with you, as you have said. [15] Hate evil, and love good, and establish justice in the gate; it may be that the LORD, the God of hosts, will be gracious to the remnant of Joseph.

Obadiah 1:15 For the day of the LORD is near upon all the nations. As you have done, it shall be done to you, your deeds shall return on your own head.

Micah 2:7 . . . Do not my words do good to him who walks uprightly?

Micah 3:4 Then they will cry to the LORD, but he will not answer them; he will hide his face from them at that time, because they have made their deeds evil.

Micah 5:15 And in anger and wrath I will execute vengeance upon the nations that did not obey.

Micah 6:12-13 Your rich men are full of violence; your inhabitants speak lies, and their tongue is deceitful in their mouth. [13] Therefore I have begun to smite you, making you desolate because of your sins.

Nahum 1:3 . . . the LORD will by no means clear the guilty. . . . 

Zephaniah 1:17 I will bring distress on men, so that they shall walk like the blind, because they have sinned against the LORD; . . .

Zechariah 5:3 . . . every one who steals shall be cut off henceforth according to it, and every one who swears falsely shall be cut off . . . 

Zechariah 7:11-12 But they refused to hearken, and turned a stubborn shoulder, and stopped their ears that they might not hear. [12] They made their hearts like adamant lest they should hear the law and the words which the LORD of hosts had sent by his Spirit through the former prophets. Therefore great wrath came from the LORD of hosts.

Malachi 2:9 . . . I make you despised and abased before all the people, inasmuch as you have not kept my ways . . . 

Malachi 3:5, 7, 18 "Then I will draw near to you for judgment; I will be a swift witness against the sorcerers, against the adulterers, against those who swear falsely, against those who oppress the hireling in his wages, the widow and the orphan, against those who thrust aside the sojourner, and do not fear me, says the LORD of hosts." . . . [7] From the days of your fathers you have turned aside from my statutes and have not kept them. . . . [18]  Then once more you shall distinguish between the righteous and the wicked, between one who serves God and one who does not serve him.

Malachi 4:1 . . . the day comes, burning like an oven, when all the arrogant and all evildoers will be stubble; the day that comes shall burn them up, . . . (cf. 4:4)
God is the Just Judge
Hosea 8:13-14  . . . Now he will remember their iniquity, and punish their sins; . . . [14] For Israel has forgotten his Maker, . . . I will send a fire upon his cities, and it shall devour his strongholds. 

Hosea 9:7 The days of punishment have come, the days of recompense have come; Israel shall know it. . . . 

Hosea 9:15, 17 . . . Because of the wickedness of their deeds I will drive them out of my house. I will love them no more; . . . [17] My God will cast them off, because they have not hearkened to him; they shall be wanderers among the nations.

Hosea 10:10, 13, 15 I will come against the wayward people to chastise them; and nations shall be gathered against them when they are chastised for their double iniquity. . . . [13] You have plowed iniquity, you have reaped injustice, . . . [15] Thus it shall be done to you, O house of Israel, because of your great wickedness. In the storm the king of Israel shall be utterly cut off.

Hosea 13:9 I will destroy you, O Israel; who can help you?

Hosea 13:14 Shall I ransom them from the power of Sheol? Shall I redeem them from Death? O Death, where are your plagues? O Sheol, where is your destruction? Compassion is hid from my eyes.

Joel 1:15 Alas for the day! For the day of the LORD is near, and as destruction from the Almighty it comes.

Joel 2:11 The LORD utters his voice before his army, for his host is exceedingly great; he that executes his word is powerful. For the day of the LORD is great and very terrible; who can endure it?

Joel 3:2 I will gather all the nations and bring them down to the valley of Jehosh'aphat, and I will enter into judgment with them there, on account of my people and my heritage Israel, because they have scattered them among the nations, and have divided up my land,

Joel 3:4 . . I will requite your deed upon your own head. . . . (cf. 3:7) 

Joel 3:11-15, 21 "Hasten and come, all you nations round about, gather yourselves there. Bring down thy warriors, O LORD. [12] Let the nations bestir themselves, and come up to the valley of Jehosh'aphat; for there I will sit to judge all the nations round about.[13] Put in the sickle, for the harvest is ripe. Go in, tread, for the wine press is full. The vats overflow, for their wickedness is great. [14] Multitudes, multitudes, in the valley of decision! For the day of the LORD is near in the valley of decision. [15] The sun and the moon are darkened, and the stars withdraw their shining. . . . [21] I will avenge their blood, and I will not clear the guilty, for the LORD dwells in Zion."

Amos 1:3-4 Thus says the LORD: "For three transgressions of Damascus, and for four, I will not revoke the punishment; because they have threshed Gilead with threshing sledges of iron. [4] So I will send a fire upon the house of Haz'ael, and it shall devour the strongholds of Ben-ha'dad." (cf. 1:5-15; 2:1-4)

Amos 2:4-5 Thus says the LORD: "For three transgressions of Judah, and for four, I will not revoke the punishment; . . . [5] So I will send a fire upon Judah, and it shall devour the strongholds of Jerusalem."

Amos 2:6 Thus says the LORD: "For three transgressions of Israel, and for four, I will not revoke the punishment; . . . 

Amos 3:2 "You only have I known of all the families of the earth; therefore I will punish you for all your iniquities."

Amos 3:14 ". . . the day I punish Israel for his transgressions . . . "

Amos 6:8 The Lord GOD has sworn by himself (says the LORD, the God of hosts): "I abhor the pride of Jacob, and hate his strongholds; and I will deliver up the city and all that is in it."

Amos 7:4 Thus the Lord GOD showed me: behold, the Lord GOD was calling for a judgment by fire, and it devoured the great deep and was eating up the land. (cf. 7:9, 11, 17; 8:1-9; 9:1-4, 8-13)

Obadiah 1:4 Though you soar aloft like the eagle, though your nest is set among the stars, thence I will bring you down, says the LORD.

Micah 1:2 . . . evil has come down from the LORD to the gate of Jerusalem.

Nahum 1:2, 6 The LORD is a jealous God and avenging, the LORD is avenging and wrathful; the LORD takes vengeance on his adversaries and keeps wrath for his enemies. . . . [6] Who can stand before his indignation? Who can endure the heat of his anger? His wrath is poured out like fire, and the rocks are broken asunder by him. (cf. 1:8; 2:13; 3:5-7)

Habakkuk 1:12 . . . O LORD, thou hast ordained them as a judgment; and thou, O Rock, hast established them for chastisement.

Zephaniah 1:2-4, 15 "I will utterly sweep away everything from the face of the earth," says the LORD. [3] "I will sweep away man and beast; I will sweep away the birds of the air and the fish of the sea. I will overthrow the wicked; I will cut off mankind from the face of the earth," says the LORD. [4] "I will stretch out my hand against Judah, and against all the inhabitants of Jerusalem; . . ." . . . [15] A day of wrath is that day, a day of distress and anguish, a day of ruin and devastation, a day of darkness and gloom, a day of clouds and thick darkness, (cf. 1:18; 2:2, 4-5, 8-15; 3:6-8)

Haggai 2:21-22 "Speak to Zerub'babel, governor of Judah, saying, I am about to shake the heavens and the earth, [22] and to overthrow the throne of kingdoms; I am about to destroy the strength of the kingdoms of the nations, and overthrow the chariots and their riders; and the horses and their riders shall go down, every one by the sword of his fellow."

Zechariah 12:9 And on that day I will seek to destroy all the nations that come against Jerusalem. (cf. 13:8; 14:12)
***
*
Or you may believe my work is worthy to support for the purpose of apologetics and evangelism in general. If so, please seriously consider a much-needed financial contribution. I'm always in need of more funds: especially 
monthly
 support. "The laborer is worthy of his wages" (1 Tim 5:18, NKJV). 1 December 2021 was my 20th anniversary as a 
full-time Catholic apologist
, and February 2022 marked the 25th anniversary of my blog.
*
Photo credit: Twelve prophets (1577), by Johann Sadeler (1550-c. 1600) [public domain / Look and Learn.com]
***
Summary: I survey the twelve minor prophets at the end of the Old Testament, to see what they teach about salvation and issues where Catholics and Protestants disagree.