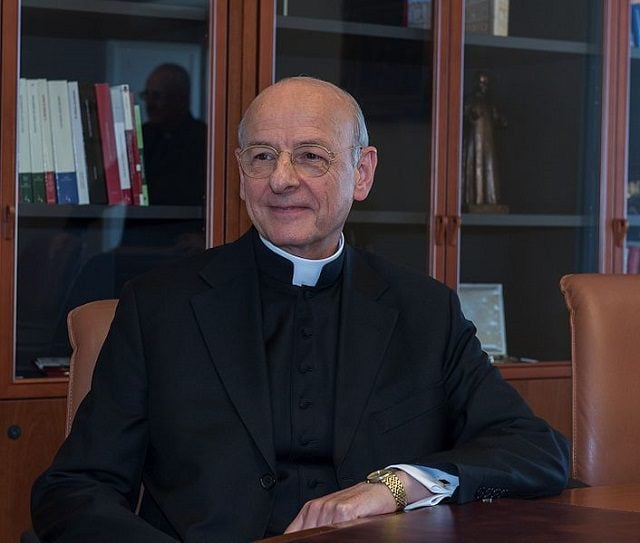 Infiltration: The Plot to Destroy the Church from Within, by Dr. Taylor Marshall, is currently taking Amazon by storm:
Hardcover (5-31-19):
Amazon Best Sellers Rank: #146 in Books (See Top 100 in Books)

#1 in Christian Church History (Books)
#1 in Christian Institutions & Organizations (Books)
#1 in History of Religions

Kindle Version (5-23-19):

Amazon Best Sellers Rank: #799 Paid in Kindle Store (See Top 100 Paid in Kindle Store)

#1 in Catholicism (Kindle Store)
#1 in Religious Studies – Church & State
#2 in Church & State Religious Studies
It is mere recycled radical Catholic reactionary conspiratorialism: a sort of updated version of The Great Facade (2002; updated with a 2nd edition in 2015: in order to capitalize on the anti-Francis hysteria), by Christopher Ferrara and Thomas Woods. Marshall has been sinking more and more into the doom-and-gloom abyss of reactionary thinking for several years now.
I will be examining its blatant reactionary aspects and simply citing from the book (what might be called "sociological exposing of extremist elements") and identifying plain and obvious examples of three of the four classic hallmarks of radical Catholic reactionary beliefs:
1) Pope-bashing (I will concentrate on bashing of popes other than Pope Francis).

2) Vatican II-bashing.

3) Pauline / New / "Novus Ordo" / ordinary form Mass-bashing.

[the fourth common element is ecumenism-bashing, which is also assuredly a strong motif in the book]
I've applied this same method of analysis / exposure to several of the "statements" against Pope Francis and books or articles that criticized Pope Francis and also other popes, Vatican II, and the New Mass:
"Nothing New": Reactionary Attacks on Pope St. John Paul II [4-9-05; with tie-in endnote added on 3-2-18]
Peter Kwasniewski, Fr. Thomas Kocik and a Growing Chorus Disagree with Pope Benedict XVI Regarding the Ordinary Form of the Roman Rite Mass (Or, Reports of the Death of the Reform of the Reform are Greatly Exaggerated)  [+ Part Two] [2-24-14]
Who's Defending Pope Benedict's  Summorum Pontificum Now? [2-26-14]
Michael Voris on Pope Benedict's "Immoral" Resignation, Questionable Illness [12-15-15]
Radical Reactionary Affinities in "Filial Correction" Signatories [9-28-17]
Reactionary Influence: Correctio & June 2016 Criticism of the Pope [10-3-17; expanded on 1-24-18]
Phil Lawler's Lost Shepherd: My One-Star Amazon Review [2-26-18]
*
Negative Reactionary Views of Popes Since 1958 [3-18-18]
Debate on Ross Douthat's Critical Views of Vatican II [3-26-18]
Henry Sire of Dictator Pope Infamy: Reactionary Extremist [3-27-18]
Superstition About the "Preserved" High Altar at Notre Dame (And Continued Cynical, Highly Selective, "Pick and Choose" Acceptance of the Teaching of Pope Benedict XVI) [4-17-19]
*
*
In other words, to sum it up: "It ain't just Pope Francis." It's radical Catholic reactionary conspiratorial / alarmist / fanatical thinking (to more or less degrees, depending on the document). That's why — increasingly — those who attack Pope Francis also are frequently observed attacking Pope Benedict XVI, Pope St. John Paul II, Pope St. Paul VI, and Pope St. John XXIII (even sometimes Ven. Pope Pius XII, too), and/or Vatican II, and/or the ordinary form Mass.
Ironically, Taylor Marshall — in 2013 — defined "radical traditionalists" almost exactly the way I define the group I coined as "radical Catholic reactionaries" (which now, sadly, includes himself). Karl Keating wrote an article called "Hyperbolic Traditionalists" on the Catholic Answers site (9-1-13). He references Taylor Marshall:
The blogger was Taylor Marshall, and his blog post appeared on July 30. He listed nine attributes that he thought distinguished radical Traditionalists from regular Traditionalists. . . .

Marshall did identify things that commonly are found among radical Traditionalists: "the denial of the Jewish holocaust," "the outright denial of Vatican II as a valid council," "disdain for Pope John Paul II and Pope Francis," and "the belief that Latin Mass Catholics are 'A Team' and Novus Ordo Catholics are 'B Team.'"

Those attributes don't amount to a definition of radical Traditionalism, but they are useful indicators.
My definition for years now has been that the radical Catholic reactionary has four hallmarks (listed not far above). I have noted that anti-Semitism is often found in these circles as well (here's one notorious example, from Rorate Caeli), but I don't include it as a virtually universal "hallmark." The only other difference is that I don't include denial of the validity of Vatican II in "Vatican II-bashing." Almost all reactionaries uphold the validity of Vatican II, the New Mass, and popes since 1958. But they continually bash all of them.
Marshall lists three of the four above. It's almost like he had been reading my own materials on the topic (which go back to 1997 online). We know that he has read and liked my writings because he said so (see the next section). Therefore, if we ever do directly interact on these topics, he knows full well where I am coming from with regard to my definitions for Catholic reactionaries. He held the position himself as recently as 2013.
Now he himself has espoused and engages in all four things. He has become what he was describing then, as a mainstream, legitimate traditionalist (very close to my own present position that I have held since I converted in 1990). Now he's a radical Catholic reactionary. How very sad . . .
***
I've been studying and critiquing reactionary thinking since 1997 and have written two books about it (one / two) and have an extensive web page on the topic.
Now, before I offer my critique below, let me say that I don't know Taylor Marshall personally, but I had been recommending his work till recently (we may have corresponded at some point; I don't recall), when he decided to become a reactionary. Formerly, this is what he thought of my work:
Dave Armstrong's book A Biblical Defense of Catholicism was one of the first Catholic apologetics books that I read when I was exploring Catholicism. Ever since then, I have continued to appreciate how he articulates the Catholic Faith through his blog and books. I still visit his site when I need a great quote or clarification regarding anything ranging from sacraments to sedevacantists. Dave is one of the best cyber-apologists out there.
That "endorsement" is posted on my "Literary Resume" right now and has been there for some time (it goes back at least as far as 21 August 2010, according to Internet Archive).
Also, Dr. Marshall thanked me (among many others), for my "friendship and encouragement along the way" in the Acknowledgments of his 2009 book, The Crucified Rabbi. He also placed a long sidebar ad for 15 books of mine that I was selling, on his website: at least as far back as 16 July 2009.
I appreciate the kind words. And of course, none of this is personal.
***
I.Pope-Bashing [Apart from Pope Francis] in Taylor Marshall's Book, Infiltration
[the ePub version that I am utilizing contains no page numbers, but these can all be found in a word-search of one of the e-book versions; all words below in blue are from the book (line breaks indicating separate quotations). My criticisms and citations of others will be in regular black.
***
Venerable Pope Pius XII
Unfortunately, the second half of the pontificate of Pius XII is not as brilliant as the first half. In 1948, Pius XII appointed the controversial priest Father Annibale Bugnini to the Commission for Liturgical Reform.
Sadly, Pope Pius XII unwisely chose Father Annibale Bugnini to accomplish a "restoration" of something that never previously existed.
It's difficult to understand why Pope Pius XII softened in his later years and how he was ostensibly manipulated by the likes of Father Bugnini. His friends and acquaintances noted a drastic change in his personality beginning in 1954, . . . 
Since 1946, Pope Pius XII had fallen under the influence of his chosen confessor and spiritual director, Augustine Cardinal Bea, S.J., . . . Cardinal Bea would reveal himself as a Modernist.
Pope St. John XXIII
[H]e proved to be one of the most revolutionary popes in Catholic history.
Pope John XXIII doubted the words of three children [at Fatima].
Not necessarily at all; he was referring to the Church with regard to Marian apparitions and was simply stating in this instance that the Church cannot formally endorse private revelations: an altogether uncontroversial notion. See, "Private Revelations" in Catholic Encyclopedia (1912): "When the Church approves private revelations, she declares only that there is nothing in them contrary faith or good morals, . . . no obligation is thereby imposed on the faithful to believe them."
[T]here were only three acknowledged contemporary Catholic prophets or seers at the time of Pope John XXIII: the three children of Fatima. Did Pope John have them in mind when he condemned the "prophets of doom"?
In fact, it seems that Ratzinger eventually became one of the "prophets of doom" that John XXIII warned us about in his spirit of optimism.
Pope St. Paul VI
Most agree that . . . the pontificate of Paul VI brought monumental confusion to the Catholic Church.
Pope Paul VI's eager enthusiasm for ecumenism is rooted in this document [Nostra aetate] that presupposes that false religions can and do lift the soul to "perfect liberation," "supreme illumination," and "submission to His inscrutable decrees." Pope Leo XIII and Pope Saint Pius X would not have agreed with these theological assertions, . . . his thinking conformed to Freemasonic goals . . . 
Dr. Marshall has badly misquoted and misrepresented the conciliar document and foolishly pits previous popes against it. It's not presupposing that everything it mentions with regard to other religions is true. Thus, when it mentions "perfect liberation" and "supreme illumination" it was describing what Buddhists believe about their own religion: not what Catholics think. This is like St. Paul evangelizing the Athenians: "Men of Athens, I perceive that in every way you are very religious. [23] For as I passed along, and observed the objects of your worship, I found also an altar with this inscription, 'To an unknown god.' What therefore you worship as unknown, this I proclaim to you" (Acts 17:22-23, RSV). 
Likewise, the document refers to Muslims, who "take pains to submit wholeheartedly to even His inscrutable decrees." In other words, the observant Muslim seeks to submit to what he or she believes God (Allah in their conception) is telling them to do. It doesn't follow at all that the Catholic conciliar document agrees with every jot and tittle (which would be indifferentism). Such a view is ludicrous, but is standard reactionary "anti-ecumenical" pablum. Nostra aetate makes it quite clear in the same section where it discussed Buddhism, that Catholicism remains the "fullness" of religious truth:
The Catholic Church rejects nothing that is true and holy in these religions. She regards with sincere reverence those ways of conduct and of life, those precepts and teachings which, though differing in many aspects from the ones she holds and sets forth, nonetheless often reflect a ray of that Truth which enlightens all men. Indeed, she proclaims, and ever must proclaim Christ "the way, the truth, and the life" (John 14:6), in whom men may find the fullness of religious life, in whom God has reconciled all things to Himself.
Thus, Nostra aetate did nothing other than what St. Paul did with the Athenians: it acknowledged true aspects while not denying false beliefs, and proclaimed the fullness of Christian revelation and theology. For more on the vastly misunderstood conciliar teaching on Islam, see my paper, Does Catholicism Equate Allah & Yahweh?
Bugnini was the chief architect of the Novus Ordo Mass, published in 1969 and 1970, and we shall thoroughly cover his influence over Pius XII and Paul VI in the pages to come. Suffice it here to state that Bugnini was an infiltrated priest and a Freemason.
It is difficult to understand how Pope Paul VI would lament the demonic infiltration of the Church while he promoted reforms that encouraged it: . . . 
The liturgical, theological, and philosophical changes of . . . Pope Paul VI were detrimental to the laity.
[T]he author Roger Peyrefitte . . . had written two books in which he claimed that Montini/Paul VI had maintained a long homosexual relationship with an Italian actor. The rumor of Paul VI's secret homosexual relationship was spread in French and Italian print. The alleged homosexual partner of Paul VI was the Italian actor Paolo Carlini, . . . 
The "Paul VI was a sodomite" conspiracy theory has been bandied about in many reactionary books and websites. By including it, Dr. Marshall "proves" to the reactionaries that he is definitely one of them. It takes a lot of hubris and chutzpah, indeed, to accuse a pope who is a saint — the very one who wrote the magnificently heroic, tradition-affirming Humanae Vitae at that — , of ongoing sodomy with a secret lover. To even mention such filth is a disgrace and an outrage.
Meanwhile, three clerics exercised immense influence over the dying Pius XII: Bugnini, Montini [Paul VI], and the German Jesuit Augustin Bea. These three crypto-Modernists used the final three years of the pontificate to hatch their plot for a new style of pope, a new council, and new liturgy.
Montini had a dark side, as demonstrated by his friendship with Saul Alinsky.
Alinsky wrote to a friend as follows: "No, I don't know who the next Pope will be, but if it's to be Montini, the drinks will be on me for years to come." In other words, the author of the Rules for Radicals could think of no better "radical" pope than Montini. But Montini was not the only radical cardinal undermining the final days of ailing Pope Pius XII.
Pope St. John Paul II
On 28 October 1986, John Paul II invoked and hosted the Assisi World Day of Prayer for Peace. . . . This was the first time a pope prayed with members of other religions and sat with them on equal standing.
But this is a distortion of what actually happened. Here is an account from one who helped plan this gathering and who was present (William F. Murphy):
How does a Christian whose prayer is "through Jesus Christ" pray with those who do not recognize Christ as lord and savior? How does a Jew pray with those who do not belong to the covenant of the chosen people? What of Buddhists and their approach to prayer? . . . 

The pope himself resolved this major issue. Apprised of the objections of Christians and non-Christians alike, Pope John Paul II first expressed his understanding of the objections' legitimacy. Then he offered a formula that proved to be of immense help in clarifying what was and was not intended by the prayer for peace. The pope proposed that we were not gathering "to pray together," but we were gathering "to be together to pray." The prayer to be offered would be neither syncretist nor reductionist. Each group or delegation would offer prayer in accord with and reflective of its particular prayer tradition. Only the adherents of each religious group would be actively involved in their respective prayer. . . . 

[T]he religious leaders, with members of their own faith, dispersed to select sites in Assisi to pray and reflect in accord with their tradition. . . . Assisi is so rich in beautiful places for meeting that it was easy to find appropriate sites for each religious group.

The Christians assembled in the cathedral church of the Diocese of Assisi. There the pope, flanked by the representative of the ecumenical patriarch of Constantinople and by Archbishop Robert Runcie of Canterbury, led a service of prayer, hymns and reflection. ("Remembering Assisi After 20 Years", America, 10-23-06)
Catholic writer Mark Shea wrote about the second ecumenical gathering in Assisi (1993), in 2002 (an article I compiled, and host on my blog):
During the 40s, of course, Jews were housed in Catholic facilities, including the Vatican. They were permitted to pray there. Was this also a shocking betrayal of the uniqueness of the faith and a capitulation to indifferentism? If not, why not? If Jews can pray on Church property without it meaning "we're really saying the same thing" why can't the delegates to Assisi? – especially after the Pope explicitly says repeatedly, "We're not praying together and we're not really saying the same thing?" What's so magical about being on Church property after a disclaimer like that?

I'm still having trouble figuring out the actual problem.
Yeah, so am I . . . 
The very article in the New York Times (10-28-86) that Dr. Marshall cites (footnote 128) with regard to another "scandal" that he recounts (see the next section) confirms that prayer together did not take place:
Scattered among Romanesque churches, Baroque chapels and Medieval palaces, the participants formed 12 groups this morning so that each faith could pray separately. . . . 

At no time did all of the participants pray together. Instead, the Pope coined the phrase "being together to pray," to describe how they were united here while worshipping separately.

Welcoming the religious leaders this morning, John Paul said, "The fact that we have come here does not imply any intention of seeking a religious consensus among ourselves or of negotiating our faith convictions."
Most scandalous of all was that the Tibetan Buddhist delegation led by the Dali Lama were allowed to place an idol of Buddha on top of a Catholic tabernacle in the Chapel of San Pietro, as reported by the New York Times. To this idol they burned incense within a Catholic church with permission from the pope.
. . . John Paul II's participating in and encouraging pagan idolatry in a Catholic basilica . . . 
The act itself was substantiated by the same article above:
[T]he Buddhists, led by the Dalai Lama, quickly converted the altar of the Church of San Pietro by placing a small statute of the Buddha atop the tabernacle and setting prayer scrolls and incense burners around it.
But the article does not confirm that Pope St. John Paul II gave them "permission" to do such a thing. Nor does Dr. Marshall provide any documented evidence that the latter happened. Tom Nash, writing at the Catholic Answers website (4-14-17) explained: "the placement was done once by Buddhists in 1986, who did not realize the inappropriateness of the gesture, which they did not repeat." As far as we can tell, it wasn't authorized by Pope John Paul II or any other Catholic official.
To claim that he did do so, and without any proof or evidence, is highly irresponsible, to put it mildly. I have now spent a good chunk of time perusing many articles on the incident (almost all by reactionaries) and I can't find any proof that the pope approved of it. Until such proof is produced, I think it is unethical to accuse a saint-pope of sanctioning an outrage such as this. That is believing the worst of someone, not the best, as we are taught in the Bible.
Dr. Marshall (again not providing any ironclad proof at all), wrote about this incident on his Twitter page, in March 2019:
In 1986, the valid pope allowed the Dalai Lama to place an idol of Buddha on top of a Catholic tabernacle in the Basilica at Assisi. That's messed up. Lefebvre was operating in a state of ecclesiastical emergency.

The idol of Buddha by Dalai Lama on tabernacle was reported by New York Times with specificity. I give full report of it with more details in my new book "Infiltration: The Plot to Destroy Catholicism from Within"

Lefebvre himself pointed to Assisi 1986 as JP2 allowing Dalai Lama to worship on an altar in a Catholic Church, but not SSPX. Lefebvre thought JP2 had double standards against those that desired the old Mass. Why does Dalai Lama get free access to altar but not Traditionalists?

That's how the 2 events are related and Lefebvre explicitly connected the 2 events when he consecrated the 4 bishops in 1988.

At least in Lefebvre's account, the 2 events were directly related and go together: "If Pope says Dalai Lama can use an altar but Latin Mass priest cannot, then we can't trust the Pope on this matter."

Yes John Paul II allowed Dalai Lama to place idol of Buddha ON TOP of a tabernacle in Assis in 1986. It's sacrilegious and led Lefebvre to make his decision in 1988

[someone provided the explanation that I have above]

So when JP2 gave a chapel and altar to Dalai Lama to use for worship, did he somehow assume that the Dalai Lama was going to say Mass in there? Really? What else would a Buddhist do?
His pontificate is clearly conflicted, . . . the Freemasons sought to create (beginning in the mid-1800s) a climate among youth, seminarians, and young priests who grew up breathing the air of ecumenism, indifference to religious disagreements, and a mission for world brotherhood. John Paul II is the first pope who moved freely in these ideals . . . he drank deeply of Vatican II, but he still retained the piety of a Catholic.
Some are convinced that John Paul II was not who we thought him to be.
Moreover, Dr. Marshall wrote on his Twitter page on 31 January 2019: "We need to admit that Paul VI and John Paul II pontificates had deep problems."
I want to be able to say, oh John Paul II was galvanizing a more conservative [trend or norm], but maybe he wasn't, and that's just part of the hard red pill on John Paul II and Ratzinger; and maybe this whole crisis is for us all to just wipe the sleep out of our eyes and be like, "oh my goodness!": it's been bad since the 60s, or it's been bad since the 40s, or . . . it's been bad since the 1800s, in Rome. (38:58-39:30)
Pope Benedict XVI
Why did Pope Benedict XVI resign the papacy on 28 February 2013?
Why should it be a mystery and be talked about as fodder for more conspiracies, when he himself explained exactly why? Why is that not good enough? Is he lying through his teeth? He wrote in his letter of resignation:
After having repeatedly examined my conscience before God, I have come to the certainty that my strengths, due to an advanced age, are no longer suited to an adequate exercise of the Petrine ministry.  . . . in order to govern the barque of Saint Peter and proclaim the Gospel, both strength of mind and body are necessary, strength which in the last few months, has deteriorated in me to the extent that I have had to recognize my incapacity to adequately fulfill the ministry entrusted to me.
Case closed. A revered pope has clarified his own personal situation. We need not invoke the Freemasons, the mafia, dissident Churchmen, or some other nefarious or conspiratorial scheme (such as it being "immoral" and "abandoning the flock to wolves": as Dr. Marshall's reactionary buddy Michael Voris asserted in one of his countless videos).
Dr. Marshall, thumbing his nose at the Pope Emeritus' own explanation, suggested the real reason in a description of one of his podcasts: "Archbishop Viganò [blew] the whistle on the Vatican Bank in 2009-2010 and . . . it escalated into Benedict's resignation in 2013." 
And why did lightning strike the Vatican that very night

[that Pope Benedict resigned]

?
*
It's quite tough to prove either a conspiracy or spectacular divine intervention and alleged "sign" (via lightning) concerning goings-on in the Vatican. So why not stick to natural explanations? According to an expert on lightning striking buildings, St. Peter's Basilica is "an extremely large structure. . . . it certainly towers over its surroundings, which means that lightning is more likely to hit it than any of the surrounding buildings."
*
The writer of this BBC article added: "So it seems that given the nature of St Peter's as a building, and the meteorological conditions around Rome on that day, the likelihood of the Basilica being hit was in fact quite high."
(
"What is the chance of lightning striking St Peter's?"
, 3-2-13)
*
We've come to a sad state of affairs when a secular BBC article makes much more sense than an educated Catholic sometimes-apologist with a Ph.D., who would rather suggest a miraculous lightning strike and sign from God Almighty in Rome because a pope resigned (which is not unprecedented), rather than a simple, quite plausible natural explanation. This reminds me of the absurd superstitious bloviations about the modern table altar vs. the medieval high altar in Notre-Dame after the fire there,
which I wrote about
.
Things like this make Catholics a laughingstock to the watching world.
*
[T]here is an apparent rupture between recent papacies and previous papacies and councils . . . 
*
The longer I'm Catholic, the longer I'm removed from Pope Benedict XVI's pontificate, the more I worry, . . . I'm concerned about this, that Benedict — that Ratzinger's — appreciation and affection for "tradition" [gestures with hands: "quotation marks"] or traditionalism, is more aesthetic, that is, it's more into the beauty and the sentiment than it is the actual doctrine / dogma.  (starting at 7:37 through to 8:08)
This backs up what I've been saying for six years now: traditionalists and the more extreme reactionaries like Taylor Marshall, are turning more and more against Pope Benedict (and popes since 1958) as time goes on. They used to
love
him. He was their
darling
; he was the cat's meow. But then he resigned. Now (after years of increasing bitterness and resentm
ent) he is being accused of not even being doctrinally orthodox: that's how I interpret this bilge.
So, of course, Taylor — with all of 13 years' experience as a Catholic (he was received in 2006) — is smarter than the pope / more Catholic than the pope. He knows his theology; Pope Benedict does not, and simply — you see — likes the "smells and bells" and facing the altar and Latin and fancy vestments. This sort of flatulent rhetoric is arrogant beyond comprehension. And the people saying it seem to not have the slightest comprehension that it is. It's as natural as breathing to them, to treat a pope (and a very brilliant theologian at that) in this condescending, patronizing fashion.
II. Vatican II-Bashing
Most agree that the Second Vatican Council . . . brought monumental confusion to the Catholic Church.
Nothing binding came from Vatican II. . . . By a divine miracle, the pope of Vatican II taught that Vatican II contained no extraordinary dogma and did not carry the mark of infallibility — meaning the documents of Vatican II are fallible and may contain error. Unlike the previous twenty ecumenical councils, the pope placed an asterisk next to Vatican II.
This is sheer nonsense (though it is standard, textbook reactionary boilerplate). Pope Benedict XVI explained why it is, when he was still Cardinal Ratzinger:
It must be stated that Vatican II is upheld by the same authority as Vatican I and the Council of Trent, namely, the Pope and the College of Bishops in communion with him, and that also with regard to its contents, Vatican II is in the strictest continuity with both previous councils and incorporates their texts word for word in decisive points . . .

Whoever accepts Vatican II, as it has clearly expressed and understood itself, at the same time accepts the whole binding tradition of the Catholic Church, particularly also the two previous councils . . . It is likewise impossible to decide in favor of Trent and Vatican I but against Vatican II. Whoever denies Vatican II denies the authority that upholds the other two councils and thereby detaches them from their foundation. And this applies to the so-called 'traditionalism,' also in its extreme forms. Every partisan choice destroys the whole (the very history of the Church) which can exist only as an indivisible unity.

To defend the true tradition of the Church today means to defend the Council. It is our fault if we have at times provided a pretext (to the 'right' and 'left' alike) to view Vatican II as a 'break' and an abandonment of the tradition. There is, instead, a continuity that allows neither a return to the past nor a flight forward, neither anachronistic longings nor unjustified impatience. We must remain faithful to the today of the Church, not the yesterday or tomorrow. And this today of the Church is the documents of Vatican II, without reservations that amputate them and without arbitrariness that distorts them . . .

I see no future for a position that, out of principle, stubbornly renounces Vatican II. In fact in itself it is an illogical position. The point of departure for this tendency is, in fact, the strictest fidelity to the teaching particularly of Pius IX and Pius X and, still more fundamentally, of Vatican I and its definition of papal primacy. But why only popes up to Pius XII and not beyond? Is perhaps obedience to the Holy See divisible according to years or according to the nearness of a teaching to one's own already-established convictions? (The Ratzinger Report, San Francisco: Ignatius, 1985, 28-29, 31)
The naive optimism of Vatican II . . . 
The liturgical, theological, and philosophical changes of Vatican II . . . were detrimental to the laity.
. . . the modernizing and liberalizing tendencies in doctrine, politics, and liturgy of Vatican II.
Maritain proposed a "new form" of Christendom, rooted in his philosophical, political, and religious pluralism. In brief, it was a prototype for the ideals and goals of Vatican II.
The engineers of Vatican II were Karl Rahner, Edward Schillebeeckx, Hans Küng, Henri de Lubac, and Yves Congar. All five men were held under suspicion of Modernism under Pius XII. Karl Rahner, S.J. had a greater influence than any other on the theology Vatican II — so much so that one might say that Vatican II is simply Rahnerianism.
Rahner was charged with reframing the doctrine of the Church for modern times, and the result was the Rahnerian document Lumen gentium. Rahner introduced a new ecclesiology in which the Church of Christ is not the Catholic Church but rather "subsists in the Catholic Church." This seems to contradict the teaching of Pope Pius XII in his 1943 encyclical Mystici Corporis . . . 
More sheer nonsense. I cite the Wikipedia article,"Subsistit in":
According to some, to say the Church of Christ "subsists in" the Catholic Church introduces a distinction between the Church of Christ and the Catholic Church. Catholic teaching had traditionally, until then, stated unequivocally that "the Mystical Body of Christ and the Roman Catholic Church are one and the same thing", as Pope Pius XII expressed it in his 1950 encyclical Humani generis, 27). The teaching of Pope Pius XII on the identity of the Mystical Body and the Catholic Church in Mystici corporis was solemn, theologically integrated, but not new.

A supposed reversal of Mystici corporis by the Ecumenical Council, which incorporated virtually all teachings of Pius XII in over 250 references without caveats, would have not only been a rejection of a major teaching of the late Pontiff. It would have raised serious questions regarding the reliability and nature of Papal teachings on such essential topics like the Church. It would have also constituted a major attack on the most recent encyclical teachings of the then reigning Pope Paul VI, who had just issued his inaugural encyclical Ecclesiam suam, on "The Church". Paul VI quoted Mystici corporis from Pius XII verbatim: . . . 

Therefore, the Church states that the phrase "subsists in" of Vatican II does not undermine the preceding manner of expressing the identity of the "Church of Christ" and the "Catholic Church", since, as John XXIII said when he opened Vatican II, "The Council… wishes to transmit Catholic doctrine, whole and entire, without alteration or deviation" (speech of 11 October 1962).

Pope Paul VI when promulgating the Constitution, said the same. 

[Footnote:  "There is no better comment to make than to say that this promulgation really changes nothing of the traditional doctrine. What Christ willed, we also will. What was, still is. What the Church has taught down through the centuries, we also teach." (Speech at the promulgation of the Constitution on the Church and the Decrees on the Eastern Churches and Ecumenism): 11-21-64]

The Council teaches that Christ "established… here on earth" a single Church "as an entity with visible delineation… constituted and organized in the world as a society", a Church that has "a social structure" that "serves the spirit of Christ" in a way somewhat similar to how "the assumed nature, inseparably united to him, serves the divine Word as a living organ of salvation". It is this concrete visible organized Church, endowed with a social structure, that the Council says "subsists in the Catholic Church, which is governed by the successor of Peter and by the Bishops in communion with him." [Lumen gentium, 8]

In another document promulgated on the same day (21 November 1964) as Lumen gentium, the Council did in fact refer to "the Holy Catholic Church, which is the Mystical Body of Christ" (Decree Orientalium ecclesiarum, 2). Here the traditional conventional expression "is" is used, whose clarity can be used to interpret the potential ambiguity of the other phrase.

It is also to the Catholic Church, not to some supposed distinct "Church of Christ", that has been entrusted "the fullness of grace and of truth" that gives value to the other Churches and communities that the Holy Spirit uses as instruments of salvation, [Unitatis redintegratio, 3] though the Church of Christ is not said to subsist in any of them.

In fact, the Council combined the two terms "Church of Christ" and "Catholic Church" into a single term, "Christ's Catholic Church" in its Decree on Ecumenism, promulgated at the same time as its Constitution on the Church. [Unitatis redintegratio, 3] ]
Rahner . . . even posits that Christ is the one who is saved: "We are saved because this man who is one of us has been saved by God, . . .." Sadly, this flimsy theology is the backdrop for Vatican II and Lumen gentium.
I agree that this is flimsy — indeed, blasphemous — theology, from Karl Rahner. I disagree that it is the "backdrop" of, or can explain either Lumen gentium or orthodox Vatican II theology. Like most people who have no case to be made, but have only innuendo and gossipy empty polemics, Dr. Marshall doesn't show us exactly why he accepts these supposed connections, or why his estimation is to be believed. He simply asserts the outrageous thing and then moves on quickly to yet more conspiratorialism, which seems to make up the bulk of (maybe even constitute the very essence of) of this outlandish book.
Devout Catholics often defend Vatican II by saying that it was "hijacked," and that is certainly the case, but the question is when, and by whom. As will become clear, Pope John XXIII, and his favorites, Bugnini, Bea, and Montini [Pope St. Paul VI], had already set the optimistic new order, or novus ordo, agenda.
While he [Pope John Paul II] supported the reforms of the Second Vatican Council, he was generally seen as doctrinally conservative, . . . 
As if being a "Vatican II adherent" is supposedly the same as not being doctrinally conservative (as if there is some inherent conflict) . . . 
. . . the Modernist tendency since the late 1950s . . . 
[W]hy not confess that the spirit of Vatican II is none other than the Holy Spirit? The Modernist truly believes that the new liturgy, the new code of canon law, the new theology, and the new popes are superior to those of the previous nineteen hundred years. Why not rejoice to live in the age of the New Pentecost? Most serious and informed Catholics cannot swallow this pill. Catholicism is a perennial religion, and by its nature it cannot change or contradict itself.
. . . the problems of infiltration, Modernism, Vatican II, . . . 
. . . the effeminacy of the post-conciliar liturgy and doctrine, . . . ecclesial chaos.
[T]here are traditional priests and laity who subscribe to the "recognize and resist" position by attending the 1962 Latin Mass at diocesan parishes or at parishes served by the Priestly Fraternity of Saint Peter, the Institute of Christ the King, or other canonically approved bodies. In these circles, there are frank discussions and debates about problems with certain phrases or documents of the Second Vatican Council and subsequent papal statements.
The "recognize and resist" position goes back to the 1960s in the persons of Cardinal Ottaviani and Archbishop Lefebvre. They and others recognized that the pope and bishops of their time were valid, but that they had fallen into error on several topics. . . . This position of "recognize and resist" applies to Vatican II as well. . . . Since Vatican II did not bear the mark of infallibility or the extraordinary magisterium, a Catholic can claim without impiety that the Council may have contained mistakes.
The Catholic Church has been infiltrated all the way to the top.
He called the Second Vatican Council to session in 1962, opening the Church up to dramatic changes, but the pontiff remained conservative in terms of doctrine.
Unfortunately, this is a sub-Catholic, liberalized, dissenting, "cafeteria Catholic" or "pick-and-choose" understanding of conciliar authority. Msgr. Fernando Ocariz Braña, the current Prelate of Opus Dei, provides us with an orthodox, fully Catholic view, in his article, "On Adhesion to the Second Vatican Council"(L'Osservatore Romano, 12-2-11; reprinted at Catholic Culture):
[I]t is not pointless to recall that the pastoral motivation of the Council does not mean that it was not doctrinal – since all pastoral activity is necessarily based on doctrine. But, above all, it is important to emphasise that precisely because doctrine is aimed at salvation, the teaching of doctrine is an integral part of all pastoral work. Furthermore, within the Documents of the Council it is obvious that there are many strictly doctrinal teachings: on Divine Revelation, on the Church, etc. As Blessed John Paul II wrote: "With the help of God, the Council Fathers in four years of work were able to produce a considerable collection of doctrinal statements and pastoral norms which were presented to the whole Church" (Apostolic Constitution Fidei Depositum, 11 October 1992, Introduction).

Assent Owed to the Magisterium

The Second Vatican Council did not define any dogma, in the sense that it proposed no doctrine with a definitive act. However, even if the Magisterium proposes a teaching without directly invoking the charism of infallibility, it does not follow that such a teaching is therefore to be considered "fallible" – in the sense that what is proposed is somehow a "provisional doctrine" or just an "authoritative opinion". Every authentic expression of the Magisterium must be received for what it truly is: a teaching given by Pastors who, in the apostolic succession, speak with the "charism of truth" (Dei Verbum, n. 8), "endowed with the authority of Christ" (Lumen Gentium, n. 25), "and by the light of the Holy Spirit" (ibid.).

This charism, this authority and this light were certainly present at the Second Vatican Council; to deny this to the entire episcopate gathered to teach the universal Church cum Petro and sub Petro, would be to deny something of the very essence of the Church (cf. Congregation for the Doctrine of the Faith, Declaration Mysterium Ecclesiae, 24 June 1973, nn. 2-5).

Naturally not all the affirmations contained in the Conciliar documents have the same doctrinal value and therefore not all require the same degree of assent. . . . 

Those affirmations of the Second Vatican Council that recall truths of the faith naturally require the assent of theological faith, not because they were taught by this Council but because they have already been taught infallibly as such by the Church, either by a solemn judgement or by the ordinary and universal Magisterium. So also a full and definitive assent is required for the other doctrines set forth by the Second Vatican Council which have already been proposed by a previous definitive act of the Magisterium.

The Council's other doctrinal teachings require of the faithful a degree of assent called "religious submission of will and intellect". . . . 

A number of innovations of a doctrinal nature are to be found in the documents of the Second Vatican Council: on the sacramental nature of the episcopate, on episcopal collegiality, on religious freedom, etc. These innovations in matters concerning faith or morals, not proposed with a definitive act, still require religious submission of intellect and will, even though some of them were and still are the object of controversy with regard to their continuity with earlier magisterial teaching, or their compatibility with the tradition. In the face of such difficulties in understanding the continuity of certain Conciliar Teachings with the tradition, the Catholic attitude, having taken into account the unity of the Magisterium, is to seek a unitive interpretation in which the texts of the Second Vatican Council and the preceding Magisterial documents illuminate each other. Not only should the Second Vatican Council be interpreted in the light of previous Magisterial documents, but also some of these earlier magisterial documents can be understood better in the light of the Second Vatican Council. This is nothing new in the history of the Church. It should be remembered, for example, that the meaning of important concepts adopted in the First Council of Nicaea in the formulation of the Trinitarian and Christological faith (hypóstasis, ousía), were greatly clarified by later Councils.

The interpretation of the innovations taught by the Second Vatican Council must therefore reject, as Benedict XVI put it, "a hermeneutic of discontinuity and rupture," while it must affirm the "hermeneutic of reform, of renewal within continuity" (Discourse, 22 December 2005). These are innovations in the sense that they explain new aspects which have not previously been formulated by the Magisterium, but which do not doctrinally contradict previous Magisterial documents. This is so even though, in certain cases — for example, concerning religious freedom — these innovations imply very different consequences at the level of historical decisions concerning juridical and political applications of the teaching, especially given the changes in historical and social conditions. 
Likewise, Pope Benedict XVI elaborated upon (brilliantly as always) the same principles of Catholic in his famous talk (12-22-05) about "the hermeneutic of reform, of renewal within continuity":
What has been the result of the Council? Was it well received? What, in the acceptance of the Council, was good and what was inadequate or mistaken? What still remains to be done? No one can deny that in vast areas of the Church the implementation of the Council has been somewhat difficult, . . . 

The question arises:  Why has the implementation of the Council, in large parts of the Church, thus far been so difficult?

Well, it all depends on the correct interpretation of the Council or – as we would say today – on its proper hermeneutics, the correct key to its interpretation and application. The problems in its implementation arose from the fact that two contrary hermeneutics came face to face and quarrelled with each other. One caused confusion, the other, silently but more and more visibly, bore and is bearing fruit.

On the one hand, there is an interpretation that I would call "a hermeneutic of discontinuity and rupture"; it has frequently availed itself of the sympathies of the mass media, and also one trend of modern theology. On the other, there is the "hermeneutic of reform", of renewal in the continuity of the one subject-Church which the Lord has given to us. She is a subject which increases in time and develops, yet always remaining the same, the one subject of the journeying People of God.

The hermeneutic of discontinuity risks ending in a split between the pre-conciliar Church and the post-conciliar Church. It asserts that the texts of the Council as such do not yet express the true spirit of the Council. It claims that they are the result of compromises in which, to reach unanimity, it was found necessary to keep and reconfirm many old things that are now pointless. However, the true spirit of the Council is not to be found in these compromises but instead in the impulses toward the new that are contained in the texts. . . . 

The nature of a Council as such is therefore basically misunderstood. . . . 

The hermeneutic of discontinuity is countered by the hermeneutic of reform, as it was presented first by Pope John XXIII in his Speech inaugurating the Council on 11 October 1962 and later by Pope Paul VI in his Discourse for the Council's conclusion on 7 December 1965.

Here I shall cite only John XXIII's well-known words, which unequivocally express this hermeneutic when he says that the Council wishes "to transmit the doctrine, pure and integral, without any attenuation or distortion". And he continues:  "Our duty is not only to guard this precious treasure, as if we were concerned only with antiquity, but to dedicate ourselves with an earnest will and without fear to that work which our era demands of us…". It is necessary that "adherence to all the teaching of the Church in its entirety and preciseness…" be presented in "faithful and perfect conformity to the authentic doctrine, which, however, should be studied and expounded through the methods of research and through the literary forms of modern thought. The substance of the ancient doctrine of the deposit of faith is one thing, and the way in which it is presented is another…", retaining the same meaning and message (The Documents of Vatican II, Walter M. Abbott, S.J., p. 715). . . . 

The Second Vatican Council, with its new definition of the relationship between the faith of the Church and certain essential elements of modern thought, has reviewed or even corrected certain historical decisions, but in this apparent discontinuity it has actually preserved and deepened her inmost nature and true identity.

The Church, both before and after the Council, was and is the same Church, one, holy, catholic and apostolic, journeying on through time; she continues "her pilgrimage amid the persecutions of the world and the consolations of God", proclaiming the death of the Lord until he comes (cf. Lumen Gentium, n. 8). . . . 

[T]oday we can look with gratitude at the Second Vatican Council:  if we interpret and implement it guided by a right hermeneutic, it can be and can become increasingly powerful for the ever necessary renewal of the Church. 
Lest there be any remaining doubt that Dr. Marshall is a very severe critic of Vatican II and does not think it was a good thing or a net gain for the Church, here are more comments of his from his video, "Pope Benedict XVI Speaks: I am no longer directly responsible" (4-12-19). It's a discussion of Pope Benedict XVI's recent essay, "The Church and the scandal of sexual abuse":
[From 5:16 to 5:32]: You see this sort of, "yeah, everything went bad in the 60s, but Vatican II was still kind o' really good, guys, right? Vatican II was still okay!" He's still holding onto that.
[From 27:26 to 28:26]: He's going to the 60s, and we're thinkin', "well, you know, Ratzinger, you were kind of involved in this big meeting in the 60s, that, uh, revolutionized the Catholic Church liturgically, philosophically, morally, and theologically" . . . moral theology was based entirely on the Bible [in Vatican II]? That was not Vatican II! [big smirk and condescending tone]. It was all consequentialism!"
III. Pauline / New / "Novus Ordo" / Ordinary Form Mass-Bashing
Most agree that . . . the Novus Ordo Mass. . . brought monumental confusion to the Catholic Church.
[T]he new Mass leaned toward Protestantism. This was not a baseless accusation. Six Protestant scholars had been invited to Vatican II to participate in discussions regarding ecumenism and liturgy . . . 
Bugnini was the chief architect of the Novus Ordo Mass, published in 1969 and 1970, and we shall thoroughly cover his influence over Pius XII and Paul VI in the pages to come. Suffice it here to state that Bugnini was an infiltrated priest and a Freemason.
Again on his Twitter page on 31 January 2019, Dr. Marshall pontificated:
We need to return to the Roman Rite pre Bugnini (pre 1955). It is literally killing us. We need to return to a Thomism. We need to return to the clear 1917 Code.
***
Related Reading:
Critical Reviews or Notices of Infiltration
"Infiltration: An idiot's guide to the problems of the Church" (Dr. Jeff Mirus, Catholic Culture, 5-31-19)
"Infiltration, innuendo, and the longing for certainty" (Dr. Jennifer Roback Morse, The Catholic World Report, 5-31-19)
JD Flynn, Editor-in-Chief, Catholic News Agency and Canon Lawyer, Weighs in Against Taylor Marshall (Twitter, 5-31-19)
"Taylor Marshall's 'Infiltration'" (Fr. Dwight Longenecker, 6-1-19)
"So, This Catholic Convert Walks Into A Bar" (John Bruce, The Crisis And The Cold Case File, 6-2-19)
Infiltration: an unconvincing tale of the Church's enemies (Joseph Shaw [reactionary], Catholic Herald, 6-13-19)
Book Review: Infiltration by Taylor Marshall (Phillip Campbell and Kevin Tierney [traditionalists], Unam Sanctam Catholicam, 6-27-19)
A Chapter-by-Chapter Refutation of Dr. Taylor Marshall's Book, Infiltration: The Plot to Destroy the Church from Within (+ Part II / III / IV / V / VI / VII / VIII / IX / X) [Paul Hoffer, starting on 6-9-19]
My Articles
*
***
Or you may believe my work is worthy to support for the purpose of apologetics and evangelism in general. If so, please seriously consider a much-needed financial contribution. I'm always in need of more funds: especially monthly support. "The laborer is worthy of his wages" (1 Tim 5:18, NKJV). 1 December 2021 was my 20th anniversary as a
full-time Catholic apologist
, and February 2022 marked the 25th anniversary of my blog.