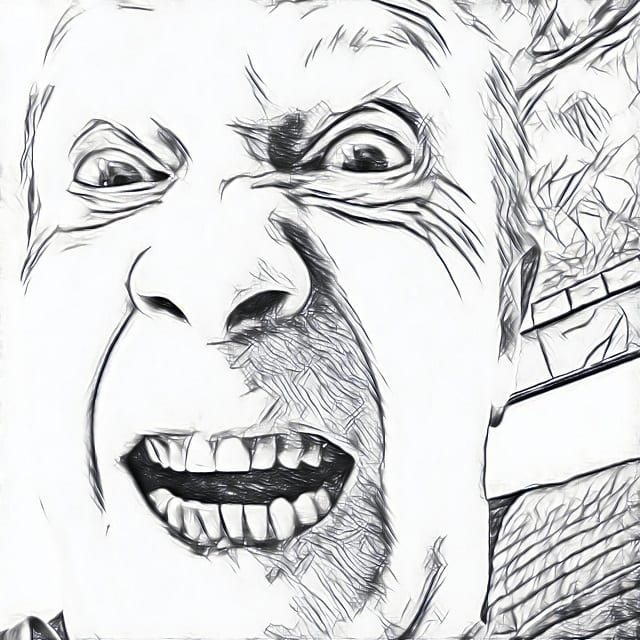 I have long noted that apologists (including myself) are basically either loved or viewed with contempt and hatred. I think we know (basically) why that is, if we listen to Jesus saying that His disciples would be "hated by all" for His sake. It's the message that is hated, of course. Since the apologist carries and defends that message (and given that many folks have the hardest time separating persons from opinions and viewpoints), he or she gets the scorn.
It doesn't matter if a person is a perfect saint. This is often the reply to this observation: "well, it's because you dastardly apologists are such scoundrels and rascals and arrogant, know-it-all, miserable human beings . . ." I freely grant that members of the class of people I am in (like any and all others) often fall short and sin and fail to adequately represent our Lord and Church. That's self-evident. But this dynamic goes far beyond that. The opposition is not only to "lousy witness" apologists. After all, Jesus was perfect and without sin, and He, too, was hated and killed, wasn't He?
I'm not paranoid over it; I don't lose a moment's sleep. I hardly think of it all. It doesn't stop me at all from fulfilling my calling from God (in fact, it confirms, it, per this post). I merely note the fact of it. It's all par for the course. So I found it interesting (but not surprising at all) that C. S. Lewis (the most popular Christian apologist of the 20th century) experienced exactly this same phenomenon. I've been reading two huge volumes of his Collected Letters (highly recommended!). Here's what I found:
*****
*
On p. 608, editor Walter Hooper cited a letter to C. S. Lewis from Eric Fenn at the BBC (dated 23 March 1944), regarding feedback on the radio talks that Lewis had recently been giving (that later became Mere Christianity; these were specifically about the Holy Trinity):
[T]he single most important fact is the sharp division you produce in your audience. They obviously either regard you as 'the cat's whiskers' or as beneath contempt, which is interesting, and ought, I feel, to teach us something, but I can't think what!
The two views you report (Cat's whiskers and Beneath Contempt) aren't very illuminating about me perhaps: about my subject matter, it is an old story, isn't it. They love, or hate. (25 March 1944, pp. 608-609)

Like you, I am not depressed at the reaction. The letters I get myself bear out your Research Report: they are nearly all either violent abuse or extravagant praise. (4 April 1944, p. 610)
Two years later he noted:
[I]t is certainly not 'liberal-minded' religious people who like my books in England. On the contrary it is precisely among them that I find (next to Marxists) my most hostile critics. (To Mr Talbot, 18 April 1946, p. 707)
I really think that in our days it is the 'undogmatic' & 'liberal' people who call themselves Christians that are the most arrogant & intolerant. I expect justice & even courtesy from many Atheists and, much more, from your people [Catholics]: from Modernists, I have come to take bitterness and rancour as a matter of course. (To Dom Bede Griffiths, 23 April 1951, p. 112)

When a man has become a popular Apologist he must watch his step. Everyone is on the look out for things that might discredit him. (To Bernard Acworth, 4 October 1951, p. 141)

About your kind compliment to me in the Preface, I like it of course. The real question is whether it will do you good or harm. I am much hated as well as much loved and the connection with me will damn you with certain reviewers. (To Harry Blamires, 19 January 1952, p. 160)

I wrote what I could to [publisher] Unwin [to recommend The Fellowship of the Ring]. Even if he and you approve my words, think twice before using them: I am certainly a much, and perhaps an increasingly, hated man whose name might do you more harm than good. (To J. R. R. Tolkien, 7 December 1953, p. 385)
Related Reading:
Why Is the Catholic Church Singularly Despised & Hated? [7-7-08]
Apologetics Sometimes Entails "Vinegary" Conflict [3-11-14]
"Hated by All", Catholic Evangelism, & the Fullness of Truth [2-13-17]
Agree & Be Loved / Think for Yourself & Disagree & Be Hated [10-3-17]
Why Jesus Was So Unpopular (Parallel with Socrates) [8-17-19]
***
Unfortunately, Money Trees Do Not Exist:
If you have been aided in any way by my work, or think it is valuable and worthwhile, please strongly consider financially supporting it (even $10 / month — a mere 33 cents a day — would be very helpful). I have been a full-time Catholic apologist since Dec. 2001, and have been writing Christian apologetics since 1981 (see
my Resume
). My work has been proven (by God's grace alone) to be fruitful, in terms of changing lives (see the tangible evidences
from unsolicited "testimonies"
). I have to pay my bills like all of you: and have a (homeschooling) wife and three children still at home to provide for, and a mortgage to pay.
*
My book royalties from three bestsellers in the field (published in 2003-2007) have been decreasing, as has my overall income, making it increasingly difficult to make ends meet. I provide over 2500 free articles here, for the purpose of your edification and education, and have written 50 books. It'll literally be a struggle to survive financially until Dec. 2020, when both my wife and I will start receiving Social Security. If you cannot contribute, I ask for your prayers. Thanks! See my information on how to donate (including 100% tax-deductible donations). It's very simple to contribute to my apostolate via PayPal, if a tax deduction is not needed (my "business name" there is called "Catholic Used Book Service," from my old bookselling days 17 or so years ago). May God abundantly bless you.
***
Photo credit: [PublicDomainPictures.Net]
***