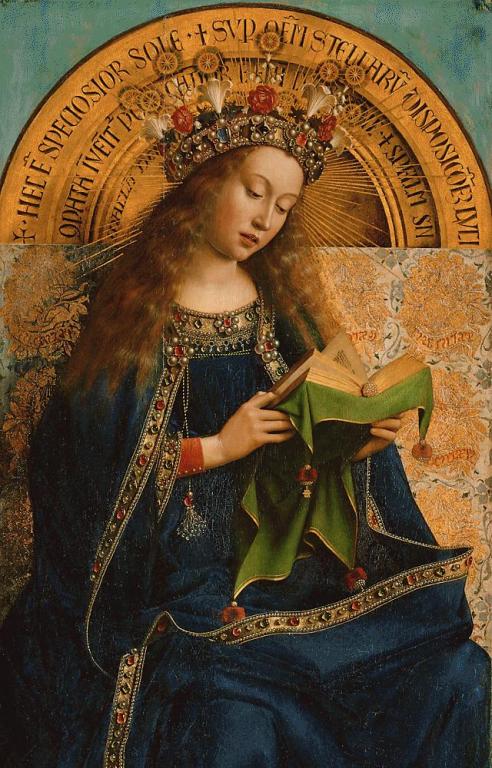 I ran across an article by evangelical writer Adrian Warnock, entitled, "The root of Catholicism's error and a lesson for us" (3-30-06). He wrote:
David Anthony says : "Just been reading Luke 11v27-28. This along with 8v21 are Jesus prophetically speaking into where Catholicism will go wrong centuries later. A woman declares 'blessed be the mother who gave birth to you' and look at Jesus' reaction. Rather than agree that Mary ought to be revered he says 'blessed rather are those who hear the word of God and keep it!'. This strikes right at the heart of where Roman Catholicism has gone wrong."

It is amazing how flagrantly the Roman Catholic system seems (at least to the outsider, anyway) to ignore certain parts of the bible. Few protestants could understand a verse like this any other way than that Jesus is clearly challenging the notion of a special blessedness being attached to his mother by his followers. Yet Catholic doctrine says precisely what this lady said to Jesus.

I would love to know how my Catholic readers (if I have any!) interpret this verse. I suspect that most would simply skip over it. Of course we can easily sit here smugly at this point, but the challenge that sprung to my mind as I considered this was which verses do I neatly skim over in a similar way? Are there parts of the bible that due to their inconvenience to our theological systems we somehow ignore? . . .

I am not against theological systems, but when we hold onto them so strongly that we blindly ignore parts of the bible that seem to disagree with them then we have turned them into idols.

"…learn by us not to go beyond what is written, that none of you may be puffed up in favor of one against another" (1 Cor 4:6)
The contra-Catholic argument, then, is that Jesus was supposedly denying the blessedness of His mother, and thus expressly denying the Catholic practice of calling her "Blessed Virgin Mary." This hardly seems possible or plausible, even in an ecumenical Protestant reading (i.e., how could the mother of God incarnate — an extraordinary and singular privilege —  not be blessed?), but that is the argument: be what it may.
A Catholic named Dennis Martin, in the combox of the article on David Anthony's blog, argued that it was merely a translation matter: that at least some translations have something to the effect of "yes, rather . . ." which would mean that Jesus wasn't denying that His mother was blessed, but instead, affirming it and moving on to make a more general point (which would likely include Mary as well: as the exemplar of a general description of holiness).
This was very interesting to me (and something I had never heard before). In checking many Bible translations (many of which I have in my own library), I discovered that translations of Luke 11:28 vary; however, many can be found that give a meaning that would include rather than (by possible implication, but not necessity) exclude Mary. Here's what I found:
KJV But he said, Yea rather, blessed are they that hear the word of God, and keep it.

ASV But he said, Yea rather, blessed are they that hear the word of God, and keep it.

NKJV But He said, "More than that, blessed are those who hear the word of God and keep it!"

Phillips But Jesus replied, "Yes, but a far greater blessing to hear the word of God and obey it."

Living Bible He replied, "Yes, but even more blessed are all who hear the Word of God and put it into practice."

Young's Literal Translation And he said, `Yea, rather, happy those hearing the word of God, and keeping [it]!'

Darby But *he* said, Yea rather, blessed are they who hear the word of God and keep [it].

CEV Jesus replied, "That's true, but the people who are really blessed are the ones who hear and obey God's message!"

King James 2000 Bible But he said, Yea rather, blessed are they that hear the word of God, and keep it.

American King James Version But he said, Yes rather, blessed are they that hear the word of God, and keep it.

Douay-Rheims Bible But he said: Yea rather, blessed are they who hear the word of God, and keep it.

English Revised Version But he said, Yea rather, blessed are they that hear the word of God, and keep it.

Webster's Bible Translation But he said, Yes, rather blessed are they that hear the word of God, and keep it.

Williams But He said, "Yes, but better still, blessed are those who listen to God's message and practice it!"

Beck "Yes," He said, "but happy are those who listen to God's Word and keep it."

Jerusalem Bible But he replied, "Still happier those who hear the word of God and keep it!"

Barclay But Jesus said: "True, but rather, happy are those who listen to the word of God and obey it."
I would add that many Catholic versions (e.g., Knox, Confraternity, NAB) do not have this sort of rendering; thus, they can't be accused of translation bias; and for those that do, they are merely in agreement with many Protestant translations.
I have dealt with this (rather irritating) "Jesus was mean / disrespectful / indifferent to Mary" theme in two articles:
Jesus' Interactions with Mary in Relation to Marian Veneration [10-29-08]
"Who is My Mother?": Beginning of "Familial Church" [8-26-19]
See also: Jesus' Use of the Term "Woman" [for Mary. Was it Disrespectful?] (by Jimmy Akin)
Navarre Bible Commentary states about the passage:
These words proclaim and praise the Blessed Virgin's basic attitude of soul. As the Second Vatican Council explains: "In the course of her Son's preaching she [Mary] received the words whereby, in extolling a Kingdom beyond the concerns and ties of flesh and blood, he declared blessed those who heard and kept the word of God (cf. Mk 3:35; Lk 11:27–28) as she was faithfully doing (cf. Lk 2:19:51)" (Lumen gentium [Vatican II], 58). Therefore, by replying in this way Jesus is not rejecting the warm praise this good lady renders his Mother; he accepts it and goes further, explaining that Mary is blessed particularly because she has been good and faithful in putting the word of God into practice.
The Catholic Encyclopedia ("The Blessed Virgin Mary") comments:
At first sight, it seems that Jesus Himself depreciated the dignity of His Blessed Mother. When He was told: "Behold thy mother and thy brethren stand without, seeking thee", He answered: "Who is my mother, and who are my brethren? And stretching forth his hand towards his disciples, he said: Behold my mother and my brethren. For whosoever shall do the will of my Father, that is in heaven, he is my brother, and my sister, and my mother" (Matthew 12:47-50; cf. Mark 3:31-35; Luke 8:19-21). On another occasion, "a certain woman from the crowd, lifting up her voice, said to him: Blessed is the womb that bore thee, and the paps that gave thee suck. But he said: Yea rather, blessed are they who hear the word of God, and keep it" (Luke 11:27-28).
In reality, Jesus in both these passages places the bond that unites the soul with God above the natural bond of parentage which unites the Mother of God with her Divine Son. The latter dignity is not belittled; as men naturally appreciate it more easily, it is employed by Our Lord as a means to make known the real value of holiness. Jesus, therefore, really, praises His mother in a most emphatic way; for she excelled the rest of men in holiness not less than in dignity. Most probably, Mary was found also among the holy women who ministered to Jesus and His apostles during their ministry in Galilee (cf. Luke 8:2-3); the Evangelists do not mention any other public appearance of Mary during the time of Jesus's journeys through Galilee or Judea. But we must remember that when the sun appears, even the brightest stars become invisible.
Think for a moment of the implications of the interpretation of this passage as an example of Jesus denying that Mary was blessed. Really? This is not just a question of allegedly "excessive" Catholic Marian veneration (though this was what likely motivated it being brought up at all), but of clear biblical texts. This is about a woman who was hailed by the angel Gabriel (what other human being is treated this way by an angel?), twice called "blessed" by Elizabeth (mother of John the Baptist: Lk 1:42, 45), precisely because she was the Mother of God the Son and believed the angel when she was informed of this. Mary herself says in reply: "henceforth all generations will call me blessed" (Lk 1:48). And of course, Catholics do that and almost all Protestants don't. We fulfill the prophecy.
Moreover, when Jesus said all these others would be blessed, does it make sense to exclude Mary (whom many Protestants would agree, was — while not sinless, in their view — the greatest and holiest woman who ever lived) from among them? No, of course not. We see all of this in Holy Scripture, yet we are to somehow believe that Jesus would say and believe that she is not blessed? It makes no sense whatsoever. It's utterly implausible, and as we have seen, the text in no way requires such an outlandish, unbiblical conclusion.
This is scarcely a case illustrating "the heart of where Roman Catholicism has gone wrong" or an instance where Catholics "flagrantly . . . ignore certain parts of the bible" or where we "blindly ignore parts of the bible that seem to disagree with" us. In fact, it is no problem at all (none, whatsoever), rightly understood. Jesus affirms (and even in the "other" translation renderings, doesn't deny) His mother and her holiness, and goes on to make another point, just as He did in several other similar passages. He was referring to Mary, too, when He was extolling those who "hear the word of God and obey it" (Phillips).
And while we're on the topic of Christians ignoring Scripture passages, here is (for starters) a list of 150 that Protestants (including even very zealous Protestant apologists) routinely ignore:
50 New Testament Proofs for Petrine Primacy & the Papacy [1994]
Final Judgment & Works (Not Faith): 50 Passages [2-10-08]
50 Bible Passages on Purgatory & Analogous Processes [2009]
***
Unfortunately, Money Trees Do Not Exist:
 If you have been aided in any way by my work, or think it is valuable and worthwhile, please strongly consider financially supporting it (even $10 / month — a mere 33 cents a day — would be very helpful). I have been a full-time Catholic apologist since Dec. 2001, and have been writing Christian apologetics since 1981 (see 
my Resume
). My work has been proven (by God's grace alone) to be fruitful, in terms of changing lives (see the tangible evidences 
from unsolicited "testimonies"
). I have to pay my bills like all of you: and have a (homeschooling) wife and three children still at home to provide for, and a mortgage to pay.
*
My book royalties from
 three bestsellers in the field
 (published in 2003-2007) have been decreasing, as has my overall income, making it increasingly difficult to make ends meet.  I provide over 2600 free articles here, for the purpose of your edification and education, and have 
written 50 books
. It'll literally be a struggle to survive financially until Dec. 2020, when both my wife and I will be receiving Social Security. If you cannot contribute, I ask for your prayers (and "likes" and links and shares). Thanks!
*
See my 
information on how to donate
 (including 100% tax-deductible donations). It's very simple to contribute to my apostolate via PayPal, if a tax deduction is not needed (my "business name" there is called "Catholic Used Book Service," from my old bookselling days 17 or so years ago, but send to my email: apologistdave@gmail.com). Another easy way to send and receive money (with a bank account or a mobile phone) is through 
Zelle
. Again, just send to my e-mail address. May God abundantly bless you.
***
Photo credit: The Ghent Altarpiece: Virgin Mary (detail; bet. 1426-1429), by Jan van Eyck (c. 1390-1441) [public domain / Wikimedia Commons]
***