And did Jesus minister exclusively to Jews and not Gentiles at all (an alleged Gospel inconsistency)?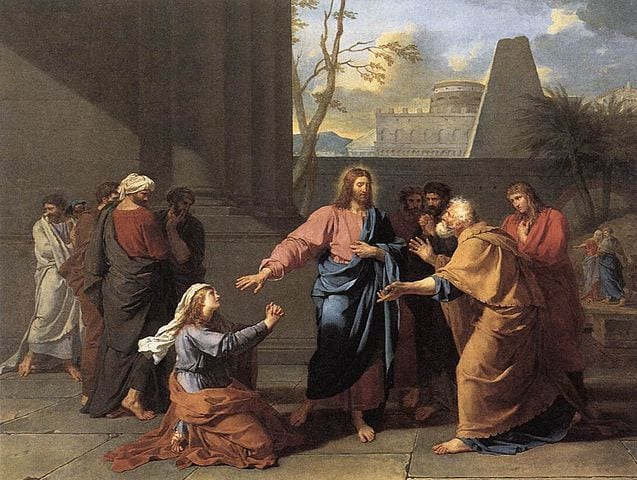 Dr. David Madison is an atheist who was a Methodist minister for nine years: with a Ph.D. in Biblical Studies from Boston University.  You can see (by the number in the title) how many times I have replied to his videos or articles. Thus far, I haven't heard one peep back from him  (from 8-1-19 to this date). This certainly doesn't suggest to me that he is very confident in his opinions. All I've seen is expressions of contempt from Dr. Madison and from his buddy, the atheist author, polemicist, and extraordinarily volatile John Loftus, who runs the ultra-insulting Debunking Christianity blog. Dr. Madison made his cramped, insulated mentality clear in a comment from 9-6-19:
[T]he burden of the apologist has become heavy indeed, and some don't handle the anguish well. They vent and rage at critics, like toddlers throwing tantrums when a threadbare security blanket gets tossed out. We can smell their panic. Engaging with the ranters serves no purpose—any more than it does to engage with Flat-Earthers, Chemtrail conspiracy theorists, and those who argue that the moon landings were faked. . . . I prefer to engage with NON-obsessive-compulsive-hysterical Christians, those who have spotted rubbish in the Bible, and might already have one foot out the door.
John "you are an idiot!" Loftus even went to the length of changing his blog's rules of engagement, so that he and Dr. Madison could avoid replying to yours truly, or even see notices of my replies (er, sorry, rants, rather).
This is one of the replies to Dr. Madison's series, "Things we Wish Jesus Hadn't Said" (podcast episodes 13-25). I have already replied to every previous episode. He states in his introduction to this second series:
[A]pologists (preachers and priests) who explain away—well, they try—the nasty and often grim message in many of the sayings attributed to Jesus. Indeed, the gospels are a minefield; many negatives about Jesus are in full view.
I am replying to episode 13, entitled, "Matthew 15:22-28, Jesus calls a Gentile woman a dog" (7-23-19).  Dr. Madison's words will be in blue, and those of other atheists in purple, green, and brown.
*****
Matthew 15:22-28 (RSV) And behold, a Canaanite woman from that region came out and cried, "Have mercy on me, O Lord, Son of David; my daughter is severely possessed by a demon." [23] But he did not answer her a word. And his disciples came and begged him, saying, "Send her away, for she is crying after us." [24] He answered, "I was sent only to the lost sheep of the house of Israel." [25] But she came and knelt before him, saying, "Lord, help me." [26] And he answered, "It is not fair to take the children's bread and throw it to the dogs." [27] She said, "Yes, Lord, yet even the dogs eat the crumbs that fall from their masters' table." [28] Then Jesus answered her, "O woman, great is your faith! Be it done for you as you desire." And her daughter was healed instantly.
In this installment, Dr. Madison trots out what is apparently a big favorite of anti-theist atheist polemicists. This is my fourth time dealing with it, so it's nothing new. One atheist who goes by the nick "BeeryUSA" stated that this very thing ( a complete misunderstanding on his part) made him cease to be a Christian:
I recall the precise passage that I was reading when I realized that Jesus was actually a xenophobic nationalist . . . and therefore could not be any kind of god I could worship:
Matthew 15:24 He answered, "I was sent only to the lost sheep of the house of Israel."
So this psycho Jesus refuses to treat a woman's daughter simply because she was a Canaanite. All of a sudden, my desire to give Jesus the benefit of the doubt melted away and, with my new-found skepticism, it didn't take long from there for all the rest of it to unravel.
Likewise, Bible-Basher Bob Seidensticker (whom I have refuted 35 times with no reply whatsoever), opined:
At the end of the gospel story, Jesus has risen and is giving the disciples their final instructions.
Make disciples of all the nations, baptizing them in the name of the Father and the Son and the Holy Spirit (Matthew 28:19).
This is the familiar Great Commission, and it's a lot more generous than what has been called the lesser commission that appears earlier in the same gospel:
These twelve Jesus sent out with the following instructions: "Do not go among the Gentiles or enter any town of the Samaritans. Go rather to the lost sheep of Israel." (Matthew 10:5–6)
This was not a universal message. We see it again in his encounter with the Canaanite woman:
[Jesus rejected her plea to heal her daughter, saying] "I was sent only to the lost sheep of Israel."

The woman came and knelt before him. "Lord, help me!" she said.

He replied, "It is not right to take the children's bread and toss it to the dogs." (Matthew 15:24–6)
You might say that a ministry with limited resources had to prioritize, but that doesn't apply here. Don't forget that Jesus was omnipotent. . . . 
Let's revisit the fact that Matthew is contradictory when it says both "Make disciples of all nations" and "Do not go among the Gentiles [but only] to the lost sheep of Israel." There are no early papyrus copies of Matthew 28 (the "Make disciples of all nations" chapter), and the earliest copies of this chapter are in the codices copied in the mid-300s. That's almost three centuries of silence from original to our best copies, a lot of opportunity for the Great Commission to get "improved" by copyists. I'm not saying it was, of course; I'm simply offering one explanation for why the gospel in Matthew has Jesus change so fundamental a tenet as who he came to save.
Dr. Madison's buddy, John Loftus also chimed in, along the same lines, in his book, Why I Became an Atheist (revised version, 2012, 536 pages). I have now critiqued it ten times without (you guessed it!) any counter-reply from him. In it, he  wrote:
[H]e also called a Syrophoenician woman part of a race of "dogs" and only begrudgingly helped her (Mark 7:24-30). (p. 123)
Now, Dr. David Madison comes along in his podcast and makes these claims:
But guess what? In Matthew 28, at the end of the Gospel, verse 19, the resurrected Jesus says, "Go, therefore, and make disciples of all nations." . . . this Jesus quote was probably added to the story then [50 years after Jesus' death] and it certainly does not match, "I was sent only to the lost sheep of the house of Israel." The Gospel writer didn't notice much, contradictions, sometimes. . . . what a nasty thing to say: "it is not fair to take the children's food and throw it to the dogs." . . . The ideal Jesus that people adore is punctured by this Jesus, quote: this insult, calling her a dog.
Apologists Eric Lyons and Kyle Butt thoroughly dispense of this "objection" concerning Jesus' use of the word "dog" (complete with a good dose of sorely needed humor) in their article, "Was Jesus Unkind to the Syrophoenician Woman?":
To our 21st-century ears, the idea that Jesus would refer to the Gentiles as "little dogs" has the potential to sound belittling and unkind. When we consider how we often use animal terms in illustrative or idiomatic ways, however, Jesus' comments are much more benign. For instance, suppose a particular lawyer exhibits unyielding tenacity. We might say he is a "bulldog" when he deals with the evidence. Or we might say that a person is "as cute as a puppy" or has "puppy-dog eyes." If someone has a lucky day, we might say something like "every dog has its day." Or if an adult refuses to learn to use new technology, we might say that "you can't teach an old dog new tricks." In addition, one might say that a person "works like a dog," is the "top dog" at the office, or is "dog tired." Obviously, to call someone "top dog" would convey no derogatory connotation.

For Jesus' statement to be construed as unkind or wrong in some way, a person would be forced to prove that the illustration or idiom He used to refer to the Gentiles as "little dogs" must be taken in a derogatory fashion. Such cannot be proved. In fact, the term Jesus used for "little dogs" could easily be taken in an illustrative way without any type of unkind insinuation. In his commentary on Mark, renowned commentator R.C.H. Lenski translated the Greek term used by Jesus (kunaria) as "little pet dogs." . . . Lenski goes on to write concerning Jesus' statement: "All that Jesus does is to ask the disciples and the woman to accept the divine plan that Jesus must work out his mission among the Jews…. Any share of Gentile individuals in any of these blessings can only be incidental during Jesus' ministry in Israel" . . .

Consider that Matthew had earlier recorded how a Roman centurion approached Jesus on behalf of his paralyzed servant. Jesus did not respond in that instance as He did with the Syrophoenician woman. He simply stated: "I will come and heal him" (8:7). After witnessing the centurion's refreshing humility and great faith (pleading for Christ to "only speak a word" and his servant would be healed—vss. 8-9), Jesus responded: "I have not found such great faith, not even in Israel" (vs. 10, emp. added). . . .

What many people miss in this story is what is so evident in other parts of Scripture: Jesus was testing this Canaanite woman, while at the same time teaching His disciples how the tenderhearted respond to possibly offensive truths. . . .

Before people "dog" Jesus for the way He used an animal illustration, they might need to reconsider that "their bark is much worse than their bite" when it comes to insinuating that Jesus was unkind and intolerant. In truth, they are simply "barking up the wrong tree" by attempting to call Jesus' character into question. They need to "call off the dogs" on this one and "let sleeping dogs lie."
As to the groundless charge of internal contradiction (sent to Israel only / disciples evangelize Israel only "vs." evangelizing the whole world), here is my reply:
First of all, being sent to Israel doesn't also mean that He would ignore all non-Israelis. This is untrue. The woman at the well was a Samaritan. He told the story about the good Samaritan who helped the guy who had been beaten, and concluded that he was a better neighbor than a Jew who didn't do these things. He healed the Roman centurion's servant, and commended his faith as better than most Jews. The Bible says that He healed this woman's daughter (and highly commended her mother for her faith).
In the whole passage (blessed context), we readily see that Jesus was merely asking (as He often did) a rhetorical question. In effect He was asking her, "why should I heal your daughter?" She gave a great answer, and He (knowing all along that she would say what she did) did heal her.
I fail to see how this passage proves that Jesus didn't give a fig about non-Jews. He healed the Canaanite woman's daughter! How does that prove what atheists contend? Jesus heals a Canaanite girl (after being asked to by her mother), and that "proves" that He only healed and preached to Jews; hence it is a "contradiction"? Surely, this is a form of "logic" that no one's ever seen before.
Another example, even more famous, is Jesus' interaction with the Samaritan woman at the well (John 4:4-29). He shares the Gospel very explicitly with her, stating that He is the source of eternal life (4:14), and that He is the Jewish Messiah (4:25-26): a thing that she later proclaimed in the city (4:28-29, 39-42).
The text even notes that — normally — Jews avoided Samaritans: "The Samaritan woman said to him, 'How is it that you, a Jew, ask a drink of me, a woman of Samar'ia?' For Jews have no dealings with Samaritans" (4:9; RSV).
A third instance of Jesus' outreach beyond the Jews is His interaction with the Roman centurion:
Matthew 8:5-13 As he entered Caper'na-um, a centurion came forward to him, beseeching him [6] and saying, "Lord, my servant is lying paralyzed at home, in terrible distress." [7] And he said to him, "I will come and heal him." [8] But the centurion answered him, "Lord, I am not worthy to have you come under my roof; but only say the word, and my servant will be healed. [9] For I am a man under authority, with soldiers under me; and I say to one, `Go,' and he goes, and to another, `Come,' and he comes, and to my slave, `Do this,' and he does it." [10] When Jesus heard him, he marveled, and said to those who followed him, "Truly, I say to you, not even in Israel have I found such faith. [11] I tell you, many will come from east and west and sit at table with Abraham, Isaac, and Jacob in the kingdom of heaven, [12] while the sons of the kingdom will be thrown into the outer darkness; there men will weep and gnash their teeth." [13] And to the centurion Jesus said, "Go; be it done for you as you have believed." And the servant was healed at that very moment.
Note how Jesus not only readily healed the Roman centurion's servant (8:7, 13), but also "marveled" at his faith and commended it as superior to the faith of anyone "in Israel" (8:10). And that led Him to observe that many Gentiles will be saved, whereas many Jews will not be saved (8:11-12). But there is much more:
A fourth example is Jesus' parable of the Good Samaritan (Luke 10:29-37). The whole point of it was to show that Samaritans were truly neighbors to Jews if they helped them, as the man did in the parable. I drove on the road (from Jerusalem to Jericho) which was the setting of this parable.
A fifth example is from the Sermon on the Mount. Jesus told His followers, "You are the light of the world" (Matthew 5:14).
A sixth example is the common motif of Jesus saying that He came to save not just Jews, but the world (Jn 6:33, 51; 8:12 ["I am the light of the world"]; 9:5; 12:46 ["I have come as light into the world . . ."]; 12:47 ["to save the world"]; ). The Evangelists in the Gospels, and John the Baptist state the same (Jn 1:29; 3:16-17, 19).
A seventh example is Jesus praying for His disciples in their missionary efforts: "As thou didst send me into the world, so I have sent them into the world" (John 17:18).
An eighth example is the parable of the weeds, which showed a universal mission field fifteen chapters before Matthew 28: "He who sows the good seed is the Son of man; [38] the field is the world, and the good seed means the sons of the kingdom; . . ." (13:37-38).
A ninth example is Jesus' statements that "all men" can potentially be saved (Jn 12:32; 13:35).
The book of Acts recounts St. Peter and St. Paul massively reaching out to Gentiles. I need not spend any time documenting that.
As anyone can see, the evidence in the Bible against this ridiculous atheist critique is abundant and undeniable. Jesus never says (nor does the entire New Testament ever say) that He came to "save Israel" or be the "savior of Israel." Anyone who doesn't believe me can do a word search (here's the tool to do it). Verify it yourself. He only claims to be the "Messiah" of Israel (Jn 4:25-26): which is a different thing. When Jesus says who it is that He came to save (i.e., provided they are willing), He states explicitly that He came "to save the lost" (Lk 19:10) and "to save the world" (Jn 12:47).
Likewise, St. Paul states that "Christ Jesus came into the world to save sinners" (1 Timothy 1:15). Last I checked, sinful human beings were not confined solely to the class of Jews or Israelis.
***
*
*
*
***
***