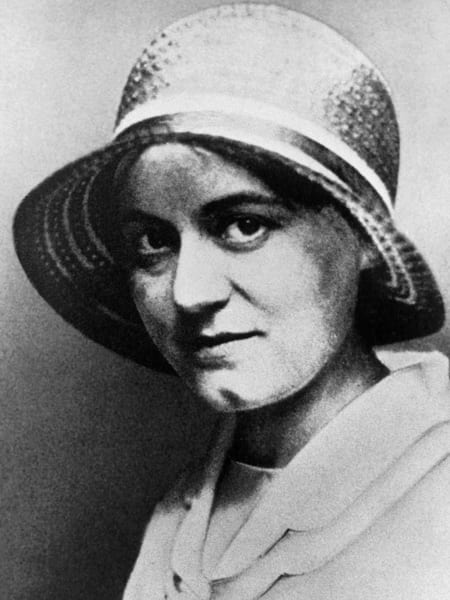 Someone in a private forum asked this, and noted that our society's ideals in this respect rarely are applied to women over 45 years of age. I'd say it is the opposite of how I have long defined radical secular feminism: "the detestation of men with an odd simultaneous desire to be as much like them in as many respects as possible."
It's being comfortable in one's own female "skin" and understanding the sublime greatness of being female, according to God's ideal (not that of men or society).
Speaking as just one man (but I'm sure I'm not alone), I think women are gorgeous at age 45 and very often more attractive at that age than they would have been at age 25 (attractiveness being a quality of both inner and outer beauty, but not just appearance). The more they grasp the Catholic conception of true womanhood and femininity, the more this is the case.
In the Catholic / biblical worldview, righteousness is key (indeed central) to beauty and femininity; not mere physical appearance alone, as our lovely secular world teaches us every day.
How'd I do, ladies?
***
Allison Manning: Perfect response! I don't understand why more people don't see it this way. I think it's because to many women under the age of 25 "feminine" is synonymous with "girly" and (at least as far as the current bracket of 18-25 year olds is concerned) girly is an insulting term meant to draw images of pink Barbies and '50s housewife culture.

Molly McCann Yabs: Well, you certainly swept me off my feet!

Patti Champion: You did awesome!! A+++ Perfect! Thank you!!

Denise Curran: I love this, Dave. Thank you for sharing your perspective.

Christine Folster-Mason: Haha! I love your first (opposite) point. It is so so true. When I consider beauty, I can't separate inner and outer. It's a complete package on one level. On the other, we all have beauty because God created us. I feel ashamed when I fail to see it or look for it. I love being a woman. I love that men and women are different. I am not threatened by men nor do I feel dominated by them and I am particularly fond of gentlemanly acts of kindness. We Catholics have the best gig on the male and female. (Does that make me a Catholic snob?). Oh dear…
***
Related Reading:
*
*
*
*
*
A "Beautiful Woman" According to God's Word, the Bible (9-11-15)
Woman-Hating Catholic Church?: Reply to an Atheist [10-1-15]
Dialogue: Are Jesus, the Bible, & the Church "Sexist"? [11-4-19]
*
***
Related G. K. Chesterton Quotations:
The reason why men have from the beginning of literature talked about women as if they were more or less mad, is simply because women are natural, and men, with their formalities and social theories, are very artificial. (The Spice of Life and Other Essays [London: Darwen Finlayson, 1964], "The Philosophy of Islands": 1903)

[P]eople talk with a quite astonishing gravity about the inequality or equality of the sexes; as if there could possibly be any inequality between a lock and a key. (Charles Dickens [London: Methuen & Co., 1906], ch. 10)

A woman is only inferior to man in the matter of being not so manly; she is inferior in nothing else. (Ibid., ch. 10)

For the two things that a healthy person hates most between heaven and hell are a woman who is not dignified and a man who is. (All Things Considered [London: Methuen & Co., 1908], ch. 2)

Just as an eastern newspaper is a victory of Western methods, so the Feminist movement is a surrender to the masculine intelligence. (The Illustrated London News, "American Slaves and Female Emancipation," 1 August 1908)

Suddenly, without warning, the women have begun to say all the nonsense that we ourselves hardly believed when we said it. (What's Wrong With the World [London: Cassell, 1910], III-7)

And it is the convention of journalism at this moment to support what is feminist against what is feminine. (Fancies Versus Fads [London: Methuen, 1923], ch. 27)

There is the obvious contradiction that feminism often means the refusal to be feminine. (ILN, "The Narrowness of the New Art," 18 August 1928)
***
*
*
*
***
(originally 5-21-18 on Facebook; Chesterton quotations and related links added on 12-4-19)
*
Photo credit: St. Edith Stein (1891-1942); c. 1920 [public domain / Wikimedia Commons]
***