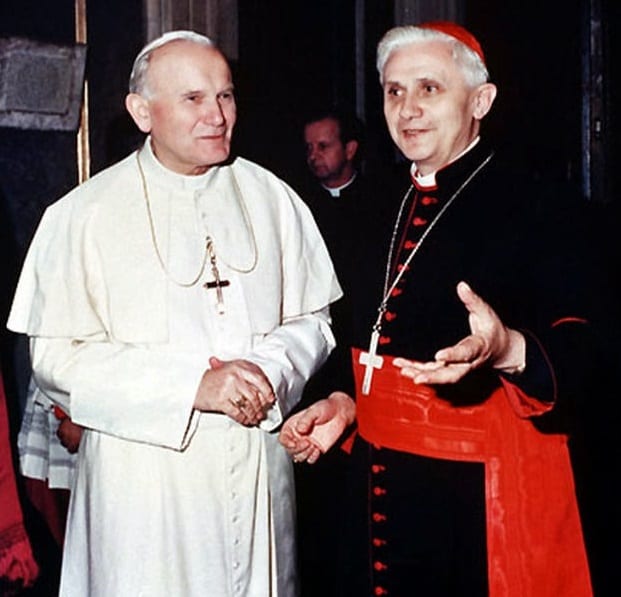 Catholic League President Bill Donohue included my name with regard to some very strange claims, in his piece, Playing Favorites with Two Popes (1-3-20). He wrote, concerning the slapping incident that I posted about yesterday: (that he cited with no link).
Several commentators blamed the woman.

Dave Armstrong at Patheos said her reaching out to him with both arms was "shocking and staggering."

[then cites International Business Times, The Guardian, and John Allen at Crux]

Why is it okay for those on the Left, who are the masters of identity politics, to blame a woman of color while using as exculpatory the pope's alleged machismo upbringing?

There is a game going on here. We have the good pope, Francis, and the bad pope, Benedict. This is currently being played out on the big screen. . . .
Huh? First of all, I am not, and never have been or will be, on the ecclesiological "left." Spending ten minutes on my blog, with its 2600+ papers, would make that clear to anyone who was not determined to be biased. Among my many web pages is included, Liberal Theology & Modernism: which I am against, not for!
My orthodoxy is established as rock-solid in many ways, and includes a Foreword to my first book, A Biblical Defense of Catholicism by the late Servant of God Fr. John A. Hardon, who was as orthodox as they come, and who was an adviser to both Pope St. Paul VI and St. Teresa of Calcutta and her Missionaries of Charity. I've been published repeatedly by Sophia Institute Press, Our Sunday Visitor, Catholic Answers, and National Catholic Register.
This man obviously knows nothing about me, yet is willing to imply that I am some dissident who has an ax to grind against Pope St. John Paul II and Pope Benedict XVI. I'm not saying he should be familiar with me; rather, only that he ought to have the decency to take a few minutes to see what my opinions are, rather than caricature them and lump me in with folks I don't agree with (and I am not, alas, completely unknown in the Catholic — especially apologetics — world).
He ran across my article. He could have also done a few minutes of searching to figure out what "camp" I am in. My Literary Resume will disabuse anyone of these illusions. It never ceases to amaze me how people so often fail to use ridiculously easy searching methods online. There is no excuse for shoddy misrepresentation of someone, given these marvelous capabilities. It's not like it requires a fifty-mile trip to a library for some "hard research." At the very least he could have at least linked to my article (just as I link to his, above), so people could read it in its entirety, and my words cited in context.
Secondly, to get out of my article merely that I was blaming the woman, is absurd. It was precisely in response to those who were grotesquely blaming the pope and blowing this thing way out of proportion. So I simply noted some ascertainable facts (seen in the video):
The first thing to be noted was how forcefully this woman (no doubt caught up in the excitement: to grant her all charity) grabbed him. This is quite relevant, because the pope is known to suffer from sciatica. . . .

The woman made her "move" after the pope turned to walk away. The inappropriateness of this is shocking and staggering. As an analogy from my own experience: back when Reagan was President (that's back in the 80s, for you youngsters), his VP, George H. W. Bush took part in a 4th of July parade here in metro Detroit. He was one person away from me when he decided to cross to the other side of the street.

Now, would I or should I have grabbed his arm so that I could shake his hand? It would be unthinkable (it would have never even crossed my mind in any conceivable universe): all the more so with the pope: especially at his age.
I noted how even five secular media outlets all concluded that an utterly improper "grabbing" or "yanking" of Pope Francis' arm occurred (in other words, it was not just my impression). But I have never maintained that this woman committed some terrible sin: anymore than the pope did. They both did wrong (hence the pope apologized), but they were both very minor wrongs, and quite understandable. On my Facebook page today, my friend Pete Vere commented:
I see no malice in this lady who erred out of pious zeal. Likewise, I think Pope Francis' mistake was motivated by sudden and surprise onset of real physical pain and loss of balance. Both warrant grace and understanding.
I replied as follows:
My position is identical to Pete's in every respect. I noted in my post that she was simply "caught up in the excitement." It doesn't make what she did right but understandable in context: precisely like the pope's reaction. It's all about degrees of culpability.
As to this nonsense of favoring one pope over others, it doesn't apply to me at all. I love this pope and the two previous ones, and all the good popes all throughout history. My position is identical to Bill's expressed view. This is why I have objected to reactionaries trashing Pope Benedict in articles such as these:
*
*
*
*
I obviously defend Pope Francis, since I have
collected my efforts in doing so
, now 158 times. And (as an apologist) I defended Pope St. John Paul II many times (since I have been active in Catholic apologetics since 1993 and have had a website / blog since 1997. Thus, I have papers like the following on my blog:
*
The Catholic League loves all three popes, and we implore everyone to give due recognition to their very different strengths. But to those who constantly look at the world through a political lens, there are good popes (Francis) and bad ones (his predecessors). This is a jaundiced view of reality, and it is unfair to all of them.
I have affectionately characterized these three popes as "the philosopher, the theologian, and the pastor." All three emphases are great. We need not pit anyone against anyone else or deny the importance of any of the emphases. I couldn't care less about this movie now out about the "two popes." It's a piece of fiction.
I don't intend to watch it, and so obviously it has no bearing on my opinions one way or the other. I have no interest whatsoever in purely speculative fiction about real people, and have long objected to that: going back at least as far as the movies about Mozart (
Amadeus
) and Gandhi (not to mention the severely biased one about Martin Luther,
which I have critiqued
).
***
Unfortunately, Money Trees Do Not Exist:
If you have been aided in any way by my work, or think it is valuable and worthwhile, please strongly consider financially supporting it (even $10 / month — a mere 33 cents a day — would be very helpful). I have been a full-time Catholic apologist since Dec. 2001, and have been writing Christian apologetics since 1981 (see
my Resume
). My work has been proven (by God's grace alone) to be fruitful, in terms of changing lives (see the tangible evidences
from unsolicited "testimonies"
). I have to pay my bills like all of you: and have a (homeschooling) wife and three children still at home to provide for, and a mortgage to pay.
*
My book royalties from
three bestsellers in the field
(published in 2003-2007) have been decreasing, as has my overall income, making it increasingly difficult to make ends meet. I provide over 2600 free articles here, for the purpose of your edification and education, and have
written 50 books
. It'll literally be a struggle to survive financially until Dec. 2020, when both my wife and I will be receiving Social Security. If you cannot contribute, I ask for your prayers (and "likes" and links and shares). Thanks!
*
See my
information on how to donate
(including 100% tax-deductible donations). It's very simple to contribute to my apostolate via PayPal, if a tax deduction is not needed (my "business name" there is called "Catholic Used Book Service," from my old bookselling days 17 or so years ago, but send to my email: apologistdave@gmail.com). Another easy way to send and receive money (with a bank account or a mobile phone) is through
Zelle
. Again, just send to my e-mail address. May God abundantly bless you.
*
***
Photo credit: Pope St. John Paul II and the future Pope Benedict XVI [public domain / Flickr]
***