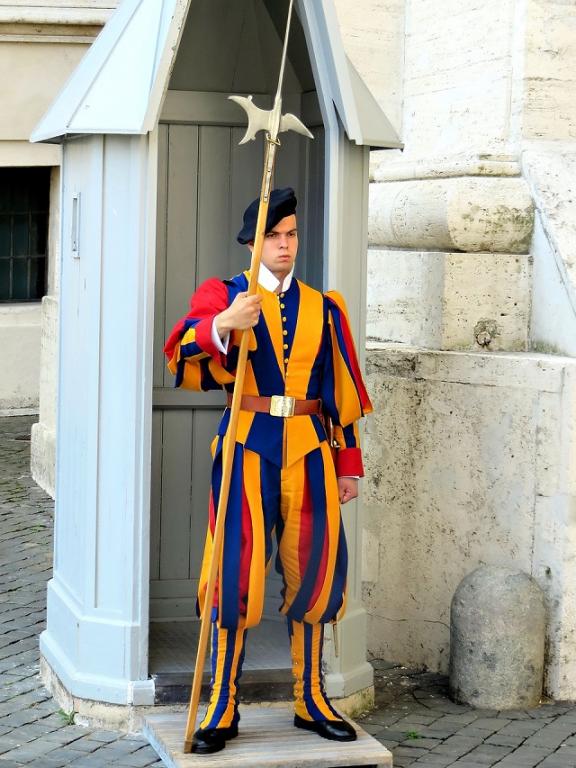 I have written a book defending Pope Francis as well, called Pope Francis Explained: Survey of Myths, Legends, and Catholic Defenses in Harmony with Tradition. That was published relatively early in his papacy (January 2014), but I think I still amply illustrate the false premises, dubious "facts" and inadequate logic and faulty interpretation often utilized in the ongoing critiques and outright bashing.
I wrote two articles that might be regarded as mildly critical of the pope. It has been my position that it would be good and helpful for him to reply as regards the five dubia: "I Hope the Pope Will Provide Some Much-Needed Clarity" (National Catholic Register, 9-30-17). I would say that this is "very gentle advice and encouragement."
I was also quite critical (in March 2018) of his practice of repeatedly doing interviews with an atheist (Eugenio Scalfari) who has a lamentable record of distorting the pope's alleged "words" in public, thus causing scandal (regarding the doctrine of hell). This involves matters of prudence and methodology, not theology (as with the other one).
See also my collection of 361 articles from others (including many of my own, below): "Pope Francis Defended: Resources for Confused or Troubled Folks".
I have categorized the many articles below under alphabetized topics, for greater ease of access and reference. All articles were published on my Patheos blog, unless otherwise indicated.
*****
Amoris Laetitia
Amoris Laetitia: Pope Francis' "1968 Moment" [4-8-16]
Defenses of Pope Francis' Amoris Laetitia [4-9-16]
More Defenses of Amoris Laetitia & Pope Francis [4-26-16]
Satan Loves Divisions Re Amoris Laetitia [5-2-16]
Dialogue: Amoris Laetitia: Confusing or No? [5-3-16]
Amoris Laetitia, "Trads" & Reactionaries [5-4-16]
Gotta Love the Buzzing, Mosquito-Like Critics of Amoris Laetitia [Facebook, 5-6-16]
Amoris Laetitia Has Already Been Clarified Many Times, Including by High-Ranking Cardinals [11-16-16]
Dr. Robert Fastiggi Defends Amoris Laetitia Against Critics [10-3-17]
Capital Punishment
Jesus, the Death Penalty, & the Adulterous Woman [8-2-18]
Burning Heretics, Frying Murderers, & Slavery (Analogies) [8-3-18]
Chilean Sexual Abuse Scandal
Pope's Chilean Abuse Apology Troubles Simcha Fisher [4-12-18]
Contraception / Procreation
Dialogue: Has Pope Francis Changed the Constant Catholic Prohibition of Contraception? [1-2-14]
Catholics Reproducing Like "Rabbits": The Essential Silliness of the Clueless Perceptions of Pope Francis' Perfectly Catholic and Orthodox Remarks [1-21-15 + Facebook discussion]
Was Pope Francis Correct in Publicly Rebuking as "Irresponsible" a Woman Who Had Had Seven C-Sections? [1-23-15 + Facebook discussion]
Criticism of  Pope Francis and Other Popes / "Papal Bashing" / Honoring Popes
Folks Willing to Understand Pope Francis, Can; Unwilling Won't [1-18-14]
Peter Kwasniewski, Fr. Thomas Kocik and a Growing Chorus Disagree with Pope Benedict XVI Regarding the Ordinary Form of the Roman Rite Mass (Or, Reports of the Death of the Reform of the Reform are Greatly Exaggerated)  [+ Part Two] [2-24-14]
Facebook Threads Regarding Whether Pope Francis is Being "Bashed" [+ Part Two / Part III / 2-19-15 and 2-21-15]
The Ridiculous "Anti-Francis" Mentality: My Theory in Brief [12-7-15]
Michael Voris on Pope Benedict's "Immoral" Resignation, Questionable Illness [12-15-15]
Ratzinger: Avoid Criticizing Church in "Mass Media"  [6-26-16]
Removal of my Post: "Prudence of Public Pope Criticism (Debate)" [Facebook, 6-27-16]
On Rebuking Popes & Catholic Obedience to Popes (+ Facebook discussion) [12-27-17]
Did Cardinal Burke Criticize Pope Benedict's Resignation? [1-13-18]
"Nothing New": Reactionary Attacks on Pope St. John Paul II [4-9-05; with tie-in endnote added on 3-2-18]
Dialogue: Sharp Inquiring Protestant vs. Pope-Bashing Catholic [3-6-18]
Dialogues w Critics & Disparagers of Pope Francis [3-6-18]
Popes Leading the Church Into False Doctrine (E.g., Paul VI) (+ Facebook discussion) [3-8-18]
*
*
*
*
*
*
*
*
*
*
*
*
*
Douthat, Ross / To Change the Church
Douthat's Flawed Critique of "Conservative" Catholicism [3-2-16]
Douthat's To Change the Church: Mini-Debate w Karl Keating [3-24-18]
Protestant Takes Solace in Douthat's Pope-Bashing Book (also discusses Phil Lawler) [3-24-18]
Radical Catholic Reactionary at One Vader Five Loves Douthat's Pope-Bashing Book and Notes How it Strongly Criticizes Vatican II Itself, Just as Reactionaries Have for 50 Years [Facebook, 3-24-18]
Debate on Ross Douthat's Critical Views of Vatican II [3-26-18]
Dubia / Cardinal Burke
Pope Francis on Cardinal Burke (+ Discussion) [Facebook, 12-8-14]
Environmentalism / Theology of Creation
Pope Francis' Encyclical Laudato si: A Beautiful and Profoundly Wise Statement of Christian Environmentalism and Theology of Creation [6-18-15]
Critique of Chris Ferrara's Radical Reactionary Hit-Piece in Opposition to Pope Francis' Christian Environmentalism [6-20-15]
Eucharist / Transubstantiation
No, Pope Francis Did Not Deny Transubstantiation (Phenomenological Language in Holy Scripture and in the Addresses of Pope Francis) [6-25-19]
Pope Francis & Transubstantiation (vs. Sedevacantists) [7-2-19]
Evangelism
Dialogue: Pope Francis Doesn't Evangelize? [4-29-16]
New Tempest in a Teapot: Pope Francis Condemns Evangelism? Not! [Facebook, 10-17-16]
"Filial Correction" / Correctio and Formal Criticism  of June 2016
Is Pope Francis Wrong? Thoughts on the "Filial Correction" [9-24-17]
Radical Reactionary Affinities in "Filial Correction" Signatories [9-28-17]
Reactionary Influence: Correctio & June 2016 Criticism of the Pope [10-3-17; expanded on 1-24-18]
Foot-Washing
Pope Francis Foot-Washing Controversy Redux  [3-26-16]
Hell and Satan
Pope Francis, Hell, Phil Lawler, Lies, Damned Lies, . . . [3-30-18]
*
Jesus / Christology
Does Pope Francis Think that Jesus was Literally a Sinner in a Sense Beyond Bearing Our Sins on the Cross (Partaking / Entering Into Sin)? [2-27-14]
Christ "Became the Sinner": Pope Francis and Bad Translators [Seton Magazine, 1-21-15]
Pope Francis Espoused a Sinning Jesus? Think Again [1-8-16]
Keating, Karl, The Francis Feud
Keating & The Francis Feud: Six Errors Documented [6-2-18]
Review of Keating's Francis Feud Removed, w Apology [12-24-18]
Kissing the Papal Ring
Papal Ring-Kissing, Gossip, & Pharisaical Nitpicking [3-29-19]
Lawler, Phil / Lost Shepherd
Quasi-Defectibility and Phil Lawler vs. Pope Francis [12-28-17]
Dialogues with Karl Keating & Phil Lawler on Pope Francis [12-29-17]
Lawler vs. Pope Francis #1: Critique of Introduction [1-1-18]
Lawler vs. Pope Francis #2: Homosexuality & "Judging" [1-2-18]
Lawler vs. Pope Francis #3: The Pope Annihilated Hell? [1-2-18]
Lawler vs. Pope Francis #4: Communion / Buenos Aires Letter [1-3-18]
Lawler vs. Pope Francis #5: Jerusalem Council vs. "Ideology" [1-3-18]
Summary of My Critiques of Phil Lawler's Book, Lost Shepherd and Short Exchanges with Karl Keating [Facebook, 1-7-18]
Shock! Former Catholic Rod Dreher Loves Lawler's Pope-Bashing Book [2-22-18]
Phil Lawler's Lost Shepherd: My One-Star Amazon Review [2-26-18]
Thanks, Phil Lawler. Now the Anti-Catholic Protestants Are Taking Notice of Your Book and Mocking the Church as a Result [Facebook, 3-8-18]
Reply to Stephen Phalen Re Phil Lawler's Lost Shepherd  [3-10-18]
One-on-One with Phil & Leila Lawler Regarding a Private Letter (Never Received) & My Supposed Ignoring & Mischaracterizing of His Ideas [Facebook, 3-10-18]
Merits of Phil Lawler's Lost Shepherd: Three Common Fallacies [3-12-18]
Scriptural Warnings for Phil Lawler and Current Admirers and Praisers of His Book [Facebook, 3-12-18]
Lawler Hypocritically Acts Like He Claims Pope Francis Does [4-28-18]
Keating & The Francis Feud: Six Errors Documented [6-2-18]
Marriage and Divorce and Annulment
Interpretations of Pope Francis' Application of Amoris Laetitia with Regard to Extraordinarily Difficult Domestic Situations [my comments in my lengthy Facebook thread, 9-14-16]
Pope Francis: Pro-Marriage & Contra "Marital Skepticism" [1-29-18]
Marxism
Random Thoughts on Rush Limbaugh's Comments on the Pope's Alleged "Marxism" [Facebook, 12-5-13]
Mary, Blessed Virgin
Is Pope Francis Guilty of Blasphemy and Departure from All Catholic Mariological Tradition in His Comments on the Possible Momentary Temptation of Mary at the Cross? [1-19-14]
Yes, Virginia, the Pope Believes Mary is Immaculate [12-29-18]
Miscellaneous / General
Reply to a Critique of My Book, Pope Francis Explained, by Dr. Phil Blosser [8-24-14]
Exchange on Pope Francis and the Church [vs. Tony Jokin; Facebook, 12-17-14]
Jeremiad About Catholics Behaving in "Dumb" Ways with Regard to the Words of Pope Francis [Facebook, 1-22-15]
Debate About Pope Francis Supposedly Having "Foot-in-the-Mouth" Disease [Facebook,  1-22-15]
Are Modern Papal Encyclicals Too Long? [7-9-15]
Forcing Pope Francis Into Our Own Image [9-18-15]
On the Endless Second-Guessing of Pope Francis [2-25-16]
Dialogue: "Bad" Bishops & "Confusing" Francis [4-28-16]
"Confusing" Pope Francis & Prudent Public Discussion [6-22-16]
The Real & the Imaginary Pope Francis [6-27-16]
Pope Francis and the Present Controversy: My Position [Facebook, 1-22-17]
Dialogues with Karl Keating Regarding Pope Francis [12-29-17]
Pope Francis, Cardinal Newman, & Fresh (Orthodox) Presentations [1-29-18]
St. Paul: Far More of an "Insulter" Than Pope Francis [4-11-18]
Did the Pope Attack the Contemplative Vocation / Life in His New Exhortation? Preliminary Thoughts [Facebook, 4-11-18]
Dr. Echeverria: Francis Wants Development, Not Revolution [5-28-19]
Does Pope Francis Deny the Catholic Doctrine of Merit? No [7-1-19]
Modernists / Theological Liberals / Dissidents / Heterodox / Heresy
Swishy Bishops, Liberal Dissidents, & "PR" Regarding Pope Francis [3-6-14]
"Why is Pope Francis so loved by the liberals?" [Facebook, 2-21-15]
Pope Francis: Obsessed with "Change"? [5-14-16]
Is Pope Francis a Heretic?: Options and Respectful Speculations on the Synod on the Family, Amoris Laetitia and Practical Applications [12-13-16]
Pro-Life / Anti-Abortion / Catholic Social Teaching
Must the Pope Explicitly Mention Abortion to Congress? [9-24-15]
Pope Francis' Strongly Pro-Life Comments to the UN ("Both/And"!) [9-25-15]
Pope Francis: All Life: Preborn and Born, is "Equally Sacred" [4-9-18]
Reactionaries
Radical Catholic Reactionary Super-Site Rorate Caeli's "Cherished Friend" and Featured Pope-Basher, Marcelo González, is a Holocaust Revisionist [4-8-13]
Pope Francis and Pope Benedict Refer to "Extreme Traditionalism" [8-5-13]
Discussion on the Apostolic Exhortation, Evangelii Gaudium, Especially in Relation to Radical Catholic Reactionaries [Facebook, 11-26-13]
"The New Gnosticism": The Outrage of Checking Translations of Papal Homilies (+ Elliot Bougis' Claims that Pope Francis is Heretical / Modernist / Liberal, or Reasonable Facsimile Thereof [Facebook, 2-28-14]
Idiotic Radical Catholic Reactionary  Views of Pope Francis [Facebook, 12-31-14]
Debate with Hilary White: Masonic "Bergoglianism" or Catholicism? [2-16-16]
Classic Reactionaryism: Skojec Disses Cardinal Burke (Over Amoris Laetitia) [4-12-16]
Dr. Fastiggi & Dr. Goldstein Debate Dr. Shaw Regarding Pope Francis [10-9-17]
Dr. Joseph Shaw Apes "Reformers" ("Ambiguous" Catholic Documents) [10-11-17]
Dr. Fastiggi's "Exchange" with Correctio Signatory Chris Ferrara [10-12-17]
Uber-Reactionary Hilary White Reveals That Mentality's True Colors (Pope Francis as Satan Incarnate: The Father of Lies) [Facebook, 3-31-18]
Steve Skojec of One Vader Five Infamy Exhibits His Pious, Thoroughly Catholic Outlook [Facebook, 4-9-18]
Louie Verrecchio's Wacko, Nutty View of Gaudete et Exsultate [Facebook, 4-10-18]
Is Pope Francis Opposed to Catholic Traditionalism, or Only to the Extreme Reactionaries? [Facebook, 9-13-19]
Sire, Henry / The Dictator Pope
Henry Sire of Dictator Pope Infamy: Reactionary Extremist [3-27-18]
Ultramontanism / Papolatry (common charges against papal defenders)
Reply to the Ridiculous Bum Rap that I (and Many Apologists) are "Ultramontanists" Who are Special Pleading and Defending the Pope No Matter What (as if his favorite color or ice cream were infallible, binding decrees) [5-12-14]
***
Photo credit: Swiss Guard at the Vatican. Photo by gunthersimmermacher (9-8-15) [Pixabay / CC0 Creative Commons license]
***
Total of 137 articles.
Last updated on 9-14-19.