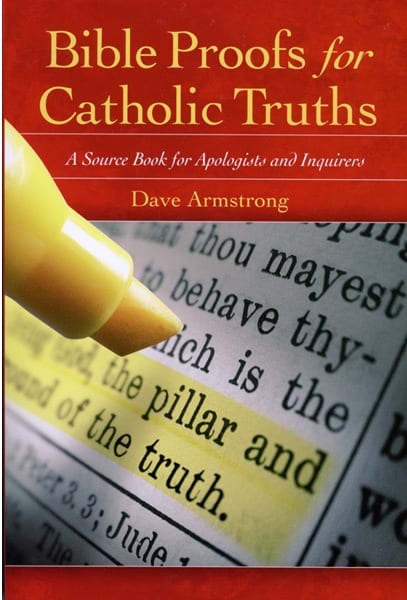 From my book, Bible Proofs for Catholic Truths (Aug. 2009) [aka "Dave's Topical Bible"]
[all verses RSV, from my original manuscript (the final book version used KJV) ]
***
Matthew 16:19 . . . whatever you bind on earth shall be bound in heaven . . .
Matthew 18:15-17 If your brother sins against you, go and tell him his fault, between you and him alone. If he listens to you, you have gained your brother. But if he does not listen, take one or two others along with you, that every word may be confirmed by the evidence of two or three witnesses. If he refuses to listen to them, tell it to the church; and if he refuses to listen even to the church, let him be to you as a Gentile and a tax collector.
Matthew 18:18 . . . whatever you bind on earth shall be bound in heaven . . .
John 20:23 . . . if you retain the sins of any, they are retained.
Romans 16:17 I appeal to you, brethren, to take note of those who create dissensions and difficulties, in opposition to the doctrine which you have been taught; avoid them.
1 Corinthians 5:1-5 It is actually reported that there is immorality among you, and of a kind that is not found even among pagans; for a man is living with his father's wife. And you are arrogant! Ought you not rather to mourn? Let him who has done this be removed from among you. For though absent in body I am present in spirit, and as if present, I have already pronounced judgment in the name of the Lord Jesus on the man who has done such a thing. When you are assembled, and my spirit is present, with the power of our Lord Jesus, you are to deliver this man to Satan for the destruction of the flesh, that his spirit may be saved in the day of the Lord Jesus.
1 Corinthians 16:22 If any one has no love for the Lord, let him be accursed. Our Lord, come!
2 Corinthians 2:5-11 But if any one has caused pain, he has caused it not to me, but in some measure –not to put it too severely — to you all. For such a one this punishment by the majority is enough; so you should rather turn to forgive and comfort him, or he may be overwhelmed by excessive sorrow.  So I beg you to reaffirm your love for him. For this is why I wrote, that I might test you and know whether you are obedient in everything. Any one whom you forgive, I also forgive. What I have forgiven, if I have forgiven anything, has been for your sake in the presence of Christ, to keep Satan from gaining the advantage over us; for we are not ignorant of his designs.
Galatians 1:8-9 But even if we, or an angel from heaven, should preach to you a gospel contrary to that which we preached to you, let him be accursed. As we have said before, so now I say again, If any one is preaching to you a gospel contrary to that which you received, let him be accursed.
2 Thessalonians 3:6 Now we command you, brethren, in the name of our Lord Jesus Christ, that you keep away from any brother who is living in idleness and not in accord with the tradition that you received from us.
1 Timothy 1:19-20 . . . By rejecting conscience, certain persons have made shipwreck of their faith, among them Hymenae'us and Alexander, whom I have delivered to Satan that they may learn not to blaspheme.
1 Timothy 5:20 As for those who persist in sin, rebuke them in the presence of all, so that the rest may stand in fear.
2 Timothy 2:16-18 Avoid such godless chatter, for it will lead people into more and more ungodliness, and their talk will eat its way like gangrene. Among them are Hymenae'us and Phile'tus, who have swerved from the truth by holding that the resurrection is past already. They are upsetting the faith of some.
2 Timothy 4:14-15 Alexander the coppersmith did me great harm; the Lord will requite him for his deeds. Beware of him yourself, for he strongly opposed our message.
Titus 1:10-11 For there are many insubordinate men, empty talkers and deceivers, especially the circumcision party; they must be silenced, since they are upsetting whole families by teaching for base gain what they have no right to teach.
Titus 3:10 As for a man who is factious, after admonishing him once or twice, have nothing more to do with him,
***
Related Reading
*
*
*
*
*
*
 *
*
*
***