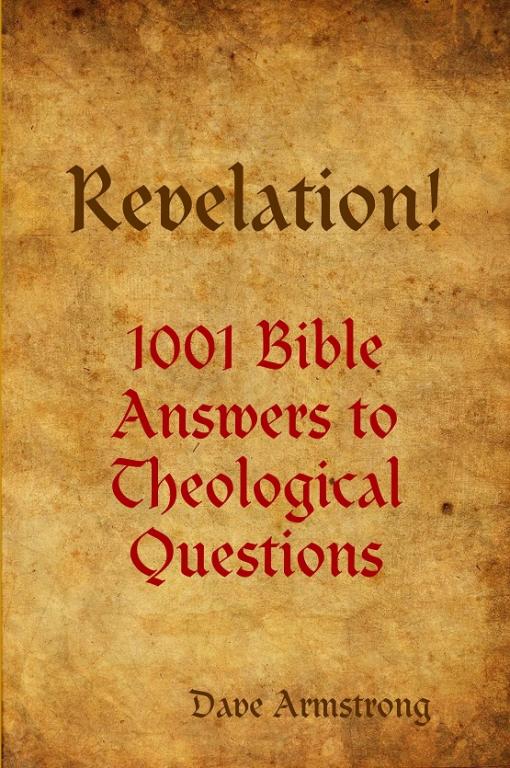 From my book, Revelation! 1001 Bible Answers to Theological Topics (Oct. 2013; also available in Spanish and French), pp. 33-39. Bible passages are taken from the KJV.
*****
Doctrine of the Church (Ecclesiology)
Oneness / Unity of
12-1. Is the Church "one body"?
1 Corinthians 12:12-13 For as the body is one, and hath many members, and all the members of that one body, being many, are one body: so also is Christ. [13] For by one Spirit are we all baptized into one body, whether we be Jews or Gentiles, whether we be bond or free; and have been all made to drink into one Spirit.
12-2. Is the Church "one faith"?
Ephesians 4:3-5 Endeavouring to keep the unity of the Spirit in the bond of peace. [4] There is one body, and one Spirit, even as ye are called in one hope of your calling; [5] One Lord, one faith, one baptism,
12-3. Is there "one fold"?
John 10:16 And other sheep I have, which are not of this fold: them also I must bring, and they shall hear my voice; and there shall be one fold, and one shepherd.
12-4. Does God want His Church to be "one" just as the Father and the Son are one?
John 17:20-23 Neither pray I for these alone, but for them also which shall believe on me through their word; [21] That they all may be one; as thou, Father, art in me, and I in thee, that they also may be one in us: that the world may believe that thou hast sent me. [22] And the glory which thou gavest me I have given them; that they may be one, even as we are one: [23] I in them, and thou in me, that they may be made perfect in one; and that the world may know that thou hast sent me, and hast loved them, as thou hast loved me.
12-5. Did God discourage a "divided kingdom"?
Matthew 12:25 And Jesus knew their thoughts, and said unto them, Every kingdom divided against itself is brought to desolation; and every city or house divided against itself shall not stand:
12-6. Was the early Church of one heart and soul?
Acts 4:32 And the multitude of them that believed were of one heart and of one soul: neither said any of them that ought of the things which he possessed was his own; but they had all things common.
Holiness / Teacher of Righteousness
13-1. Does God sanctify and cleanse His Church?
Ephesians 5:25-27 . . . Christ also loved the church, and gave himself for it; [26] That he might sanctify and cleanse it with the washing of water by the word, [27] That he might present it to himself a glorious church, not having spot, or wrinkle, or any such thing; but that it should be holy and without blemish.
13-2. Did Jesus promise that His followers could do great works as He had done?
John 14:12 Verily, verily, I say unto you, He that believeth on me, the works that I do shall he do also; and greater works than these shall he do; because I go unto my Father.
13-3. Did Jesus command His followers (and by implication, the later Church) to perform miracles by God's grace?
Matthew 10:8 Heal the sick, cleanse the lepers, raise the dead, cast out devils: freely ye have received, freely give.
13-4. Is the Church a "holy, royal priesthood" and "holy nation"?
1 Peter 2:5, 9 Ye also, as lively stones, are built up a spiritual house, an holy priesthood, to offer up spiritual sacrifices, acceptable to God by Jesus Christ. . . . [9] But ye are a chosen generation, a royal priesthood, an holy nation, a peculiar people; that ye should shew forth the praises of him who hath called you out of darkness into his marvellous light:
13-5. Do those in the Church constitute God's "temple"?
1 Corinthians 3:17 If any man defile the temple of God, him shall God destroy; for the temple of God is holy, which temple ye are.
13-6. Is the Church a "holy temple"?
Ephesians 2:19, 21 Now therefore ye are no more strangers and foreigners, but fellow citizens with the saints, and of the household of God; . . . [21] In whom all the building fitly framed together groweth unto an holy temple in the Lord:
Catholic (Universal)
14-1. Did the first Pentecost suggest the catholicity of the Church?
Acts 2:4-11 And they were all filled with the Holy Ghost, and began to speak with other tongues, as the Spirit gave them utterance. [5] And there were dwelling at Jerusalem Jews, devout men, out of every nation under heaven. [6] Now when this was noised abroad, the multitude came together, and were confounded, because that every man heard them speak in his own language. [7] And they were all amazed and marvelled, saying one to another, Behold, are not all these which speak Galilaeans? [8] And how hear we every man in our own tongue, wherein we were born? [9] Parthians, and Medes, and Elamites, and the dwellers in Mesopotamia, and in Judaea, and Cappadocia, in Pontus, and Asia, [10] Phrygia, and Pamphylia, in Egypt, and in the parts of Libya about Cyrene, and strangers of Rome, Jews and proselytes, [11] Cretes and Arabians, we do hear them speak in our tongues the wonderful works of God.
14-2. Is the Church called to evangelize the world?
Matthew 28:19 Go ye therefore, and teach all nations, . . .
14-3. Is the gospel to be universally available and fruitful?
Colossians 1:5-6 . . . the word of the truth of the gospel; [6] Which is come unto you, as it is in all the world; and bringeth forth fruit, as it doth also in you, . . .
14-4. Is the Church to spread to the "uttermost parts of the earth"?
Acts 1:8 But ye shall receive power, after that the Holy Ghost is come upon you: and ye shall be witnesses unto me both in Jerusalem, and in all Judaea, and in Samaria, and unto the uttermost part of the earth.
14-5. Was the predicted messianic kingdom universal?
Isaiah 49:6 And he said, It is a light thing that thou shouldest be my servant to raise up the tribes of Jacob, and to restore the preserved of Israel: I will also give thee for a light to the Gentiles, that thou mayest be my salvation unto the end of the earth.
14-6. Does God's salvation incorporate the whole world?
Isaiah 45:22 Look unto me, and be ye saved, all the ends of the earth: for I am God, and there is none else.
14-7. Is the catholicity of the Church like a "high cedar" tree?
Ezekiel 17:22-23 Thus saith the Lord GOD; I will also take of the highest branch of the high cedar, and will set it; I will crop off from the top of his young twigs a tender one, and will plant it upon an high mountain and eminent: [23] In the mountain of the height of Israel will I plant it: and it shall bring forth boughs, and bear fruit, and be a goodly cedar: and under it shall dwell all fowl of every wing; in the shadow of the branches thereof shall they dwell.
14-8. Is the gospel to be preached everywhere?
Matthew 24:14 And this gospel of the kingdom shall be preached in all the world for a witness unto all nations; and then shall the end come.
14-9. Are repentance and forgiveness to be preached everywhere?
Luke 24:47 And that repentance and remission of sins should be preached in his name among all nations, beginning at Jerusalem.
14-10. Are all nations called to be obedient to the faith?
Romans 1:5 By whom we have received grace and apostleship, for obedience to the faith among all nations, for his name:
Apostolic Succession
15-1. Is there an example of succession of office during the old covenant?
1 Chronicles 27:33-34 And Ahithophel was the king's counseller: and Hushai the Archite was the king's companion: [34] And after Ahithophel was Jehoiada the son of Benaiah, and Abiathar: . . .
15-2. Did the apostles speak truth?
1 Corinthians 2:7, 12-13 But we speak the wisdom of God in a mystery, even the hidden wisdom, which God ordained before the world unto our glory: . . . [12] Now we have received, not the spirit of the world, but the spirit which is of God; that we might know the things that are freely given to us of God. [13] Which things also we speak, not in the words which man's wisdom teacheth, but which the Holy Ghost teacheth; comparing spiritual things with spiritual.
15-3. Were the apostles eyewitnesses of Jesus, with a "prophetic word"?
2 Peter 1:16, 19 For we have not followed cunningly devised fables, when we made known unto you the power and coming of our Lord Jesus Christ, but were eyewitnesses of his majesty. . . . [19] We have also a more sure word of prophecy; . . .
15-4. Is there an example of an apostle actually succeeding another, in terms of office?
Acts 1:20-26 For it is written in the book of Psalms, Let his habitation be desolate, and let no man dwell therein: and his bishoprick let another take. [21] Wherefore of these men which have companied with us all the time that the Lord Jesus went in and out among us, [22] Beginning from the baptism of John, unto that same day that he was taken up from us, must one be ordained to be a witness with us of his resurrection. [23] And they appointed two, Joseph called Barsabas, who was surnamed Justus, and Matthias. [24] And they prayed, and said, Thou, Lord, which knowest the hearts of all men, shew whether of these two thou hast chosen, [25] That he may take part of this ministry and apostleship, from which Judas by transgression fell, that he might go to his own place. [26] And they gave forth their lots; and the lot fell upon Matthias; and he was numbered with the eleven apostles.
15-5. Does St. Paul pass on his office in any sense, to another?
2 Timothy 4:1-2, 5-6 I charge thee therefore before God, and the Lord Jesus Christ, who shall judge the quick and the dead at his appearing and his kingdom; [2] Preach the word; be instant in season, out of season; reprove, rebuke, exhort with all longsuffering and doctrine. . . . [5] But watch thou in all things, endure afflictions, do the work of an evangelist, make full proof of thy ministry. [6] For I am now ready to be offered, and the time of my departure is at hand.
***
See many more articles about ecclesiology and the doctrine of the Church on my [Catholic] Church and Ecclesiology web page.
***
Unfortunately, Money Trees Do Not Exist:
If you have been aided in any way by my work, or think it is valuable and worthwhile, please strongly consider financially supporting it (even $10 / month — a mere 33 cents a day — would be very helpful). I have been a full-time Catholic apologist since Dec. 2001, and have been writing Christian apologetics since 1981 (see
my Resume
). My work has been proven (by God's grace alone) to be fruitful, in terms of changing lives (see the tangible evidences
from unsolicited "testimonies"
). I have to pay my bills like all of you: and have a (homeschooling) wife and two children still at home to provide for, and a mortgage to pay.
*
My book royalties from
three bestsellers in the field
(published in 2003-2007) have been decreasing, as has my overall income, making it increasingly difficult to make ends meet. I provide over 2700 free articles here, for the purpose of your edification and education, and have
written 50 books
. It'll literally be a struggle to survive financially until Dec. 2020, when both my wife and I will be receiving Social Security. If you cannot contribute, I ask for your prayers (and "likes" and links and shares). Thanks!
*
See my
information on how to donate
(including 100% tax-deductible donations). It's very simple to contribute to my apostolate via PayPal, if a tax deduction is not needed (my "business name" there is called "Catholic Used Book Service," from my old bookselling days 17 or so years ago, but send to my email: apologistdave@gmail.com). Another easy way to send and receive money (with a bank account or a mobile phone) is through
Zelle
. Again, just send to my e-mail address. May God abundantly bless you.
*
***