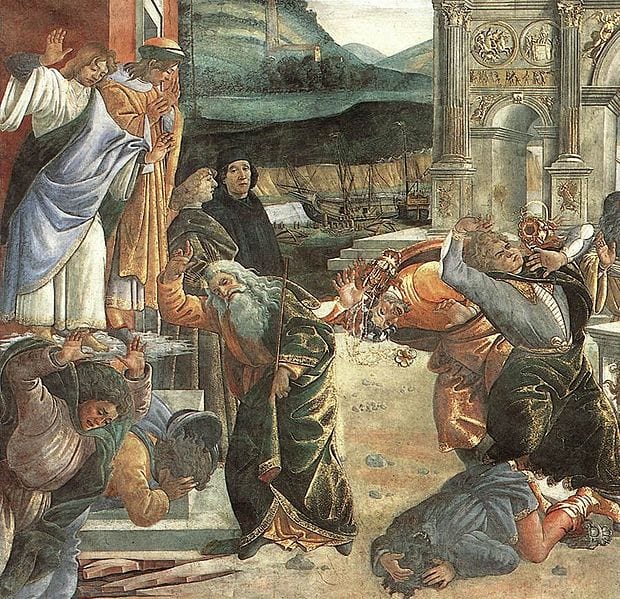 This is one of the new conspiracy theories that people are foolishly sopping up like a sponge. But does it line up with the Bible? No. The Bible teaches that worship and reverence are matters of the heart, the spirit, and one's interior disposition, not posture. I've shown this again and again. And communion in the hand massively took place in the first thousand years of the Church.
So could God be judging the world because of it? Again: No! How can I say that? It's because St. Paul specifically discusses this very thing:
1 Corinthians 11:27-30 (RSV) Whoever, therefore, eats the bread or drinks the cup of the Lord in an unworthy manner will be guilty of profaning the body and blood of the Lord. [28] Let a man examine himself, and so eat of the bread and drink of the cup. [29] For any one who eats and drinks without discerning the body eats and drinks judgment upon himself. [30] That is why many of you are weak and ill, and some have died.
Therefore, any such judgment already has been occurring individually with those who partake irreverently — "in an unworthy manner . . . without discerning the body [i.e., substantial Real Presence of Our Lord]" — for almost 2000 years, as opposed to the blasphemous scenario that would have God randomly judging people in the entire world, in which the ones most severely judged (were this true) would be the elderly with existing medical conditions, and anyone who is already ill and catches the virus.
That's simply not the pattern that we know from God's revelation of Himself in Holy Scripture, of how He judges. I've written four papers about judgment and a supposed connection with coronavirus already.
When we have plain, clear Scripture on a topic and the guidance of Church teaching, we ought not speculate; and all the more, not in blasphemous ways that cast aspersions on God's nature and His love and mercy.
Someone who knows the Bible a bit may still object: "wait! Didn't God judge Israel for false-hearted, hypocritical worship and idolatry?" The answer is yes, but it looks nothing like what the virus is doing. Someone thinks the virus looks like how God judged idolatry? He was judging things like literally worshiping small idols of stone and wood, and offering incense and sacrifice to them (in the worst cases: burning their own children in sacrifice: see Ezekiel 20:31). I think even the most rabid opponent of communion in the hand wouldn't be so silly as to compare it to those things. Take a look at what true divine wrath really looks like:
Ezekiel 6:1-14 (complete chapter) The word of the LORD came to me: [2] "Son of man, set your face toward the mountains of Israel, and prophesy against them, [3] and say, You mountains of Israel, hear the word of the Lord GOD! Thus says the Lord GOD to the mountains and the hills, to the ravines and the valleys: Behold, I, even I, will bring a sword upon you, and I will destroy your high places. [4] Your altars shall become desolate, and your incense altars shall be broken; and I will cast down your slain before your idols. [5] And I will lay the dead bodies of the people of Israel before their idols; and I will scatter your bones round about your altars. [6] Wherever you dwell your cities shall be waste and your high places ruined, so that your altars will be waste and ruined, your idols broken and destroyed, your incense altars cut down, and your works wiped out. [7] And the slain shall fall in the midst of you, and you shall know that I am the LORD. [8] "Yet I will leave some of you alive. When you have among the nations some who escape the sword, and when you are scattered through the countries, [9] then those of you who escape will remember me among the nations where they are carried captive, when I have broken their wanton heart which has departed from me, and blinded their eyes which turn wantonly after their idols; and they will be loathsome in their own sight for the evils which they have committed, for all their abominations. [10] And they shall know that I am the LORD; I have not said in vain that I would do this evil to them." [11] Thus says the Lord GOD: "Clap your hands, and stamp your foot, and say, Alas! because of all the evil abominations of the house of Israel; for they shall fall by the sword, by famine, and by pestilence.[12] He that is far off shall die of pestilence; and he that is near shall fall by the sword; and he that is left and is preserved shall die of famine. Thus I will spend my fury upon them.[13] And you shall know that I am the LORD, when their slain lie among their idols round about their altars, upon every high hill, on all the mountain tops, under every green tree, and under every leafy oak, wherever they offered pleasing odor to all their idols. [14] And I will stretch out my hand against them, and make the land desolate and waste, throughout all their habitations, from the wilderness to Riblah. Then they will know that I am the LORD."
I think a plausible argument can be made that abortion constitutes such idolatry and is the literal equivalent of offering our children to the fire, or Ba'al, or Moloch, or what not, and that would be more than adequate for judgment (I have made the argument myself, many times in the past). But that's not what's being said. The reactionaries aren't claiming that God is judging the world for abortion, but rather, for the myth of the supposed idolatry of "Pachamama" in the Vatican, for how the pope dealt with Chinese Christians, and/or for communion in the hand.
If God truly judged the world for abortion, I think it would likely be the end of the world: so serious and abominable is that sin. He has chosen not to do so, for His own inscrutable reasons, and due to His extraordinary mercy (that we never deserve or earn). In any event, none of the "judgment conspiracy theories" of today (and more will surely be coming) look anything like judgment and divine wrath, as we know it from Holy Scripture.
Related Reading
"The Bible on Germs, Sanitation, & Infectious Diseases" [10-30-17]
"Does God Ever Judge People by Sending Disease?" [3-16-20]
Taylor Marshall: Pachamama "Idolatry" Judged by Coronavirus (Yet "Antichrist" Pope Francis Walks the Streets of Pandemic-Ravaged Rome Free of the Virus . . .) [3-17-20]
Alexander Tschugguel, Taylor Marshall, & God's Wrath [3-19-20]
Coronavirus: Chris Ferrara vs. Science & Historical Precedent (Social Distancing Was Used in the 1918 Flu Pandemic and Has Been Shown Again and Again to be Highly Effective) [4-7-20]
Priest Blasphemes God (Coronavirus = Judgment?) [4-10-20]
Dialogue: Is Coronavirus the Way that God Judges? [4-13-20]
***
*
*
*
*
*
*
*
***
***