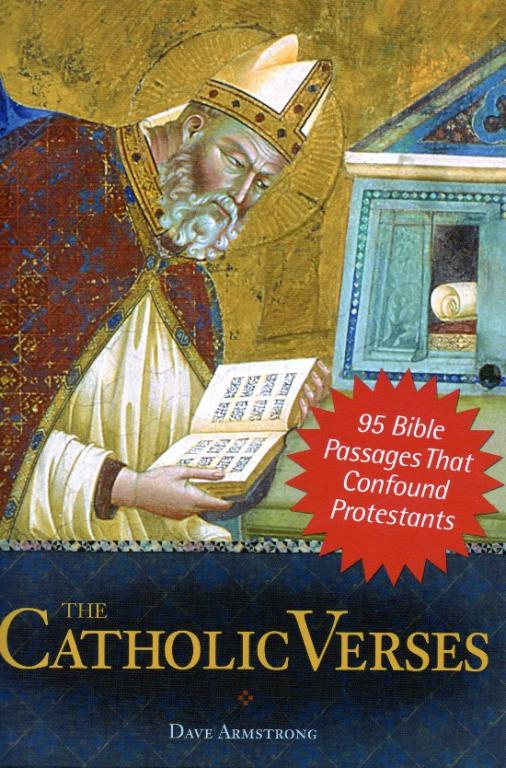 [book and purchase information]
***
[originally from 12-29-04]
***
My Introduction to the Series [12-29-04]
Part I: Binding Tradition [12-30-04]
Part II: Rabbit Trail Diversion [12-30-04]
Part III: Ad Hominem [12-31-04]
Part IV: I'm an Ignorant Convert? [12-31-04]
Part V: Deceiver Dave [1-1-05]
Part VI: Penance and Redemptive Suffering [1-2-05]
***
Contrary to his usual "principle" (if one can call it that), Bishop White has actually shown himself willing to take on some of my arguments in writing. This marks a new turning-point in our warm relationship and Christian fellowship. Prior to now, by and large, White has ignored my written arguments and has stuck to mockery of how long and irrelevant and substanceless my papers allegedly are, etc.
He did do a critique of my radio appearance on Catholic Answers Live, concerning Bible and Tradition, on several of his Dividing Line webcasts. I showed how shallow that was, by delving at length (I know, "ha ha") into one particular example of his "argumentation" there (unresponded to, of course). See: Jerusalem Council vs. Sola Scriptura [9-2-04].
My own suspicion (just a speculation, mind you) is that the "Armstrong writes meaningless sentences, full of sophistry and non sequitur, a million pages long" excuse rhetoric may be wearing thin among some White supporters (such as those he gabs with in his chat room). Perhaps a few of them have urged White to take me on, since (from their perspective) I am doing such harm to "the gospel" by my "verbose" rantings and ravings.
After all, someone's gotta stop me, right, before I lead further uninformed, poor souls astray with my abominable Catholic apologetics, in defense of lies, the Antichrist, etc.? This excuse of his to avoid rational (and for the anti-Catholic, necessary) theological dispute just doesn't cut it, even by the rock-bottom, illogical, incoherent standards of discourse and evidence that characterizes the anti-Catholic mindset. So here we go.
Even so, I expect that he will write his thing, I'll respond, and then it'll be over (i.e., for that particular sub-topic; presumably one of the Bible passages I write about). That's how it has been since 1995 with White and I, since our lengthy postal exchange that he prematurely departed.
But hey, he has now decided to change his policy of never engaging me in writing (except to mock and ridicule and dismiss), so maybe we'll be blessed with another radical innovation in his methodology: going more than one round in a written debate. Here is White's entire blog entry (12-29-04) [his words in blue]:
*****
The Catholic Verses: Introit
I sometimes feel sorry for ancient artists. Their work gets plastered all across the covers of modern books, but they never get a dime for their efforts. It's a shame. That odd observation aside, I picked up a copy of Dave Armstrong's The Catholic Verses: 95 Bible Passages That Confound Protestants (Sophia Institute Press, 2004, 235 pp.), which sports said ancient art (a di Bondone painting) on its cover. I'm a Protestant, and I have yet to be confounded by Dave Armstrong, so I thought it might be interesting to invest some time in using it as a resource here on the blog.
Likewise, I was listening to a debate between a Church of Christ minister and Bill Rutland, another Roman Catholic apologist, yesterday. I was fascinated by Rutland's bold assertions about the Greek language (I'll be addressing him in time). When RC apologists like Armstrong and Rutland promote arguments in their writings and debates that are, in fact, invalid, we have a duty to respond to them, even if we have, in fact, responded to similar kinds of errors dozens of times in the past. Why? Because the folks you may be seeking to win to the gospel may have a copy of The Catholic Verses on their nightstand, or a CD of Rutland's in their car.
Now, of course, DA will respond with text files (liberally salted with URL's) that will average 10x the word count of anything I have to say. That's OK. I shall win the award for brevity and concise expression, and let him take home the bragging rights to verbosity and bandwidth usage. Thankfully, there are folks "in channel" who can help me find out if there is, in fact, anything at all of substance in said replies, and if there is, I will seek to note it, again for only one reason: the edification of the saints both in their confidence in the gospel and in their preparation for the task of proclamation.
So we will begin with one of the classic passages in the Catholic/Protestant debate: 2 Thessalonians 2:15. I will start there in the next installment simply because Armstrong notes The Roman Catholic Controversy in his book, hence, his section on the verse should "confound" my own exegesis of the text. Does it? We shall see.
*****
Yes we shall. I think we'll "see" quite a bit if White intends to take up this discussion in earnest. Just for fun, I will write less words than he does (which is difficult, seeing that his analyses are so filled with errors and misrepresentations — especially of my own arguments — that "brevity" is quite the gargantuan task and an exercise in extreme self-control, for one literally surrounded by falsehoods to be responded to briefly). That will provide a true challenge from White, for a change (if only indirectly), which would be nice.
***