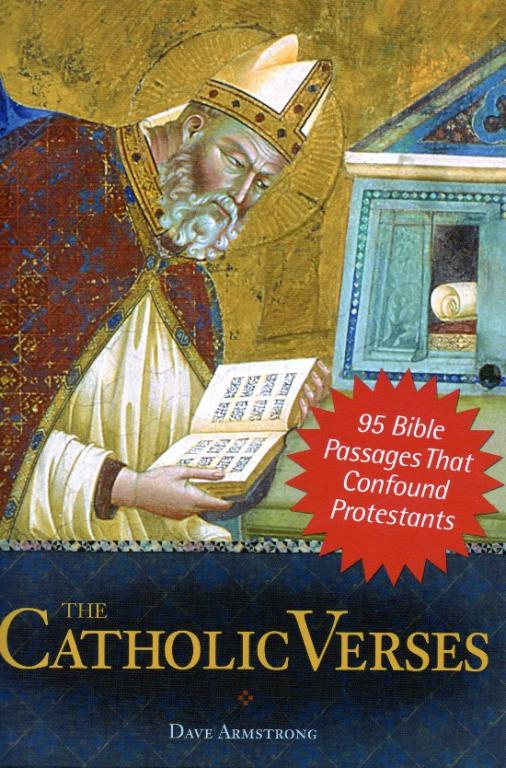 [book and purchase information]
***
[originally from 12-31-04]
***
My Introduction to the Series [12-29-04]
Part I: Binding Tradition [12-30-04]
Part II: Rabbit Trail Diversion [12-30-04]
Part III: Ad Hominem [12-31-04]
Part IV: I'm an Ignorant Convert? [12-31-04]
Part V: Deceiver Dave [1-1-05]
Part VI: Penance and Redemptive Suffering [1-2-05]
***
This is my reply to White's article, "Interesting Replies" (12-30-04). He later removed it (of course without any retraction or apology), so I linked to the archived version. His words will be in blue. I reproduce his entire post.
Interesting Replies
DA has replied to my first comments on his book [see previous installment]. They were…predictable. Armstrong says his book is not "primarily" exegetical. Quite true. It is not secondarily exegetical. It is not exegetical in a tertiary manner. It simply isn't exegetical at all.
It does contain some exegesis, but here's the heart of my purpose (from my Introduction):
. . . only rarely do they seriously engage the biblical texts utilized by Catholics to support their positions . . . . critique of common Protestant attempts to ignore, explain away, rationalize, wish away, over-polemicize, minimize, de-emphasize, evade clear consequences of, or special plead with regard to "the Catholic Verses": 95 biblical passages . . . ultimate incoherence, inadequacy, inconsistency, or exegetical and theological implausibility of the Protestant interpretations . . . (pp. xii-xiv)
But, that's the whole point. The book pretends to "confound" Protestants with biblical passages, remember? I did not choose the title, Mr. Armstrong did.
Technically, I am not trying to "confound" anyone. It is the Bible which gives Protestants difficulty. I'm merely documenting exegetical bankruptcy, confusion, or irrationality.
And the only way to do that is to provide a meaningful interpretation of those passages.
That's logically distinct from critiquing Protestant exegesis. Biblical evidence for Catholicism is dealt with in my first two books.
And unless Mr. Armstrong is willing to just come out and say, "Hey, Rome tells me what these passages mean, I can't even begin to handle the biblical text myself," then some kind of argument is going to have be offered from the text itself.
That is a separate project. Catholic exegetes are no more bound to "official" interpretation of verses than Protestants. See: The Freedom of the Catholic Biblical Exegete / Interpreter + Bible Passages that the Church has Definitively Interpreted [9-14-03].
And what I'm demonstrating is that when most "Dave Armstrong" level RC apologists . . .
Who else would be in this "level"?
 . . . quote a passage, they honestly have no idea what the passage is actually saying in its native context. They are eisegetically misusing the text, as I am documenting in regards to Armstrong. And that's the whole point of this exercise.
Why respond to silly, false accusations?
Armstrong also informs us that he doesn't read my books. That's OK. If he wishes to remain ignorant of the exegetical arguments presented against his position, I have no reason to encourage him to do otherwise.
This book is about failed Protestant attempts to refute Catholic biblical prooftexts. White has yet to deal with those.
It is just odd to me that someone would wish to put arguments into print that have already, and recently, been refuted. ignoratio elenchi.
White's arguments are not the sum and essence of Protestant exegesis. He has quite the inflated view of his own importance.
When I invited Armstrong to provide us with a meaningful, contextual examination of Romans 4:6-8, his response was classic:
DA [his citing my words]: "Why should I go off on White's rabbit trail, after he has systematically ignored my critiques of his material for almost ten years? If he actually tries to interact with some of mine, then he will find me much more willing to go off on tangents of his own choosing. But I won't bow to either (1) a double standard, or (2) diversion tactics to avoid dealing with the topic at hand (which he himself chose, in the present case, oddly enough)."
Well, OK. I guess we will be left to wonder if, in fact, Dave Armstrong can exegete that passage or not.
Wonder away. It's off-topic. Period.
Maybe someone else can ask and not get that kind of response.
When it is the topic, sure!
But again, I just state the obvious: the author of A Biblical Defense of Catholicism and The Catholic Verses seems, anyway, by his initial responses, to be exceptionally unwilling to engage in exegesis of the text of Scripture. I don't know, maybe that strikes someone else as odd?
White's continual dense inability (or unwillingness) to offer a logical and coherent critique is what amazes me.
*****
Total words: White: 423
Total words: Armstrong: 271 (or 64% as many as White's)
Grand Total thus far: White: 4270 / Armstrong: 1624 (or 38% as many as White's words, or White outwriting Armstrong by a 2.63 to one margin)
My percentage of words over against White's, compared to his "average" prediction: 0.04% (1624 actual, compared to a predicted 42,700 / 26 times less)
Note Bishop White's statement on 12-29-04, in commencing this present discussion:
Now, of course, DA will respond with text files (liberally salted with URL's) that will average 10x the word count of anything I have to say. That's OK. I shall . . . let him take home the bragging rights to verbosity and bandwidth usage.
***