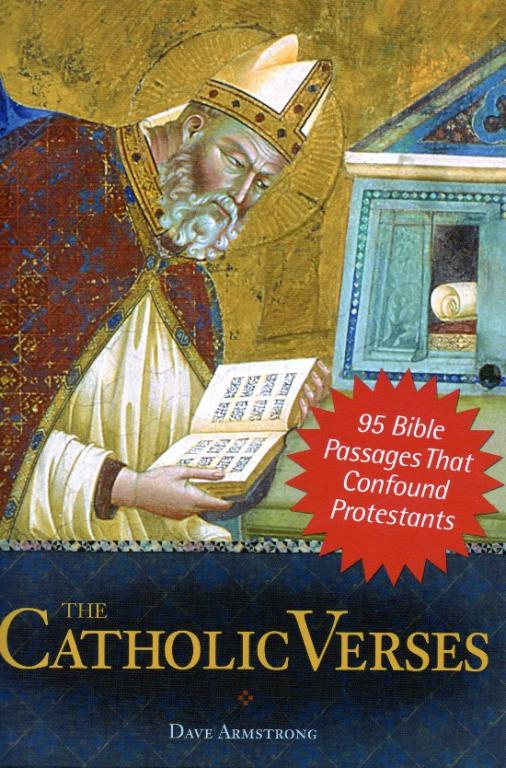 [book and purchase information]
***
[originally from 12-30-04]
***
My Introduction to the Series [12-29-04]
Part I: Binding Tradition [12-30-04]
Part II: Rabbit Trail Diversion [12-30-04]
Part III: Ad Hominem [12-31-04]
Part IV: I'm an Ignorant Convert? [12-31-04]
Part V: Deceiver Dave [1-1-05]
Part VI: Penance and Redemptive Suffering [1-2-05]
***
This is my reply to White's article, "The Protestant Verses: Can Dave Armstrong Exegete This Passage?" (12-30-04). White's words will be in blue.
I'd like to ask Dave Armstrong to provide a biblically solid, textually grounded, linguistically accurate, contextually sound interpretation of Romans 4:6-8:
Romans 4:6-8 6 just as David also describes the blessedness of the man to whom God imputes righteousness apart from works: 7 "Blessed are those whose lawless deeds are forgiven, and whose sins are covered; 8 Blessed is the man to whom the LORD will not impute sin."
I scanned through The Catholic Verses and couldn't find a reference to this passage (I may have missed it);
Obviously, then, it has nothing to do with any argument in my book!
I looked at the Scripture index to A Biblical Defense of Catholicism and it is not listed.
That being another book, it obviously has nothing to do with a critique of my present book, either . . .
I tried googling Armstrong's blog and website, but got no hits on various ways of listing the passage. If Armstrong has already written something that fits this request, I will be glad to look at it upon referral. But, failing that, I would simply ask: "Who is the blessed man of Romans 4:6-8 in Roman Catholic theology?"
Why should I go off on White's rabbit trail, after he has systematically ignored my critiques of his material for almost ten years? If he actually tries to interact with some of mine, then he will find me much more willing to go off on tangents of his own choosing. But I won't bow to either (1) a double standard, or (2) diversion tactics to avoid dealing with the topic at hand (which he himself chose, in the present case, oddly enough).
I would assume Armstrong possesses a copy of The God Who Justifies . . .
He assumes wrongly. I haven't read any of his books. The only ones I even have are those he sent me for free back in 1995 (thanks again, James!), and one (The Roman Catholic Controversy) that I found for a quarter at a used book sale (I'm willing to pay that much for anti-Catholic material; if it was a dollar, though, I would have thought twice).
(though it is not referred to in his new book, which is especially interesting regarding the 24 page chapter on James 2:14-24 that Armstrong neglects in his book),
Again, White strangely assumes that I always have to deal with his arguments, when my purpose was mainly to examine historic Protestant commentary, from major figures in its history (or does White claim to be that?).
[Note from 3-9-17: I later (on 10-9-13) refuted that chapter in his book. See: Reply to James White's Exegesis of James 2 in Chapter 20 of His Book, The God Who Justifies. White utterly ignored it, as is his wont almost always with me. At best, he might attempt a feeble "argument" for a paragraph or two, but then will ignore any counter-reply. He's been doing this now with me for over 21 years]
but should he not, allow me to reproduce the exegesis I offered of this section. I would be very interested in a response-in-kind from Mr. Armstrong. (Please forgive any formatting issues, the lack of italics, and of the footnotes that are in the original. Please refer to the published work for those details):
See my third response previous to this one. I am curious why White is suddenly so interested in my opinions, though, since he has always argued (and still in our previous round) that they have no substance whatsoever.
[deleted his entire citation, due to its being off-topic]
My book is about how Protestants rationalize, special plead, avoid, obfuscate, etc. regarding biblical verses which (from our perspective) suggest some distinctive in Catholic theology. White's aim above, on the other hand, is to exegete a passage which he considers a strong proof text for Protestantism. Apples and oranges. Perhaps a future book of mine can be devoted to showing how Protestant proof texts are utterly inadequate and able to be sufficiently refuted from a Catholic point of view and dismissed (sounds like a fun project to me).
But that time is not now, in the context of the ongoing critique of my book, and also given White's past utter contempt and ignoring of my arguments. I've always refused to play this game of topic-switching (with White and everyone else). I would do that even if we had the most cordial of relationships and he had answered my past writings and challenges to him. And that is because I maintain strong principles of how to go about a good dialogue properly and in an orderly, constructive fashion.
White, in fact, follows very similar principles himself. In a recent blog post ("Regarding Theological Dialogues" [12-29-04]), he stated that one must take one's time with serious theological topics, and not rush things. This is very good (nice to agree with White occasionally). Likewise, my principle and determination here is to not go off the previous topic in order to immediately treat some entirely different subject. It has nothing whatsoever to do with the worthiness and importance or value of the particular discussion itself.
In fact, I show much respect towards it by maintaining this principle, because I am saying that serious topics ought to be considered one at a time, carefully and deliberately. And that can't be done by rushing off on some rabbit trail, because the opponent thinks he has a slam dunk (while double dribbling and missing all his shots in the present "refutation / dialogue" that he seeks to avoid for the moment with a diversion). So, nice try . . .
*****
Total words: White: 2910
Total words: Armstrong: 630 (or 22% as many as White's)
Note White's statement on 12-29-04, in commencing this present discussion: "Now, of course, DA will respond with text files (liberally salted with URL's) that will average 10x the word count of anything I have to say. That's OK. I shall . . . let him take home the bragging rights to verbosity and bandwidth usage."
***