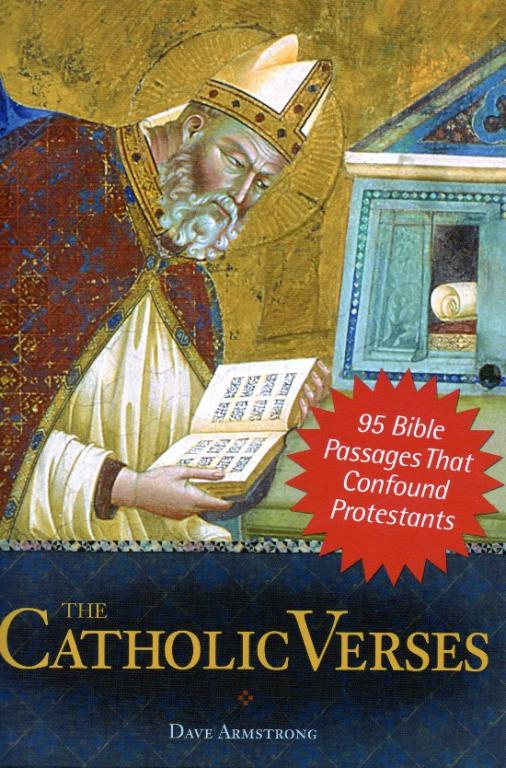 [book and purchase information]
***
[originally from 12-31-04]
***
My Introduction to the Series [12-29-04]
Part I: Binding Tradition [12-30-04]
Part II: Rabbit Trail Diversion [12-30-04]
Part III: Ad Hominem [12-31-04]
Part IV: I'm an Ignorant Convert? [12-31-04]
Part V: Deceiver Dave [1-1-05]
Part VI: Penance and Redemptive Suffering [1-2-05]
***
This is my reply to White's article, "The Catholic Verses: 91 Reduced to 87 (Part I)" (12-30-04). White later removed it (without retraction or apology: needless to say), so I had to retrieve it at Internet Archive. I reproduce the whole thing, with his words in blue.
One other thing to remember before we move to Armstrong's comments. Armstrong is identified as a "Protestant campus missionary" on the back of his book prior to his conversion. I do not know what that involved, but one thing that it probably did not involve was a great deal of study of the Puritans, reading of Edwards, or even of someone like Spurgeon.
Calvinist or Reformed theology is not the whole of Protestantism. It is White's position which is ludicrous, since I have demonstrated that, by his very statements, C.S. Lewis, Philip Melanchthon, Dietrich Bonhoeffer, John Wesley, even Martin Luther himself and St. Augustine, could not be Christians at all (according to him, they denied both sola fide and sola gratia)!!! See our initial 1995 debate, where I made this argument at length.
With intellectually vacant baggage like that (which he has never explained), it is beyond laughable for him to accuse me of ignorance and insufficient former "Protestant" status (as he has before), due to not reading, for example, the vehemently anti-Catholic Spurgeon (I did, however, have some of his books in my library).
So when we encounter his views of "suffering" in Protestantism, we need to remember that they are not coming from someone who was, in fact, much more than a layperson, and one who has given very little evidence, in fact, of having done a lot of serious reading in better non-Catholic literature to begin with. In fact, I would imagine Armstrong has done more reading in non-Catholic materials since his conversion than before. In any case, this lack of background will resound loudly in the comments he offers, to which we will turn in part 2.
White merely exhibits here his profound ignorance of my background, and usual condescension. He knows virtually nothing about this (and has forgotten whatever I did tell him). In fact, I read many many good books as a Protestant, including the following by Protestant authors (asterisked writers are Reformed / Calvinist, as far as I recall and know offhand):
Have-Read List:
Bernard Ramm (Baptist), Eastman, Walvoord, Michael Green, R.C. Sproul*, Stott, Van Impe, Hal Lindsey (6), C.S. Lewis (5), Josh McDowell (5), A.W. Tozer, Duane Gish (young earth creationist), Henry Morris (young earth creationist), Francis Schaeffer* (7), Harold Lindsell (2), Os Guinness, Roland Bainton — leading biographer of Luther (2), Tim LaHaye, A. Skevington Wood (biographer of Wesley), Ron Sider, Franky Schaeffer* (2), Merrill Tenney, James Montgomery Boice*, Neuhaus (when Lutheran), Lorraine Boettner* (The Reformed Doctrine of Predestination), Dave Basinger (editor: Predestination and Free Will), Oswald Allis*, George Marsden* (2), J. Gresham Machen*, Howard Snyder, Kierkegaard (Lutheran philosopher) (3), John MacArthur*, J.I. Packer*, Billy Graham, Walter Martin.
I also listened to many tapes from Walter Martin, as I was involved in counter-cult research, and a ton of Christian talk radio, went to many many Bible studies and other Christian talks and conferences, etc. I was friends with three Baptist pastors: one of whom was a Reformed Baptist.
These are just people whose books I have read in their entirety (in my Protestant period). I have many many more Protestant books in my library to this day. I may not have read every page of these, but I used them a lot for research, then (1977-1990) and since my conversion (reading very large portions; oftentimes the lion's share of the book):
General:
G.C. Berkouwer* (3), F.F. Bruce (11), D.A. Carson, Gerhard Maier, Ryken, Edersheim (2), R.D. Wilson, Wenham, Arndt, Ladd (2), Albright (biblical archaeologist) (5), Augustus Strong, Charles Hodge*, D. Guthrie, Archer (2), Woodbridge, Jack Rodgers, John Gerstner*, A.A. Hodge*, Warfield*, Dunn, Alford, Westcott, Oswald Chambers, Richard Foster, Reinhold Niebuhr, H. Richard Niebuhr (4), Goodspeed (2), Paul Maier (3), J.B. Lightfoot (5), Peter Berger (6), Os Guinness (3), Enroth (2), Walter Martin (2), Thomas Oden (4), Ankerberg, Billy Graham (4), Dobson (6), Bonhoeffer (13), John Wesley (6 about him), Jonathan Edwards* (two of primary material and one biography), Ronald Nash*, Carl F.H. Henry, R.C. Sproul* (2), LaHaye, Charles Colson* (9), Swindoll, Yancey (3), John Macarthur* (2), J.I. Packer* (2), Sire (2).
Church Historians (emphasizing the 16th century):
J.N.D. Kelly, Roland Bainton (4), Jaroslav Pelikan (4), Philip Schaff (4), Kenneth Scott Latourette (9), Dillenberger (3), Martin Marty (3), Oberman (2), McGrath (2), A.G. Dickens (2), Hillerbrand (2), Harbison (2), Pauck (2), Spitz (2), Henry Chadwick (2), Steinmetz, Rupp, Althaus, Owen Chadwick, Perry Miller (perhaps the leading scholar on Puritanism) and other works about Puritanism (8)
Primary and Secondary "Reformation" Literature:
Martin Luther: 13 volumes from Luther's Works, [I have since obtained the entire 55-volume set] + 15 more primary works or collections, and 15-20 books about him.
John Calvin: 10 large primary works (Institutes, Letters, Commentaries, etc.), + four biographies.
Melanchthon: two collections of primary writings.
Zwingli/Bullinger: important primary writings.
Anabaptists: important primary writings.
Book of Concord (Lutheran).
Book of Common Prayer (Anglican).
Apologists and Philosophers:
C.S. Lewis (virtually every book by and about him — my favorite writer –, filling up an entire large bookshelf), Norman Geisler (7), William Lane Craig, J.W. Montgomery (5), Josh McDowell (7), Cornelius Van Til*, Bernard Ramm (3), Alvin Plantinga* (2), J.P. Moreland, Gary Habermas, Kierkegaard (18), Dorothy Sayers (2), Carnell (2), J.N.D. Anderson, Strobel (2).
Scholarly References:
25 or so versions of the Bible, A.T. Robertson (Word Pictures, + one additional), Vine (Expository Dictionary of NT Words), Vincent (Word Studies), Kittel, Thayer, Gesenius, International Standard Bible Encyclopedia, Treasury of Scripture Knowledge, Nave's Topical Bible, New Bible Dictionary, Eerdmans Bible Dictionary, Oxford Dictionary of the Christian Church, Eerdmans Bible Commentary, Jamieson, Fausset, Brown Commentary, New International Dictionary of the Christian Church, Ancient Christian Commentary on Scripture (Oden; 3 volumes), Dictionary of Christianity in America (IVP), Strong's and Young's Concordances, NRSV Concordance.
Suffering:
I have these Protestant books in my library concerning suffering (and I read the Lewis, Plantinga, and Silvester books):
The Problem of Pain (C.S. Lewis)
Arguing With God (Hugh Silvester)
God, Freedom, and Evil (Alvin Plantinga)
Theodicy (Leibniz)
Till Armageddon (Billy Graham)
Portraits of Perseverance: 100 Meditations From the Book of Job (Henry Gariepy)
Good Grief (Granger E. Westberg)
A Grief Observed (C.S. Lewis)
A Loving God and a Suffering World (JonTal Murphree)
God on the Witness Stand (Daniel T. Hans)
How to Find Comfort in the Bible (Herbert Lockyer).
My lengthy paper, "Christian Replies to the Argument From Evil (Free Will Defense): Is God Malevolent, Weak, or Non-Existent Because of the Existence of Evil and Suffering?", draws heavily on the work of Leibniz, Lewis, and Plantinga.
I think, then, any reasonable person will lay to rest White's asinine assertion that I have shown "very little evidence, in fact, of having done a lot of serious reading in better non-Catholic literature." I don't think this is a bad showing at all for a non-formally-trained layman who has had relatively little money to invest in books through the years (most of these having been obtained used). I may not spout my knowledge of all these writers all the time (like someone else I know, who also talks constantly about his vaunted — but questionable — educational credentials), but that doesn't mean I have not incorporated what they taught me into my overall Christian worldview.
I owe these writers a tremendous debt and deep gratitude for my formation in Christian theology and apologetics. Who could be anti-Protestant with all these treasures to be had? But White manages to dismiss all the wonderful Catholic literature and scholarship, as of little or no value. My position is that both Christian traditions can learn a great deal from each other, in many ways. Those who take the exclusivistic, tunnel-vision approach greatly impoverish their learning and understanding of the totality of Christianity and the Lord's working on this earth and through salvation history.
*****
I consider this a "footnote" so I won't do the word count thing this time. This (necessary) aside illustrates, however, how difficult it is to reply with less words than one's opponent, when said opponent is lying through his teeth about one. To say that I have shown "very little evidence, in fact, of having done a lot of serious reading in better non-Catholic literature," takes all of 18 words. Lies are like that. How can you disprove this in less than 18 words? To refute the ludicrous charge clearly takes many more words (and effort; I've just blown a few hours). In this case, I had to list the books I read or have partially read and used for study and research. If White will stop the needless, groundless personal attacks and ignorant stupidities like this, maybe we can get back to his compelling critique that scarcely even interacts at all with what it purportedly critiques! :-)
***