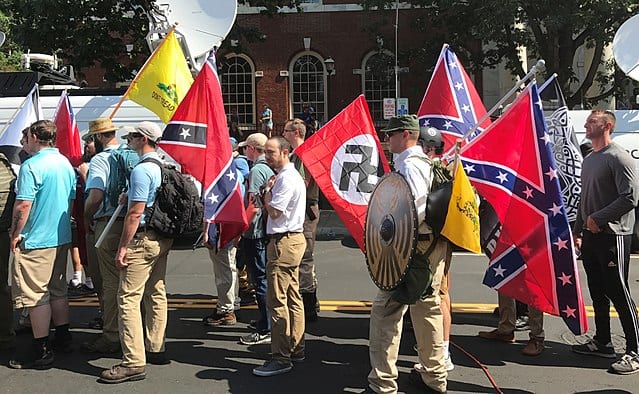 This whopper of a lie and falsehood and slander is up there with the most influential and parroted propagandistic mantras (the other biggest one being — arguably — his supposed mocking of a disabled reporter), used by liberals and Never Trumpers to discredit the President. It's an example of the Big Lie: the technique diabolically perfected by the Nazi propaganda chief Joseph Goebbels: just repeat a lie enough times and the people will believe it.
The Big Lie was dredged up by Joe Biden in his speech when he first appeared with his running mate, Kamala Harris, a few days ago:
Today is not only the day I'm proud to introduce Senator Harris … it's also the third anniversary of that terrible day in Charlottesville. . . . For me, it was a call to action … at that moment I knew I couldn't stand by and let Donald Trump, a man who went on to say … 'there are very fine people on both sides' … No president of the United States have ever said something like that.
First, here is a typical use of the Lie, on a public Facebook thread in February 2018, from Catholic writer and rabid Trump-despiser Mark Shea, who cynically characterized any defense whatsoever of President Trump in this respect as "passionately defending white supremacy just as Trump defended the Nazis at Charlottesville as 'very fine people'."
Now, I'm gonna do something that is very much a novelty these days: actually document a comment that is trumpeted about, in context. Imagine that! President Trump did not ever defend Nazis as "very fine people." In context, he was clearly talking about other (non-Nazi) demonstrators who came out: some, for example, were expressing views about public confederate statues. Most large protests are an amalgamation of radical extremists and relatively normal people. But this is standard media talking points. They don't give a damn about what the actual facts of the matter were. Here are Trump's actual remarks about "very fine people" in context:
TRUMP: [Y]ou have some very bad people in that group. But you also had people that were very fine people, on both sides. You had people in that group — excuse me, excuse me — I saw the same pictures as you did. You had people in that group that were there to protest the taking down of, to them, a very, very important statue and the renaming of a park from Robert E. Lee to another name.

QUESTION: George Washington and Robert E. Lee are not the same …

TRUMP: George Washington was a slave-owner. Was George Washington a slave-owner? So, will George Washington now lose his status? Are we going to take down — excuse me — are we going to take down, are we going to take down statues to George Washington? How about Thomas Jefferson? What do you think of Thomas Jefferson? You like him?

OK. Good. Are we going to take down the statue? Because he was a major slave-owner. Now, are we going to take down his statue? So you know what? It's fine. You're changing history. You're changing culture. And you had people, and I'm not talking about the neo-Nazis and the white nationalists, because they should be condemned totally. But you had many people in that group other than neo-Nazis and white nationalists.

OK? And the press has treated them absolutely unfairly. Now, in the other group also, you had some fine people, but you also had troublemakers and you see them come with the black outfits and with the helmets and with the baseball bats. You've got — you had a lot of bad — you had a lot of bad people in the other group …

QUESTION: You were saying the press has treated white nationalists unfairly?

TRUMP: No, no. There were people in that rally, and I looked the night before. If you look, they were people protesting very quietly the taking down of the statue of Robert E. Lee. I'm sure in that group there were some bad ones. The following day, it looked like they had some rough, bad people — neo-Nazis, white nationalists, whatever you want to call them.

But you had a lot of people in that group that were there to innocently protest and very legally protest, because you know — I don't know if you know, they had a permit. The other group didn't have a permit.

So, I only tell you this, there are two sides to a story. I thought what took place was a horrible moment for our country, a horrible moment.
I wrote at the time:
Trump condemned hatred and bigotry in his first statement (made before details of the car-murder were known). Then he condemned the far-right hate groups by name. That should have ended it, but of course not for the Never-Trumpers and liberal media.
It was then objected that Trump didn't specifically denounce by name, Neo-Nazis and the Klan in his first statement; therefore, supposedly he endorses them. But this is as stupid of a scenario as one where I see two kids (we'll call them Kid A and Kid B) beating the pulp out of one another on the street, and say, "I condemn hatred and violence on both sides."
Then someone comes along and says, "How come you didn't specifically condemn the hatred and violence of Kid A, by name?" but I just did! It's included in "both". But if it is in someone's political / cynical / talking points / polemical interest to pretend that I didn't condemn Kid A's violence and hatred, then they'll play that unethical game; logic and common sense interpretation of plain English be damned!
Seeing the other's inability to understand logic and plain English (in this hypothetical analogy), I come back two days later, and say, "I condemn the hatred and violence of Kid A." So then they're happy about my commitment to truth and justice and the perpetual fight against bigotry, hatred, etc., right? Wrong! They won't be if they are dead-set against me no matter what I say. They'll just second-guess it, deny my sincerity, say I was "forced" to do so, etc.
And of course this is what is happening with Trump, as regards the liberal media, and RINOs and Democrats and third-partiers and Never Trumpers. Can Trump help it is they are unwilling or unable to think logically or understand plain English?
Good grief: with how Antifa is acting now (even Nancy Pelosi has utterly condemned them), Trump's wisdom in his first general statement is all the more manifest. If someone is truly concerned about justice and fairness and preserving American unity (what little of it exists anymore), then they would act exactly as he did: condemn hatred and bigotry wherever it occurs: not just when it occurs on the right. This is what a normal decent person would do, and what a Catholic should do.
What President Trump said [in his first statement] didn't imply "immoral equivalence" at all. All it means is that wherever hatred and bigotry occurred, he condemned it. Logically, that doesn't entail an overall equivalence in every particular. I gave an analogy a while back of saying, "I condemn immoral acts committed by the Nazis and also the Allies in World War II." No one in their right mind would think that such a statement implies that the Allies were just as bad as the Nazis. But we certainly committed outrageously immoral acts, too (just not nearly as many): we nuclear-bombed Hiroshima and Nagasaki, and fire-bombed Dresden and Tokyo: all acts utterly contrary to Catholic just war ethics.
But my statement about atrocities in World War II stands as an objectively true one. That's logic. People don't think logically about Trump, and politics in general. They think polemically and emotionally, and seek "gotcha" points. They believe the worst of people. I try to believe the best of folks (as 1 Corinthians 13 says about love).
I think it could be plausibly contended that Antifa is possibly as bigoted as even the KKK and neo-Nazis: just towards different targets. Rather than blacks, Jews, liberals, and Catholics, the targets would be conservatives, Trump voters, moral traditionalists, Catholics (we get it from all angles!), Southerners, Republicans, non-Catholic Christians, pro-lifers, women who aren't radical feminists, opposers of "gay marriage" etc. I don't see how one is all that different from the other.
I saw a video last night of three or four of these goons trying to beat a man to a pulp simply because he was a Trump voter (or whatever it was in his case). If a black reporter on the scene hadn't covered him up, he could have had very serious injuries, brain damage, or even possibly might have been killed, instead of bone bruises and scrapes (as he described that he had).
Now how is that a whit different from neo-Nazi or Klan morons beating up a guy just because he's black? Both are fascist, immoral actions. When you're at the receiving end of a kick to the head, it matters little what political "side" the attacker is on. The kick feels just the same, doesn't it?
Trump has repeatedly condemned the neo-Nazis, white supremacists, KKK, and other "hate groups". That should be more than sufficient, but it isn't, and we know why it isn't. People like Mark Shea (hysterical and obsessed against Trump and conservatives) literally believe he is a white supremacist and Nazi sympathizer, and that the vast majority of his voters are the same.
I think Trump only bungled politically (knowing how it would be received, because I know how liberals and Never Trumpers think), but not in the overall scheme of things. He committed a "political sin" but not an actual one. He did nothing wrong, as my analogy above illustrates.
The way liberals and Democrats race-bait and encourage further racial division is almost as bad as the racists themselves, because these are folks who should know better: who are exploiting hate and spewing deliberate falsehood for the sake of fostering mere political opposition to conservatives and Trump: sheer hypocrisy and quite wicked.
***
Related Reading
Trump is a Slimeball, Moron, & Scumbag [5-27-16]
Debate: Trump vs. Women, Blacks, & Latinos?: Rhetoric vs. Actual Polling & Voting Data (vs. Deacon Steven D. Greydanus) [Facebook, 11-1-16]
KKK & Kooky Karikatures of Konservatives (vs. Dr. Edwin Woodruff Tait) (+ Facebook discussion) [11-20-16]
Democrat Sore Losers, Race, & Political Unity (vs. Bernard Davis) (+ Facebook discussion) [11-20-16]
"Hitler, Goebbels, Goering, Himmler, and Eichmann, working hard on the Final Solution" (sarcastic spoof of the facile and puerile liberal Nazi analogies to Trump) [Facebook, 1-29-17]
Now Liberals tell Us that Dunce-in-Chief / Dum Dum Trump Doesn't Know Who Frederick Douglass Was (!!!!????) / But the Last Laugh is On Them [Facebook, 2-1-17]
Trump = Hitler? (funny meme and collection of articles on liberals calling Republicans Hitler or Nazis for 50 years) [Facebook, 2-10-17]
The Trump-Haters Step in it Yet Again! [Trump Supposedly Ignores a Handicapped Boy] [7-31-17]
Trump's Inadequate Rebukes of Rocket Man & Neo-Nazis [sarcasm] [8-13-17]
Trump is a White Supremacist and an Anti-Semite, Huh? Let's Look at his Family and his Appointments to See How That Holds Up [Facebook, 8-18-17]
The Mythical Racist Reagan vs. The Real Reagan (Sound Familiar?) / Liberal Race-Baiting Against GOP Nothing New [Facebook, 8-21-17]
Holy Scripture on the Mortal Sin of Lying and Bearing False Witness (Something for Political Polemicists On All Sides to Ponder) [Facebook, 9-5-17]
President Trump Told a Crowd to Boo a Black Protester; Therefore, He's a Racist (?) [Facebook, 9-23-17]
Trump is Attila the Hun, Vlad the Impaler, and Stalin [sarcasm] [9-7-18]
Patheos Writer Henry Karlson Wastes No Time in Ridiculously Associating Trump & His Supporters with the Fanatical [Leftist, Atheist] White Supremacist Murderers in New Zealand [Facebook, 3-15-19]
Trump Did Not Mock a Reporter's Disability [7-20-20]
***
(edited on 8-14-20: from material dated 8-31-17 and February 2018)
Photo credit: Anthony Crider: some of the participants at the Charlottesville rally (8-12-17) [Wikimedia Commons / Creative Commons Attribution 2.0 Generic license]
***