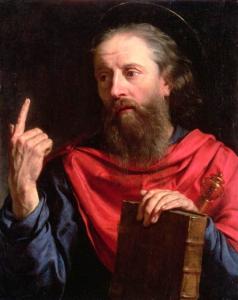 Richard Carrier is an atheist historian who exotically believes (over against virtually all credentialed historians) that Jesus never existed. I have a quibble with a statement he made in his article, "Craig's Empty Tomb & Habermas on Visions (1999, 2005)" [no date, but probably 2005 or 2006; hosted on The Secular Web / infidels.org]. He stated:
 It is also silly to suppose that Paul read Mark or any gospel, considering that he never mentions them, much less quotes them, . . . [his italics]
I shall proceed to give several examples that put the lie to this claim.
1 Corinthians 15:3-4 (RSV) For I delivered to you as of first importance what I also received, that Christ died for our sins in accordance with the scriptures, [4] that he was buried, that he was raised on the third day in accordance with the scriptures,

Compare:

Matthew 12:39-40 But he answered them, "An evil and adulterous generation seeks for a sign; but no sign shall be given to it except the sign of the prophet Jonah. [40] For as Jonah was three days and three nights in the belly of the whale, so will the Son of man be three days and three nights in the heart of the earth.

Matthew 17:22-23 . . . Jesus said to them, "The Son of man is to be delivered into the hands of men, [23] and they will kill him, and he will be raised on the third day." . . .

Matthew 26:50-56 . . . Then they came up and laid hands on Jesus and seized him. [51] And behold, one of those who were with Jesus stretched out his hand and drew his sword, and struck the slave of the high priest, and cut off his ear. [52] Then Jesus said to him, "Put your sword back into its place; for all who take the sword will perish by the sword. [53] Do you think that I cannot appeal to my Father, and he will at once send me more than twelve legions of angels? [54] But how then should the scriptures be fulfilled, that it must be so?" [55] At that hour Jesus said to the crowds, "Have you come out as against a robber, with swords and clubs to capture me? Day after day I sat in the temple teaching, and you did not seize me. [56] But all this has taken place, that the scriptures of the prophets might be fulfilled."

Mark 8:31 And he began to teach them that the Son of man must suffer many things, and be rejected by the elders and the chief priests and the scribes, and be killed, and after three days rise again.

Luke 24:25-27 And he said to them, "O foolish men, and slow of heart to believe all that the prophets have spoken! [26] Was it not necessary that the Christ should suffer these things and enter into his glory?" [27] And beginning with Moses and all the prophets, he interpreted to them in all the scriptures the things concerning himself.

***

1 Timothy 5:17-18 Let the elders who rule well be considered worthy of double honor, especially those who labor in preaching and teaching; [18] for the scripture says, "You shall not muzzle an ox when it is treading out the grain," and, "The laborer deserves his wages."

Compare:

Matthew 10:10 . . . the laborer deserves his food.

Luke 10:7 . . . the laborer deserves his wages . . .
Paul's first scriptural citation is derived from Deuteronomy 25:4 ("You shall not muzzle an ox when it treads out the grain"). The second, that he also regards as "scripture", comes from either Matthew or Luke (Luke is an exact fit: at least in RSV). It can't be found in the Old Testament. One can search (in online Bibles: I use RSV) the words "laborer" and "worker" and "wages" and this thought or concept simply doesn't appear.
Therefore (rather strikingly), Paul is not only citing either Matthew or Luke here, but also equating what he cites with Old Testament Scripture. Yet Richard Carrier would have us believe that Paul never read, nor did he mention, nor cite any of the Gospels.
***

1 Corinthians 11:23-26 For I received from the Lord what I also delivered to you, that the Lord Jesus on the night when he was betrayed took bread, [24] and when he had given thanks, he broke it, and said, "This is my body which is for you. Do this in remembrance of me." [25] In the same way also the cup, after supper, saying, "This cup is the new covenant in my blood. Do this, as often as you drink it, in remembrance of me." [26] For as often as you eat this bread and drink the cup, you proclaim the Lord's death until he comes.

Compare:

Luke 22:19-20 And he took bread, and when he had given thanks he broke it and gave it to them, saying, "This is my body which is given for you. Do this in remembrance of me." [20] And likewise the cup after supper, saying, "This cup which is poured out for you is the new covenant in my blood.

***

1 Timothy 6:13 In the presence of God who gives life to all things, and of Christ Jesus who in his testimony before Pontius Pilate made the good confession, . . .
Here, Paul also appears to allude to a passage in John 18:33-38: which alone records Jesus' "good confession" before Pilate; or at the very least is occurring to the same incident: Christ's appearance before Pontius Pilate.
This (like the other examples) shows that Paul was either familiar with the Gospel of John, or had talked about these very matters with John before John wrote his Gospel, or was familiar with an oral tradition that both drew from ("Q"?), and that John may have written about later than Paul.
***
Other examples (and perhaps some above) are either paraphrases or a conveying of the same general thought; perhaps primarily inspired by the Gospel passage. It's a subjective judgment and reasonable people can differ. It's the same with the New Testament citation of the Deuterocanonical books. I have provided examples of the Gospels citing them and other New Testament books doing so also [one / two].
Romans 14:14 I know and am persuaded in the Lord Jesus that nothing is unclean in itself; but it is unclean for any one who thinks it unclean.

Compare:

Mark 7:15-23  "there is nothing outside a man which by going into him can defile him; but the things which come out of a man are what defile him." [17] And when he had entered the house, and left the people, his disciples asked him about the parable. [18] And he said to them, "Then are you also without understanding? Do you not see that whatever goes into a man from outside cannot defile him, [19] since it enters, not his heart but his stomach, and so passes on?" (Thus he declared all foods clean.) [20] And he said, "What comes out of a man is what defiles a man. [21] For from within, out of the heart of man, come evil thoughts, fornication, theft, murder, adultery, [22] coveting, wickedness, deceit, licentiousness, envy, slander, pride, foolishness. [23] All these evil things come from within, and they defile a man."

***

1 Corinthians 7:10 To the married I give charge, not I but the Lord, that the wife should not separate from her husband

Compare:

Matthew 5:32 But I say to you that every one who divorces his wife, except on the ground of unchastity, makes her an adulteress; and whoever marries a divorced woman commits adultery.

Mark 10:9 What therefore God has joined together, let not man put asunder.

***

1 Corinthians 6:2 Do you not know that the saints will judge the world? . . .

Compare:

Matthew 19:28 Jesus said to them, "Truly, I say to you, in the new world, when the Son of man shall sit on his glorious throne, you who have followed me will also sit on twelve thrones, judging the twelve tribes of Israel."

***

Romans 6:16 Do you not know that if you yield yourselves to any one as obedient slaves, you are slaves of the one whom you obey, either of sin, which leads to death, or of obedience, which leads to righteousness?

Compare:

Matthew 6:24 "No one can serve two masters; for either he will hate the one and love the other, or he will be devoted to the one and despise the other. You cannot serve God and mammon."

***

1 Corinthians 10:16 The cup of blessing which we bless, is it not a participation in the blood of Christ? The bread which we break, is it not a participation in the body of Christ?

Compare:

Matthew 26:26-28  Now as they were eating, Jesus took bread, and blessed, and broke it, and gave it to the disciples and said, "Take, eat; this is my body." [27] And he took a cup, and when he had given thanks he gave it to them, saying, "Drink of it, all of you; [28] for this is my blood of the covenant, which is poured out for many for the forgiveness of sins."

***

1 Corinthians 1:19 For it is written, "I will destroy the wisdom of the wise, and the cleverness of the clever I will thwart."  (cf. 2:8)

1 Corinthians 14:20 Brethren, do not be children in your thinking; be babes in evil, but in thinking be mature.

Compare:

Matthew 11:25 At that time Jesus declared, "I thank thee, Father, Lord of heaven and earth, that thou hast hidden these things from the wise and understanding and revealed them to babes;"

***

1 Corinthians 13:2 And if I have prophetic powers, and understand all mysteries and all knowledge, and if I have all faith, so as to remove mountains, but have not love, I am nothing.

Compare:

Matthew 17:20 He said to them, "Because of your little faith. For truly, I say to you, if you have faith as a grain of mustard seed, you will say to this mountain, `Move from here to there,' and it will move; and nothing will be impossible to you."
***
Practical Matters: Perhaps some of my 3,900+ free online articles (the most comprehensive "one-stop" Catholic apologetics site) or fifty books have helped you (by God's grace) to decide to become Catholic or to return to the Church, or better understand some doctrines and why we believe them.
Or you may believe my work is worthy to support for the purpose of apologetics and evangelism in general. If so, please seriously consider a much-needed financial contribution. I'm always in need of more funds: especially monthly support. "The laborer is worthy of his wages" (1 Tim 5:18, NKJV). 1 December 2021 was my 20th anniversary as a full-time Catholic apologist, and February 2022 marked the 25th anniversary of my blog.
PayPal donations are the easiest: just send to my email address: apologistdave@gmail.com. You'll see the term "Catholic Used Book Service", which is my old side-business. To learn about the different methods of contributing, including 100% tax deduction, etc., see my page: About Catholic Apologist Dave Armstrong / Donation Information. Thanks a million from the bottom of my heart!
***
Photo credit: Saint Paul, by Philippe de Champaigne (1602-1674) [public domain / Wikimedia Commons]
***
Summary: Atheist Richard Carrier claims that Paul never read, mentioned, or cited the Gospels. I provide several examples (one with exact words) that Paul knew the Gospels.