5. Revelation 6:9: "Souls" in Heaven Redux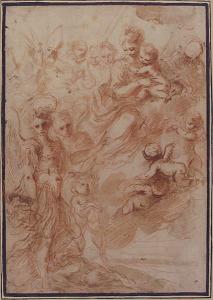 Lucas Banzoli is a very active Brazilian anti-Catholic polemicist, who holds to basically a Seventh-Day Adventist theology, whereby there is no such thing as a soul that consciously exists outside of a body, and no hell (soul sleep and annihilationism). He has a Master's degree in theology, a degree and postgraduate work in history, a license in letters, and is a history teacher, author of 25 books, as well as blogmaster (but now inactive) for six blogs. He's active on YouTube.
This is my 39th refutation of his articles (or portions of books). As of yet, I haven't received a single word in reply to any of them (or if Banzoli has replied to anything, anywhere, he certainly hasn't informed me of it). Readers may decide for themselves why that is the case.
My current effort is a major multi-part response to Banzoli's 1900-page e-book, The Legend of the Immortality of the Soul [A Lenda da Imortalidade da Alma], published on 1 August 2022.  He claims to have "cover[ed] in depth all the immortalist arguments" and to have "present[ed] all the biblical proofs of the death of the soul . . ." and he confidently asserted: "the immortality of the soul is at the root of almost all destructive deception and false religion." He himself admits on page 18 of his Introduction that what he is opposing is held by "nearly all the Christians in the world." A sincere unbiblical error (and I assume his sincerity) is no less dangerous than a deliberate lie, and we apologists will be "judged with greater strictness" for any false teachings that we spread (Jas 3:1).
I use RSV for the Bible passages (including ones that Banzoli cites) unless otherwise indicated. Google Translate is utilized to render Lucas' Portugese into English. Occasionally I slightly modify clearly inadequate translations, so that his words will read more smoothly and meaningfully in English. His words will be in blue.
*****
See the other installments:
*
*
*
*
*
*
*
*
*
*
*
*
*
*
*
*
*
See also the related articles:
Seven Replies Re Interceding Saints (vs. Lucas Banzoli) [5-25-22]
Answer to Banzoli's "Challenge" Re Intercession of Saints [9-20-22]
Bible on Praying Straight to God (vs. Lucas Banzoli) [9-21-22]
Reply to Banzoli's "Analyzing the 'evidence' of saints' intercession" [9-22-22]
*****
[T]he fifth seal does not take place in heaven, but on earth, just like all the others of [Revelation] chapter 6. (p. 114)
Banzoli argues — rather astoundingly — that these "souls" crying out are not even in heaven in this passage. Five major thematic elements in Revelation work against this interpretation. First of all, Revelation itself makes clear that St. John: the narrator in Revelation and the one who sees visions or (in a supernatural, time-transcending way) actual events in heaven, is indeed situated in heaven: that that is his vantage point. Someone might object that he hadn't died yet, so how could he be in heaven? That was also true of St. Paul, but he was taken to heaven before he died:
2 Corinthians 12:1-4, 7 . . . I will go on to visions and revelations of the Lord. [2] I know a man in Christ who fourteen years ago was caught up to the third heaven — whether in the body or out of the body I do not know, God knows. [3] And I know that this man was caught up into Paradise — whether in the body or out of the body I do not know, God knows — [4] and he heard things that cannot be told, which man may not utter. . . . [7] And to keep me from being too elated by the abundance of revelations, a thorn was given me in the flesh, . . .
St. John, too, was given a "revelation" (Rev 1:1: this is where the name of this book comes from). John repeatedly refers to the fact that he saw and heard things in his revelation from the perspective of being in heaven:
Revelation 4:1-2 After this I looked, and lo, in heaven an open door! And the first voice, which I had heard speaking to me like a trumpet, said, "Come up hither, and I will show you what must take place after this." [2] At once I was in the Spirit, and lo, a throne stood in heaven, with one seated on the throne!

Revelation 8:1-2 When the Lamb opened the seventh seal, there was silence in heaven for about half an hour. [2] Then I saw the seven angels who stand before God, and seven trumpets were given to them.

Revelation 14:2-3, 6, 17 And I heard a voice from heaven like the sound of many waters and like the sound of loud thunder; . . . [3] and they sing a new song before the throne and before the four living creatures and before the elders. . . . [6] Then I saw another angel flying in midheaven, . . . [17] And another angel came out of the temple in heaven, . . .

Revelation 15:1, 5-6 Then I saw another portent in heaven, great and wonderful, seven angels with seven plagues, . . . [5] After this I looked, and the temple of the tent of witness in heaven was opened, [6] and out of the temple came the seven angels with the seven plagues, . . .

Revelation 19:1 After this I heard what seemed to be the loud voice of a great multitude in heaven, . . .
Secondly, a singular "altar" in heaven (mirroring "under the altar" in 6:9) is repeatedly referred to:
Revelation 8:3, 5 And another angel came and stood at the altar with a golden censer; and he was given much incense to mingle with the prayers of all the saints upon the golden altar before the throne; . . . [5] Then the angel took the censer and filled it with fire from the altar and threw it on the earth; . . .

Revelation 9:13 Then the sixth angel blew his trumpet, and I heard a voice from the four horns of the golden altar before God,

Revelation 14:18 Then another angel came out from the altar, . . .
Thirdly, this heavenly altar was in the heavenly temple, which is also referred to several times:
Revelation 7:15 Therefore are they before the throne of God, and serve him day and night within his temple;

Revelation 11:19 Then God's temple in heaven was opened, and the ark of his covenant was seen within his temple;

Revelation 15:5 After this I looked, and the temple of the tent of witness in heaven was opened, (cf. 15:6, 8; 16:1, 17)
Fourthly, it's clearly not true that all the seals in Revelation take place solely on earth, as Banzoli asserts above. The chapter starts (6:1) with John hearing the "four living creatures": who are — so it is stated six times — in heaven by God's throne (see Rev 4:6; 5:6, 8; 7:11; 14:3; 19:4). A "rider" on a white horse "went out conquering" (6:2); that is, he "went out" from heaven to the earth. 6:3-4 (second seal) is similar to the first. One of the living creatures speaks and another rider and horse emerge.
The same happens with a third horse and rider: the third seal (6:5). The living creatures speak again (fourth seal) and a "pale horse" with the rider "Death" appear in heaven in order to go judge the wicked on the earth (6:6-8). Then we have the "fifth seal" with the souls "under" the heavenly altar, which is mentioned five other times in the book. John "saw" them in heaven, just as he "saw" these extraordinary events in 6:2, 5, 8 and "looked" at the events of the sixth seal (6:12).
Fifth, Banzoli devotes considerable effort to arguing that the souls crying out in Revelation 6 are merely another instance of what we saw with regard to the murdered Abel: "The voice of your brother's blood is crying to me from the ground" (Gen 4:10). But that is clearly an example of figurative personification: an idiom so well-known and so common in Scripture (as well as in poetry in general) that I won't even spend any time defining it (readers can look it up if they wish).  The Revelation passage, to the contrary, doesn't read that way at all. These souls cry out to God, and they are answered: "told to rest a little longer" and given white robes (6:10). None of this suggests to the slightest degree that personification was in the mind of the writer.
Hence, it is perfectly plausible and reasonable to interpret the souls under the altar in heaven in the same manner as with regard to the passages above, where angels stand at the altar, a "voice from the four horns" comes from it, and an angel "came out from the altar." Revelation follows this pattern: souls cry out from "under the [one] altar [in heaven]." It makes no sense at all to ignore all of this contextual evidence and arbitrarily place this event on earth. All Banzoli can opine about it is the following (complete with one of his trademark universal negatives, which — as usual — I have refuted).
The reason why people think those souls were in heaven, despite the text not saying so, is primarily due to the predisposition to see a Platonic soul whenever the soul is mentioned in the Bible, despite the fact that this sense is never employed in the Scriptures, . . . (p. 115)
Pathetic, embarrassing . . .
Banzoli cites someone arguing that if John wanted to indicate a heavenly location, he could have written "under the throne". Well, this is where cross-referencing and actual exegesis, that I have done above, come into the picture. The heavenly altar referred to was before the throne of God in heaven, as we know from Revelation 8:3 ("the golden altar before the throne") and 9:13 ("the golden altar before God"). So it's not necessary, based on this data, to spell out, "under the throne." Minimally educated readers, alas, are smart enough to put two and two together.
Dead people don't speak. This refutes the idea that those souls were alive, and that only their bodies were dead. (p. 121).
[T]his apocalyptic symbology is the only occasion in all the Bible where a deceased soul is presented alive somewhere, which already tells us a lot about the credibility of the doctrine. The very fact that Rev[elation] 6:9 appears in practically every book, article or video in defense of the immortality of the soul is a glaring testament to the level of amateurism of immortalist apologetics, and how intellectually dishonest they can be in their quest to find a basis for a teaching whose argumentative poverty jumps out at anyone's eyes. (p. 122)
Ah, but the dead do speak! I've already massively proven that from Scripture in the previous installment (Part 4) of this series. Banzoli follows his own false presupposition. I (and the vast and overwhelming majority of Christians, as he himself concedes) go by the Holy Bible — inspired revelation from an omniscient God — as regards immortal souls. A dead Samuel spoke to Saul and gave him a true prophecy of his impending judgment and death (1 Sam 28:16-19). The dead rich man spoke to the dead Abraham in Sheol / Hades, and Abraham responded (Luke 16). That is right from the lips of Jesus. Paul said that every "every tongue" who is "under the earth" (i.e., in Sheol) will "confess that Jesus Christ is Lord" (Phil 2:10-11). And in the Old Testament, twice we see that souls of dead people in Sheol are conscious and speak (Is 14:9-10; Ezek 32:21).
***
Practical Matters: Perhaps some of my 4,000+ free online articles (the most comprehensive "one-stop" Catholic apologetics site) or fifty books have helped you (by God's grace) to decide to become Catholic or to return to the Church, or better understand some doctrines and why we believe them.
Or you may believe my work is worthy to support for the purpose of apologetics and evangelism in general. If so, please seriously consider a much-needed financial contribution. I'm always in need of more funds: especially monthly support. "The laborer is worthy of his wages" (1 Tim 5:18, NKJV). 1 December 2021 was my 20th anniversary as a full-time Catholic apologist, and February 2022 marked the 25th anniversary of my blog.
PayPal donations are the easiest: just send to my email address: apologistdave@gmail.com. You'll see the term "Catholic Used Book Service", which is my old side-business. To learn about the different methods of contributing, including 100% tax deduction, etc., see my page: About Catholic Apologist Dave Armstrong / Donation Information. Thanks a million from the bottom of my heart!
***
Photo credit: Saint Michael the Archangel and Another Figure Recommending a Soul to the Virgin and Child in Heaven, by Bartolomeo Biscaino (1629-1657) [public domain / Wikimedia Commons]
***
Summary: Part 5 of many responses to Lucas Banzoli's 1900-page book, The Legend of the Immortality of the Soul: published on 1 August 2022. I defend historic Christianity.