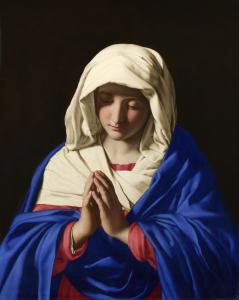 *
"If this seems absurd to you, then [note that] it is exactly what Roman Catholicism teaches, in asserting that God grants power to Mary to hear the thousands of simultaneous prayers addressed to her. The person prays, and God takes his prayer to Mary."
Deus como mediador de Maria.
Se isso lhe parede absurdo, então é exatamente o que o catolicismo romano ensina ao dizer que Deus concede o poder a Maria de ouvir as milhares de orações simultâneas dirigidas a ela. A pessoa ora, e Deus leva sua oração até Maria.
Hello my friend. As you yourself say, "God grants power to Mary to hear . . . prayers." So far so good. The prayers are then directed through her to God, not through God to Mary. All Catholics are doing is applying what James recommended: "The prayer of a righteous man has great power in its effects" (James 5:16, RSV, as throughout).
*
So we go to the person whom we believe to be the most righteous of all: Mary. There are several passages in the Bible (I've documented them) urging us to go to a holy person, rather than directly to God, to offer our petitions.
*
Anyone can go directly to God in prayer at any time. I want to make that crystal clear, and the Catholic Church teaches this. But they can also choose to wisely ask a person holier than themselves to make a prayer request of God, because "the eyes of the Lord are upon the righteous, and his ears are open to their prayer" (1 Pet 3:12), and "When the righteous cry for help, the LORD hears" (Ps 34:17). God told Abimelech that Abraham would pray for him, so he could live, "for" Abraham was "a prophet" (Gen 20:6-7). So was God the "mediator" of Abraham in that instance?
*
"All Israel" (1 Sam 12:1) "said to Samuel [the prophet], 'Pray for your servants to the LORD your God, that we may not die'. . ." (1 Sam 12:19). God told Job's "friends": "my servant Job shall pray for you, for I will accept his prayer not to deal with you according to your folly" (Job 42:8). Was God the "mediator" of Job, too? Why did God listen to Job's prayers? It's because God Himself stated that "there is none like" Job "on the earth, a blameless and upright man, who fears God and turns away from evil" (Job 1:8). King Zedekiah asked the holy prophet Jeremiah to pray for him and the country (Jer 37:3).
*
How about petitionary prayer requests made to someone other than God, who is dead? No problem. Jesus Himself taught that the rich man who died (and this is not a parable, which never include proper names) could make prayer requests to Abraham (Luke 16). In the KJV, it even says, "I pray thee." Abraham turned down his requests (just as God sometimes turns ours down), but he never told the rich man, "Why are you praying to me?! You must only pray to God!!!!!"
*
St. Paul and others, including potentially, we ourselves, function as "mini-mediators" of God's grace and salvation just like Mary does:
*
1 Corinthians 7:16 Wife, how do you know whether you will save your husband? Husband, how do you know whether you will save your wife?

*

1 Corinthians 9:22 I have become all things to all men, that I might by all means save some.

*

2 Corinthians 4:15 For it [his many sufferings: 4:8-12, 17] is all for your sake, so that as grace extends to more and more people it may increase thanksgiving, to the glory of God.

*

Ephesians 3:2 assuming that you have heard of the stewardship of God's grace that was given to me for you . . .

*

1 Timothy 4:16 Take heed to yourself and to your teaching: hold to that, for by so doing you will save both yourself and your hearers.

*

James 5:20 let him know that whoever brings back a sinner from the error of his way will save his soul from death and will cover a multitude of sins.
*

1 Peter 3:1 . . . some, though they do not obey the word, may be won without a word by the behavior of their wives,

*
1 Peter 4:10 As each has received a gift, employ it for one another, as good stewards of God's varied grace.
*
The Bible also states several times that we are His "co-workers" and that His works are ours and vice versa:
*
Mark 16:20 And they went forth and preached everywhere, while the Lord worked with them and confirmed the message by the signs that attended it. Amen.
*

1 Corinthians 3:9 For we are God's fellow workers; you are God's field, God's building.

*

1 Corinthians 15:10 But by the grace of God I am what I am, and his grace toward me was not in vain. On the contrary, I worked harder than any of them, though it was not I, but the grace of God which is with me.

*

1 Corinthians 15:58 Therefore, my beloved brethren, be steadfast, immovable, always abounding in the work of the Lord, knowing that in the Lord your labor is not in vain.
*

Ephesians 2:10 For we are his workmanship, created in Christ Jesus for good works, which God prepared beforehand, that we should walk in them.

*

Philippians 2:12-13 Therefore, my beloved, as you have always obeyed, so now, not only as in my presence but much more in my absence, work out your own salvation with fear and trembling; for God is at work in you, both to will and to work for his good pleasure.
*
All of this being the case, it is nothing so unbelievable or extraordinary to believe in faith (in line with Catholic tradition) that God chose to involve Mary in intercession and the distribution of graces, even should He decide to do so in every case. God can do whatever He wants!
*
It is written in the Psalms and prophets that God could raise up a rock or a tree to sing His praises, if stubborn men refuse to do so. God once used a donkey to speak and express His will to Balaam. He can use babies, or infants, and the most "unlikely," unexpected human beings. He appeared in a burning bush and in a cloud. He chose to come to earth as a baby!
*
Why should anything He does or chooses to do surprise us, or make us wonder in befuddlement? The ending of Job makes this clear enough. His thoughts are as far above ours as the stars are above the earth (Isaiah 55:8-9).
*
Mary is simply a helper or chosen vessel, just as Moses or John the Baptist or Elijah or Paul or Peter or John or anyone else was. In no way does this impinge upon God's sole prerogatives because He is simply using one of His creatures for His divine purposes. There is nothing intrinsically impossible, excessive, idolatrous, or unbiblical in these beliefs: held by Catholics through the centuries and firmly entrenched in Sacred Tradition. It is not an a priori impossible or implausible belief to hold, from a biblical perspective. It's completely harmonious with Scripture.
*
Lastly, I think the objection proves too much, in light of God's sovereignty over all of His creation. Literally, no one could do anything without His power, and we can, of course, do no good thing ever without His grace enabling it and making it possible.
*
So God makes it possible for Mary to hear millions of intercessory prayers and then present them to God on our behalf? No problem at all for Him! It's simply a portion of everything that He continually makes possible in every nanosecond (i.e., as we perceive it; He is outside of time).
*
Paul says, "In him we live and move and have our being" (Acts 17:28). Is Mary hearing our prayer requests and giving them to God somehow not part of that? Her actions are different from all the other God-enabled actions in the universe?
*
It seems that an angel is involved in presenting our prayers to God in the book of Revelation: "and the smoke of the incense rose with the prayers of the saints from the hand of the angel before God" (Rev 8:4).
*
The Bible says that Jesus is "upholding the universe by his word of power" (Heb 1:3) and that "in him all things hold together" (Col 1:17).
*
But we are to believe that enabling and empowering one person, Mary, to hear intercessions is too much for God to handle, or beyond His capabilities? That's very curious. It's very odd to see a Calvinist: a member of a group that places extreme (and praiseworthy) emphasis on God's sovereignty and causation, bring such a charge.
*
Even beyond all this, the Bible teaches that believers / followers of Christ / Christians would be "united with him" (Rom 6:5), "one spirit with him" (1 Cor 6:17), "changed into his likeness" (2 Cor 3:18), "filled with all the fulness of God" (Eph 3:19) and "the fulness of Christ" (Eph 4:13); indeed, "partakers of the divine nature" (2 Pet 1:4).
*
Then we get to the indwelling. We are "in" the Father and the Son (Jn 17:21; 1 Jn 2:24), and "in" Jesus (Jn 6:56; 14:20; 15:4-7; 16:33; 2 Cor 5:21; Phil 4:13; Col 2:6-7, 10; 1 Jn 2:24, 28; 5:20). God is in us (1 Jn 3:24; 4:13, 15) and we are "in" God (Col 3:3; 1 Jn 2:5, 24; 3:6, 24; 4:13, 15). Jesus is "in" us (Jn 14:20). There are many more passages along these lines.
*
***
Practical Matters: Perhaps some of my 4,000+ free online articles (the most comprehensive "one-stop" Catholic apologetics site) or fifty books have helped you (by God's grace) to decide to become Catholic or to return to the Church, or better understand some doctrines and why we believe them.
Or you may believe my work is worthy to support for the purpose of apologetics and evangelism in general. If so, please seriously consider a much-needed financial contribution. I'm always in need of more funds: especially monthly support. "The laborer is worthy of his wages" (1 Tim 5:18, NKJV). 1 December 2021 was my 20th anniversary as a full-time Catholic apologist, and February 2022 marked the 25th anniversary of my blog.
PayPal donations are the easiest: just send to my email address: apologistdave@gmail.com. You'll see the term "Catholic Used Book Service", which is my old side-business. To learn about the different methods of contributing, including 100% tax deduction, etc., see my page: About Catholic Apologist Dave Armstrong / Donation Information. Thanks a million from the bottom of my heart!
***
Photo credit: The Virgin in Prayer (between 1640-1650), by Giovanni Battista Salvi da Sassoferrato (1609–1685) [public domain / Wikipedia]
***
Summary: I go through various biblical analogical arguments in disputing the assertion from Francisco Tourinho that Mary's praying for us entails God as the "mediator of Mary."