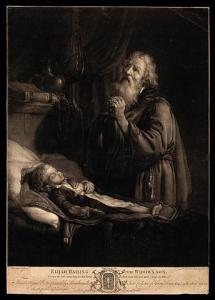 Originally posted on Facebook on 11-16-22. All passages are RSV.
*****
Anyone can go directly to God in prayer at any time. I want to make that crystal clear. But they can also choose to wisely ask a person holier than themselves to make a prayer request of God, because "The prayer of a righteous man has great power in its effects" (Jas 5:16), and "the eyes of the Lord are upon the righteous, and his ears are open to their prayer" (1 Pet 3:12), and "When the righteous cry for help, the LORD hears" (Ps 34:17). God told Abimelech that Abraham would pray for him, so he could live, "for" Abraham was "a prophet" (Gen 20:6-7).
*
"All Israel" (1 Sam 12:1) "said to Samuel [the prophet], 'Pray for your servants to the LORD your God, that we may not die'. . ." (1 Sam 12:19). God told Job's "friends": "my servant Job shall pray for you, for I will accept his prayer not to deal with you according to your folly" (Job 42:8). Why did God listen to Job's prayers? It's because God Himself stated that "there is none like" Job "on the earth, a blameless and upright man, who fears God and turns away from evil" (Job 1:8). King Zedekiah asked the holy prophet Jeremiah to pray for him and the country (Jer 37:3).
*
If we go to a more righteous or holy person and ask them to pray for x, then x is far more likely to happen than if we go to God directly (because we are less righteous). Therefore, it's more "efficient" and "better" to do this in these instances rather than go directly to God. Righteous people know God's will better than those who are not following God with a whole heart, with all their might. Therefore, their prayers are more effective.
*
Why was Moses different? He was set apart; he was holy, and had a direct, profound relationship with God; so did other people referred to in the Bible in this respect:
*
Exodus 33:11 . . . the LORD used to speak to Moses face to face, as a man speaks to his friend. . . .
Deuteronomy 34:10-11 And there has not arisen a prophet since in Israel like Moses, whom the LORD knew face to face, [11] none like him for all the signs and the wonders which the LORD sent him to do . . .
Genesis 18:22-32 So the men turned from there, and went toward Sodom; but Abraham still stood before the LORD. [23] Then Abraham drew near, and said, "Wilt thou indeed destroy the righteous with the wicked? [24] Suppose there are fifty righteous within the city; wilt thou then destroy the place and not spare it for the fifty righteous who are in it? [25] Far be it from thee to do such a thing, to slay the righteous with the wicked, so that the righteous fare as the wicked! Far be that from thee! Shall not the Judge of all the earth do right?" [26] And the LORD said, "If I find at Sodom fifty righteous in the city, I will spare the whole place for their sake." [27] Abraham answered, "Behold, I have taken upon myself to speak to the Lord, I who am but dust and ashes. [28] Suppose five of the fifty righteous are lacking? Wilt thou destroy the whole city for lack of five?" And he said, "I will not destroy it if I find forty-five there." [29] Again he spoke to him, and said, "Suppose forty are found there." He answered, "For the sake of forty I will not do it." [30] Then he said, "Oh let not the Lord be angry, and I will speak. Suppose thirty are found there." He answered, "I will not do it, if I find thirty there." [31] He said, "Behold, I have taken upon myself to speak to the Lord. Suppose twenty are found there." He answered, "For the sake of twenty I will not destroy it." [32] Then he said, "Oh let not the Lord be angry, and I will speak again but this once. Suppose ten are found there." He answered, "For the sake of ten I will not destroy it."

*

Exodus 32:30

On the morrow

Moses said

to the people, "You have sinned a great sin. And now

I will go up to the LORD; perhaps I can make atonement for your sin.

"

*

Numbers 11:1-2

And the people complained in the hearing of the LORD about their misfortunes; and when the LORD heard it, his anger was kindled, and the fire of the LORD burned among them, and consumed some outlying parts of the camp. [2] Then

the people cried to Moses; and Moses prayed to the LORD, and the fire abated.
Numbers 14:11-20

And the LORD said to Moses, "How long will this people despise me? And how long will they not believe in me, in spite of all the signs which I have wrought among them? [12] I will strike them with the pestilence and disinherit them, and I will make of you a nation greater and mightier than they." [13] But

Moses said to the LORD

, "Then the Egyptians will hear of it, for thou didst bring up this people in thy might from among them, [14] and they will tell the inhabitants of this land. They have heard that thou, O LORD, art in the midst of this people; for thou, O LORD, art seen face to face, and thy cloud stands over them and thou goest before them, in a pillar of cloud by day and in a pillar of fire by night. [15] Now if thou dost kill this people as one man, then the nations who have heard thy fame will say, [16] `Because the LORD was not able to bring this people into the land which he swore to give to them, therefore he has slain them in the wilderness.' [17] And now, I pray thee, let the power of the LORD be great as thou hast promised, saying, [18] `The LORD is slow to anger, and abounding in steadfast love, forgiving iniquity and transgression, but he will by no means clear the guilty, visiting the iniquity of fathers upon children, upon the third and upon the fourth generation.' [19]

Pardon the iniquity of this people, I pray thee, according to the greatness of thy steadfast love

, and according as thou hast forgiven this people, from Egypt even until now." [20]

Then the LORD said, "I have pardoned, according to your word;
Numbers 21:6-8

Then the LORD sent fiery serpents among the people, and they bit the people, so that many people of Israel died. [7] And the people came to Moses, and said, "We have sinned, for we have spoken against the LORD and against you; pray to the LORD, that he take away the serpents from us."

So Moses prayed for the people. [8] And the LORD said to Moses, "Make a fiery serpent, and set it on a pole; and every one who is bitten, when he sees it, shall live."
Deuteronomy 9:18-20

Then I lay prostrate before the LORD as before, forty days and forty nights; I neither ate bread nor drank water, because of all the sin which you had committed

, in doing what was evil in the sight of the LORD, to provoke him to anger. [19] For I was afraid of the anger and hot displeasure which the LORD bore against you, so that he was ready to destroy you. But

the LORD hearkened to me

that time also. [20] And the LORD was so angry with Aaron that he was ready to destroy him; and I prayed for Aaron also at the same time.
Deuteronomy 10:10

I stayed on the mountain, as at the first time, forty days and forty nights, and the LORD hearkened to me

that time also; the LORD was unwilling to destroy you.
1 Samuel 7:8

And the people of Israel said to Samuel, "Do not cease to cry to the LORD our God for us, that he may save us from the hand of the Philistines."
1 Samuel 12:18-19

So Samuel called upon the LORD, and the LORD sent thunder and rain that day; and all the people greatly feared the LORD and Samuel. [19]

And all the people said to Samuel, "Pray for your servants to the LORD your God, that we may not die

; for we have added to all our sins this evil, to ask for ourselves a king."
1 Kings 13:6

And the king said to the man of God, "Entreat now the favor of the LORD your God, and pray for me

, that my hand may be restored to me."

And the man of God entreated the LORD; and the king's hand was restored to him

, and became as it was before.

*

1 Kings 17:1

Now Eli'jah the Tishbite, of Tishbe in Gilead, said to Ahab, "As the LORD the God of Israel lives, before whom I stand, there shall be neither dew nor rain these years, except by my word."

(cf. Jas 5:17-18)

*

1 Kings 17:17-24

After this the son of the woman, the mistress of the house, became ill; and his illness was so severe that there was no breath left in him. [18] And she said to Eli'jah, "What have you against me, O man of God? You have come to me to bring my sin to remembrance, and to cause the death of my son!" [19] And he said to her, "Give me your son." And he took him from her bosom, and carried him up into the upper chamber, where he lodged, and laid him upon his own bed. [20] And he cried to the LORD, "O LORD my God, hast thou brought calamity even upon the widow with whom I sojourn, by slaying her son?" [21] Then he stretched himself upon the child three times, and cried to the LORD, "O LORD my God, let this child's soul come into him again." [22]

And the LORD hearkened to the voice of Eli'jah; and the soul of the child came into him again, and he revived

. [23] And Eli'jah took the child, and brought him down from the upper chamber into the house, and delivered him to his mother; and Eli'jah said, "See, your son lives." [24] And the woman said to Eli'jah, "Now I know that you are a man of God, and that the word of the LORD in your mouth is truth."

*

2 Kings 1:10

But Eli'jah answered the captain of fifty, "If I am a man of God, let fire come down from heaven and consume you and your fifty." Then fire came down from heaven

, and consumed him and his fifty.

*

2 Kings 4:32-37 When Eli'sha came into the house, he saw the child lying dead on his bed. [33] So he went in and shut the door upon the two of them, and prayed to the LORD. [34] Then he went up and lay upon the child, putting his mouth upon his mouth, his eyes upon his eyes, and his hands upon his hands; and as he stretched himself upon him, the flesh of the child became warm. [35] Then he got up again, and walked once to and fro in the house, and went up, and stretched himself upon him; the child sneezed seven times, and the child opened his eyes. [36] Then he summoned Geha'zi and said, "Call this Shu'nammite." So he called her. And when she came to him, he said, "Take up your son." [37] She came and fell at his feet, bowing to the ground; then she took up her son and went out.

*
2 Kings 6:17-18 Then Eli'sha prayed, and said, "O LORD, I pray thee, open his eyes that he may see." So the LORD opened the eyes of the young man, and he saw; and behold, the mountain was full of horses and chariots of fire round about Eli'sha. [18] And when the Syrians came down against him, Eli'sha prayed to the LORD, and said, "Strike this people, I pray thee, with blindness." So he struck them with blindness in accordance with the prayer of Eli'sha.

*

2 Chronicles 30:18-20

For a multitude of the people, many of them from E'phraim, Manas'seh, Is'sachar, and Zeb'ulun, had not cleansed themselves, yet they ate the passover otherwise than as prescribed. For

Hezeki'ah had prayed for them

, saying, "The good LORD pardon every one [19] who sets his heart to seek God, the LORD the God of his fathers, even though not according to the sanctuary's rules of cleanness." [20]

And the LORD heard Hezeki'ah

, and healed the people.

*

Job 42:8-9

Now therefore take seven bulls and seven rams, and go to my servant Job, and offer up for yourselves a burnt offering; and my servant Job shall pray for you, for

I will accept his prayer not to deal with you according to your folly; for you have not spoken of me what is right, as my servant Job has.

" [9] So Eli'phaz the Te'manite and Bildad the Shuhite and Zophar the Na'amathite went and did what the LORD had told them; and

the LORD accepted Job's prayer

.

*

Proverbs 15:8

The sacrifice of the wicked is an abomination to the LORD, but

the prayer of the upright is his delight

.

*

Proverbs 15:29

The LORD is far from the wicked, but

he hears the prayer of the righteous

.

*

Proverbs 28:9 If one turns away his ear from hearing the law, even his prayer is an abomination.

*
Isaiah 1:15 When you spread forth your hands, I will hide my eyes from you; even though you make many prayers, I will not listen; your hands are full of blood.

*
Jeremiah 15:1 Then the LORD said to me, "Though Moses and Samuel stood before me, yet my heart would not turn toward this people. Send them out of my sight, and let them go!" [in other words, this is an exception to the rule; normally great intercessors like Moses and Samuel would suffice to save whole peoples]
*

Jeremiah 37:3

King Zedeki'ah sent Jehu'cal the son of Shelemi'ah, and Zephani'ah the priest, the son of Ma-asei'ah, to Jeremiah the prophet, saying, "Pray for us to the LORD our God."

*

Jeremiah 42:1-4

Then all the commanders of the forces, and Joha'nan the son of Kare'ah and Azari'ah the son of Hoshai'ah, and all the people from the least to the greatest, came near [2] and

said to Jeremiah the prophet, "Let our supplication come before you, and pray to the LORD your God for us

, for all this remnant (for we are left but a few of many, as your eyes see us), [3] that the LORD your God may show us the way we should go, and the thing that we should do." [4]

Jeremiah the prophet said to them, "I have heard you; behold, I will pray to the LORD your God according to your request

, and whatever the LORD answers you I will tell you; I will keep nothing back from you."

*

Ezekiel 14:19-20 Or if I send a pestilence into that land, and pour out my wrath upon it with blood, to cut off from it man and beast; [20] even if Noah, Daniel, and Job were in it, as I live, says the Lord GOD, they would deliver neither son nor daughter; they would deliver but their own lives by their righteousness. [another exception to the rule that prayers of the righteous are sufficient and efficient in their purpose, as in Jer 15:1 above]

*
Tobit 12:8 Prayer is good when accompanied by fasting, almsgiving, and righteousness. . . .

*

Sirach 28:2 Forgive your neighbor the wrong he has done, and then your sins will be pardoned when you pray.

*

Sirach 35:16

He whose service is pleasing to the Lord will be accepted, and

his prayer will reach to the clouds

.

*
Matthew 21:22 And whatever you ask in prayer, you will receive, if you have faith.

*
Mark 11:24-25 Therefore I tell you, whatever you ask in prayer, believe that you have received it, and it will be yours. [25] And whenever you stand praying, forgive, if you have anything against any one; so that your Father also who is in heaven may forgive you your trespasses.

*
John 15:7 If you abide in me, and my words abide in you, ask whatever you will, and it shall be done for you.

*
Acts 9:36-41 Now there was at Joppa a disciple named Tabitha, which means Dorcas. She was full of good works and acts of charity. [37] In those days she fell sick and died; and when they had washed her, they laid her in an upper room. [38] Since Lydda was near Joppa, the disciples, hearing that Peter was there, sent two men to him entreating him, "Please come to us without delay." [39] So Peter rose and went with them. And when he had come, they took him to the upper room. All the widows stood beside him weeping, and showing tunics and other garments which Dorcas made while she was with them. [40] But Peter put them all outside and knelt down and prayed; then turning to the body he said, "Tabitha, rise." And she opened her eyes, and when she saw Peter she sat up. [41] And he gave her his hand and lifted her up. Then calling the saints and widows he presented her alive. (cf. Matt 10:8)

*
Acts 20:9-10 And a young man named Eu'tychus was sitting in the window. He sank into a deep sleep as Paul talked still longer; and being overcome by sleep, he fell down from the third story and was taken up dead. [10] But Paul went down and bent over him, and embracing him said, "Do not be alarmed, for his life is in him."

*

1 Timothy 2:8

I desire then that in every place the men should

pray, lifting holy hands without anger or quarreling

;

*

James 1:5-8

If any of you lacks wisdom, let him ask God, who gives to all men generously and without reproaching, and it will be given him. [6] But

let him ask in faith, with no doubting

, for he who doubts is like a wave of the sea that is driven and tossed by the wind. [7, 8] For that person must not suppose that a double-minded man, unstable in all his ways, will receive anything from the Lord.

*

James 4:3

You ask and do not receive, because

you ask wrongly

, to spend it on your passions.

*

James 5:14-18

Is any among you sick? Let him call for the elders of the church, and let them pray over him, anointing him with oil in the name of the Lord; [15] and the prayer of faith will save the sick man, and the Lord will raise him up; and if he has committed sins, he will be forgiven. [16] Therefore confess your sins to one another, and pray for one another, that you may be healed.

The prayer of a righteous man has great power in its effects. [17] Eli'jah was a man of like nature with ourselves and he prayed fervently that it might not rain, and for three years and six months it did not rain on the earth.

[18] Then he prayed again and the heaven gave rain, and the earth brought forth its fruit. (cf. 1 Kgs 17:1)
1 Peter 3:12

For

the eyes of the Lord are upon the righteous, and his ears are open to their prayer

. But the face of the Lord is against those that do evil.

*

1 John 3:21-22

Beloved, if our hearts do not condemn us, we have confidence before God; [22] and

we receive from him whatever we ask, because we keep his commandments and do what pleases him

.
1 John 5:14

And this is the confidence which we have in him, that

if we ask anything according to his will he hears us

.
In conclusion then, it's best to "go straight to God" in prayer, unless there happens to be a person more righteous than we are in the immediate vicinity, who is willing to make the same prayer request. Then the Bible recommends that we ask them to intercede, rather than asking God directly. I didn't claim this; the Catholic Church didn't invent it. It's in the Bible. If someone wants to be biblical, it would include this practice.
*
Related Reading
"The Prayer of a Righteous Man Availeth Much" (James 5:16: KJV): What Does It Mean? Dialogue with a Lutheran (vs. Stuart Floyd) [6-8-05]
Biblical Evidence for Prayers of the Righteous Having More Power [3-23-11]
Why the Bible Says the Prayers of Holy People Are More Powerful [National Catholic Register, 3-19-19]
Bible on Praying Straight to God (vs. Lucas Banzoli) [9-21-22]
Reply to Banzoli's "Questions for Catholics About Prayer…" [9-23-22]
***
Practical Matters: Perhaps some of my 4,300+ free online articles (the most comprehensive "one-stop" Catholic apologetics site) or fifty-one books have helped you (by God's grace) to decide to become Catholic or to return to the Church, or better understand some doctrines and why we believe them.
Or you may believe my work is worthy to support for the purpose of apologetics and evangelism in general. If so, please seriously consider a much-needed financial contribution. I'm always in need of more funds: especially monthly support. "The laborer is worthy of his wages" (1 Tim 5:18, NKJV). 1 December 2021 was my 20th anniversary as a full-time Catholic apologist, and February 2022 marked the 25th anniversary of my blog.
PayPal donations are the easiest: just send to my email address: apologistdave@gmail.com. You'll see the term "Catholic Used Book Service", which is my old side-business. To learn about the different methods of contributing, including 100% tax deduction, etc., see my page: About Catholic Apologist Dave Armstrong / Donation Information. Thanks a million from the bottom of my heart!
***
***
Summary: Anyone can & should pray straight to God. But the Bible also teaches that the best way to get a prayer answered is to find the most righteous person around to pray it.