To me, the pursuit of my truth is the great work of my life. In my articles on Keeping Her Keys, I seek answers, and offer up the truths I've found to inspire you to seek yours. Here's to another year of unlocking truths with those magical, mystical keys of spiritual witchcraft. With gratitude and honesty, here are my reflections on the thirteen most popular articles of 2019.
The Keys From Perennial Favorites: Toxic Witches, Deathwalking And Hekate's History
Three of the thirteen most popular articles on Keeping Her Keys this past year were carryovers from 2018. In Thirteen Types of Toxic Witches, I described several archetypes of troublesome witches (also applies to regular humans). This remains the most popular article that I've written so far.
As we approach the end of the year, why not do an inventory of these typologies to see if any of these toxic characters are in your life. Perhaps more importantly, see if you fit any of the criteria.
We're All Toxic At Times
Proving that it's easier to point our black fingernails at someone else than examine our own bullshit, my Witches Behaving Badly: 13 Things We All Need To Stop Doing Right Now is way down the list of popular articles. Exploring the ways we undermine our attempts to unlock our truth is perhaps the central focus of Keeping Her Keys.
Coming up soon is an article discussing the spiritual significance of the adolescent crisis for the witches journey. We've been discussing it on the Keeping Her Keys Facebook page. While I was contemplating writing this article, the radio played "Cult of Personality." Message received. Don't you love it when the spirits speak through the radio? My point is: check yourself, witch. We can all be toxic. Also, pay attention to the messages being sent to you.
Speaking Of Toxic Witches…
Join me in taking a few cleansing breaths before delving into my most controversial article to date. Speaking of toxic witches, in Witches are Not Light Workers. We Are Death Walkers, I compared these two approaches to energy work. Honestly, I didn't think that the article would be popular at all. Yet here we are discussing it still. My goal was to prompt discussion on the nature of witchcraft, bringing to light the toxicity of singularly focusing on the light.
For many of you, this article was a beacon of truth, calling you to connect with me. For others, the article is simply a place for them to release some of their self hatred in my direction.
I've contemplated that article quite a bit in the year since I wrote it. I was being intentionally sarcastic and over-the-top. Here's a great rebuttal to my article.
This gets lost on a lot of readers, perhaps indicating my lack of skill in using these techniques. Maybe they're just assholes. I can't do anything about the latter, but I can change my own behavior. I haven't written anything with a similar tone since. Lesson learned. Healing requires going into our shadows to unlock our truth. Spiritual death is often required, as is soul retrieval. This is where we learn the lessons and release the pain. I'll continue to dive deep into the emotional depths through my articles in 2020.
The Keys of Hekate And The Necessity Of Darkness
Undeniably, my perspective on the necessity of the darkness for healing is a combination of my years working with marginalized women and children and my personal journey through trauma. As a psychologist I saw how false positivity only created more suffering. Acceptance of what is and of who we are are the keys for unlocking our way out of hell.
My view of our spiritual journey is undoubtedly deeply entwined with my favorite goddess. In A Witches' Understanding of Hekate, I summarized her almost 4,000 years of known history.
My conclusion was that, while her history is important to know, what matters most is our personal understanding. I've been working on revising this article because I find it a bit clunky.
Hekate's history continues to fascinate me. My latest academic meandering has been researching the similarities between depictions of Hekate and how Jesus is described in the Gospels. Ancient scribes viewed Hekate in vastly different ways, much as some of us do today. Look for more about her history and my personal experiences in the coming year.
Top 10 New Articles of 2019: Unlocking The Keys Of Witchcraft
For me, witchcraft is a spiritual path that deepens my understanding of myself so that I can better connect to the forces and spirits that I'm drawn to. There is no separation between me and Hekate, she is me and I am her. I am the sacred that I seek. The challenge, the whole point of being, is to go inward so that I can unlock my truth.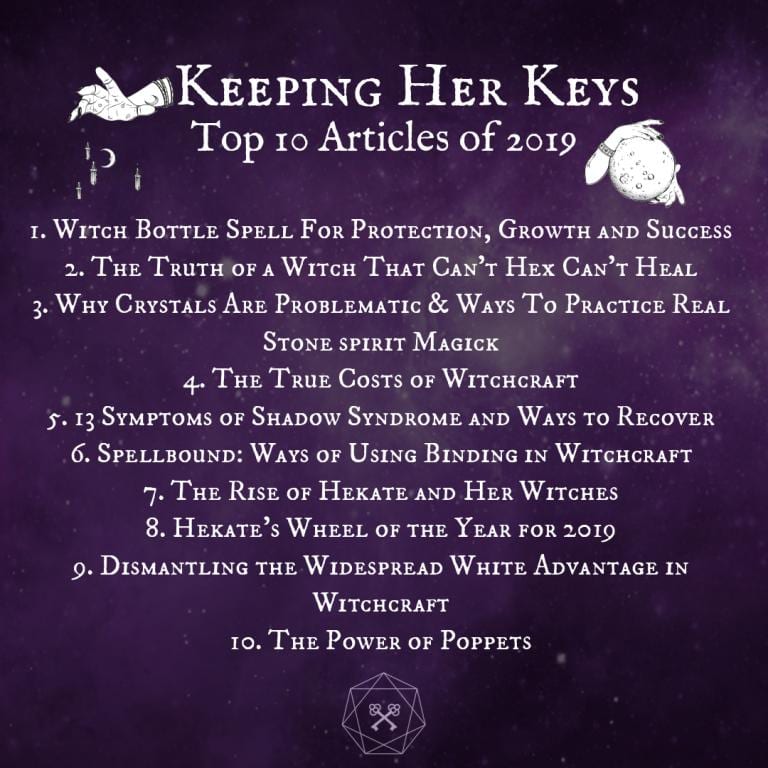 The Key To Knowing When I Should Have Known Better
When I wrote about the widespread white advantage in witchcraft, I dropped this key. While I stand by that article (as I do for every one I've written), I feel that a better approach to using my platform would have been to hand the keys over to someone who had experienced this first hand.
Unintentionally, I was one of those well educated white women who mean well, but who end up potentially doing more harm than good. The article was inspired by a contentious discussion in my Facebook group. I've since disbanded this large group because, for me, it was too much spiritual heavy lifting. The toxic minority on Facebook is difficult to manage, even in a highly vetted group. That article taught me a lot. A key for certain. You can read it here.
The Keys Found In Crystals And The Shadow
In The Toxicity of Crystals and Ways to Practice Real Stone Spirit Magick, I tackled the problematic ways that those sparkly treasures are mined. I've got my share of crystals, so I've checked myself on this one. Understanding that crystals can have toxic origins informs my practice now. When I know better, I do better. Admitting my mistakes is part of my own recovery from shadow syndrome. The fifth most read blog of 2019 was my guide for understanding and overcoming this debilitating problem. Read the article here.
Unlocking The Truth Is A Cost Of Witchcraft
One of the costs of witchcraft is giving up my delusions about myself. This is accomplished by being open to new experiences, including admitting my mistakes. The witches work is mind work, according to the great Laurie Cabot. I couldn't agree more. However, working on ourselves comes with a high price, often paid through losing people who no longer belong in our lives or giving up old ways of thinking. Initiation is found when we unlock our own truth.
Your true life is going to cost you your false one. Totally worth it. Read more in The True Costs of Witchcraft.
The Keys Of Effective Spells
The more I understand about the world, both the corporeal and spiritual, and myself, the better I become at casting spells. I absolutely love to create a spell, whether it's a sigil, talisman or a witch bottle. My most read article from 2019 is the Witch Bottle Spell For Protection, Growth and Success.
I wrote a case study in spellcrafting that was complex yet straightforward. The only thing that matters with spells is whether or not they work. The evidence is clear that it did. My first book has outsold my expectations, my courses are full of the most amazing students, and this blog had enormous growth in 2019. I'm planning my 2020 BPB Spell (Banish, Protect, Bless), and I'll have it out sometime next week. Get your jars ready!
Spells work because we bind the ingredients together, merging them into a potent spirit of our creation. In Spellbound: Ways of Using Binding in Witchcraft, you can read more ways to use this technique to amplify your witchery. Poppets are bound ingredients solidified into a form, whether it is wax or wool. My guide to making them was the tenth most popular article of 2019. You can read it here.
Banishing, binding and hexing can all be considered forms of baneful witchcraft. In The Truth of a Witch That Can't Hex Can't Heal, I discussed how hexing and healing are often the same thing. It's the intention that matters. Moreover, a good dose of baneful witchcraft is often required for healing. Perspective, witches. To me, witchcraft is medicine that's neither white, black of even grey. Perhaps a thousand colors all blended into a beautiful mosaic is how I see witchcraft.
The Gifts Of Hekate's Keys
Hekate is the Keeper of the Keys of not only witchcraft, but the universe itself. She is all the colors, all the spells, and all of the deeper world. In The Rise of Hekate and Her Witches, I discussed the reasons why she has become so present in our time and in our lives. She has unlocked the truth. We need to enter into the crossroads to take up our keys.
Will you answer her call?
Hekatean Witchcraft is about reclaiming the sacredness of our ways from our ancestors who have been denigrated for centuries by those who fear our power. Part of this unlocking of my truth was to reinterpret the Wheel of the Year including Hekate. I'm designing a new one for 2020, but in the meantime I hope that Hekate's Wheel of the Year for 2019 inspires you to create your own. Students in The Mystai: The Path of Hekatean Witchcraft create their own. Seeing their beautiful creations is one of my favorite things.
The Key Of Gratitude
In gratitude for the amazing support you all have shown for Keeping Her Keys. Without all of you, I'd still be speaking my truth and taking up space, but it would be a bit lonely. You all inspire me to dig deeper, to stand prouder, and to say the things that need to be said.
May you unlock your truth, and be well blessed through doing so.
A special thank you to the wonderful Jason Mankey for awarding Keeping Her Keys one of his coveted "hornies" as the best blog of 2019.
For me, the key of the truth includes keeping it real. I'm not perfect, but I'm here at this desk writing my way towards wholeness. I am incredibly humbled that my words have helped others unlock their truth. Thanks to everyone who has sent me messages, notes and gifts expressing their gratitude. Your stories inspire me to keep speaking out. Keep them coming.
JUNE 2020: Please subscribe to my blog on keepingherkeys.com/read to receive updates about new articles which are completely free. I am not publishing new articles on Patheos. You can join my modern online coven network for the first month free. Try it out here.
Questions? Comments? info@keepingherkeys.com is where to send them.
Thanks to everyone for supporting Keeping Her Keys on Patheos. You can find me at keepingherkeys.com, on Facebook, Pinterest, Twitter or Instagram, in addition to the Keeping Her Keys network.
Stay true. Rise strong. Keep your own keys.
Deep Blessings,
Cyndi