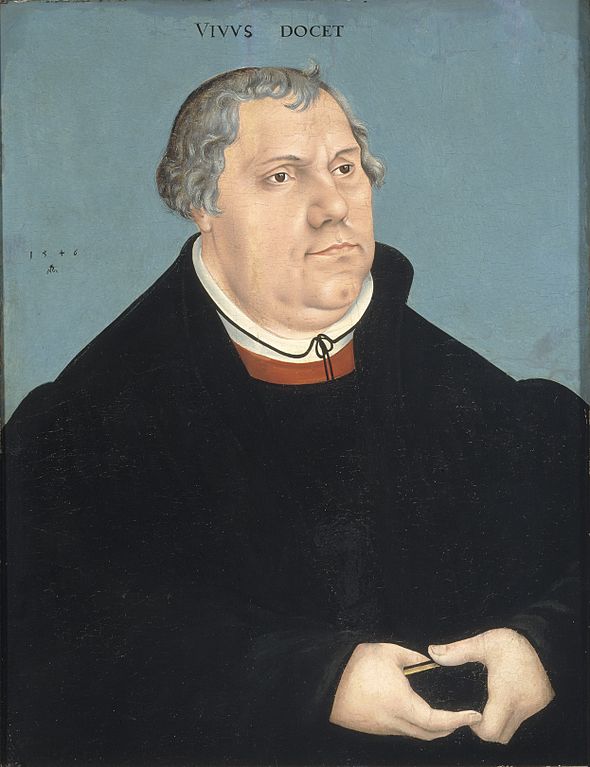 (2-28-10)
***
[The blue highlighting is my own]
***
So what is my own "take" on all this business of Luther's teachings and current events in Germany and among the early Lutherans, during the earliest period of Protestantism? I think causes of historical events are always extraordinarily complex, just as causes of human behavior in general are. That has always been my position, as long as I can remember. I despise simplistic attempts of positing single causes for things as obviously complex as our topic of the social / theological situation of Germany in the 16th century.Cynical, misinformed critics, however, ridiculously caricature "my position" as the following:
1) Luther (a man who was an evil scoundrel, madman, foul loudmouth, and fanatic) wrote a bunch of dumb, heretical stuff that had no redeeming value whatever.

2) Folks therefore responded in kind and doctrinal and moral chaos resulted entirely because of Luther's teaching.
In actuality, my position is far more nuanced than knee-jerk anti-Catholic opponents or quick-to-judge Lutherans unfamiliar with my overall collection of writings on Luther (including many where I agree with him), imagine:
1) Luther was a man with good intentions, who sought to follow God. He was prone to extremely fiery, unhelpful anti-Catholic rhetoric, but he was not mad, and far less fanatical and heretical than the Protestant sects that broke away from his own; including John Calvin's.
2) His teachings were a mixture of previous Catholic tradition (particularly regarding Mary, baptism, and the Eucharist), and novel error.
3) Luther taught the absolute necessity of good works in the Christian life, as an inevitable manifestation of an authentic faith. He didn't separate justification and sanctification to the degree that Calvin (or even his successor Philip Melanchthon) did.
4) But Luther also did a very poor job of communicating the subtleties of his "faith alone" (sola fide) soteriology to the masses: most of whom were incapable of analyzing the fine distinctions entailed (a state of affairs which is largely true even to our present time). In his extreme rhetoric of separation of faith and works, the necessary continuing connections that Luther in fact maintained in his theology, rightly understood, were lost in the public mind. In this sense, he showed himself to be rather excessively naive, as to the likely misunderstandings that would result and how many people would act in ways that he neither condoned nor envisioned.
5) As a result, there was a strong tendency at first towards antinomianism and anarchism (neither sanctioned by Luther) among the populace, as evidenced by an increase of immorality (noted often by Luther himself) and the Peasants' Revolt.
6) Luther always had the last resort of recourse to the devil as the end-all explanation of any problems in his own ranks. This sort of hypothesis or theory was impervious to any possible falsification: being entirely subjective and speculative. All heretical breakaway groups through history have rationalized persecution or vehement disagreement from others by holding that it was inevitable, just as Jesus and the prophets and the early Christians were also persecuted. This allowed Luther to isolate himself from any possible criticism of his faulty teaching or faulty teaching methods of both false and true aspects of his teaching, as at least a partial cause of the difficulties. He was God's man of the hour, delivering the "Gospel" (as if Catholics didn't already have it); therefore, he couldn't possibly be wrong in any major way. It was unthinkable to him.
[Luther's own words follow]
***
Thus we have the teaching of nature and of reason regarding the sin of men's ingratitude toward one another. How much greater the evil, how much more shameful and accursed, when manifested toward God who, in his infinite and ineffable goodness, conferred upon us while yet enemies to him and deserving of the fires of hell—conferred upon us, I say, not ten dollars, not a hundred thousand dollars even, but redemption from divine wrath and eternal death, and abundantly comforted us, granting us safety, a good conscience, peace and salvation! These are inexpressible blessings, incomprehensible in this life. And they will continue to occupy our minds in yonder eternal life. How much more awful the sin of ingratitude for these blessings, as exemplified in the servant mentioned in the Gospel passage for today, to whom was forgiven the debt of ten thousand talents and who yet would not forgive the debt of his fellow-servant who owed him a hundred pence! (p. 333)
Is it not incredible that there are to be found on earth individuals wicked enough to manifest for the highest and eternal blessings such unspeakable ingratitude? But alas, we have the evidence of our own eyes. We know them in their very dwelling-places. We see how the world abounds with them. Not only are the ingrates to be found among deliberate rejecters of the acknowledged truth of the Gospel, concerning God's grace, an assured conscience and the promise of eternal life, terrible as such malice of the devil is, but they are present also in our midst, accepting the Gospel and boasting of it. Such shameful ingratitude prevails among the masses it would not be strange were God to send upon them the thunders and lightnings of his wrath, yes, all the Turks and the devils of hell. There is a generally prevalent ingratitude like that of the wicked servant who readily forgot the straits he experienced when, being called to account for what he could not pay, the wrathful sentence was pronounced against him that he and all he possessed must be sold, and he be indefinitely imprisoned. Nor have we less readily forgotten how we were tortured under the Papacy; how we were overwhelmed, drowned as in a flood, with numberless strange doctrines, when our anxious consciences longed for salvation. Now that we are, through the grace of God, liberated from these distresses, our gratitude is of a character to increasingly heap to ourselves the wrath of God. So have others before us done, and consequently have endured terrible chastisement. Only calculate the enormity of our wickedness when, God having infinitely blessed us in forgiving all our sins and making us lords over heaven and earth, we so little respect him as to be unmindful of his blessings; to be unwilling for the sake of them sincerely to forgive our neighbor a single slighting word, not to mention rendering him service. We conduct ourselves as if God might be expected to connive at our ingratitude and permit us to continue in it, at the same time conferring upon us as godly and obedient children, success and happiness. More than this, we think we have the privilege and power to live and do as we please. Indeed, the more learning and power we have and the more exalted our rank, the greater knaves we are; perpetrating every wicked deed, stirring up strife, discord, war and murder for the sake of executing our own arbitrary designs, where the question is the surrender of a penny in recognition of the hundreds of thousands of dollars daily received from God notwithstanding our ingratitude. (pp. 333-334).
The world remains the devil's own. We must remember we shall not by any means find with the world that Christian heart pictured by the apostle; on the contrary we shall find what might be represented by a picture of the very opposite type —the most shameless ingratitude. But let the still existing God-fearing Christians be careful to imitate in their gratitude the spirit of the apostle's beautiful picture. Let them give evidence of their willingness to hear the Word of God, of pleasure and delight in it and grief where it is rejected. Let them show by their lives a consciousness of the great blessing conferred by those from whom they received the Gospel. As recipients of such goodness, let their hearts and lips ever be ready with the happy declaration: "God be praised !" For thereunto are we called. As before said, praise should be the constant service and daily sacrifice of Christians; and according to Paul's teaching here, the Christian's works, his fruits of righteousness, should shine before men. Such manifestation of gratitude assuredly must result when we comprehend what God has given us. (p. 338) (from The Complete Sermons of Martin Luther Vol.4.2, edited by John Nicholas Lenker, Grand Rapids, Michigan: Baker Books, 2000, pp. 330-342; available online also in the Sermon on the Twenty-Second Sunday After Trinity [Philippians 1:3-11]: revised translation from the 1827 Erlangen edition of Luther's writings by Socrates Henkel, in Dr. Martin Luther's Church Postil: Sermons on The Epistles, New Market, Virginia: New Market Evangelical Lutheran Publishing Company, 1869)
. . . they who do as the gospel teaches, are true Christians. However, very few of these are found; we see many hearers, but all are not doers of the Gospel. (p. 104)
But who are they that love God, and cleave not to gold and worldly possessions? Take a good look at the whole world, also the Christians, and see if they despise gold and riches. It requires an effort to hear the Gospel and to live according to it. God be praised, we have the Gospel; that no one can deny, but what do we do with it? We are concerned only about learning and knowing it, and nothing more; we think it is enough to know it, and do not care whether we ever live according to it. However, on the other hand, one is very anxious when he leaves lying in window or in the room a dollar or two, yea, even a dime, then he worries and fears lest the money be stolen; but the same person can do without the Gospel through a whole year. And such characters still wish to be considered Evangelical. Here we see what and who we are. If we were Christians, we would despise riches and be concerned about Gospel that we some day might live in it and prove it by our deeds. We see few such Christians; therefore we must hear the judgment that we are despisers of God and hate God: the sake of riches and worldly possessions. Alas! That fine praise! We should be ashamed of ourselves in our inmost souls; there is no hope for us! What a fine condition we are in now! That means, I think, our names are blotted out. What spoiled children we are! (pp. 105-106)
Now the world cannot conceal its unbelief in its course outward sins, for I see it loves a dollar more than Christ; more than all the Apostles, even if they themselves were present and preached to it. I can hear the Gospel daily, but it does not profit me every day; it may indeed happen if I have heard it a whole year, the Holy Spirit may have been given to me only one hour. Now when I enjoyed this hour I obtained not only five hundred dollars, but also I riches of the whole world; for what have I not, when I have the Gospel? I received God, who made the silver and I gold, and all that is upon the earth; for I acquired the Spirit by which I know that I will be kept by him forever; that much more than if I had the church full of money. Examine now and see, if our heart is not a rogue, full of wickedness and unbelief. If I were a true Christian, I would say: In the hour the Gospel is received, there comes to me a hundred thousand dollars, and much more. For if I possess this treasure, I have all that is in heaven and upon earth. But one must serve this treasure only, for no man can serve God and mammon. Either you must love God and hate money; or you must hate God and love money; this and nothing more. (pp. 106-107) (from The Complete Sermons of Martin Luther Vol. 3.1; Grand Rapids, Michigan: Baker Books, 2000, pp. 102-117. It is readable online as Second Sermon for the Fifteenth Sunday After Trinity [Matthew 6:24-34] from the book, The Precious and Sacred Writings of Martin Luther, Vol. 14, edited by John Nicholas Lenker, Minneapolis, Lutherans in All Lands Co., 1905, 118-126. From Walch edition, Vol. XII, 1234 and Vol. XI, 2171)
To my kind and dear mistress of the house, Luther's Catherine von Bora, a preacher, a brewer, a gardener, and whatever else she is capable of doing- Grace and peace! Dear Katie!
John surely will tell you everything pertaining to our journey; I am not yet certain whether he should stay with me, but Doctor Caspar Cruciger and Ferdinand, of course, will tell you. Ernst von Schönfeld has treated us graciously at Löbnitz, and Heintz Scherle at Leipzig even more so.
I would like to arrange matters in such a way that I do not have to return to Wittenberg. My heart has become cold, so that I do not like to be there any longer. I wish you would sell the garden and field, house and all. Also I would like to return the big house to my Most Gracious Lord. It would be best for you to move to Zölsdorf as long as I am still living and able to help you to improve the little property with my salary. For I hope that my Most Gracious Lord would let my salary be continued at least for one [year], that is, the last year of my life. After my death the four elements at Wittenberg certainly will not tolerate you [there]. Therefore it would be better to do while I am alive what certainly would have to be done then. As things are run in Wittenberg, perhaps the people there will acquire not only the dance of St. Vitus or St. John, but the dance of the beggars or the dance of Beelzebub, since they have started to bare women and maidens in front and back, and there is no one who punishes or objects. In addition the Word of God is being mocked [there]. Away from this Sodom! If Leeks Bachscheisse, our other Rosina, and [her] seducer are not yet imprisoned, then help as much as you can to see that this scoundrel loses what he has gained. While in the country I have heard more than I find out while in Wittenberg. Consequently I am tired of this city and do not wish to return, May God help me with this.
The day after tomorrow I shall drive to Merseburg, for Sovereign George has very urgently asked that I do so. Thus I shall be on the move, and will rather eat the bread of a beggar than torture and upset my poor old [age] and final days with the filth at Wittenberg which destroys my hard and faithful work. You might inform Doctor Pomer and Master Philip of this (if you wish), and [you might ask] if Doctor Pomer would wish to say farewell to Wittenberg in my behalf. For I am unable any longer to endure my anger [about] and dislike [of this city].
With this I commend you to God. Amen. (Luther's Letter to His Wife Katie Regarding the State of Wittenberg: 28 July 1545, in Luther's Works, Vol. 50, 273-278)
* * *
Photo credit: Portrait of Martin Luther (1546), by Lucas Cranach the Elder (1472-1553) [public domain / Wikimedia Commons]
***