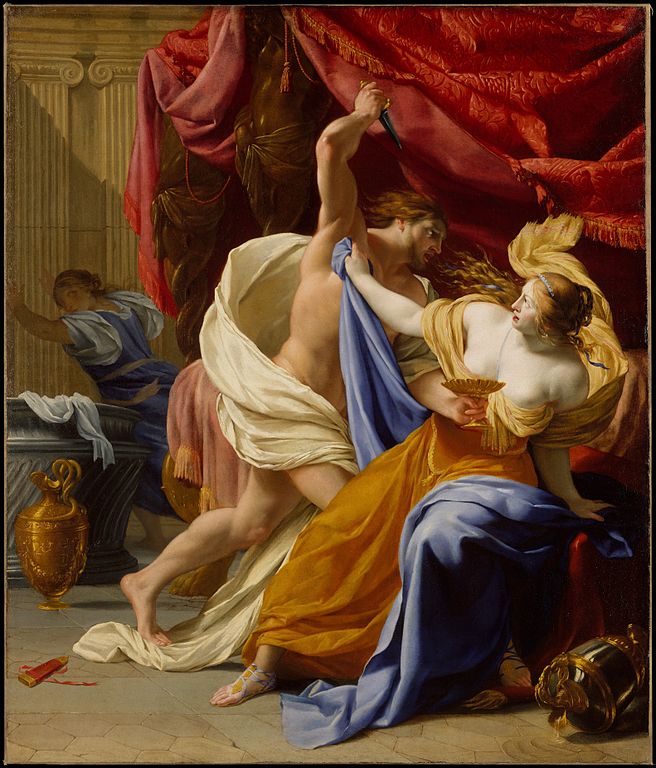 Atheist and anti-theist Bob Seidensticker runs the influential Cross Examined blog. He asked me there, on 8-11-18: "I've got 1000+ posts here attacking your worldview. You just going to let that stand? Or could you present a helpful new perspective that I've ignored on one or two of those posts?" He also made a general statement on 6-22-17: "In this blog, I've responded to many Christian arguments . . . Christians' arguments are easy to refute." He added in the combox: "If I've misunderstood the Christian position or Christian arguments, point that out. Show me where I've mischaracterized them." I'm always one to oblige people's wishes, so I decided to do a series of posts in reply.
It's also been said, "be careful what you wish for."  If Bob responds to this post, and makes me aware of it, his reply will be added to the end along with my counter-reply. If you don't see that at the end, rest assured that he either hasn't replied, or didn't inform me that he did. Bob's words will be in blue. To find these posts, word-search "Seidensticker" on my atheist page or in my sidebar search (near the top).
*****
In his post, "God Creates Evil" (4-27-18; update of original post from 8-20-14), Bob stated: "God also has no problem with rape (Deuteronomy 22:28–9), . . ." Later in the article, Bob claims that God "advocated" rape. In another paper (originally 12-13-13), Bob opined: "The Bible . . . talks about when rape is okay." And again on 6-17-15: "[T]he Bible says much about all sorts of embarrassing marriage customs and prohibitions sanctioned by God: . . . rape for fun and profit, . . ."Alright; let's take a look at his passage and alleged "prooftext":
Deuteronomy 22:28-29 (RSV) "If a man meets a virgin who is not betrothed, and seizes her and lies with her, and they are found, [29] then the man who lay with her shall give to the father of the young woman fifty shekels of silver, and she shall be his wife, because he has violated her; he may not put her away all his days."
First of all, that is not having "no problem" with rape, in the Mosaic law which we believe was given to Moses and the ancient Hebrews by God. Christian apologist Glenn Miller, who runs the wonderful Christian Thinktank website, dealt with the topic of rape in the Bible at extreme length. He commented on this passage as follows:
Here is a clear case in which the rapist has (1) stolen the girl's ability to guarantee paternity, and by doing so has greatly limited her future options; and (2) has limited her father's options of arranging a good marriage for her. The rapist is now forced to become what he has cheated the girl out of—a 'well off' husband. The fifty shekels bride-price (see below on the Exodus 22.16 passage) is five years worth of average wages, and is the price  paid by the Pharaoh Amenophis III for the women of Gezer destined for his harem! The girl's future is now assured—she has a guaranteed support source (he cannot divorce her)—and she has a 'big' bride-price on deposit. The law has protected someone who was attempting to help the community, by preserving her virginity.
How all that is somehow deemed as God having "no problem" with rape is, I confess, beyond my rational capabilities to comprehend. Of course, Bob, in his rush to mock God and Christianity, neglects (for some odd reason) to also include the passage immediately preceding:
Deuteronomy 22:25-27 "But if in the open country a man meets a young woman who is betrothed, and the man seizes her and lies with her, then only the man who lay with her shall die. [26] But to the young woman you shall do nothing; in the young woman there is no offense punishable by death, for this case is like that of a man attacking and murdering his neighbor; [27] because he came upon her in the open country, and though the betrothed young woman cried for help there was no one to rescue her." (cf. 22:23-24)
Does that sound like God is all gung-ho about rape? The rapist is to be executed. Nothing is to be done to the woman because she has done nothing wrong, and the rape is analogous to someone being murdered. The difference in the earlier case was the woman not being betrothed (the cultural difference of which was explained by Glenn Miller above).
In the article, "What does the Bible say about sexual assault?", Southern Baptist Katie McCoy writes:
The Bible is not silent about rape. The accounts of sexual assault against women are heartbreaking, even gruesome. But they are not brushed under a rug or hushed up. In fact, of the three accounts describing a woman who was sexually assaulted, each of them precipitated civil war. When Jacob's daughter, Dinah, was violated by the son of a neighboring ruler, Shechem, her brothers murdered him, his father, and the all of the men of his city in revenge (Gen. 34). After the Unnamed Concubine was gang-raped and left for dead by men in the tribe of Benjamin, the other tribes went to war against them upon hearing of her injustice (Jgs. 19-21). And after Tamar was raped by her half-brother, Amnon, her brother Absalom killed him, and incited a rebellion against his father, King David (2 Sam. 13). Rape was neither covered up nor ignored. Instead, it was answered and avenged. It was such a cultural convulsion that it was answered with outrage and further violence. The cases of rape in Scripture tell us something about the cases of rape we are hearing today: These women must be heard and they must be protected.
Christian apologist Kyle Butt, takes on another unsavory atheist tactic regarding the Bible and rape, in his article, "God did not condone rape":
Militant atheists of the 21st century delight in accusing God of condoning the most heinous immoralities. They insist that the God of the Bible, especially of the Old Testament, was a murderous villain guilty of far worse than His human subjects. Richard Dawkins accused God of being a "misogynistic, homophobic, racist, infanticidal, genocidal, filicidal, pestilential, megalomaniacal, sadomasochistic, capriciously malevolent bully" (2006, p. 31 [The God Delusion] ).

One attempt that has been made to bolster these unfounded accusations is to suggest that in the Old Testament God condoned rape. Dan Barker commented: "If God told you to rape someone, would you do it? Some Christians, ignorant of biblical injunctions to rape, might answer, 'God would never ask me to do that'" (Barker, 1992, p. 331, emp. added). If the honest truth seeker were to ask to see the "biblical injunctions to rape," he would be struck by the fact that no such injunctions exist.

The passage that is most often used to "prove" that God condones rape is Numbers 31:25-40. In this passage, the young women who were taken captive after Moses destroyed the Midianites were divided between the Israelites and the priests. The priests were given responsibility for 32 of the women. Skeptics often suggest that these women were supplied so that the priests could abuse them sexually and rape them. But nothing could be further from the truth. The skeptic errs greatly in this regard either due to his ignorance of God's instructions or willful dishonesty.

In Deuteronomy 21:10-14, Moses specifically stated what was to be done with female captives:

When you go out to war…and you see among the captives a beautiful woman, and desire her and would take her for your wife, then you shall bring her home to your house, and she shall shave her head and trim her nails. She shall put off the clothes of her captivity, remain in your house, and mourn her father and her mother a full month; after that you may go in to her and be her husband, and she shall be your wife (emp. added).

It is important to understand that God has never condoned any type of sexual activity outside of a lawful marriage. The only way that an Israelite would be morally justified in having sexual intercourse with a female captive was if he made her his wife, granting to her the rights and privileges due to a wife. Notice that the Israelite male could not "go in to her" (a euphemism for sexual intercourse) until she had observed a period of mourning and cleansing, and he could only "go in to her" with the intent of being her husband.

When the skeptics' allegations about God condoning rape are demolished by the very clear instructions in Deuteronomy 21, the attack is usually shifted, and God is accused of being unjust for allowing war prisoners or slavery of any kind, regardless of whether or not rape was permitted.  . . .

For the skeptic to imply that God condoned rape, using Numbers 31, without mentioning Moses' instructions in Deuteronomy 21, is unconscionable. It is simply another instance of dishonest propaganda designed to discredit God and the Bible.
***
Photo credit: The Rape of Tamar (c. 1640), by Eustache Le Sueur (1616-1655) [public domain / Wikimedia Commons]
***