Guest Post by Rod Bennett and Mark Shea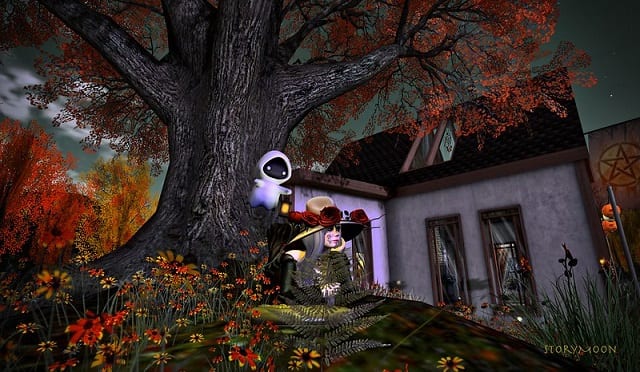 Mark Shea made a great statement on this:
I have to say that my feelings toward Halloween have mellowed with the years. As an Evangelical, I used to dislike it intensely as a night given over to the devil. But as time has gone on, I find I enjoy the rare opportunity for the whole neighborhood to turn out and all visit each other. I love the brisk night air. I love the little kids in their goofy costumes getting to run around after dark. I love the gasps of wonder from the various people at the various doors, admiring the goofy costumes. I love giving out candy to cute little kids who are trying to remember to be polite and say "thank you" with mommy and daddy's prompting. On the whole, Halloween is an occasion for conviviality, and I have a hard time believing the devil can do much in the face of that other than feel like Wile E. Coyote or Scrat, whose best laid plans always seem to blow up in their faces.
My thoughts exactly. I loved all this same stuff last night. We all had a marvelous time (my wife Judy's mother also came along, then we visited my parents). My kids had "horrible, wicked" and pagan costumes like Dorothy (complete with red sparkly shoes) and the scarecrow from The Wizard of Oz, Indiana Jones, and a knight in shining armor. Pretty frightening, scandalous stuff there.
My only slight difference with Mark (and that only concerning his former views) is that I never disliked this night intensely as an evangelical (I had a great costume as Moses — complete with the two tablets — at one church Halloween party: you get the idea). I had some qualms about it but didn't get legalistic like so many Protestants do. But now as a parent seeing this innocent fun (I converted just before I became a parent, as it turned out), I think that would have gone out the window even if I had never become a Catholic.
My good friend and fellow Catholic author Rod Bennett offered another similar take on Halloween from a Catholic perspective, in an article for Catholic Exchange (10-31-00), entitled "Holiday Hysteria". I cite most of it:
Many of our Evangelical friends shun America's October spook festival altogether. They tell their children that Halloween is "the devil's holiday" and that trick-or-treating is little better than dabbling with a Ouija board or consulting an astrologer. . . .

Basically Halloween is our local manifestation of one of mankind's oldest and most basic impulses: the impulse to contemplate — and even to celebrate — the idea of death during the fall of the year.

After all, the natural world itself dies in the autumn — and that death (along with our sure and certain hope of a glorious resurrection for it next spring) has always set human beings to contemplating their own impending date with mortality. The pre-Christian world was positively overflowing with these local death festivals. Whether it was the turning of the leaves along the Danube or the first frost on the haystacks of Burgundy, the pagans who lived in Europe before the coming of Christianity found something driving them to tell ghost stories around the end of October, to dress in creepy costumes, and to build bonfires against a new (and not entirely unpleasant) chill in the air. In some places, dances were held to drive away evil spirits; in others, it was believed that the shades of departed loved ones might take a holiday from Hades on this particular night, and could turn up at your doorstep for a spooky reunion. . . .

Interestingly enough, we know from history that Pope Gregory sent his missionaries out with those explicit instructions: that anything in the local culture which was not actually incompatible with Christianity was to be left strictly alone. Today, we call this approach "missionary enculturation," and most of us have realized that it isn't really necessary for a Bantu tribesman to put on a three-piece suit before we allow him to come to church. We may feel very enlightened when we take this approach today, but the truth is that the whole evangelization of Western Europe (325-1100 AD) was accomplished under this principle.

This is the real reason why many Christian holy days correspond to older festivals from the pre-existing pagan calendar. The Europeans, for example, had many cherished family traditions surrounding their winter solstice festivals, and so the Church allowed them to incorporate many of these customs (Christmas trees, etc.) into her Nativity celebrations. Likewise, Easter was already a spring holy day for the pagans, devoted to the contemplation of rebirth, new life, and resurrection. It was only natural, then, that many of these ancient customs found themselves gaining new and deeper significance under the reign of Christ, the true God of Springtime and Fertility.

The pagan death festivals were superseded in just this way by two Christian holy days based on a similar theme — All Saints Day (Nov. 1) and All Souls Day (Nov. 2). . . . As St. Paul dramatically points out in his Epistle to the Romans, paganism already had a good deal of inchoate truth in it already. What the Church actually did was to gather up some of these inchoate truths, sift out what was patently unusable, and then point the pagans to the final fulfillment of their ancient longings as revealed in the faith of Christ. . . .

[What] causes me to worry [is] this knee-jerk response that Halloween is to be feared solely because it has "pagan origins." The truth is that a good deal of what all of us do every day has pagan origins. The mathematics we use has pagan origins, our form of government has pagan origins, the very letters with which this sentence is written have pagan origins. In fact, most of the churches from which these anti-paganism sermons issue are, architecturally speaking, Greek revival temples in the "neo-classical style." So "pagan origins" alone isn't quite enough to damn Halloween all by itself. As a matter of fact, it's one of the great glories of Christianity that it does save and redeem and baptize pagan things — ourselves included!
***
Related Reading:
*
*
*
*
*
*
*
***
***
(originally 11-1-06; expanded on 10-31-16)
Photo credit: Cate Storymoon (11-1-14). "Photo from my new home in Second Life (a virtual world)" [Flickr / CC BY-SA 2.o license]
***