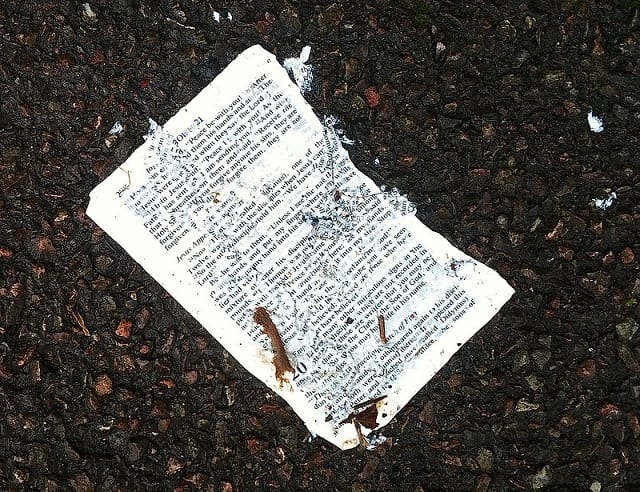 This is a follow-up comment to my Reply to Atheist Ward Ricker Re "Biblical Contradictions" (5-15-20). He replied with a 5 1/2 page article. And now I counter-reply. Ward's words will be in blue.
*****
I have just read your reply, and it convinces me that constructive dialogue between us will not be possible, for several reasons:
1) You doubt my good will, good faith, and sincerity (a charge I do not reciprocate): which qualities are absolutely essential to assume in an opponent if constructive dialogue is to occur. Failing these, it never ever is possible, as I know full well from long experience. I have never seen an exception to this dynamic. Examples:
Why would you twist the meaning around as you do? Your "suggestions" contradict the clear "words of god". Why would you do so?

You are simply unwilling to accept what the Bible says . . .

One wonders if you are just trying to confuse.
2) You fundamentally dislike my writing style and/or methodology:
At the risk of offending, in going through your writings I have noted how convoluted your arguments tend to be. Indeed, I find it difficult to respond even to the few that I respond to here, because your arguments are rather convoluted, confusing and unclear. Your lack of clear, concise statements makes it difficult to write a response. It makes for a lot of work (and, indeed, I have other things to do with my life), so if you wonder why you have trouble getting people to respond to you, you might take that into consideration.
That's your right, of course (it's a free country), and such things are largely subjective (and because they are, many people believe exactly the opposite of what you think about my writing). "Different strokes for different folks" / "can't please everyone," etc. But it means that you and I will not be able to constructively dialogue, because (from where I sit), you don't even comprehend (at least some) of my arguments in the first place, and because of that, fall back on a complaint that the problem must be on my end: that I am unacceptably and unfortunately muddled, confused and unclear. It also leads to straw men in such a scenario. You don't get what I am saying and so wind up fighting straw men that are simply not what my argument was.
3) We have vastly different conceptions as to what dialogue itself is. You don't want to go point-by-point, as I almost always do (socratic method). You'll do it for a time, for carefully selected passages, but you ignore others. You selected passages from my Seidensticker series, but never showed a willingness to comprehensively deal with any particular one (which is what I am looking for).
This never works. In my opinion, true dialogue must take into account the opponents' entire argument, and not pick-and-choose some stuff, while arbitrarily ignoring others. And you can always fall back on your opinion that my writing is frustratingly unclear (#2 above). That means there is no hope for us to constructively engage. I wish it were otherwise, but this is the only conclusion I can reasonably draw, based on your reply.
I lay out my conception of such a serious, philosophical-type discussion here: Good Discussion: Back-and-Forth Dialogue vs. "Mutual Monologue".
Don't feel too bad. Virtually no one of any persuasion ever does this, these days (and I endlessly bemoan that fact). But being the idealist and socratic that I am, I will keep seeking it (heaven help me).
4) It appears (as is often the case with atheists) that your past fundamentalism still profoundly affects your present attempts to interpret the Bible, due to relentless false premises, leading to (of course) false conclusions. Examples abound:
a) you clearly don't understand the very different ancient Hebrew modes of thinking; particularly the "both/and" approach, which is very difficult for modern sensibilities to grasp: with our excessive false dichotomies and "either/or" mentalities. As long as you don't get this aspect, you'll never understand many Bible passages, especially ones about God. And it causes you to assert many "contradictions" that in fact are not.
b) you don't think through the notion of God being a judge. It's not difficult to find many human analogies to judging and punishing: human judges passing sentences on criminals, the Allies "judging" and defeating the Nazis in World War II, our superiority over animals; parents' chastising and punishing of children (an analogy to God that the Bible itself makes), police exercising lethal force as the situation warrants. Failing this understanding leads you to conclude that God is engaged in evil, wicked acts of "violence" when He is justly judging. It's like saying we were "evil" and "ruthless" and "bloodthirsty" when we wiped out the Nazis.
c) you don't have the slightest clue about anthropomorphism and anthropopathism (I would guess that you probably never even heard the words till now). If you did, you would understand how language is very diversely used in Scripture, and often is non-literal and you would understand things like God "repenting." This leads you to make inane observations like, "But that's not what it says. It says that he repented . . . " [my italics added] Of course, that's what it "says." That's not at issue. The question is whether it is literal or metaphorical. This is what you don't get.
There are many different genres in the Bible (consider, for example, Jesus' parables and the proverbs and books like Ecclesiastes and Song of Solomon). But because you are a former fundamentalist (most atheists who play the "Bible contradiction" game were), you always have to interpret literally (or so it sure seems so far). That was wrong and dumb and hermeneutically clueless when you were a Christian, and it remains so now. It caused you to arrive at false conclusions then, and it does now. This is an elementary component of biblical interpretation.
d) you object to consulting the original languages: which is essentially necessary in all proper exegesis of the Bible.
e) your wooden hyper-literalism is again sadly evident in how you treat the question of OT references to "many gods". Clearly the OT teaches that these are not real "gods." Only God (YHWH) is real. But you can't see that, out of your (as usual) inapplicable literalism of interpretation. How I explain this makes perfect logical and rational sense. But you can't see it, because your false premise won't allow you to. Seidensticker and Madison and Loftus and other Bible-bashing atheists make these same mistakes. It's nothing unique to you.
But this shows that I wouldn't have any more success in achieving true dialogue with you than I have with them. You're willing to talk (good and admirable itself), but because of these factors it'll never work, and my patience would last no more than a day. All good dialogue can only proceed if there are some premises held in common.
f) you are equally out to sea in examining the traits of omnipotence, omniscience, and omnipresence; some passages concerning these are also non-literal, and you (predictably by now) think they are literal. So you come to the wrong conclusion. It's because you have very little inkling of how ancient Hebrew thought about things. They weren't stupid; just very different from us, as we would expect. Our type of thinking (linear / either/or rationalism and syllogistic logic) comes from the ancient Greeks. We have to realize that this is a framework and understand that the Hebrew framework is a different one. We can't be like a fish in a tank, not knowing that it is.
5) Your conclusion sums up your problem in approaching a Christian apologist like myself, seeking dialogue:
Why would you want to defend a book in the first place that teaches acceptance of murder, slavery, genocide, rape, racism and many of the other evils that still plague our planet today?
Quite obviously (as seen in my replies to Seidensticker), I don't think it condones any of these things. Your proper task is not to ask asinine, insulting "when did you stop beating your wife?" types of questions, but rather, to try to understand why I come to the opposite conclusion of yours. I'm perfectly sincere and operating in good faith just as I believe you are. In a constructive, mutually respectful dialogue, you would never frame your question in these terms, but rather, would say something like:
"Why is it that you think that the Bible doesn't advocate murder, slavery, genocide, rape, racism and many other evils, as it seems to in my reading (at least prima facie)? I want to understand your reasoning — borne of your 39 years of apologetics research and writing –, so I can best be in a position to rationally come to the correct conclusion about biblical teaching."
6) All of this said, I may still take on several of your proposed contradictions, just so I can have opportunity to show how very wrong atheist contentions are (which is one thing Christian apologists do). But dialogue of the sort I seek is clearly impossible between us.
***
Related Reading
*
"Three Days and Nights" in the Tomb: Contradiction? [10-31-06]
*
*
*
*
*
*
*
*
*
*
*
*
*
*
*
*
*
*
***
Photo credit: George Redgrave (11-16-14) [Flickr / CC BY-ND 2.0 license]
***