Featuring Confirmatory Historical Tidbits About the Magi and Herod the Great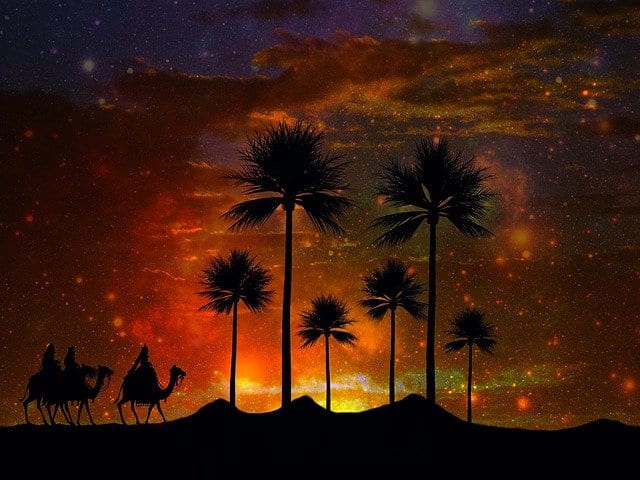 Atheist anti-theist Jonathan M. S. Pearce's "About" page states: "Pearce is a philosopher, author, blogger, public speaker and teacher from Hampshire in the UK. He specialises in philosophy of religion, but likes to turn his hand to science, psychology, politics and anything involved in investigating reality." His words will be in blue.
*****
I am replying to Jonathan's article, "Mental Contortions Required of Christians to Believe the Nativity Accounts" (12-23-19). Although he likely has made each argument in his book on the Nativity and elsewhere, nevertheless, this particular article is in the form of a "gish gallop": an unsavory argumentative technique or strategy often decried by atheists. Wikipedia explains:
The Gish gallop is a term for an eristic technique in which a debater attempts to overwhelm an opponent by excessive number of arguments, without regard for the accuracy or strength of those arguments. The term was coined by Eugenie Scott; . . . It is similar to a methodology used in formal debate called spreading. . . .

During a Gish gallop, a debater confronts an opponent with a rapid series of many specious arguments, half-truths, and misrepresentations in a short space of time, which makes it impossible for the opponent to refute all of them within the format of a formal debate. In practice, each point raised by the "Gish galloper" takes considerably more time to refute or fact-check than it did to state in the first place.
This is not a formal debate, with timing and structure, etc., so I can take all the time I like to refute each point, but the technique itself remains dubious. It was disparaged on Jonathan's blog by fellow blogger there, Aaron Adair (3-8-13):
. . . putting out a large number of statements in quick succession that his opponent almost certainly could not refute in the time allotted. This has become known as the Gish Gallop, and it has been noted as a technique used by others in a debate: throw out many arguments, your opponents will be able to deal with only so many and not adequately, and you can claim one of your un-refuted arguments stands and that means you are right.
So — again — this is not a formal debate, and Jonathan has written about this stuff elsewhere and can theoretically defend any of those arguments against criticism (I'm not denying that he has done so or that he would be willing to do so). But this paper of his uses the technique. If a Christian did this in any major atheist forum we would be laughed to scorn and mocked (we always are anyway in those places).
I should note, however, that the delightful, informative RationalWiki page, "Gish Gallop" by no means confines the tactic to oral, formal debate. It refers to readers and written exchanges several times, and even includes an entire section called "in written debate".
Jonathan throws out no less than 28 objections to the biblical Nativity narratives in Matthew and Luke: most only one-sentence long. I'll play along and make (mostly) short replies (as my time is not unlimited) or provide a relevant link: as I have written quite a bit about Christmas controversies with atheists as well.
As I write, there are still three of my recent papers in reply to Jonathan that he has chosen thus far not to reply to:
*
*
Reply to Atheist Jonathan MS Pearce: Bethlehem & Nazareth "Contradictions" (Including Extensive Exegetical Analysis of Micah 5:2) [7-28-17]
7) Believe that a client kingdom under Herod could and would order a census under Roman diktat. This would be the only time in history this would have happened.
8) Find it plausible that people would return, and find precedent for other occurrences of people returning, to their ancestral homes for a census (at an arbitrary number of generations before: 41).
9) Give a probable explanation as to how a Galilean man was needed at a census in another judicial area.
10) Give a plausible reason as to why Mary was required at the census (by the censors or by Joseph).
11) Give a plausible explanation as to why Mary would make that 80 mile journey on donkey or on foot whilst heavily pregnant, and why Joseph would be happy to let her do that.
See:
The Census, Jesus' Birth in Bethlehem, & History [2-3-11]
*
Reply to Atheist Jonathan MS Pearce: Herod's Death & Alleged "Contradictions" (with Jimmy Akin) [7-25-17]
12) Believe that Joseph could afford to take anywhere from a month to two years off work.
This is a foolish query. If necessary, he could save up for "off" months just as virtually all farmers and teachers do. Is that so inconceivable? Or, as a carpenter and likely stone mason as well, he had a skill that was "portable": so that he could pick up odd jobs while traveling. This is the kind of stuff which vanishes as a supposed "difficulty" with just a moment or two of unbiased, objective thought.
13) Believe that, despite archaeological evidence, Nazareth existed as a proper settlement at the time of Jesus' birth.
I don't know what "archaeological evidence" Jonathan is referring to, but there is more than enough to establish the existence of Nazareth as a town during the time of Jesus' birth and infancy. I already recounted it in a recent reply to Jonathan:
[T]he archaeological investigation revealed that in Nazareth itself, in the middle of the first century AD, anti-Roman rebels created a sizeable network of underground hiding places and tunnels underneath the town – big enough to shelter at least 100 people. . . .

The new archaeological investigation – the largest ever carried out into Roman period Nazareth – has revealed that Jesus's hometown is likely to have been considerably bigger than previously thought. It probably had a population of up to 1,000 (rather than just being a small-to-medium sized village of 100-500, as previously thought).
See also: "Did First-Century Nazareth Exist?" (Bryan Windle, Bible Archaeology Report, 8-9-18; cf. several related articles from a Google search). Did it exist before Jesus' time? It looks like it did:
The Franciscan priest Bellarmino Bagatti, "Director of Christian Archaeology", carried out extensive excavation of this "Venerated Area" from 1955 to 1965. Fr. Bagatti uncovered pottery dating from the Middle Bronze Age (2200 to 1500 BC) and ceramics, silos and grinding mills from the Iron Age (1500 to 586 BC) which indicated substantial settlement in the Nazareth basin at that time. (Wikipedia, "Nazareth")
That's science. Jonathan has to grapple with the actual findings and not just sit back and deny that there are any such. As it is, that was from one of my reply-papers that he has not found time to reply to these past 19 days (while replying to many others). Maybe he will in due course, since it was during the holidays.
14) Believe that the prophecies referred to Nazareth and not something else.
They do, but they were not from the Old Testament. See:
*
In his recent book The Herodian Dynasty, Nikos Kokkinos portrayed Herod as  Hellenized Phoenician whose Jewishness was superficial, resulting from the conversion of Idumaea by John Hyrcanus . . . Herod's departure form the Jewish ethos is manifested by his own deeds contrary to Jewish laws and customs as well as his strong cultural inclination toward Rome. . . .

This impression is nurtured mainly by Josephus's accounts. ("Herod's Jewish Ideology Facing Romanization: On Intermarriage, Ritual Baths, and Speeches", Eyal Regev, The Jewish Quarterly Review, Vol. 100, No. 2, Spring 2010)

*
*
*
*
*
The first 12 years of Herod's reign (37-25 BCE) saw the consolidation of his power. He built fortifications in Jerusalem, Samaria and at Masada, silenced all opposition to his rule and eliminated his Hasmonean rivals, Aristobulus and Hyrcanus II, the brother and the grandfather of his second wife, Mariamme. The former drowned in an arranged swimming pool accident and the latter was strangled.
The above information was drawn from the record of two prominent historians:
Our chief informant is the Jewish historian Flavius Josephus (37-c.100CE), who devoted most of Book I of his Jewish War and Books XIV to XVII of Jewish Antiquities to the life and times of Herod. Josephus uses as his main source the universal history of Nicolaus of Damascus, the well-informed teacher, adviser and ambassador of Herod.
Most evil that human beings commit can at least be partially stopped by other human beings. But we refuse to do so before it's too late.  One man, Winston Churchill, warned for years in the 1930s about the German build-up of military might. No one listened to him. If they had, World War II (at least in Europe) could very well have been prevented.
*
*
*
*
*
*
*
*
*
*
*
*
***
***