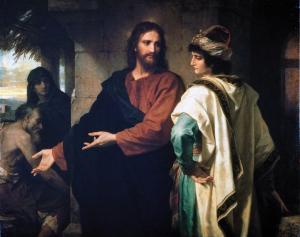 Jim Anderson appears to be a Presbyterian, and is an anti-Catholic. The following exchange occurred on a public Facebook page, below a shared meme that I had shared, regarding Catholic liturgy. Jim's words will be in blue.
*****
How one holds one's hands during prayer is wholly irrelevant. It is what is in one's heart that matters. Armstrong seems to be tied up in religious rituals, but he may not realize he is seriously misleading earnest Catholics into thinking these things are important. Note how the Catholic church is micromanaging how people use their hands during the religious worship service, rather than focusing on actually teaching the word of God and pointing all members to Christ alone for salvation. Rearranging the deck chairs on the Titanic, Ken. Seriously, you don't buy into this, do you?
*
Typical either/or false dichotomy nonsense. If we care about structure and order in liturgy we must be inexorably opposed to the Bible and salvation. I say that God takes all things seriously, and that includes how we worship. Virtually every Christian group has some kind of rules for worship. We couldn't show up naked, could we? I use an extreme example to illustrate the fact that rules are present, virtually everywhere.
*
There is a regulative principle, that says that we should worship God in the manner in which He wants to be worshipped. That guideline is scripture. Catholics are free to move their hands in circles during certain parts of the "mass" if they want. Catholicism is a religion that is very full of ritual, and fairly short on scriptural theology.
Dave, what I object to is the misleading of Catholics by meaningless rituals ("hold your hands exactly this way") that they infer will make them more holy. Sit, stand, kneel. I have been to thousands of masses and know it well. And yet, there are very few Catholics who could summarize the gospel. Why is that?
I have a deep love for Catholics, having been raised on, and do not want to see any of them lost for eternity. And yet, it is possible (I am not the Judge, God is) that most actually are headed there.
*
*
*
*
*
*
You're providing a bit of a strawman here. Please focus on the topic if you would care to comment.
*
But, that being said, I will absolutely stand by the fact that Catholics are not taught the gospel, and I am not referring to the four books of Matthew, Mark, Luke and John (which are often referred to as "the gospels") but to the message of salvation. See Romans 1:16 for one mention of it.
This is not a criticism of Catholics, who are earnestly seeking God for the most part, and want to be closer to God. This is an indictment of official Catholicism, which misleads Catholics at almost every turn. I love Catholics, including Ken [Litchfield], and would hate to see any lost for eternity. And yet, it is possible that most will be.
*
*
*
*
*
*
The "what is the gospel" article is extremely poor exposition of scripture, though faithful to official Catholic teaching.
No need to keep flogging bad theology, Dave. I am already familiar with it. But, if you want to know what the gospel is, in the word of God, and not disparate, cherry-picked and out of context verses, see Ephesians 2:1-10 as one great summary. Titus 3:3-7 is another, with Romans (really, the entire book) 3:21-26 being yet another.
*
One overriding principle throughout scripture is that salvation is solely through the grace of God. We see that in numerous texts, and I am certain you will agree. Yet, Catholicism denies this, since it claims that the human ritual of water baptism forgives sins, that individuals can merit part of their salvation (CCC 2027), that the "mass" is an actual sacrifice and forgives sins, and the membership in the Catholic church is required for salvation, though it speaks out of both sides of its mouth a bit on this and others.
*
Do you want to know how you can be saved from what each one of us created humans, including you, so richly deserve, which is an eternity in hell?
*
Let's cut through the crap and your obnoxious spiritual pride. Tell me (big Bible expert): What was the gospel and way to get saved according to Jesus, when he talked to the rich young ruler, after he asked Him, "what must I do to inherit eternal life?" (Mk 10:17, RSV).
*
Wow, Dave. I guess I have touched a nerve to warrant such vitriol. I have never gotten personal with you, but you are now reflecting a behavior that is far too typical of Catholics for some reason.
*
But, to the text, which is far more important. You asked about Mark 10:17. Let's take a look at the extended thought for context:
*

Mark 10:17-27 [unspecified translation] "17 As He was setting out on a journey, a man ran up to Him and knelt before Him, and asked Him, "Good Teacher, what shall I do so that I may inherit eternal life?" 18 But Jesus said to him, "Why do you call Me good? No one is good except God alone. 19 You know the commandments: 'Do not murder, Do not commit adultery, Do not steal, Do not give false testimony, Do not defraud, Honor your father and mother.'" 20 And he said to Him, "Teacher, I have kept all these things from my youth." 21 Looking at him, Jesus showed love to him and said to him, "One thing you lack: go and sell all you possess and give to the poor, and you will have treasure in heaven; and come, follow Me." 22 But he [i]was deeply dismayed by [j]these words, and he went away grieving; for he was one who owned much property. 23 And Jesus, looking around, *said to His disciples, "How hard it will be for those who are wealthy to enter the kingdom of God!" 24 And the disciples were amazed at His words. But Jesus responded again and *said to them, "Children, how hard it is to enter the kingdom of God! 25 It is easier for a camel to go through the eye of a needle than for a rich person to enter the kingdom of God." 26 And they were even more astonished, and said to Him, "[k]Then who can be saved?" 27 Looking at them, Jesus *said, "With people it is impossible, but not with God; for all things are possible with God.""
Jesus makes the strong point here which is obvious and consistent, that man cannot merit salvation. This may not seem intuitive at first, but Jesus speaks of the law. The man says, well I obey the law. Of course he does not, perfectly, and is therefore worthy of condemnation. Jesus illustrates this man's unbelief by giving him a command he doesn't want to follow: sell everything and follow Jesus. "Follow Jesus" here is the continual and emphatic teaching of Jesus: for salvation, believe in Him. The entire chapter of John 6 is this message: HE is God, believe in Him.
*
The remainder of the text from Mark 10 only emphasizes the fact that the efforts of man (do good works, sell your possessions, follow the law) can never merit one salvation. Salvation comes only from God, by His grace, because of His mercy, to demonstrate His glory, through Christ alone, by faith alone.
*
You distort what Jesus actually said, which was, "You lack one thing; go, sell what you have, and give to the poor, and you will have treasure in heaven; and come, follow me." (Mk 10:21). In other words, if the person did this particular work (selling all he had and giving to the poor) he would be saved (since Jesus said he would be in heaven). That is a work flowing from faith, and it's merit. You lied earlier and said that man can do no work or merit that will help him attain salvation.
*
The biblical and Catholic teaching is that we are saved by grace through faith, which necessarily includes works, since James says "faith without works is dead"). Accordingly, when the Bible discusses how we are saved and how we get into heaven, it mentions works in fifty passages. In just one of them is faith mentioned, and it's not "alone"; works are also mentioned:
*
*
The rest of Mark 10 doesn't teach the unbiblical tradition of men, "faith alone," either. In fact, Jesus mentions more works (as an outgrowth of saving faith) as the way to be saved:
*
Mark 10:28-30 Peter began to say to him, "Lo, we have left everything and followed you." [29] Jesus said, "Truly, I say to you, there is no one who has left house or brothers or sisters or mother or father or children or lands, for my sake and for the gospel, [30] who will not receive a hundredfold now in this time, houses and brothers and sisters and mothers and children and lands, with persecutions, and in the age to come eternal life.
*
More merit and works and heroic self-sacrifice (leaving families and properties), in other words: the very things that you falsely claim have nothing to do with salvation at all. I'll go with what Jesus said, thank you: not what you say, in instances where it contradicts Our Lord and Savior.
*
Matthew 25 is another passage where Jesus explains how one achieves salvation and eternal life and entrance into heaven. "Faith alone" is never mentioned, though I would say faith is part of the equation, based on many other passages. It's all merit and works that are mentioned, for some odd reason (no evangelical I know would explain it as Jesus did):
*
Matthew 25:31-36, 41-46 (RSV) "When the Son of man comes in his glory, and all the angels with him, then he will sit on his glorious throne. [32] Before him will be gathered all the nations, and he will separate them one from another as a shepherd separates the sheep from the goats, [33] and he will place the sheep at his right hand, but the goats at the left. [34] Then the King will say to those at his right hand, `Come, O blessed of my Father, inherit the kingdom prepared for you from the foundation of the world; [35] for I was hungry and you gave me food, I was thirsty and you gave me drink, I was a stranger and you welcomed me, [36] I was naked and you clothed me, I was sick and you visited me, I was in prison and you came to me.' . . . [41] Then he will say to those at his left hand, `Depart from me, you cursed, into the eternal fire prepared for the devil and his angels; [42] for I was hungry and you gave me no food, I was thirsty and you gave me no drink, [43] I was a stranger and you did not welcome me, naked and you did not clothe me, sick and in prison and you did not visit me.' [44] Then they also will answer, `Lord, when did we see thee hungry or thirsty or a stranger or naked or sick or in prison, and did not minister to thee?' [45] Then he will answer them, `Truly, I say to you, as you did it not to one of the least of these, you did it not to me.' [46] And they will go away into eternal punishment, but the righteous into eternal life."
*
So, in your view, if someone sells everything they have and gives it to the poor, they are saved? No, that is incorrect. You missed the point of this story, Dave.
*
That's what Jesus said would be the case, when a person asked Him, "what must I do to inherit eternal life?" He advised him to do a meritorious work: which, above, you denied had anything to do with salvation.
*
And would you like to understand James 2 better, since you do not do so now?
*
I've written about it many times, including in debate with James White. But we will not move away from this passage, which is the constant anti-Catholic method when they have no answer to a Catholic argument: ignore it and quickly move to something else. That's child's play. I'm interested in serious exegesis.
*
Titus 3:5. You are quite welcome.
*
Titus 3:5 (RSV) he saved us, not because of deeds done by us in righteousness, but in virtue of his own mercy, by the washing of regeneration and renewal in the Holy Spirit,
*
Yes, this is teaching salvation by grace alone, which Catholics fully accept. We condemned Pelagianism (salvation by works) long ago. But that's different from works flowing out of the intrinsic nature faith. Paul is denying works salvation (i.e., works without faith or grace as a supposed cause of salvation). He writes many times about meritorious good works (soaked in grace, and done with faith) as part of salvation (see the
collection of 50 of his passages
that I linked to above).
*
Moreover, here he teaches baptismal regeneration for salvation as well, as he did in two other passages, too:
*
Romans 6:3-4 "Or don't you know that all of us who were baptized into Christ Jesus were baptized into his death? We were therefore buried with him through baptism into death in order that, just as Christ was raised from the dead through the glory of the Father, we too may live a new life."
*

1 Corinthians 6:11 "And such were some of you. But you were washed, you were sanctified, you were justified in the name of the Lord Jesus Christ and in the Spirit of our God."
*
Moreover, he accepted the word of Ananias about his own baptism:
*
Acts 22:16 "And now why do you wait? Rise and be baptized, and wash away your sins, calling on his name."
*
what could you possibly do for God that He needs?
*
God, of course, doesn't "need" anything. He tells is what
we
need to do in order to be saved.
*
All your righteous works are like used tampons (Isaiah 64:6).
*
Isaiah 64:6 is about one particular instance in time where the Israelites had become corrupt. It's not saying that all works whatsoever are worthless. That's eisegesis. God explained how all this works in Isaiah 1:
*
Isaiah 1:4, 13-19 Ah, sinful nation, a people laden with iniquity, offspring of evildoers, sons who deal corruptly! They have forsaken the LORD, they have despised the Holy One of Israel, they are utterly estranged. . . . [13] Bring no more vain offerings; incense is an abomination to me. New moon and sabbath and the calling of assemblies — I cannot endure iniquity and solemn assembly. [14] Your new moons and your appointed feasts my soul hates; they have become a burden to me, I am weary of bearing them. [15] When you spread forth your hands, I will hide my eyes from you; even though you make many prayers, I will not listen; your hands are full of blood. [16] Wash yourselves; make yourselves clean; remove the evil of your doings from before my eyes; cease to do evil, [17] learn to do good; seek justice, correct oppression; defend the fatherless, plead for the widow. [18] "Come now, let us reason together, says the LORD: though your sins are like scarlet, they shall be as white as snow; though they are red like crimson, they shall become like wool. [19] If you are willing and obedient, you shall eat the good of the land;
*
Once again, the solution includes meritorious works ("learn to do good; seek justice, correct oppression; defend the fatherless, plead for the widow."). But it's certainly not asserting that all works whatsoever are worthless and like menstrual rags. God was saying through Isaiah that when His people forsake Him and do evil, that even their ostensibly good works and acts of worship are unacceptable to Him. They must change their heart and do good works to get right with Him again.
*
Later in the book, the example of Hezekiah again illustrates the biblical, Catholic principle of faith and works operating together:
*
Isaiah 38:1-6 In those days Hezeki'ah became sick and was at the point of death. And Isaiah the prophet the son of Amoz came to him, and said to him, "Thus says the LORD: Set your house in order; for you shall die, you shall not recover." [2] Then Hezeki'ah turned his face to the wall, and prayed to the LORD, [3] and said, "Remember now, O LORD, I beseech thee, how I have walked before thee in faithfulness and with a whole heart, and have done what is good in thy sight." And Hezeki'ah wept bitterly. [4] Then the word of the LORD came to Isaiah: [5] "Go and say to Hezeki'ah, Thus says the LORD, the God of David your father: I have heard your prayer, I have seen your tears; behold, I will add fifteen years to your life. [6] I will deliver you and this city out of the hand of the king of Assyria, and defend this city.
*
"Done what is good" is part of Hezekiah's repentance. Meritorious works can't be separated. God didn't tell him that His "righteous deeds are like a polluted garment" (Is 64:6). This is my point. You have taken a passage about one particular situation and made it universal, when in fact, such a reading contradicts hundreds of other Bible passages. Isaiah 64:6 must be understood in light of contextual passages like "We have become like those over whom thou hast never ruled, . . ." (63:19) and "in our sins we have been a long time" (64:5) and "There is no one that calls upon thy name" (64:7).
*
Do you want to discuss James 2? I will, if you only agree to be polite (it is necessary to remind Catholics of this) and stay with scripture. I will share some reading material for you, as you have done with me. Sound teaching on James 2.
*
*
I brought up the rich young ruler, which is directly relevant to your claims that all works have nothing whatsoever to do with salvation. I will not follow a rabbit trail that you want to use in order to get out of being embarrassed about your botched eisegesis of the rich young ruler passage. You have to directly address it. I've written about everything you can bring up, believe me, in my more than 4,300 articles and 53 books, written over 42 years.
*
So, getting back to the topic that we were talking about (before you become too busy and have to leave): When Jesus said, and advised, "You lack one thing; go, sell what you have, and give to the poor, and you will have treasure in heaven; and come, follow me" (Mk 10:21), was that 1) salvific, and 2) a [good] work, and 3) a meritorious work?
*
So you're already gone, huh? What is the estimated time that you will be able to come back and answer my three questions about the rich young ruler passage? [his last reply was 35 minutes earlier, as of the time of this comment on Facebook; it was two hours and 34 minutes at the time I was compiling this blog article]
*
My mistake was going to eat breakfast. That gave Jim an excuse to split and get off of the hot seat. I had to eat breakfast when I did because I have low blood sugar (and it was 10:30). Oh well. Maybe Jim will return. In the meantime, this will be an excellent new dialogue for my blog. It's all public material!
*
Interesting that you push this so hard
[cites my three questions to him].
Dave, if this is a deep-seated belief of yours, and I assume that you seek eternal life, have you in fact sold all your worldly possessions and given them to the poor? And if not, why not?
*
Glad to see that you decided to continue! Don't evade. It makes you look foolish. How do you answer my three questions? I never asserted that selling all of one's possessions is required of everyone. You have simply erroneously projected that onto me and (possibly) the Catholic position. The parable of the talents and many other passages contradict such an assertion. So, nice try.
*
Jesus told this one person that a work was required for his salvation. How can this be? How does it square with your unbiblical, extreme "absolutely no works or merit" position?
*
If you say, then, that this passage is irrelevant for all people, since it was a unique situation, then I counter with Matthew 25 (already presented) which has to do with all of us at the Judgment, and with 48 other passages regarding works and their relation to salvation.
*
You need to answer my three questions or concede the argument, in which case it seems to me that your soteriology would be in crisis (the very reason, I suspect, why you have refused to answer thus far: the stakes are very high!).
*
See also the related articles:
*
*
*
I'm gettin' lonely again, talking to the wind . . . oh well. Jim needs time to ponder a lot more Scripture than he is accustomed to thinking about. Once the Protestant gets out of the tired, silly routine of his leaders pre-selecting for him what Bible passages to consider (and ignoring 4-5 times or more additional related passages), then it's a whole new ballgame.
*
See also
the
continuation
of this discussion:
Dialogue: Rich Young Ruler, Works, & Salvation
[7-3-23]
***
*
Practical Matters: Perhaps some of my 4,300+ free online articles (the most comprehensive "one-stop" Catholic apologetics site) or fifty-three books have helped you (by God's grace) to decide to become Catholic or to return to the Church, or better understand some doctrines and why we believe them.
Or you may believe my work is worthy to support for the purpose of apologetics and evangelism in general. If so, please seriously consider a much-needed financial contribution. I'm always in need of more funds: especially monthly support. "The laborer is worthy of his wages" (1 Tim 5:18, NKJV). 1 December 2021 was my 20th anniversary as a full-time Catholic apologist, and February 2022 marked the 25th anniversary of my blog.
***
Photo credit: Christ and the Rich Young Ruler (1889), by Heinrich Hofmann (1824-1911) [public domain / Wikimedia Commons]
***
Summary: Substantive exchange with an anti-Catholic regarding whether meritorious works & the gospel are closely related, & about how Jesus Himself said we were saved.