Catholicism: The Elect Are Predestined; Reprobate in 1 Peter 2:8; God's Providence (We Agree!); False Prophet as God's "Tool"; Good Ol' Romans 9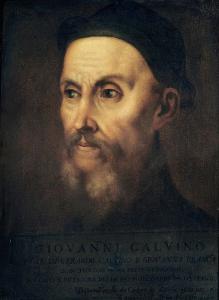 The late Steve Hays (1959-2020) was a Calvinist (and anti-Catholic) apologist, who was very active on his blog, called Triablogue . His 819-page self-published book, Biblical Calvinism has graciously been made available for free. On 9 September 2006, Hays was extraordinarily charitable towards me (seeing that almost all anti-Catholics have treated me like Vlad the Impaler). He wrote then:
I don't think I've ever accused him of being a traitor or apostate or infidel. . . . I have nothing to say, one way or the other, regarding his state of grace. But his sincerity is unquestionable. I also don't dislike him. . . . I don't think there's anything malicious about Armstrong—unlike some people who come to mind. In addition, I don't think I've ever said he was unintelligent. For the record, it's obvious that Armstrong has a quick, nimble mind. 

Sadly, two-and-a-half years later, starting in April 2009 and up through December 2011 (in the following quotations) his opinion radically changed, and he claimed that I have "an evil character," am "actually evil," an "ego-maniac, narcissist," "idolater," "self-idolater," "hack who pretends to be a professional apologist," given to "chicanery," one who doesn't "do any real research," "a stalwart enemy of the faith . . .  no better than [the atheists] Richard Dawkins or Christopher Hitchens," with an intent to "destroy faith in God's word," "schizophrenic," "emotionally unhinged," one who "doesn't trust in the merit of Christ alone for salvation," "has no peace of mind," "a bipolar solipsist," "split-personality," and a "bad" man. See more gory details.

I feel no need whatsoever to reciprocate these silly and sinful insults. I just wanted the record to be known, and to show how apologetics can too often descend to such atrocious "soul-reading" ad hominem inanities. Hopefully, Hays took to heart his own criticism of some Arminians, from this book (p. 54): "They are so caught up in the momentum of the debate that they issue intemperate threats which, after a cooling off period, they'd realize are foolhardy." I hope and pray so.

For my part, I've always maintained that Hays was a very intelligent,  sincere, and well-meaning man, and I believe that I can and have learned a great deal from Reformed Protestants: my brethren in Christ. We have a lot in common, but we also have honest disagreements, and this series will mostly be concerned with those. They can be discussed without acrimony or disrespect. This is the last of four critiques of Hays' book. I will be focusing solely on Section II: "Exegetical Considerations". It runs from pages 20 to 186. See also the 29 installments of my Reply to Hays' "Catholicism" series: listed on my Anti-Catholicism web page, under "Steve Hays". My Bible citations are from the RSV. Steve Hays' words will be in blue. Unlike the previous series, I won't list his subtitles.

Related Reading:

Calvinism & General Protestantism: Catholic Critique web page (where all of these replies will be listed: search "Hays'")

John Calvin: Catholic Appraisal web page 

A Biblical Critique of Calvinism (book: 2012, 178 pages; includes replies to exegetical arguments in Books I-III of John Calvin's Institutes of the Christian Religion)

Biblical Catholic Answers for John Calvin (book: 2010, 388 pages; includes line-by-line replies to Book IV of John Calvin's Institutes of the Christian Religion)

Biblical Catholic Salvation: "Faith Working Through Love" (book: 2010, 187 pages; includes 71 pages of rebuttals of four of the five Calvinist distinctives in "TULIP"; minus the "U")

64 Critiques of John Calvin: Introduction & Master List (more in-depth replies than what was eventually compiled in my book about John Calvin. Most were completed for his 500th birthday in 2009)

Salvation, Justification, & "Faith Alone" web page (contains many articles relevant to Calvinist soteriology and "TULIP")
*****
Romans 8:28-30 And we know that for those who love God all things work together for good, for those who are called according to his purpose. 29 For those whom he chose beforehand he also predestined to be conformed to the image of his Son, in order that he might be the firstborn among many brothers. 30 And those whom he predestined he also called, and those whom he called he also justified, and those whom he justified he also glorified. [pp. 35-36]

Romans 11:2 God has not rejected his people whom he chose beforehand. Do you not know what the Scripture says of Elijah, how he appeals to God against Israel? [p. 36]

1 Corinthians 1:26-31 For consider your calling, brothers: not many of you were wise according to worldly standards, not many were powerful, not many were of noble birth. 27 But God chose what is foolish in the world to shame the wise; God chose what is weak in the world to shame the strong; 28 God chose what is low and despised in the world, even things that are not, to bring to nothing things that are, 29 so that no human being might boast in the presence of God. 30 And because of him you are in Christ Jesus, who became to us wisdom from God, righteousness and sanctification and redemption, 31 so that, as it is written, "Let the one who boasts, boast in the Lord." [p. 45]

Ephesians 1:3-12 Blessed be the God and Father of our Lord Jesus Christ, who has blessed us in Christ with every spiritual blessing in the heavenly places, 4 even as he chose us in him before the foundation of the world, that we should be holy and blameless before him. In love 5 he predestined us for adoption as sons through Jesus Christ, according to the purpose of his will, 6 to the praise of his glorious grace, with which he has blessed us in the Beloved. 7 In him we have redemption through his blood, the forgiveness of our trespasses, according to the riches of his grace, 8 which he lavished upon us, in all wisdom and insight 9 making known to us the mystery of his will, according to his purpose, which he set forth in Christ 10 as a plan for the fullness of time, to unite all things in him, things in heaven and things on earth. 11 In him we have obtained an inheritance, having been predestined according to the purpose of him who works all things according to the counsel of his will, 12 so that we who were the first to hope in Christ might be to the praise of his glory. [pp.45-46]

Ephesians 2:8-10 For by grace you have been saved through faith. And this is not your own doing; it is the gift of God, 9 not a result of works, so that no one may boast. 10 For we are his workmanship, created in Christ Jesus for good works, which God prepared beforehand, that we should walk in them. [p. 48]

2 Timothy 1:9 who saved us and called us to[a] a holy calling, not because of our works but because of his own purpose and grace, which he gave us in Christ Jesus before the ages began, [p. 50]
As I noted previously, Catholics believe in the predestination of the elect (as well as salvation by grave alone). We hold human free will choices in harmony with predestination. It's a paradox and ultimately mysterious exactly how they work together (and we have different schools of thought on it: Thomist and Molinist; I am the latter), but Scripture teaches both things, so we hold to both of them. The difference in our differing opinions — both allowed in Catholicism — lies in how much God takes into account in predestining individuals, what He knew from all eternity would be our free choices and how we would react to His grace, justification, and salvation.
Romans 8:35-39 Who shall separate us from the love of Christ? Shall tribulation, or distress, or persecution, or famine, or nakedness, or danger, or sword? 36 As it is written, "For your sake we are being killed all the day long; we are regarded as sheep to be slaughtered." 37 No, in all these things we are more than conquerors through him who loved us. 38 For I am sure that neither death nor life, nor angels nor rulers, nor things present nor things to come, nor powers, 39 nor height nor depth, nor anything else in all creation, will be able to separate us from the love of God in Christ Jesus our Lord. [pp. 37-38]

Ephesians 1:13-14 In him you also, when you heard the word of truth, the gospel of your salvation, and believed in him, were sealed with the promised Holy Spirit, 14 who is the guarantee of our inheritance until we acquire possession of it, to the praise of his glory. [p. 46]

1 Peter 2:9 But you are a chosen race, a royal priesthood, a holy nation, a people for his own possession, that you may proclaim the excellencies of him who called you out of darkness into his marvelous light. [p. 51]

Revelation 13:8 and all who dwell on earth will worship it, everyone whose name has not been written before the foundation of the world in the book of life of the Lamb who was slain. [p. 52]
The elect will not fail to be saved, by definition. It's obvious and a truism. But there can be such a thing as a disciple / believer in Jesus Christ, who has various gifts and is in God's grace, who then spurns these gifts and grace and becomes separated from God, up to and including damnation, if they don't repent.
1 Peter 2:8 They stumble because they disobey the word, as they were destined to do. [p. 51]

John Wesley: They who believe not, stumble, and fall, and perish for ever; God having appointed from all eternity, "he that believeth not shall be damned."

Jamieson-Fausset-Brown Bible Commentary: not that God ordains or appoints them to sin, but they are given up to "the fruit of their own ways" according to the eternal counsel of God. The moral ordering of the world is altogether of God. God appoints the ungodly to be given up unto sin, and a reprobate mind, and its necessary penalty. . . . God, in the active, is said to appoint Christ and the elect (directly). Unbelievers, in the passive, are said to be appointed (God acting less directly in the appointment of the sinner's awful course) [Bengel]. God ordains the wicked to punishment, not to crime [J. Cappel].
The Lord has made everything for its purpose, even the wicked for the day of trouble (Prov 16:4).
The heart of man plans his way, but the Lord establishes his steps (Prov 16:9).
I know, O Lord, that the way of man is not in himself, that it is not in man who walks to direct his steps (Jer 10:23).
Are not two sparrows sold for a penny? And not one of them will fall to the ground apart from your Father (Mt 10:29). [p. 55]
Also henceforth I am he; there is none who can deliver from my hand; I work, and who can turn it back? (Isa 43:13).
Declaring the end from the beginning and from ancient times things not yet done, saying, "My counsel shall stand, and I will accomplish all my purpose" (Isa 46:10).
So shall my word be that goes out from my mouth; it shall not return to me empty, but it shall accomplish that which I purpose, and shall succeed in the thing for which I sent it (Isa 55:11).
The Lord brings the counsel of the nations to nothing; he frustrates the plans of the peoples. 11 The counsel of the Lord stands forever, the plans of his heart to all generations. (Ps 33:10-11)
Many are the plans in the mind of a man, but it is the purpose of the Lord that will stand (Prov 19:21).
No wisdom, no understanding, no counsel can avail against the Lord (Prov 21:30). [p. 56]
Catholics wholeheartedly believe in God's providence, as I emphasized in Reply #3, because it's an explicitly biblical doctrine.
If a prophet or a dreamer of dreams arises among you and gives you a sign or a wonder, 2 and the sign or wonder that he tells you comes to pass, and if he says, 'Let us go after other gods,' which you have not known, 'and let us serve them,' 3 you shall not listen to the words of that prophet or that dreamer of dreams. For the Lord your God is testing you, to know whether you love the Lord your God with all your heart and with all your soul. 4 You shall walk after the Lord your God and fear him and keep his commandments and obey his voice, and you shall serve him and hold fast to him. 5 But that prophet or that dreamer of dreams shall be put to death, because he has taught rebellion against the Lord your God, who brought you out of the land of Egypt and redeemed you out of the house of slavery, to make you leave the way in which the Lord your God commanded you to walk. So you shall purge the evil from your midst (Deut 13:1-5).
i) Isn't this a clearcut example of divine solicitation to sin? God, through the instrumentality of the false prophet, is "testing" the covenant community. [p. 97]
No it's not. The text never says that God caused false prophets to teach falsehoods and blasphemies. But He allows them in his free will to sin, and then utilizes that sin to (in one sense) in this instance "test" the Israelites, to see if they would follow the ideas and ways of the false prophet, just as He utilized the sin of Joseph's brothers selling him into slavery, to bless Egypt and the very brothers who sinned ("God meant it for good"). Hays and Calvinists confuse God's permissive will and providential plans with His perfect will and eternal decrees of predestination.
The false prophet is a tool. God is using the false prophet to test the allegiance of his people. [p. 97]
Yes, he's a tool. That's more like it. It doesn't follow that God predestined His sin; He is simply using it. Likewise, Nebuchadnezzar wasn't a saint because God called him his "servant" (Jer 25:9; 27:6; 43:10) and used him to judge Israel when he destroyed Jerusalem in 586 BC. Hays alluded to this on page 116: "He uses them [the Babylonians] as executors of divine judgment against wayward Israel."
Hays brings up the beloved Calvinist "prooftext" Romans 9 many times (e.g., pp. 144-155), but usually responding to someone else. I have my own argument, that has been posted on my blog for over thirteen years now: Romans 9: Plausible Non-Calvinist Interpretation.
This concludes my four-part examination of Hays' book.
***
Practical Matters: Perhaps some of my 4,300+ free online articles (the most comprehensive "one-stop" Catholic apologetics site) or fifty-three books have helped you (by God's grace) to decide to become Catholic or to return to the Church, or better understand some doctrines and why we believe them.
Or you may believe my work is worthy to support for the purpose of apologetics and evangelism in general. If so, please seriously consider a much-needed financial contribution. I'm always in need of more funds: especially monthly support. "The laborer is worthy of his wages" (1 Tim 5:18, NKJV). 1 December 2021 was my 20th anniversary as a full-time Catholic apologist, and February 2022 marked the 25th anniversary of my blog.
PayPal donations are the easiest: just send to my email address: apologistdave@gmail.com. You'll see the term "Catholic Used Book Service", which is my old side-business. To learn about the different methods of contributing, including 100% tax deduction, etc., see my page: About Catholic Apologist Dave Armstrong / Donation Information. Thanks a million from the bottom of my heart!
***
Photo credit: Portrait of John Calvin by Titian (1490-1576) [public domain / Wikimedia Commons]
***
Summary: This is one of my many (often point-by-point) replies to the "Exegetical Considerations" section (pp. 20-186) of Steve Hays' "Biblical Calvinism" book on Calvinism.