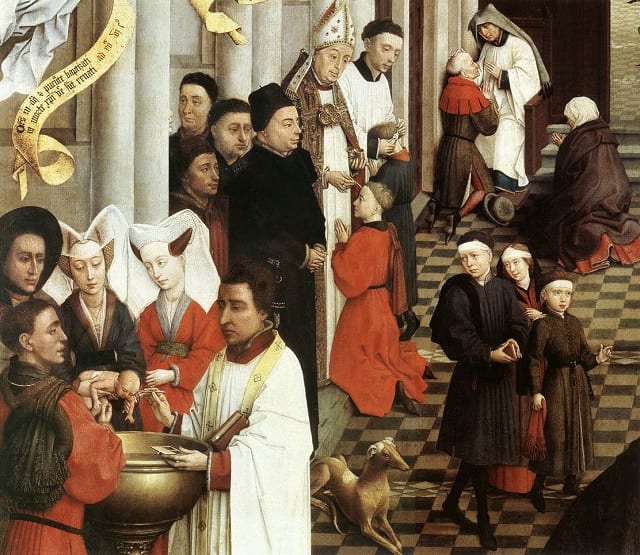 In one of the Facebook groups I was in for a time, I was asked this question:
Does Jesus forgive all sins through his substitutionary atonement or can [a] Roman Catholic priest forgive sin through infant baptism, penance, and the Eucharist?
I replied:
Why do you feel the need to pit these things against each other, as if they are contradictories? It's illogical and silly.
It's not Catholics who invented the notion that baptism grants forgiveness of sins. Holy Scripture teaches that (and asserts that it is a means of salvation, too):
Acts 2:38 (RSV) And Peter said to them, "Repent, and be baptized every one of you in the name of Jesus Christ for the forgiveness of your sins;

1 Peter 3:20-21 . . . God's patience waited in the days of Noah, during the building of the ark, in which a few, that is, eight persons, were saved through water. Baptism, which corresponds to this, now saves you . . .

Acts 22:16 And now why do you wait? Rise and be baptized, and wash away your sins, calling on his name.'

Mark 16:16 He who believes and is baptized will be saved; but he who does not believe will be condemned.

Titus 3:5 he saved us, not because of deeds done by us in righteousness, but in virtue of his own mercy, by the washing of regeneration and renewal in the Holy Spirit,
It's not Catholics who drummed up the idea that the Eucharist could save us. Our Lord Jesus said that:
John 6:48-51 I am the bread of life. Your fathers ate the manna in the wilderness, and they died. This is the bread which comes down from heaven, that a man may eat of it and not die. I am the living bread which came down from heaven; if any one eats of this bread, he will live for ever; and the bread which I shall give for the life of the world is my flesh."

John 6:53-58 So Jesus said to them, "Truly, truly, I say to you, unless you eat the flesh of the Son of man and drink his blood, you have no life in you; he who eats my flesh and drinks my blood has eternal life, and I will raise him up at the last day. For my flesh is food indeed, and my blood is drink indeed. He who eats my flesh and drinks my blood abides in me, and I in him. As the living Father sent me, and I live because of the Father, so he who eats me will live because of me. This is the bread which came down from heaven, not such as the fathers ate and died; he who eats this bread will live for ever."
Jesus and Paul also clearly taught that human beings could function as mini-mediators in the work of forgiving the sins of others (i.e., not committed against the one offering forgiveness: as a representative of Christ):
John 20:23 If you forgive the sins of any, they are forgiven; if you retain the sins of any, they are retained.

2 Corinthians 2:7, 10 so you should rather turn to forgive and comfort him, or he may be overwhelmed by excessive sorrow. . . . [10] Any one whom you forgive, I also forgive. What I have forgiven, if I have forgiven anything, has been for your sake in the presence of Christ,
So where's the beef? This person seems alarmingly deficient in his knowledge of what the Bible teaches.
Related Reading
*
*
*
*
*
*
*
*
*
***
(originally posted on 3-20-17 on Facebook)
*
***