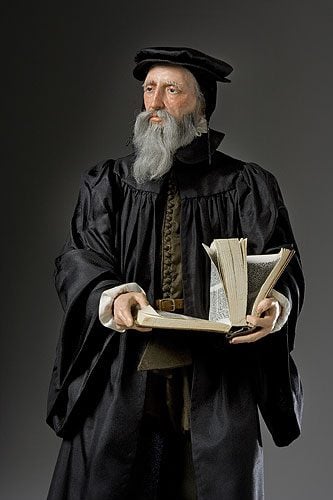 This is an installment of a series of replies (see the Introduction and Master List) to much of Book IV (Of the Holy Catholic Church) of Institutes of the Christian Religion, by early Protestant leader John Calvin (1509-1564). I utilize the public domain translation of Henry Beveridge, dated 1845, from the 1559 edition in Latin; available online. Calvin's words will be in blue. All biblical citations (in my portions) will be from RSV unless otherwise noted.
Related reading from yours truly:
Biblical Catholic Answers for John Calvin (2010 book: 388 pages)
A Biblical Critique of Calvinism (2012 book: 178 pages)
Biblical Catholic Salvation: "Faith Working Through Love" (2010 book: 187 pages; includes biblical critiques of all five points of "TULIP")
*****
IV, 1:24-29
***
Book IV
CHAPTER 1.
OF THE TRUE CHURCH. DUTY OF CULTIVATING UNITY WITH HER, AS THE MOTHER OF ALL THE GODLY.
24. A second answer, founded on some examples under the Old Testament.
And to begin almost with the very first commencement of the Church: the Patriarchs had been circumcised, admitted to a participation in the covenant, and doubtless instructed by their father's care in righteousness and integrity, when they conspired to commit fratricide. The crime was one which the most abandoned robbers would have abominated. At length, softened by the remonstrances of Judah, they sold him; this also was intolerable cruelty.
Calvin refers to the treatment of Joseph by his brothers.
Simeon and Levi took a nefarious revenge on the sons of Sychem, one, too, condemned by the judgment of their father. Reuben, with execrable lust, defiled his father's bed. Judah, when seeking to commit whoredom, sinned against the law of nature with his daughter-in-law. But so far are they from being expunged from the chosen people, that they are rather raised to be its heads. What, moreover, of David? when on the throne of righteousness, with what iniquity did he make way for blind lust, by the shedding of innocent blood? He had already been regenerated, and, as one of the regenerated, received distinguished approbation from the Lord. But he perpetrated a crime at which even the Gentiles would have been horrified, and yet obtained pardon.
I've often used his example myself. David was a murderer and adulterer, yet God didn't rescind his eternal covenant with him. I find that unutterably profound.
And not to dwell on special examples, all the promises of divine mercy extant in the Law and the Prophets are so many proofs that the Lord is ready to forgive the offences of his people. For why does Moses promise a future period, when the people who had fallen into rebellion should return to the Lord? "Then the Lord thy God will turn thy captivity, and have compassion upon thee, and will return and gather thee from all the nations whither the Lord thy God hath scattered thee" (Deut. 30:3).
Yes; the entire history of the Jews of the Old Testament is one long record of them messing up, being forgiven, receiving blessings, messing up again, being forgiven and restored yet again, and so forth. It's the history of the human race. Calvin is exactly right: that God's mercies are extraordinary and undeserved: and that we are in need of them our whole life long. Therefore, the rigorous standards of those who claim we are perfect and sinless once in the Kingdom, are unfounded and unbiblical. Catholics agree with all that. Our solution to the problem is a bit different, though.
25. A third answer, confirmed by passages from Jeremiah, Ezekiel, and Solomon. A fourth answer, derived from sacrifices.
But I am unwilling to begin an enumeration which never could be finished. The prophetical books are filled with similar promises, offering mercy to a people covered with innumerable transgressions. What crime is more heinous than rebellion? It is styled divorce between God and the Church, and yet, by his goodness, it is surmounted. They say, "If a man put away his wife, and she go from him, and become another man's, shall he return unto her again? shall not that land be greatly polluted? But thou hast played the harlot with many lovers; yet return again unto me, saith the Lord." "Return, thou backsliding Israel, saith the Lord; and I will not cause mine anger to fall upon you; for I am merciful, saith the Lord, and I will not keep anger for ever" (Jer. 3:1, 12). And surely he could not have a different feeling who declares, "I have no pleasure in the death of him that dieth;" "Wherefore turn yourselves, and live ye" (Ezek. 18:23, 32).
All great observations . . . Calvin is quite brilliant when he is arguing for the right thing, and even a fine exegete, when he is not operating from false premises.
Accordingly, when Solomon dedicated the temple, one of the uses for which it was destined was, that prayers offered up for the pardon of sins might there be heard. "If they sin against thee (for there is no man that sinneth not), and thou be angry with them, and deliver them to the enemy, so that they carry them away captive unto the land of the enemy, far or near; yet if they shall bethink themselves in the land whither they were carried captives, and repent, and make supplication unto thee in the land of them that carried them captives, saying, We have sinned, and have done perversely, we have committed wickedness; and so return unto thee with all their heart, and with all their soul, in the land of their enemies which led them away captive, and pray unto thee towards their land, which thou gavest unto their fathers, the city which thou hast chosen, and the house which I have built for thy name: then hear thou their prayer and their supplication in heaven thy dwelling-place, and maintain their cause, and forgive thy people that have sinned against thee, and all their transgressions wherein they have transgressed against thee" (1 Kings 8:46-50). Nor in vain in the Law did God ordain a daily sacrifice for sins. Had he not foreseen that his people were constantly to labour under the disease of sin, he never would have appointed these remedies.
Amen. Catholics would not disagree at all with this section.
26. A fifth answer, from the New Testament. Some special examples.
Did the advent of Christ, by which the fulness of grace was displayed, deprive believers of this privilege of supplicating for the pardon of their sins? If they offended against the Lord, were they not to obtain any mercy? What were it but to say that Christ came not for the salvation, but for the destruction of his people, if the divine indulgence in pardoning sin, which was constantly provided for the saints under the Old Testament, is now declared to have been taken away?
Very true, and a sorely needed message in wide portions of evangelical Protestantism today.
But if we give credit to the Scriptures, when distinctly proclaiming that in Christ alone the grace and loving-kindness of the Lord have fully appeared, the riches of his mercy been poured out, reconciliation between God and man accomplished (Tit. 2:11; 3:4; 2 Tim. 1:9, 10), let us not doubt that the clemency of our heavenly Father, instead of being cut off or curtailed, is in much greater exuberance. Nor are proofs of this wanting. Peter, who had heard our Saviour declare that he who did not confess his name before men would be denied before the angels of God, denied him thrice in one night, and not without execration; yet he is not denied pardon (Mark 8:38). Those who lived disorderly among the Thessalonians, though chastised, are still invited to repentance (2 Thess. 3:6). Not even is Simon Magus thrown into despair. He is rather told to hope, since Peter invites him to have recourse to prayer (Acts 8:22).
Indeed. Another section we Catholics have no disagreement with.
27. General examples. A celebrated passage. The arrangement of the Creed.
What shall we say to the fact, that occasionally whole churches have been implicated in the grossest sins, and yet Paul, instead of giving them over to destruction, rather mercifully extricated them? The defection of the Galatians was no trivial fault; the Corinthians were still less excusable, the iniquities prevailing among them being more numerous and not less heinous, yet neither are excluded from the mercy of the Lord. Nay, the very persons who had sinned above others in uncleanness and fornication are expressly invited to repentance.
I've often made similar or identical arguments myself, about entire local churches. See:
Sins and Sinners in the Catholic Church
*
*
*
*
*
The covenant of the Lord remains, and ever will remain, inviolable, that covenant which he solemnly ratified with Christ the true Solomon, and his members, in these words: "If his children forsake my law, and walk not in my judgments; if they break my statutes, and keep not my commandments; then will I visit their transgression with the rod, and their iniquity with stripes. Nevertheless, my loving-kindness will I not utterly take from him" (Ps. 89:30-33). In short, by the very arrangement of the Creed, we are reminded that forgiveness of sins always resides in the Church of Christ, for after the Church is as it were constituted, forgiveness of sins is subjoined.
Amen.
28. Objection, that voluntary transgression excludes from the Church.
Some persons who have somewhat more discernment, seeing that the dogma of Novatus is so clearly refuted in Scripture, do not make every fault unpardonable, but that voluntary transgression of the Law into which a man falls knowingly and willingly. Those who speak thus allow pardon to those sins only that have been committed through ignorance. But since the Lord has in the Law ordered some sacrifices to be offered in expiation of the voluntary sins of believers, and others to redeem sins of ignorance (Lev. 4), how perverse is it to concede no expiation to a voluntary sin? I hold nothing to be more plain, than that the one sacrifice of Christ avails to remit the voluntary sins of believers, the Lord having attested this by carnal sacrifices as emblems. Then how is David, who was so well instructed in the Law, to be excused by ignorance? Did David, who was daily punishing it in others, not know how heinous a crime murder and adultery was? Did the patriarchs deem fratricide a lawful act? Had the Corinthians made so little proficiency as to imagine that God was pleased with lasciviousness, impurity, whoredom, hatred, and strife? Was Peter, after being so carefully warned, ignorant how heinous it was to forswear his Master? Therefore, let us not by our malice shut the door against the divine mercy, when so benignly manifested.
Absolutely right.
29. Last objection of the Novatians, founded on the solemn renewal of repentance required by the Church for more heinous offences. Answer.
I am not unaware, that by the sins which are daily forgiven to believers, ancient writers have understood the lighter errors which creep in through the infirmity of the flesh, while they thought that the formal repentance which was then exacted for more heinous crimes was no more to be repeated than Baptism. This opinion is not to be viewed as if they wished to plunge those into despair who had fallen from their first repentance, or to extenuate those errors as if they were of no account before God. For they knew that the saints often stumble through unbelief, that superfluous oaths occasionally escape them, that they sometimes boil with anger, nay, break out into open invectives, and labour, besides, under other evils, which are in no slight degree offensive to the Lord; but they so called them to distinguish them from public crimes, which came under the cognisance of the Church, and produced much scandal. The great difficulty they had in pardoning those who had done something that called for ecclesiastical animadversion, was not because they thought it difficult to obtain pardon from the Lord, but by this severity they wished to deter others from rushing precipitately into crimes, which, by their demerit, would alienate them from the communion of the Church. Still the word of the Lord, which here ought to be our only rule, certainly prescribes greater moderation, since it teaches that the rigour of discipline must not be stretched so far as to overwhelm with grief the individual for whose benefit it should specially be designed (2 Cor. 2:7), as we have above discoursed at greater length.
This (as far as it goes) is the same as the Catholic rationale for indulgences: the relaxation of temporal penalty for sin. I have used this same passage (2 Cor 2:7 with surrounding context) as an indication for this vastly misunderstood Catholic belief. It's another case where Catholics and Calvinists agree, but Calvin can only see the corruptions of the doctrine of indulgences that were widespread in his time, rather than the essence of the doctrine, which is scarcely any different from what he expresses in this section. See:
*
***
(originally 5-15-09)
Photo credit: Historical mixed media figure of John Calvin produced by artist/historian George S. Stuart and photographed by Peter d'Aprix: from the George S. Stuart Gallery of Historical Figures archive [Wikimedia Commons / Creative Commons Attribution-Share Alike 3.0 Unported license]
***