Response to More Misrepresentation of St. Alphonsus de Liguori's Book, The Glories of Mary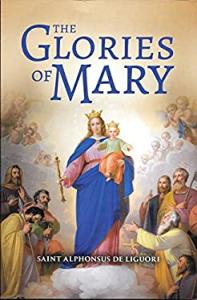 Timothy F. Kauffman was raised Catholic, converted to Protestantism in 1990, and is now a Presbyterian (PCA). He has written, "I was saved out of Roman Catholicism, and into Christianity, . . . Roman Catholicism was out of accord with the Gospel of Jesus Christ." Timothy is author of the books, Quite Contrary: Biblical Reconsiderations of the Apparitions of Mary (1994), Graven Bread: The Papacy, the Apparitions of Mary, and the Worship of the Bread of the Altar (1995), and is co-author with Robert M. Zins, of A Gospel Contrary!: A Study of Roman Catholic Abuse of History and Scripture to Propagate Error (April 24, 2023). He has been blogging about theology and Catholicism since 2014. His words will be in blue.
*****
I will be responding to a portion of Timothy's article, " 'We Don't Worship Mary,' Part 2″ (6-15-14).
Do Roman Catholics acknowledge Mary as Savior? Yes they do:

"St. Bonaventure says that Mary is called "the gate of heaven, because no one can enter that blessed kingdom without passing through her." (Liguori, The Glories of Mary).

"For thy eternal glory, let it be said that thou hast snatched a wretched creature from hell, to which he was already condemned, and that thou hast led him to thy kingdom.  O yes, sweet Mother, I hope to have the consolation of remaining always at thy feet, in heaven, thanking and blessing and loving thee eternally." (Liguori, The Glories of Mary)
The strong insinuation, of course, is that Catholics make Mary their savior and not Jesus, or that both of them are. He doesn't specify, but as usual for anti-Catholics (their standard modus operandi), a few "prooftexts" from The Glories of Mary are yanked out, while many other relevant texts are ignored. Anti-Catholic apologists do this with the Bible itself, with the Church fathers, as well as (surprise!) famous Catholic writers.
It's easy to show that the second citation is explicitly biblical (i.e., the notion that one human being can "save" another is completely in line with Holy Scripture):
1 Timothy 4:16  (RSV) Take heed to yourself and to your teaching; hold to that, for by so doing you will save both yourself and your hearers.

James 5:20 let him know that whoever brings back a sinner from the error of his way will save his soul from death and will cover a multitude of sins.
Therefore, if Mary is a (or the) "savior" according to Timothy's mistaken understanding of St. Alphonsus, then so must be the Apostle Paul and indeed anyone who helps a sinner to find repentance and forgiveness with God, according to St. James. There are more such passages, too:
Acts 11:12-14 And the Spirit told me to go with them, making no distinction. . . . [13] And he told us how he had seen the angel standing in his house and saying, `Send to Joppa and bring Simon called Peter; [14] he will declare to you a message by which you will be saved, you and all your household.'
Now Peter the first pope is the "savior" too, according to Timothy.
Romans 11:13-14 Now I am speaking to you Gentiles. Inasmuch then as I am an apostle to the Gentiles, I magnify my ministry [14] in order to make my fellow Jews jealous, and thus save some of them.

1 Corinthians 1:21 For since, in the wisdom of God, the world did not know God through wisdom, it pleased God through the folly of what we preach to save those who believe.

1 Corinthians 9:22 I have become all things to all men, that I might by all means save some.

2 Corinthians 1:6 If we are afflicted, it is for your comfort and salvation; . . .

2 Timothy 2:10 Therefore I endure everything for the sake of the elect, that they also may obtain salvation in Christ Jesus with its eternal glory.
More proof for Paul (and his companions) being a (the?) "savior" . . .
1 Peter 3:1 Likewise you wives, be submissive to your husbands, so that some, though they do not obey the word, may be won without a word by the behavior of their wives
Pope Peter teaches that (who knows?) many hundreds of thousands if not many millions of wives have saved their husbands. That's an awful lot of "saviors"!
St. Alphonsus makes crystal clear how Mary is entirely secondary to Jesus in her role in helping save souls. God chooses to use her in that way. Obviously, Protestants disagree with this opinion, but it is not making Mary the Savior over against Jesus. She is His helper, just as Paul and Peter and wives and anyone who helps persuade a person to repent, by God's grace, is. God simply chose (we believe) to involve Mary in all such cases. The notion of God working directly with human beings for His purposes is also a common scriptural motif:
Mark 16:20 And they went forth and preached everywhere, while the Lord worked with them . . .

Luke 10:16 He who hears you hears me, and he who rejects you rejects me, and he who rejects me rejects him who sent me.

Romans 15:17-18  In Christ Jesus, then, I have reason to be proud of my work for God. [18] For I will not venture to speak of anything except what Christ has wrought through me to win obedience from the Gentiles, by word and deed,

1 Corinthians 3:9 . . . we are God's fellow workers . . . (KJV: "labourers together with God")

1 Corinthians 4:1 This is how one should regard us, as servants of Christ and stewards of the mysteries of God.

1 Corinthians 15:10  But by the grace of God I am what I am, and his grace toward me was not in vain. On the contrary, I worked harder than any of them, though it was not I, but the grace of God which is with me.

1 Corinthians 15:58  . . .  be steadfast, immovable, always abounding in the work of the Lord, knowing that in the Lord your labor is not in vain.

2 Corinthians 2:14 But thanks be to God, who in Christ always leads us in triumph, and through us spreads the fragrance of the knowledge of him everywhere.

2 Corinthians 5:20 So we are ambassadors for Christ, God making his appeal through us. We beseech you on behalf of Christ, be reconciled to God. (cf. Acts 2:43: "And fear came upon every soul; and many wonders and signs were donethrough the apostles.")

2 Corinthians 6:1 Working together with him, then, we entreat you not to accept the grace of God in vain.

2 Corinthians 13:3 . . . Christ is speaking in me . . .

Galatians 2:8  (for he who worked through Peter for the mission to the circumcised worked through me also for the Gentiles),

Galatians 2:20 I have been crucified with Christ; it is no longer I who live, but Christ who lives in me; . . .

Philippians 2:13 for God is at work in you, both to will and to work for his good pleasure.
Also, the principle in play here (also eminently biblical) is the fact that the prayers of righteous people have far more power (James 5). Since Catholics think Mary was sinless and the greatest of all of God's creatures, obviously it would follow by this principle that her prayers would have more power than any other creature's prayers.
Protestants are free, of course, to make their arguments against our doctrine of Mary Mediatrix or the greater power of the prayers of more righteous people, but ethics and honesty do not allow them to distort what we teach, and pretend that it makes Mary the savior, and not Jesus. Let's examine the chapter that Timothy first cited above: Part One: Chapter Five.
St. Alphonsus clarifies the relationship of Jesus and Mary as regards salvation:
[I]t is impious to assert that God is not pleased to grant graces at the intercession of his saints, and more especially of Mary his Mother, whom Jesus desires to much to see loved and honored by all.  Who can pretend that the honor bestowed on a mother does not redound to the honor of the son?  The glory of children are their fathers ("Gloria filiorum, patres eorum"—Prov. xvii. 6).  Whence St. Bernard says, "Let us not imagine that we obscure the glory of the Son by the great praise we lavish on the mother; for the more she is honored, the greater is the glory of the Son."  "There can be no doubt," says the saint, "that whatever we say in praise of the Mother is equally in praise of the Son" ("Non est dubium, quidquid in laudibus Matris proferimus, ad Filium pertinere"—De Laud. V. M. hom. 4).  And St. Ildephonsus also says, "That which is given to the Mother redounds to the Son; the honor given to the Queen is honor bestowed on the King" ("Redundat ad Filium, quod impenditur Matri; transit honor in Regem; qui defertur in famulatum Reginae"—De Virginit. S. M. c. 12).  There can be no doubt that by the merits of Jesus, Mary was made the mediatress of our salvation; not indeed a mediatress of justice, but of grace and intercession; . . .

. . . through Mary we received Jesus Christ, by whose merits we obtain all graces . . .

We willingly admit that God is the source of every good, and the absolute master of all graces; and that Mary is only a pure creature, who receives whatever she obtains as a pure favor from God.

. . . we say that Mary is the mediatress of grace; and that receiving all she obtains through Jesus Christ, and because she prays and asks for it in the name of Jesus Christ, . . .

Pius X declares:  "She is the dispensatrix of the graces that Jesus Christ has merited for us by His blood and His death."

St. Alphonsus also makes it abundantly clear that Jesus alone is the ultimate savior (we are saved and redeemed by Him, and God's grace, in terms of the cause and final determination):
. . . Jesus Christ, who is our only mediator, . . .

No one denies that Jesus Christ is our only mediator of justice, and that he by his merits has obtained our reconciliation with God.

Jesus Christ is the only Mediator of justice, according to the distinction just made, and that by his merits he obtains us all graces and salvation . . .

. . . the mediation of Jesus Christ alone is absolutely necessary . . .

"There is no doubt," says the saint [Bernard], "that Jesus Christ alone was more than sufficient to redeem us . . .

. . . we have access to the Eternal Father, says St. Bernard, only through Jesus Christ, . . .
That's just one chapter in the book. In this chapter alone, St. Alphonsus plainly, undeniably teaches that Jesus is the only Mediator and Redeemer and the only One Who merited our salvation by His death, as well as the source of all grace and good. But let's consult most of the  book — nine chapters and nine discourses — for every single use of "savior", to see if Mary is ever called the "savior" over against Our Lord Jesus Christ, and if Jesus is called our savior, when the word appears:
Jesus, our Savior and our life . . . (Pt. I, ch. 1)

. . . our Savior . . . before expiring, he looked down from the cross on his Mother . . . (Pt. I, ch. 1)

O my beloved Savior Jesus, . . . (Pt. I, ch. 1)

Jesus our Savior . . . (Pt. 1, ch. 4)

. . . we know that Jesus Christ is our only Savior, and that he alone by his merits has obtained and obtains salvation for us . . . (Pt. 1, ch. 4)

. . . my Savior has already shed his blood, which suffices to save an infinity of worlds. (Pt. 1, ch. 4)

. . . the Mother of our Savior, . . . (Pt. 1, ch. 6)

. . . this merciful Savior, who gave his life to save us, . . . (Pt. 1, ch. 6)

Jesus Christ . . .  our divine Savior . . . (Pt. 1, ch. 10)

. . . the flesh of our Savior, even after his resurrection . . . (Pt. 2, Disc. 1)

. . . the worthy Mother of our Savior. (Pt. 2, Disc. 1)

From Jesus, however, it is (we must understand) that we receive grace as the author of grace, from Mary as a mediatress; from Jesus as a Savior, from Mary as an advocate; from Jesus as a source, from Mary as a channel. (Pt. 2, Disc. 2)

[I then had to go to another 1862 translation of the book, available online. It spelled "saviour" in the English manner]

Christ wished to be consoled by an angel, . . . the Saviour willed to be comforted by an angel . . . (Pt. 2, Disc. 4)

Mary, in whose bosom, the Saviour has deposited the treasure of the wretched . . . (Pt. 2, Disc. 5)

. . . our Saviour, in order to obey his mother, . . . (Pt. 2, Disc. 5)

And if we give credit to that celebrated saying of St. Anselm: "We shall sometimes find grace sooner by having recourse to Mary, than by having recourse to our Saviour Jesus himself; not that he is not the source and Lord of all graces, but because if we go to Mary, and she intercedes for us, her prayers will have more power, as the prayers of a mother, than ours. (Pt. 2, Disc. 5)

. . . the merits of my Saviour Jesus, . . . (Pt. 2, Disc. 5)

. . . he did not see the Saviour until he saw him in the arms of Mary. (Pt. 2, Disc. 6)

After Jesus Christ our Saviour had completed the work of our redemption by his death, . . . (Pt. 2, Disc. 8)

Let us now consider how the Saviour really did come from heaven to meet his mother, . . . (Pt. 2, Disc. 8)

. . . the Virgin knowing how much the incarnate Word was to suffer for the salvation of men, even before she became his mother, and compassionating this innocent Saviour, who was to be so cruelly put to death for crimes not his own, . . . (Pt. 2, Disc. 9)

. . . she was made mother of this Saviour. (Pt. 2, Disc. 9)

And the Saviour himself had before said, that our heart is where our treasure is. (Pt. 2, Disc. 9)
I didn't want to bother searching all the numerous short prayers. My point is pretty much established and likely holds for the entire book. If Timothy or anyone else finds Mary being called "savior" in one of those prayers, I hope they will let me know. As we see, so far, in most of the book, she is never called our "savior / saviour"; only Jesus is.
So where does Timothy get off claiming that "Catholics acknowledge Mary as Savior" (implying that we think she usurps Jesus Christ's utterly unique status as Savior and Redeemer) and utilizing two out of his three "prooftext" citations from St. Alphonsus' The Glories of Mary? He has not established his claim (which is the most charitable way to describe his efforts).
Related Reading
St. Alphonsus de Liguori: Mary-Worshiper & Idolater? [8-9-02]
Defense of the Our Lady of Perpetual Help Devotion vs. Calvinists [7-16-07]
Was St. Louis de Montfort a Blasphemous Mariolater? (cf. abridged, National Catholic Register version) [2009]
Maximilian Kolbe's "Flowery" Marian Veneration & the Bible [2010]
Sacred Heart and Immaculate Heart: Biblical Reflections [11-23-10]
Defense of Allegedly "Idolatrous" Marian Devotions [1-11-13]
Honoring Jesus Thru Mary: 50 Biblical Reasons [4-21-15]
Reply to Protestants on "Excessive" (?) Marian Devotion [1-4-17]
Angel Gabriel's "Hail" (Lk 1:28): Veneration of Mary? [3-8-19]
Marian Veneration: Reply to Evangelical Adrian Warnock [12-10-19]
Catholics Do Not Worship Mary Like God (vs. Matt Slick) [11-13-20]
"Excesses" in Catholic Mariology & Devotion [6-12-23]
Catholics Think Mary is "Co-Creator"? (vs. T.L. Kauffman) (Refuting a Distortion of What St. Alphonsus de Liguori Actually Teaches in The Glories of Mary) [7-17-23]
***
*
Or you may believe my work is worthy to support for the purpose of apologetics and evangelism in general. If so, please seriously consider a much-needed financial contribution. I'm always in need of more funds: especially 
monthly
 support. "The laborer is worthy of his wages" (1 Tim 5:18, NKJV). 1 December 2021 was my 20th anniversary as a 
full-time Catholic apologist
, and February 2022 marked the 25th anniversary of my blog.
*
Photo credit: cover of The Glories of Mary, by St. Alphonsus de Liguori [BetterWorldBooks page for the book]
Summary: Presbyterian Timothy Kauffman makes a claim that "Catholics acknowledge Mary as Savior". I show that this is false, using his own alleged Catholic source for it.