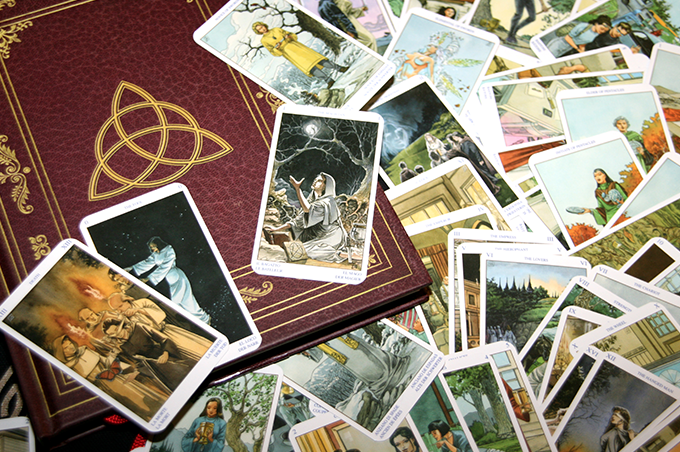 The book recommendation requests I get the most are on the topic of Tarot. I own way too many books on tarot (and books in general), so I tried to limit it down to books that are a bit more focused on the Rider-Waite-Smith decks and those that are based on it. Most tarot decks that you can buy are based on the RWS deck, with those based on Crowley's Thoth Tarot and those based on the Marseilles Tarot are runner ups.
Tarot is such a complex subject and a life-long exploration and study. Some people just use the "little white book" or throw it out and use their intuition. However, the deeper you dive into the Tarot, the more you will get out of it. With any form of psychic ability or divination, it's crucial to have as big of a palette of symbols and associations to paint with as possible – which turns any good divination or psychic reading into an extraordinary one.
I wanted to boil it down to my top ten books, but could only think of nine books that I feel are crucial for anyone studying tarot. This is my list of absolute indispensable books on RWS based tarot. These nine books are sure to enhance your ability to read and understand the tarot for any question, circumstance, or situation. Please note that the blurb's aren't my commentary on the books but rather the description provided by the book publishers.
---

by Benebell Wen
Designed for beginning as well as experienced tarot readers, Holistic Tarot offers a fresh and easy-to-follow approach to the use of the tarot deck for tapping into subconscious knowledge and creativity. The tarot deck has been used as a divination tool for more than two centuries; while the tarot is still most commonly thought of as "fortune telling," the true power of the tarot lies in its ability to channel a clear path for our deep intuition to shine through. Consulting the tarot can help clear creativity blockages, clarify ambitions, work through complex decisions, and make sense of emotions and relationships. Whether used for simple decision-making or an understanding of your life's purpose, learning tarot can be an indispensible tool for being more mindful of the factors that can assist or weaken your efforts toward success.
In Holistic Tarot, author Benebell Wen provides a complete guide to using the tarot to foster personal development. Wen gives a comprehensive overview of the history of the tarot and a wide array of theories on its use (including its relationship to Jungian archetypal psychology and traditional Chinese divination practices) before digging deeply into one of the best-known tarot systems, the Rider-Waite-Smith. Beginners will find a complete guide to working with the tarot, including choosing and caring for a deck, how best to learn and remember the attributes of the major and minor arcana, the interpretation of cards and spreads, the role of meditation in a tarot practice, and how to use the tarot for improving relationships, professional development, and personal resilience. More advanced practitioners will appreciate nuanced theoretical discussions of the tarot as well as practical advice about reading others' tarot cards and setting up a practice. Containing over 500 illustrations and detailed information on each card as well as numerous spreads, Holistic Tarot is a complete compendium of tarot study that every practitioner should have in his or her library.
---

by Mary K. Greer
Drawing on nearly forty years of tarot experience, Mary K. Greer has developed a new energizing approach-made up of twenty-one stimulating techniques to interpret or deepen your understanding of each card. Just as the twenty-six letters of the alphabet can be combined to form billions of words, Greer's twenty-one methods can be used in any combination for gaining amazing new insights and perspectives.
Emphasizing both traditional and personal methods of interpretation, Greer's techniques involve storytelling, sketching, symbols, metaphors, dialogues, acting, and other imaginative exercises. Designed to bring about interaction, transformation, and empowerment, this twenty-one-pronged approach to tarot can help readers expand standard interpretations and evolve new ways of connecting to the cards.
---

by Rachel Pollack
Beloved by nearly half a million Tarot enthusiasts, Rachel Pollack's Seventy-Eight Degrees of Wisdomforever transformed the study of Tarot. This much-anticipated follow-up to Pollack's classic guidebook will inspire Tarot aficionados and inform a new generation of Tarot students. Enhanced by the author's personal stories and insights gained over the past three decades, this book on tarot invites you on a fascinating and fun adventure.
Offering an abundant array of new ideas mixed in with enlightening discussions about Tarot's checkered past, this tarot guidebook features innovative ways to interpret and use Tarot, and a wealth of original spreads to try for yourself―including spreads for predictive, psychological, magical, and spiritual readings. All seventy-eight cards are explored from fresh angles: history, art, psychology, and a variety of spiritual and occult traditions, using cards from seven diverse decks so you can easily contrast and compare. No matter where your starting point on the path of personal discovery, this tarot book will prove a trusted companion for your journey.
---

by Rachel Pollack
A top tarotist's secrets to personal growth, one card at a time. The two volumes of Seventy-Eight Degrees of Wisdom have inspired a whole generation of tarot students. It has often been described by readers, booksellers, and teachers as the "Bible of tarot readers." It is also often cited as one of the landmark books in modern tarot, and it helped to launch the "Tarot Renaissance" of the 1980s. The two texts-one for The Major Arcana and one for The Minor Arcana–appear together in this volume, which is a reissue of the 1998 edition first published by Thorsons. Seventy-Eight Degrees of Wisdom draws on mythology and esoteric traditions and delves deeply into the symbolism and ideas of each card. It also gives the cards a modern psychological slant based on the pictures rather than a system of occult symbolism. This endlessly useful reference tool provides a concise history of tarot, introduces common spreads, and is a clear and readable book for both the beginning and advanced tarot student.
---

Tarot Fundamentals, Tarot Experience, and Tarot Compendium
by Sasha Graham (Editor)
These illustrated, full-color volumes includes contributions from a wide range of tarot experts, including Sasha Graham, Barbara Moore, Mark McElroy, Marcus Katz, Tali Goodwin, Giordano Berti, and Riccardo Minetti. Tarot is a living tradition, forever evolving and growing. These resource books show that tarot is always reinventing itself while never forgetting its origins.
With thorough perspectives on tarot history, reading, spiritual work, card meanings, and more, this full-color volume is an indispensible reference for beginners and adepts alike.
While the first volume, Tarot Fundamentals, focused more on general principles and basic knowledge, this book is more hands-on and personal, full of practical suggestions, spread guides, and specific reading techniques.
This third volume completes the set, focusing on advanced tarot ideas and practices, exploring esoteric disciplines as they intersect with tarot.
---

by Courtney Weber
Courtney Weber has been teaching Tarot and speaking at Tarot symposia around the country for a decade. In response to the numerous requests she has received over the years, Weber created Tarot for One, a personal workbook and resource guide designed to help form interpretations directly applicable to self-readings.
In Weber's clean, clear style, this book explores the Fool, the Major Arcana, the Court Cards, Cups, Wands, Swords, and Pentacles, as well as what she calls the tough cards, reversals, practice spreads, and next steps. She includes common associations as well as extensive exercises to unlock readers' own interpretations for connecting personal journeys with the archetypical Tarot. Readers will learn to let the voice of the Tarot come through without overlaying too much of their own "stuff" during a reading.
Tarot for One includes dozens of original Tarot spreads and layouts, which have been repeatedly proven both fun and effective in Weber's classes and workshops. It also contains tips on finding a deck, honing a Tarot practice, and avoiding common self-reading pitfalls. This is the essential guide for your personal journey with the Tarot.
---

by Mary K. Greer
Originally published in 1984, this is a classic in its field. Not only is it the first book to promote reading the cards for your own insight, but it also shows you exactly how to do so. It revolutionizes learning Tarot through a combined emphasis on self-teaching techniques and personal insight.
Never before has a Tarot book so comprehensively linked the many areas of New Age thought. You will find journal writing, mythology, psychology, self-help, relationships, prosperity and right livelihood, crystals, channeling, astrology, numerology, poetry, art, and occult metaphysics—all explored and integrated with the Tarot.
Tarot for Your Self uses meditations, rituals, spreads, mandalas, visualizations, dialogues, charts, affirmations, and other activities to help you establish your own relationship with the cards. All the information is presented using the best in traditional knowledge and know-how. This powerful breakthrough process will turn all your readings into truly transformative experiences.
---
Related Tarot Articles
Tarot Divination For Spells
Survival Guide For the Tarot Pro
How To Receive A Better Psychic Reading
Thinking Like A Tarot Reader
Choosing A Tarot Deck That's Right For You
The Happy Squirrel Card In The Tarot
Developing Intuition Through Daily Tarot
Divination As Devotion
Asking Your Psychic Better Questions
Interviewing Your Tarot Decks
Shifting Perspectives With The Hanged Man
Exploring Your Shadow With The Tarot
Card Deck Review Archive
---
Related Book Articles
Best Books On Plant Magick
Eleven Books To Enhance Your Spell-Casting
Favorite Witchy Books of 2018
Things To Consider With Witchcraft Books
Beginner Books Recommended by Faery/Feri Witches
Beginner Books Recommended by Trad. Craft Witches
Four Books To Learn More About Aradia
Hekate's Library: A Reading List
Six Books For The Activist Witch
My Favorite Queer Witchcraft Books
Winter Solstice Books For Pagans & Witches
---

---
Click Below To Purchase My Book: