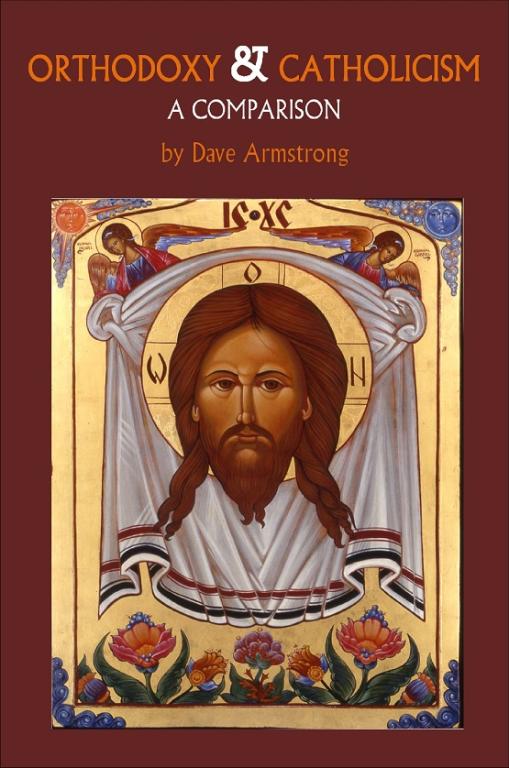 [see full book and purchase information]
***
GENERAL
Sack of Constantinople (1204) & Unknown Byzantine Atrocities [1998]
Orthodoxy & Catholicism Read by Czech Bishops & Priests [6-16-11]
Exchange with an Anti-Catholic Orthodox: Originally on the Papacy (vs. Richard A. Shaward) [Facebook, 12-2-11]
Further Thoughts on Catholic-Orthodox Discussion [Facebook, 12-20-13] [+ earlier, humorous installment: about someone trashing me because I made a "patristic typo": Facebook, 12-19-13]
Preface to 3rd Revised 2015 Edition of Orthodoxy and Catholicism: A Comparison [6-11-14]
Crusades Controversy & "Discussion" (?) w Orthodox [8-14-14]
Orthodoxy & Catholicism: A Comparison: Reply to Introduction (Fr. Deacon Daniel Dozier) [8-18-14]
FILIOQUE / HOLY TRINITY
Filioque: Catholic-Orthodox Dialogue (William Klimon) [July 1997]
Dialogue: Original Sin, Jesus, & Mary's Immaculate Conception [9-4-08]
Holy Spirit, Procession, & the Father's & Son's Love [7-3-09] 
"Western" View of the Holy Trinity, Monarchia, Procession, Etc. (vs. David Waltz and Drake Shelton) [3-5-12]
THE PAPACY
Pope St. Leo the Great, the "Robber" Council of 449, and the Council of Chalcedon in 451 (Blessed John Henry Cardinal Newman) [Faebook, 1993]
50 New Testament Proofs for Petrine Primacy & the Papacy [1994]
Pope Silvester and the Council of Nicaea (vs. James White) [August 1997]
The Development of the Papacy (Blessed John Henry Cardinal Newman) [Facebook, 1997]
Bible on Papal & Church Infallibility [2007]
Council of Nicea: Reply to James White: Its Relationship to Pope Sylvester, Athanasius' Views, & the Unique Preeminence of Catholic Authority [4-2-07]
Papal Participation in the First Seven Ecumenical Councils [4-22-09]
The Nature of Papal Leadership: "Servant of Servants" [from Karl Adam; Facebook, 2-2-12]
Quick, Highly Effective Argument for the Existence of the Papacy in the First 200 Years [Facebook, 3-13-13]
The Papacy & Conciliarity (or, Collegiality): How Popes Routinely Consult Bishops, Priests, and Laity Prior to Momentous Decrees [9-13-14]
Did Pope Gregory the Great Deny Papal Primacy & Supremacy? [9-16-17]
Pope St. Leo the Great (r. 440-461) and Papal Supremacy [9-19-17]
Shock! Former Catholic Rod Dreher Loves Lawler's Pope-Bashing Book (Sin in the Church and Dreher's Inadequately Explained Rejection of Catholic Doctrine) [2-22-18]
DIVORCE AND ANNULMENT
Divorce: Early Church Teaching [Oct. 1998]
Dialogue on Annulment & Divorce: Essentially Different? [1997-1999]
Biblical Evidence for Annulments [2002]
Biblical Evidence for Prohibiting Divorce [2004]
Annulment is Not "Catholic Divorce" [11-17-15]
CONTRACEPTION
Contraception: Early Church Teaching (William Klimon) [1998]
Dialogue: Contraception vs. NFP: Crucial Ethical Distinctions
 [2-16-01]
Biblical Evidence Against Contraception [5-3-06]
Dialogue: Contraception & Natural Family Planning (NFP) [5-16-06]
The Bible on the Blessing of [Many] Children [3-9-09]
Orthodoxy & Contraception: Continuity or Compromise? [2015]
ORIGINAL SIN
Dialogue: Original Sin, Jesus, & Mary's Immaculate Conception [9-4-08]
Group Discussion on Eastern vs. Western Conceptions of Original Sin (with Eastern Catholics and Orthodox) (+ discussion on a second continuing Facebook thread) [Facebook, 6-28-14 and 6-30-14; note: later portions of the long initial thread become a more general Catholic-Orthodox discussion, mostly between myself and John Fiscus] 
PRIESTLY CELIBACY
A New (?) Argument in Favor of Mandatory Celibacy of Catholic Priests in the Western / Latin Rite [11-16-12] [see also vigorous Facebook discussion with Orthodox participants: 7-31-14]
HOLY EUCHARIST
Eucharist: Orthodox and Catholic Views [5-3-13 and 15 and 20 September 2016] 
ECUMENISM / ECCLESIOLOGY
Orthodox & Catholic Ecclesiology: Possible Synthesis? [11-23-11]
THEOSIS
Theosis and the Exalted Virgin Mary [7-11-04]
St. Bonaventure on Deification / Theosis [Facebook, 3-11-14]
St. Teresa of Avila on Deification / Theosis [Facebook, 4-11-14]
PURGATORY
Is Purgatory a "Place" or a "Condition"?: Misconceptions From [Eastern Orthodox] Fr. Ambrose About My Opinion (and the Church's View) / Also: Development and Alleged Historical Revisionism [7-24-05]
Updated on 3 November 2018.