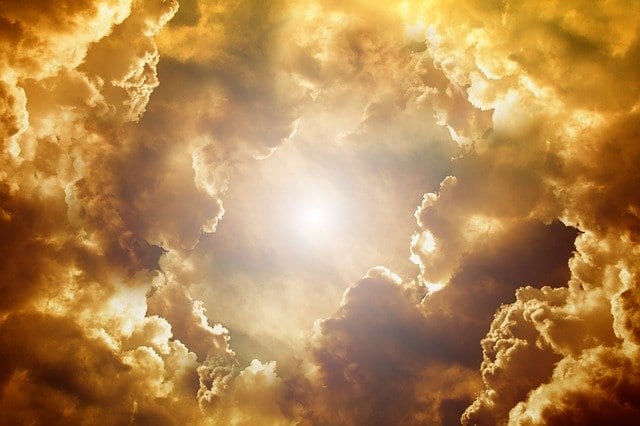 Atheist and anti-theist Bob Seidensticker, who was "raised Presbyterian", runs the influential Cross Examined blog. He asked me there, on 8-11-18: "I've got 1000+ posts here attacking your worldview. You just going to let that stand? Or could you present a helpful new perspective that I've ignored on one or two of those posts?" He also made a general statement on 6-22-17: "Christians' arguments are easy to refute . . . I've heard the good stuff, and it's not very good."
He added in the combox: "If I've misunderstood the Christian position or Christian arguments, point that out. Show me where I've mischaracterized them." Such confusion would indeed be predictable, seeing that Bob himself admitted (2-13-16): "My study of the Bible has been haphazard, and I jump around based on whatever I'm researching at the moment."
Bob (for the record) virtually begged and pleaded with me to dialogue with him in May 2018, via email. But by 10-3-18, following massive, childish name-calling attacks against me, encouraged by Bob on his blog (just prior to his banning me from it), his opinion was as follows: "Dave Armstrong . . . made it clear that a thoughtful intellectual conversation wasn't his goal. . . . [I] have no interest in what he's writing about."
And on 10-25-18, utterly oblivious to the ludicrous irony of his making the statement, Bob wrote in a combox on his blog: "Someone who's not a little bit driven to investigate cognitive dissonance will just stay a Christian, fat 'n sassy and ignorant." Again, Bob mocks some Christian in his combox on 10-27-18: "You can't explain it to us, you can't defend it, you can't even defend it to yourself. Defend your position or shut up about it. It's clear you have nothing."
And again on the same day: "If you can't answer the question, man up and say so." And on 10-26-18: "you refuse to defend it, after being asked over and over again." And again: "You're the one playing games, equivocating, and being unable to answer the challenges."
Bob's cowardly hypocrisy knows no bounds. Again, on 6-30-19, he was chiding someone for something very much like he himself: "Spoken like a true weasel trying to run away from a previous argument. You know, you could just say, 'Let me retract my previous statement of X' or something like that." Yeah, Bob could! He still hasn't yet uttered one peep in reply to — now — 48 of my critiques of his atrocious reasoning.
Bible-Basher Bob's words will be in blue. To find these posts, follow this link: "Seidensticker Folly #" or see all of them linked under his own section on my Atheism page.
*****
I was browsing Bob's website, looking for something else of the innumerable items that are ripe for Christian refutation, and I happened to come across a citation where he actually cited me (!!!). This was just before the period where he (very conveniently) dissed me as unworthy of anyone's further attention. Here it is:
Let's continue with Christian apologists' justifications for praise and worship of God . . .
3. Worship isn't for God's benefit but Man's
We don't worship God because He needs it (He needs nothing and is entirely self-sufficient), but because we need it. . . . God "needs" no worship whatever because in Christian theology, He needs nothing. He's completely all-sufficient and self-sufficient. It's for our sake that we "render unto God's what is rightfully God's." (Source) (God as Donald Trump: Trying to Make Sense of Praise and Worship (part 3) ) (8-27-18)
This is an adequate summary of the Christian position on worship, I think, but as usual, it goes over (or through) Bob's head, and he doesn't get it. Just nine days ago I refuted Bob on this very topic (Seidensticker Folly #47: Does God Need Praise? [8-31-20] ). That's the basic Christian response. Presently, I will highlight a few different aspects of the question.
Don't tell me that God gets no benefit from human actions.
God gets no benefit from human actions. Sorry!
Burnt offerings are a "pleasing aroma" in the Bible,
Of course, He says this because the idea is that "proper worship of human beings is good for them, because they ought to praise and worship the God Who created them." But it's not literal; rather, it's an instance of the very common anthropopathism and anthropomorphism in the Bible. This is what Bob has to learn and understand. He obviously is completely unfamiliar with it, so this is what comes from biblical illiteracy and ignorance.
Again, God doesn't need anything. This is standard theology proper (theology of God) in historic Christianity: Catholic, Orthodox, and Protestant alike. Moreover, the "pleasing aroma" is necessarily symbolic because God the Father is a non-material spirit and has no nostrils. He's simply communicating in terms that human beings can understand: condescending to us. The idea is human obedience and doing what is best for us (serving and obeying God, for out own happiness and well-being). This was a poetic, easily comprehensible way to express, "yes, you're doing well and good."
But when His people disobeyed Him and became sinful and unrighteous, He expressed the opposite:

Amos 5:11-14, 21-24 (RSV) Therefore because you trample upon the poor and take from him exactions of wheat, you have built houses of hewn stone, but you shall not dwell in them; you have planted pleasant vineyards, but you shall not drink their wine. [12] For I know how many are your transgressions, and how great are your sins — you who afflict the righteous, who take a bribe, and turn aside the needy in the gate. [13] Therefore he who is prudent will keep silent in such a time; for it is an evil time. [14] Seek good, and not evil, that you may live; and so the LORD, the God of hosts, will be with you, as you have said . . . [21] I hate, I despise your feasts, and I take no delight in your solemn assemblies. [22] Even though you offer me your burnt offerings and cereal offerings, I will not accept them, and the peace offerings of your fatted beasts I will not look upon. [23] Take away from me the noise of your songs; to the melody of your harps I will not listen. [24] But let justice roll down like waters, and righteousness like an ever-flowing stream.

Proverbs 15:8 The sacrifice of the wicked is an abomination to the LORD, but the prayer of the upright is his delight.

Proverbs 21:27 The sacrifice of the wicked is an abomination; how much more when he brings it with evil intent.

Jeremiah 6:19-20 Hear, O earth; behold, I am bringing evil upon this people, the fruit of their devices, because they have not given heed to my words; and as for my law, they have rejected it. [20] To what purpose does frankincense come to me from Sheba, or sweet cane from a distant land? Your burnt offerings are not acceptable, nor your sacrifices pleasing to me.

Malachi 1:6-14 "A son honors his father, and a servant his master. If then I am a father, where is my honor? And if I am a master, where is my fear? says the LORD of hosts to you, O priests, who despise my name. You say, `How have we despised thy name?' [7] By offering polluted food upon my altar. And you say, `How have we polluted it?' By thinking that the LORD's table may be despised. [8] When you offer blind animals in sacrifice, is that no evil? And when you offer those that are lame or sick, is that no evil? Present that to your governor; will he be pleased with you or show you favor? says the LORD of hosts. [9] And now entreat the favor of God, that he may be gracious to us. With such a gift from your hand, will he show favor to any of you? says the LORD of hosts. [10] Oh, that there were one among you who would shut the doors, that you might not kindle fire upon my altar in vain! I have no pleasure in you, says the LORD of hosts, and I will not accept an offering from your hand. [11] For from the rising of the sun to its setting my name is great among the nations, and in every place incense is offered to my name, and a pure offering; for my name is great among the nations, says the LORD of hosts. [12] But you profane it when you say that the LORD's table is polluted, and the food for it may be despised. [13] `What a weariness this is,' you say, and you sniff at me, says the LORD of hosts. You bring what has been taken by violence or is lame or sick, and this you bring as your offering! Shall I accept that from your hand? says the LORD. [14] Cursed be the cheat who has a male in his flock, and vows it, and yet sacrifices to the Lord what is blemished; for I am a great King, says the LORD of hosts, and my name is feared among the nations.
It's all anthropopathism (i.e., non-literal expression). What is true in this is that God's will is for man to obey Him: precisely because that is how man will be happy and fulfilled and joyful; not because God needs anything at all. If Bob had the slightest understanding of the very complex, multi-faceted Hebrew literary / poetic idiom, he would grasp this.
but this wasn't like incense, where God could take it or leave it.
As I just demonstrated, it was exactly like incense. If it was done correctly (whether incense or burnt offerings) by people who were seeking righteousness, God was said to be "pleased" with it (e.g., as regards incense: Lev 16:12-13). But if it was done by sinning hypocrites, He is said to not be pleased (e.g., Lev 26:30).
This is explicitly labeled a food offering 27 times in the Old Testament.
Yes; so what? There was a right way and a wrong way to do it, depending on the righteousness of the offerer.
And in the Garden of Eden story, God created Adam to be the gardener (Genesis 2:15).
Sure; how is that relevant to the topic at hand?
Getting onto more cerebral or emotional needs, God refers to "everyone . . . whom I created for my glory" (Isaiah 43:7). No, God isn't "entirely self-sufficient" when humans support his Maslow's pyramid, providing food and labor at the bottom and glory and esteem at the top.
Nice try. This gets into the silly atheist argument that God is supposedly a "cosmic narcissist" or "egomaniac" and so forth: that I dealt with in my previous paper. Any "glory" given or attributed to God is for our sake, not His: just as if a child honors or praises or obeys his or her parents, it is for his or her own good. In fact, God does share His glory and gives human beings glory, as Scripture informs us. Now why in the world would He do that, if indeed He were indeed such a crazed, insecure egomaniac?:

Psalm 8:5 Yet thou hast made him little less than God, and dost

crown him with glory and honor

.

*

Psalm 149:4-5, 9 For the LORD takes pleasure in his people; he adorns the humble with victory. [5]

Let the faithful exult in glory

; let them sing for joy on their couches. . . . [9] . . .

This is glory for all his faithful ones

. Praise the LORD!
Proverbs 16:31 A hoary head is a crown of glory; it is gained in a righteous life.

Proverbs 28:12 When the righteous triumph, there is great glory; . . .

Isaiah 60:1-2 Arise, shine; for your light has come, and the glory of the LORD has risen upon you. [2] For behold, darkness shall cover the earth, and thick darkness the peoples; but the LORD will arise upon you, and his glory will be seen upon you.

Isaiah 60:4 . . . the LORD will be your everlasting light, and your God will be your glory.

Daniel 5:18 O king, the Most High God gave Nebuchadnez'zar your father kingship and greatness and glory and majesty;

John 5:44 How can you believe, who receive glory from one another and do not seek the glory that comes from the only God?

John 17:22 The glory which thou hast given me [Jesus] I have given to them, that they may be one even as we are one,

Romans 2:9-10 There will be tribulation and distress for every human being who does evil, the Jew first and also the Greek, [10] but glory and honor and peace for every one who does good, the Jew first and also the Greek.

Romans 5:2 Through him we have obtained access to this grace in which we stand, and we rejoice in our hope of sharing the glory of God.

Romans 9:23 in order to make known the riches of his glory for the vessels of mercy, which he has prepared beforehand for glory,

2 Corinthians 3:18 And we all, with unveiled face, beholding the glory of the Lord, are being changed into his likeness from one degree of glory to another; for this comes from the Lord who is the Spirit.

Ephesians 3:19 and to know the love of Christ which surpasses knowledge, that you may be filled with all the fulness of God.

1 Thessalonians 2:12 to lead a life worthy of God, who calls you into his own kingdom and glory.

2 Thessalonians 2:14 To this he called you through our gospel, so that you may obtain the glory of our Lord Jesus Christ.

Hebrews 6:4 . . . partakers of the Holy Spirit,

1 Peter 4:14 If you are reproached for the name of Christ, you are blessed, because the spirit of glory and of God rests upon you.

1 Peter 5:1 So I exhort the elders among you, as a fellow elder and a witness of the sufferings of Christ as well as a partaker in the glory that is to be revealed. (cf. 5:4)

2 Peter 1:3-4 His divine power has granted to us all things that pertain to life and godliness, through the knowledge of him who called us to his own glory and excellence, [4] by which he has granted to us his precious and very great promises, that through these you may escape from the corruption that is in the world because of passion, and become partakers of the divine nature.
See also:
"In Him" An Expression of the Oneness of Theosis? [3-13-14]
Theosis / Deification / Divinization in Western Spirituality [2015]
Christianity confuses itself because God evolved dramatically through the Bible. . . . early in his development, God needed humans, and that included their worship.
Sheer nonsense, as I have shown many times:
Seidensticker Folly #19: Torah & OT Teach Polytheism? [9-18-18]
Seidensticker Folly #20: An Evolving God in the OT? [9-18-18]
Madison vs. Jesus #6: Narcissistic, Love-Starved God? [8-6-19]
Loftus Atheist Error #8: Ancient Jews, "Body" of God, & Polytheism [9-10-19]
Do the OT & NT Teach Polytheism or Henotheism? [7-1-20]
The Bible Teaches That Other "Gods" are Imaginary [National Catholic Register, 7-10-20]
Perhaps an apologist could cherry pick Bible verses later in the Bible to show that God is aloof from human actions. Maybe this god sings along with Simon and Garfunkel, "I am a rock / I am an island."
I suggest that Bob pick up a good book on the Christian theology of God and get up to speed, so he doesn't embarrass himself any further (if indeed that is even possible).
***
Photo credit: geralt (4-20-18) [Pixabay / Pixabay license]
***