[Catholic Apologetics from Dave Armstrong: Spanish, Portugese, and French Translations of my articles and books]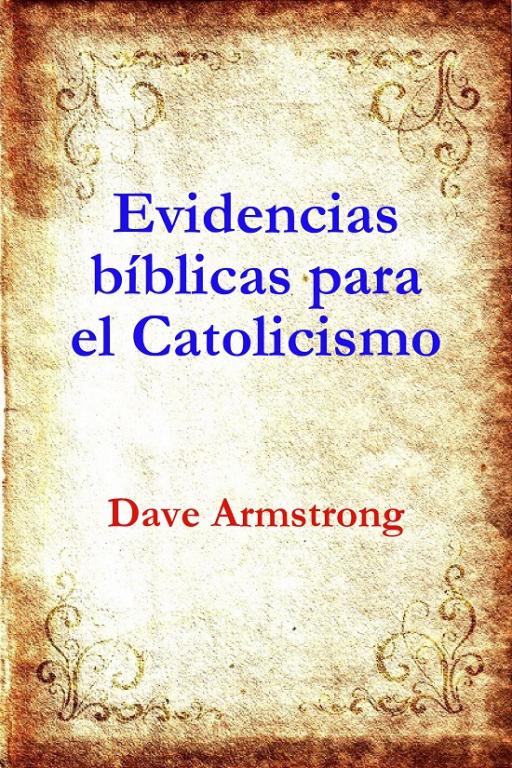 ***
[asterisked papers (*) indicate links to other sites. As time goes on, I hope to transfer all of these papers onto my own blog]
[documentos marcados con asterisco (*) indican los enlaces a otros sitios. A medida que pasa el tiempo, espero poder transferir todos estos papeles en mi propio blog]
[papéis com asterisco (*) indica links para outros sites. Conforme o tempo passa, eu espero que a transferência de todos esses papéis para o meu próprio blog]
[Les documents astérisqués (*) indiquent des liens vers d'autres sites. Au fil du temps, j'espère transférer tous ces articles sur mon propre blog]
***
[I utilize Google Translate for my little blurbs and any additional comments below]
[Yo utilizo Traductor de Google para mis pequeñas notas publicitarias y cualquier comentario adicional por debajo]
[Eu utilizo o Google Tradutor para meus pequenos sinopses e quaisquer comentários adicionais abaixo]
[J'utilise Google Translate pour mes petites bouffées et tous les commentaires supplémentaires ci-dessous]
***
[see descriptions of my five books being translated into Spanish, in English and information about the four translators: Facebook, 7-25-16]
***
Español / Spanish 
Muchos Temas
Las Diez Preguntas Más Formuladas A Los Católicos [2002] [Top Ten Questions Catholics Are Asked]
[mi folleto éxito de ventas para la mayor editorial católica: Our Sunday Visitor/ my bestselling pamphlet for the largest Catholic publisher: Our Sunday Visitor]
La conversión del protestantismo al catolicismo / Pruebas bíblicos del catolicismo
150 Razones por las que soy Católico: Presentando 300 evidencias bíblicas que favorecen al Catolicismo [1992] (Traducido por Luis Fernando Pérez y amigos en 2002) [150 Reasons Why I am a Catholic: Featuring 300 Biblical Evidences Favoring Catholicism (revised 2005 version) ] — disponible en mi libro: Evidencias bíblicas para el Catolicismo —
Mi odisea del evangelicalismo al catolicismo [1990; revisada en 1992 y 1993] (desde el sitio web Apologética Católica; probablemente traducido por Luis Fernando Pérez) [My Odyssey from Evangelicalism to Catholicism; my original draft of my chapter in the book, Surprised by Truth] — disponible en mi libro: Evidencias bíblicas para el Catolicismo —
Newman me convenció de la Apostolicidad de la Iglesia Católica [1996] (página web Mercabá) [How Cardinal Newman Convinced me of the Apostolicity of the Catholic Church] — disponible en mi libro: Evidencias bíblicas para el Catolicismo —
Biblia y Tradición
Biblia y Tradición: Mantened la Tradición . . . [1996] (Traducido por Luis Fernando Pérez en 2000) [Bible and Tradition: Maintain the Tradition . . .] — disponible en mi libro: Evidencias bíblicas para el Catolicismo —
Sola Escritura y Juicio privado – Diálogo ficticio con un protestante [1995] (Traducido por José Miguel Arráiz en 2010) [Sola Scriptura: a Fictional Dialogue] — disponible en mi libro: Evidencias bíblicas para el Catolicismo —
Refutación de Sola Scriptura en diez pasos breves [2003] (Traducido por Alejandro Villarreal en 2008) [Quick Ten-Step Refutation of Sola Scriptura] — disponible en mi libro: Evidencias bíblicas para el Catolicismo —
Tradición no es una palabra indigna [2006] (Traducido por Alejandro Villarreal en 2008) ["Tradition" Is Not a Dirty Word] — disponible en mi libro: Evidencias bíblicas para el Catolicismo —
El "apócrifos" o Deuterocanon / Canon de la Biblia
Los "Apócrifos": ¿Porqué forman parte de la Biblia? [1996] (Traducido por Luis Fernando Pérez en 2000) ["Apocrypha": Historical Case for Canonicity] — disponible en mi libro: Evidencias bíblicas para el Catolicismo —
El Canon del Nuevo Testamento* [1996] (Traducido por Luis Fernando Pérez en 2000) [The New Testament Canon]
¿Por qué las Biblias Católicas tienen siete libros más (deuterocanónicos)?* [9-14-15] (Católico: defiende tu Iglesia: 9-13-17) [Why Do Catholic Bibles Have Seven More (Deuterocanonical) Books?]
*
*
*
*
*
*
*
*
*
La comunión de los santos y el Purgatorio
La comunión de los santos: una perspectiva bíblica [1995] (Traducido por Luis Fernando Pérez en 2000) [The Communion of Saints: Biblical Overview] — disponible en mi libro: Evidencias bíblicas para el Catolicismo —
Invocacion de los santos, esencialmente diferente de la magia y necromancia [2008] (Traducido por José Miguel Arráiz en 2012) [chapter 4 of my book, Biblical Evidence for the Communion of Saints. See an abridged, shorter version] — disponible en mi libro: Evidencias bíblicas para el Catolicismo —
Diálogo imaginario sobre el Purgatorio entre Dante el católico y Pablo el presbiteriano [1995] (Traducido por Alejandro Villarreal en 2008) [Fictional Dialogue on Purgatory] — disponible en mi libro: Evidencias bíblicas para el Catolicismo —
Fundadores del protestantismo
La Inquisición Protestante: "Reforma", Intolerancia y Persecución* [1991; rev. 2003, 2007] (Traducido por Alejandro Villarreal en 2008) [The Protestant Inquisition: "Reformation" Intolerance and Persecution]
La Revuelta Protestante: Su trágico impacto inicial* [1991; rev. 2003, 2007] (Traducido por Alejandro Villarreal en 2008) [The Protestant Revolt: Its Tragic Initial Impact]
La ciencia y el catolicismo
Galileo, mitos y hechos* [2007] (Traducido por Alejandro Villarreal en 2008) [Galileo: The Myths and the Facts]
*
Mormonismo
Diálogo con un Apologista Mormón sobre la Doctrina Cristiana de Dios y el Desarrollo Doctrinal (vs. Dr. Barry Bickmore)* [2001] (Traducido por Alejandro Villarreal en 2008) [Dialogue with A Mormon Apologist on the Christian Doctrine of God, & Doctrinal Development]
Evangelización
"La cosecha está lista": 14 consejos para el evangelismo católico [2017] (Traductor anónimo en 2017) ["The Harvest is Ready": 14 Tips for Catholic Evangelism] — disponible en mi libro: Evidencias bíblicas para el Catolicismo —
Apasionada defensa da las verdades religiosas: el dato bíblico [6-4-07] (Traducido por Juan Carlos Calero: 10-2-17) ["Passionate Defense of Religious Truths: The Biblical Data"]
Libros de Dave Armstrong disponibles en español o en proceso de traducción al español
[Dave Armstrong's books available in Spanish or currently being translated into Spanish]
*
1) ¡Revelación! 1001 Respuestas de la Biblia a Temas Teológicos / Revelation! 1001 Bible Answers to Theological Topics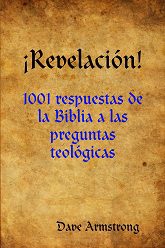 Completado en septiembre de 2016.
[Traducido por Kevin Bingaman]
Esto es esencialmente una catequesis / apologética trabajo. Escribí sobre ello en la Introducción:
La idea de que surgió en mi mente era simplemente proporcionar pasajes de la Biblia (por lo general un verso, a veces unos cuantos juntos) sería (en mi humilde opinión, de todos modos) los mejores "respuestas" a un gran número de preguntas de una sola frase.
El formato puede recordar a uno de los populares de televisión Jeopardy juego de la TV, donde los concursantes se les da una pieza de información y tienen que llegar a una pregunta que es la "respuesta" a. Mientras que la compilación, miré a pasajes de la Biblia y ideé preguntas que los pasajes "contestadas".
. . . [M] i libro consta de 18 amplias categorías (números romanos), y 200 subcategorías numeradas, en las que se encuentran las 1.001 preguntas en particular, con cada respuesta ser un pasaje de la Biblia.
Este libro se puede prácticamente funcionar como un catecismo rápida para los hispanos que quieren respuestas rápidas a las preguntas acerca de su fe, ya los retos de los protestantes. Es fácil buscar cualquier cosa que necesita ser tratado. Una herramienta muy práctica. . .
Ver la página de información del libro (contenidos y extractos) y el enlace de compra:
*
2) "La Virgen de los católicos": ¿Muy al contrario de la Biblia? / "The Catholic Mary": Quite Contrary to the Bible?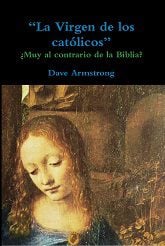 Completado en junio de 2017.
[Traducido por Lizette Sellar Moon]
*
[traductores múltiples]
Colección de 40 capítulos, con nueve categorías generales, que tratan prácticamente todos los temas principales de la apologética católica. También incluye dos versiones de mi propia historia de conversión: de protestante a católico.
*
*
português / Portugese
Conversão do protestantismo ao catolicismo Provas / bíblicos para o catolicismo
150 razões que comprovam que a única igreja verdadeira é a católica* [1992] (Tradução em 2009) [150 Reasons Why I am a Catholic: Featuring 300 Biblical Evidences Favoring Catholicism (revised 2005 version) ]
Como Newman convenceu-me a tornar-me católico* [1996]  (Tradução de Rafael Rodrigues em 2016) [How Cardinal Newman Convinced me of the Apostolicity of the Catholic Church]
Anticatolicismo
O verdadeiro Alberto Rivera* [1999] (Tradução em 2007) [Jack Chick's Lies: The Real Alberto Rivera (with a letter from an Alberto supporter and counter-reply)]
Bíblia e Tradição
Sola Scriptura e a interpretação individual – um diálogo com um protestante* [1995] (Tradução de Rafael Rodrigues em 2011) [Sola Scriptura: a Fictional Dialogue]
Onde está na Bíblia? Dez respostas católicas* [2003] (Tradução de João Marcos: 11-15-17) [Quick Ten-Step Refutation of Sola Scriptura]
Uma rápida refutação do "Sola Scriptura" em dez passos* [2003] (Tradução de Fábio Salgado de Carvalho: 10-16-16) [Quick Ten-Step Refutation of Sola Scriptura]
10 respostas rápidas para quem diz que "só vale o que está na Bíblia"* [2003] (Aleteia Brasil: 9-11-16) [Quick Ten-Step Refutation of Sola Scriptura]
A interpretação católica da Bíblia: desfazendo os mitos * [4-28-16 ] (Tradução de Fábio Salgado de Carvalho: 9-25-16) [Catholic Bible interpretation: Debunking the myths]
Igreja Católica: superior à Bíblia? ou A Igreja Católica reivindica estar "acima" da Bíblia e ser a sua "criadora"?* [9-24-15] (Tradução de Fábio Salgado de Carvalho: 9-18-16) [Catholic Church: Superior to the Bible?: Does the Catholic Church Claim to be 'Above' the Bible and Its 'Creator'?]
A liberdade do exegeta/intérprete bíblico católico (+ Passagens bíblicas que a Igreja interpretou definitivamente)* [9-14-03] (Tradução de Fábio Salgado de Carvalho: 5-1-18) [The Freedom of the Catholic Biblical Exegete / Interpreter + Bible Passages that the Church has Definitively Interpreted]
o  "Apocrypha" ou Deuterocanon / Canon da Bíblia
Citações de Calvino aos livros deuterocanônicos: Casos documentados* [2008] (Tradução de Rafael Rodrigues em 2013) [Calvin's Citations of the "Apocrypha"]
O cânone do Novo Testamento e seus processos históricos* [1996] (Tradução de Fábio Salgado de Carvalho: 11-12-17) [The New Testament Canon & Historical Processes]
o papado
50 Provas do Primado Petrino e do papado tiradas do Novo Testamento* [1994] (Tradução de Ewerton Wagner Santos Caetano em 2010) [50 New Testament Proofs for Petrine Primacy & the Papacy]
*
*
*
*
*
*
*
*
*
*
*
*
*
*
*
*
*
*
*
*
*
Descrição do Produto / Publisher's Description:
Martinho deu início à Reforma Protestante anti-Católica quando afixou suas 95 teses à porta de uma igreja na Alemanha. Agora, Dave Armstrong contra-ataca com noventa e cinco passagens pró-Católicas de uma autoridade muito maior do que Lutero: a própria Bíblia.
Descrição do Tradutor / Translator's Description:
Acabo de saber que foi publicada minha tradução do excelente livro de Dave Armstrong, em que ele defende a doutrina da Igreja Católica recorrendo ao "método Protestante", isto é, atendo-se estritamente ao texto bíblico!
Se você é Católico, precisa ler, para se defender melhor das críticas protestantes. Se você é Protestante, também precisa ler, porque certamente há muito o que aprender com o autor — um ex-Protestante convertido ao Catolicismo!
Descrição do editor americano (Sophia Institute Press) / American Publisher's Description:
Descrição do Produto / Publisher's Description:
"Onde está isso na Bíblia?"Quantas vezes nós, católicos, já escutamos essa pergunta ao discutirmos com um protestante? Isso porque muitos deles são ensinados a fazer exatamente essa indagação. Eles a vêem como um "trunfo" para nos derrotar. Muitos católicos ficam até desorientados ante o questionamento, e não sabem o que responder.Esse é um princípio muito importante do pensamento Protestante. É a ideia de que a teologia deve ser feita "somente pelas Escrituras". Eles ainda têm um nome chique em latim: sola scriptura .É hora dos católicos pararem de ser derrotados pela pergunta favorita dos fundamentalistas. Esse é o objetivo da obra "100 Argumentos Bíblicos Contra o Sola Scriptura", do grande autor americano Dave Armstrong: combater o Sola Scriptura através de sua base, a Bíblia.
Compra / Purchase:
Les livres de Dave Armstrong sont disponibles en français
[Dave Armstrong's books available in French]
***