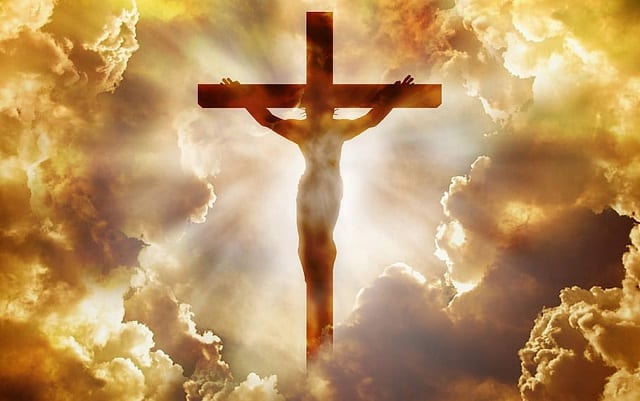 Protestants have frequently been observed to argue that we Catholics are being "morbid" and have misplaced priorities, by concentrating far too much on Jesus' sacrificial death on the cross for us (and along with that, meditating on crucifixes that depict it), since He is long since resurrected, glorified, and ascended to heaven.
Why, then, is this passage in the Bible?:
Revelation 5:6 (RSV) And between the throne and the four living creatures and among the elders, I saw a Lamb standing, as though it had been slain, . . .
Why would God want St. John to see this scene, if indeed, Protestant reasoning in this regard is true? It doesn't "fit." St. John specifically sees a "Lamb . . . slain." Also in the same context, Jesus is specifically worshiped as He is seen in this fashion:
Revelation 5:8-14 And when he had taken the scroll, the four living creatures and the twenty-four elders fell down before the Lamb, each holding a harp, and with golden bowls full of incense, which are the prayers of the saints; [9] and they sang a new song, saying, "Worthy art thou to take the scroll and to open its seals, for thou wast slain and by thy blood didst ransom men for God from every tribe and tongue and people and nation, [10] and hast made them a kingdom and priests to our God, and they shall reign on earth." [11] Then I looked, and I heard around the throne and the living creatures and the elders the voice of many angels, numbering myriads of myriads and thousands of thousands, [12] saying with a loud voice, "Worthy is the Lamb who was slain, to receive power and wealth and wisdom and might and honor and glory and blessing!" [13] And I heard every creature in heaven and on earth and under the earth and in the sea, and all therein, saying, "To him who sits upon the throne and to the Lamb be blessing and honor and glory and might for ever and ever!" [14] And the four living creatures said, "Amen!" and the elders fell down and worshiped.
This is virtually a Catholic Mass. It's not risen, glorified Jesus Who is visually present, but the slain Lamb. In the Mass, the sacrifice of the cross is made present; time is transcended. And in many Catholic Churches, the image of Jesus that is seen in front is, precisely, the crucified Jesus.
Likewise, St. Paul refers to "Christ crucified" and similar descriptions in addition to the risen, glorified Jesus:
1 Corinthians 1:22-23

For Jews demand signs and Greeks seek wisdom, [23] but

we preach Christ crucified

, a stumbling block to Jews and folly to Gentiles,
1 Corinthians 1:17-18 For Christ did not send me to baptize but to preach the gospel, and not with eloquent wisdom, lest

the cross of Christ

be emptied of its power. [18] For

the word of the cross

is folly to those who are perishing, but to us who are being saved it is the power of God.

1 Corinthians 2:1-2 When I came to you, brethren, I did not come proclaiming to you the testimony of God in lofty words or wisdom. [2] For

I decided to know nothing among you except Jesus Christ and him crucified

.

*

2 Corinthians 4:10

 always

carrying in the body the death of Jesus

, so that the life of Jesus may also be manifested in our bodies.

Galatians 2:20

I have been crucified with Christ

; it is no longer I who live, but Christ who lives in me; and the life I now live in the flesh I live by faith in the Son of God, who loved me and gave himself for me.
Galatians 6:14 But

far be it from me to glory except in the cross of our Lord Jesus Christ

, by which the world has been crucified to me, and I to the world.

*

Philippians 3:10 

that I may know him and the power of his resurrection, and

may share his sufferings, becoming like him in his death

,

*

Colossians 1:24 

Now I rejoice in my sufferings for your sake, and

in my flesh I complete what is lacking in Christ's afflictions

for the sake of his body, that is, the church, (cf. Gal 6:17)
St. Paul's focus on the cross and Jesus' sacrifice in these passages, as if it were a present reality, is very much in line with Catholic teaching, and against the notion that crucifixes distract from true worship of Jesus.
*
Unfortunately, Money Trees Do Not Exist: 
If you have been aided in any way by my work, or think it is valuable and worthwhile, please strongly consider financially supporting it (even $10 / month — a mere 33 cents a day — would be very helpful). I have been a full-time Catholic apologist since Dec. 2001, and have been writing Christian apologetics since 1981 (see 
my Resume
). My work has been proven (by God's grace alone) to be fruitful, in terms of changing lives (see the tangible evidences 
from unsolicited "testimonies"
). I have to pay my bills like all of you: and have a (homeschooling) wife and three children still at home to provide for, and a mortgage to pay.
*
My book royalties from
 three bestsellers in the field
 (published in 2003-2007) have been decreasing, as has my overall income, making it increasingly difficult to make ends meet.  I provide over 2600 free articles here, for the purpose of your edification and education, and have 
written 50 books
. It'll literally be a struggle to survive financially until Dec. 2020, when both my wife and I will be receiving Social Security. If you cannot contribute, I ask for your prayers (and "likes" and links and shares). Thanks!
*
See my 
information on how to donate
 (including 100% tax-deductible donations). It's very simple to contribute to my apostolate via PayPal, if a tax deduction is not needed (my "business name" there is called "Catholic Used Book Service," from my old bookselling days 17 or so years ago, but send to my email: apologistdave@gmail.com). Another easy way to send and receive money (with a bank account or a mobile phone) is through 
Zelle
. Again, just send to my e-mail address. May God abundantly bless you.
*
***
*
Photo credit:
[public domain /
Piqsels
]
*
***