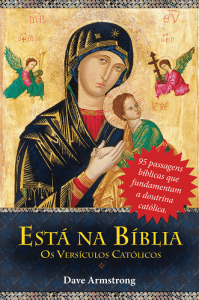 [see book and purchase information]
Francisco Tourinho is a Brazilian Calvinist apologist. He described his theological credentials on my Facebook page:
I have the respect of the academic community for my articles published in peer review magazines, translation of unpublished classical works into Portuguese and also the production of a book in the year 2019 with more than 2000 copies sold (with no marketing). In addition I have higher education in physical education from Piauí State University and theology from the Assemblies of God Biblical Institute, am currently working towards a Masters from Covenant Baptist Theological Seminary, and did post-graduate work at Dom Bosco Catholic University. Also, I am a professor in the Reformed Scholasticism discipline at the Jonathan Edwards Seminary in the postgraduate course in Philosophical Theology. [edited slightly for more flowing English]
My previous replies:
Justification: A Catholic Perspective (vs. Francisco Tourinho) [6-22-22]
Reply to Francisco Tourinho on Justification: Round 2 (Pt. 1) [+ Part 2] [+ Part 3] [7-19-22]
This is an ongoing debate, which we plan to make into a book, both in Portugese and English. Francisco's words will be in blue. Mine from my previous installment will be in green. I will try very hard to cite my own past words less, for two reasons: 1) the sake of relative brevity, and 2) because the back-and-forth will be preserved in a more convenient and accessible way in the book (probably with some sort of handy numerical and index system).
In instances where I agree with Francisco, there is no reason to repeat his words again, either. I'll be responding to Francisco's current argument and noting if and when he misunderstood or overlooked something I think is important: in which case I'll sometimes have to cite my past words. I use RSV for all Bible passages (both mine and Francisco's) unless otherwise indicated.
His current reply is entitled, Justificação pela fé: perspectiva protestante (contra Armstrong): Rodada 3. Parte 1. [Justification by Faith: Protestant Perspective (Contra Armstrong): Round 3. Part 1] (10-12-22). Note that he is replying only to Part I of my previous Round 2 reply. When he writes his replies to my Parts II and III and I counter-reply, the debate will be completed, by mutual agreement, except for brief closing statements. I get the (rather large) advantage of "having the last word" because Francisco chose the topic and wrote the first installment.
I would like the reader to pay attention to the fulcrum of my argument. Any reader is "authorized" to overlook any detail except this one: the perfect work of Jesus Christ on Calvary's cross!
Yes, of course it's perfect because we're talking about God.
The foundation of Sola Fide (justification by faith alone) is the perfect work of Jesus on the cross. For only by faith can we receive Jesus Christ, and in receiving Jesus, we also receive his merits and his righteousness. How then are we not already perfectly justified the moment we receive it?
We are in initial justification, but then a process is involved whereby we continually appropriate the perfect work of Jesus on the cross. I have already demonstrated this with much Scripture.
A process of justification in which works also justify when accompanied by faith denies the perfection of Christ's sacrifice on the cross, as it would have as a logical consequence the teaching that Christ is not enough, since my works must conquer something that Christ did not give me. Only by his death. Jesus Christ, the Just, transfers his righteousness to us, while taking our sin upon himself. Read the text with this in mind, for I will repeat this point several times, not for the absence of others, but for its gigantic importance.
It's fine to repeat an emphasis, as long as readers bear in mind that mere repetition adds nothing substantive to an existing argument. St. Paul is the one who clearly teaches some sort of process involved in justification and salvation. Yes, the work of Christ on the cross is perfect and sufficient for any person who accepts the grace to be saved. But the acceptance and application of it to persons (especially in Pauline theology) is not instant, and requires our vigilant effort:
Romans 8:17 (RSV) and if children, then heirs, heirs of God and fellow heirs with Christ, provided we suffer with him in order that we may also be glorified with him.

1 Corinthians 9:27  but I pommel my body and subdue it, lest after preaching to others I myself should be disqualified.

1 Corinthians 10:12 Therefore let any one who thinks that he stands take heed lest he fall.

Philippians 3:11-14  that if possible I may attain the resurrection from the dead. Not that I have already obtained this or am already perfect; but I press on to make it my own, because Christ Jesus has made me his own. Brethren, I do not consider that I have made it my own . . . I press on toward the goal for the prize of the upward call of God in Christ Jesus. 

Colossians 1:22-24 he has now reconciled in his body of flesh by his death, in order to present you holy and blameless and irreproachable before him, [23] provided that you continue in the faith, stable and steadfast, not shifting from the hope of the gospel which you heard, which has been preached to every creature under heaven, and of which I, Paul, became a minister. [24] Now I rejoice in my sufferings for your sake, and in my flesh I complete what is lacking in Christ's afflictions for the sake of his body, that is, the church,

Hebrews 3:14 For we share in Christ, if only we hold our first confidence firm to the end. 

Hebrews 10:39 But we are not of those who shrink back and are destroyed, but of those who have faith and keep their souls.

Revelation 2:10 Be faithful unto death, and I will give you the crown of life.
If I have mentioned some of these before, they can be omitted in the book version. At this point, it's too tedious to go back and check.
Contrary to what I have defined, Mr. Armstrong does not make a practical – or even theoretical – difference between justification and sanctification, although at times he claims to be different things, using the terms interchangeably in his exegesis of Biblical texts. As we will see later, he fails to demonstrate the difference between one and the other.
They are organically connected; two sides of the same coin: just as faith and works and Bible and tradition are. But distinctions can be made (I agree). In fact, I offered a meticulous definition of both in my previous reply (search "I'm glad to do so" to find it). I cited my first book, which is semi-catechetical; massively citing the Catechism of the Catholic Church and Trent. Here are brief definitions from that treatment, citing my own words in my book:
Justification . . . is a true eradication of sin, a supernatural infusion of grace, and a renewal of the inner man. [derived from: CCC #1987-1992;  Trent, Decree on Justification, chapters 7-8]

Sanctification is the process of being made actually holy, not merely legally declared so. [CCC, #1987, 1990, 2000]
I fleshed it out much further. I fail to see how this is insufficient for our task of debating the definitions and concepts, or how I could be any clearer than I was.
I made it clear last time what the practical effect was when I said in my previous article: if justification is a forensic statement in which the merits of Christ are all imputed to me through faith, then I can have peace with God, as St. in Romans 5:1: "Justified through faith, we have peace with God through our Lord Christ Jesus." If Christ fulfilled the Law and also had perfect obedience, then his merits are perfect when imputed to me and I can therefore have peace with God – the just for the unjust. This peace will not be obtained if justification is a lifelong process, not without great difficulty. 
This is mere repetition, thus adding nothing to the debate. I already addressed it, and I did again, above, with eight biblical passages. That's my "problem." I can't figure out a way to ignore and dismiss so many scriptural passages that expressly contradict Protestant soteriology.
When will I be righteous before God if my justification also depends on my good works? How many good works will I have to do to be considered righteous before God?
We don't need to know that. All we need to know and do is to "press on toward the goal" and "continue in the faith, stable and steadfast": as the Apostle Paul did (Phil 3:14 and Col 3:23), because justification is not yet "obtained" (Phil 3:12). We have to "keep our eyes on Jesus": as we used to say as evangelicals. And we have to do this "lest" we "should be disqualified" (1 Cor 9:27). We also have to "suffer with" Jesus in order to be God's "children" and "heirs of God" (Rom 8:17).
Paul — as always — is very straightforward, matter-of-fact, and blunt about all this (one of the million things I love about him). None of this suggests (to put it mildly) instant, irrevocable justification.
Although faith is not against works, they are exclusive with regard to the causes of justification, sanctification and salvation before God, for Saint Paul says: "For by grace you have been saved through faith, and that not of yourselves. , it is the gift of God; does not come through works, so that no one may boast on this account." Eph 2.8,9
This is referring to initial justification, as I believe (without looking!), as indicated in context by 2:5 ("we were dead through our trespasses"), that I have noted before in this debate. The very next verse (which Protestants habitually omit) shows the organic connection:
Ephesians 2:10 For we are his workmanship, created in Christ Jesus for good works, which God prepared beforehand, that we should walk in them.
I had a dear late devout Baptist (and Marxist!) friend, who always would point out how Protestants leave out Ephesians 2:10.  It doesn't explicitly state here that these works are indirectly tied to salvation, in conjunction with grace and faith, but that idea occurs elsewhere, many times, as I have already shown.
Good works are not formal causes of salvation at any time, but only manifestations of the transformation that God makes in us, for the working follows the Being. Therefore even holy works must be the fruits of holiness, not the cause of it. To say that works are the cause of salvation, therefore, of holiness, is Pelagianism, since every good work of supernatural value presupposes grace, and the action of grace presupposes an enablement, therefore, a sanctification. Mr. Armstrong seems to forget this Biblical and metaphysical principle: the good fruit is the effect of the good tree and not the other way around; on the other hand, we know the good tree by its fruits.
The Bible teaches us (fifty times!) that works play a key role in whether one is saved and allowed to enter heaven or not. I've already gone through that reasoning in depth. What is most striking about the fifty passage is that faith alone is never mentioned as the cause for salvation. "Faith" by itself is mentioned but once: in Revelation 21:8, which includes the "faithless" among those who will be damned for eternity. Even there it is surrounded by many bad works that characterize the reprobate person. If Jesus had attended a good Protestant seminary and gotten up to speed on His soteriology, Matthew 25 would have read quite differently; something like the following:
Then I saw a great white throne and Him who sat upon it, from whose presence earth and heaven fled away, and no place was found for them. And I saw the dead, the great and the small, standing before the throne, and books were opened; and another book was opened, which is the book of life; and the dead were judged from the things which were written in the books, according to whether they had Faith Alone. And the sea gave up the dead which were in it, and death and Hades gave up the dead which were in them; and they were judged, every one of them according to whether they had Faith Alone.
Instead, we hear from our Lord Jesus all this useless talk about works, as if they had anything to do with salvation! Doesn't Jesus know that works have no connection to salvation whatsoever, and that sanctification and justification are entirely separated in good, orthodox evangelical or Calvinist theology? Maybe our Lord Jesus attended a liberal synagogue. Why does Jesus keep talking about feeding the hungry, giving water to the thirsty, inviting in strangers, clothing the naked, visiting prisoners, and being judged "according to their deeds"? What in the world do all these "works" have to do with salvation? Why doesn't Jesus talk about Faith Alone??!! Something is seriously wrong here.
We have a serious problem here, for from the beginning I accuse the theology of Rome of equating justification and sanctification.
We make a sharp differentiation between initial and subsequent justification; and at least some distinction between sanctification and justification.
Mr. Armstrong denies, according to his statements, that justification is the same as sanctification, but maintains that the two are so intertwined that one cannot exist without the other, something with which I need not disagree at all.
Good!
Nevertheless, I maintain that the issue is not exactly this, but that we do not see the difference between one and the other in their definitions or in their practical applications. When he says that justification is "a true eradication of sin . . . and a renewal of the inward man," the concept used here does not differ from sanctification.
Yes, precisely because we believe in infused and intrinsic justification, whereas Protestants believe only in declarative, imparted, and extrinsic justification. Baptist theologian Augustus Strong explains Protestant justification very well:

. . .  a declarative act, as distinguished from an efficient act; an act of God external to the sinner, as distinguished from an act within the sinner's nature and changing that nature; a judicial act, as distinguished from a sovereign act; an act based upon and logically presupposing the sinner's union with Christ, as distinguished from an act which causes and is followed by that union with Christ. (Systematic Theology, Westwood, New Jersey: Fleming H. Revell, 1967; originally 1907, 849)
So does Presbyterian theologian Charles Hodge:
It does not produce any subjective change in the person justified. It does not effect a change of character, making those good who were bad, those holy who were unholy. That is done in regeneration and sanctification . . . It is a forensic or judicial act . . . It is a declarative act in which God pronounces the sinner just or righteous . . . (Systematic Theology, abridged one-volume edition by Edward N. Gross, Grand Rapids, Michigan: Baker Book House, 1988; originally 1873, 3 volumes; 454)
But Catholics believe that justification actually does something in souls, based on the Bible:
Romans 5:19 For as by one man's disobedience many were made sinners, so by one man's obedience many will be made righteous.

1 Corinthians 6:11 But you were washed, you were sanctified, you were justified in the name of the Lord Jesus Christ and in the Spirit of our God.

2 Corinthians 5:17 Therefore, if any one is in Christ, he is a new creation; the old has passed away, behold, the new has come. (cf. Gal 6:15)

Titus 2:14 Who gave himself for us, that he might redeem us from all iniquity, and purify unto himself a peculiar people, zealous of good works.

Titus 3:5-7 he saved us, not because of deeds done by us in righteousness, but in virtue of his own mercy, by the washing of regeneration and renewal in the Holy Spirit, [6] which he poured out upon us richly through Jesus Christ our Savior, [7] so that we might be justified by his grace and become heirs in hope of eternal life.

2 Peter 1:9 For whoever lacks these things is blind and shortsighted and has forgotten that he was cleansed from his old sins.

Acts 22:16 And now why do you wait? Rise and be baptized, and wash away your sins, calling on his name.
I made an argument about the last verse in my book, A Biblical Defense of Catholicism (completed in 1996; published in 2003):
The Protestant has difficulty explaining this passage, for it is St. Paul's own recounting of his odyssey as a newly "born-again" Christian. We have here the Catholic doctrine of (sacramental) sanctification/justification, in which sins are actually removed. The phraseology "wash away your sins" is reminiscent of Psalm 51:2, 7; 1 John 1:7, 9 ["the blood of Jesus his Son cleanses us from all sin. . . . will forgive our sins and cleanse us from all unrighteousness"] and other similar texts dealing with infused justification, . . .

According to the standard Evangelical soteriology, the Apostle Paul would have been instantly "justified" at the Damascus-road experience when he first converted (almost involuntarily!) to Christ (Acts 9:1-9). Thus, his sins would have been "covered over" and righteousness imputed to him at that point. If so, why would St. Paul use this terminology of washing away sins at Baptism in a merely symbolic sense (as they assert), since it would be superfluous? The reasonable alternative, especially given the evidence of other related scriptures, is that St. Paul was speaking literally, not symbolically. (p. 39)
Francisco cites my definition:
Sanctification is the process of being made actually holy, not merely legally declared so. [4] It begins at Baptism, [5] is facilitated by means of prayer, acts of charity and the aid of sacraments, and is consummated upon entrance to Heaven and union with God. [6] . . .
But what is the difference between this definition of sanctification and the definition of justification?
They're very close, as I have said, since our infused justification is essentially how you define sanctification.
Worthy of special attention is the denial of legal declaration, i.e., the denial of the imputation of Christ's merits to man, a point to which I will return shortly.
Trent didn't preclude any imputation whatsoever. I have had an article about this topic since 1996 on my blog. It was written by Dr. Kenneth Howell, who obtained a Master of Divinity degree from Westminster Seminary, a doctorate in history, and was Associate Professor of Biblical Languages and Literature at Reformed Theological Seminary in Jackson, Mississippi and Associate Professor of Religious Studies at the University of Illinois. He wrote:
Trent does not exclude the notion of imputation. It only denies that justification consists solely in imputation. The relevant canons are numbers 9-11. Canon 9 does not even deny sola fide completely but only a very minimal interpretation of that notion. I translate literally:

If anyone says that the impious are justified by faith alone so that he understands [by this] that nothing else is required in which [quo] he cooperates in working out the grace of justification and that it is not necessary at all that he be prepared and disposed by the movement of his will, let him be anathema.

Canon 9 then only anathematizes such a reduced form of faith that no outworking of that faith is necessary. This canon in no way says that imputation is not true but only that it is heretical to hold that justification consists solely in imputation.

I am puzzled why anyone would say that extrinsic righteousness might be excluded by Trent. The only righteousness that justifies is Christ's. But Catholic theology teaches that what is Christ's becomes ours by grace. In fact Canon 10 anathematizes anyone who denies that we can be justified without Christ's righteousness or anyone who says that we are formally justified by that righteousness alone. Here's the words:

If anyone says that men are justified without Christ's righteousness which he merited for us or that they are formally justified by it itself [i.e. righteousness] ['per eam ipsam'], let him be anathema.

Canon 10 says that Christ's righteousness is both necessary and not limited to imputation i.e. formally. So, imputation is not excluded but only said to be not sufficient.

With regard to imputation, if Trent indeed excludes it, I am ready to reject it. But the wording of the decrees does not seem to me to require this.

How could I become a Catholic if I still thought imputation was acceptable? Because I came to see that the rigid distinction between justification and sanctification so prominent in Reformation theologies was an artificial distinction that Scripture did not support. When one takes into account the whole of Scripture, especially James' and Jesus' teaching on the necessity of perfection for salvation (e.g. Matt 5;8), I realized that man cannot be "simul justus et peccator." Transformational righteousness is absolutely essential for final salvation. . . .

The Protestant doctrine, it seems to me, has at least two sides. Imputation is the declaration of forgiveness on God's part because of Christ's work but it is also a legal fiction that has nothing immediately to do with real (subjective) state of the penitent. Now I think the declaration side of imputation is acceptable to Trent but not the legal fiction side. The difference between the Tridentine and the Reformation views, in addition to many other aspects, is that in the latter view God only sees us as righteous while in the former, Christ confers righteousness upon (and in) us.

There is another reason why I think imputation is not totally excluded but is acceptable in a modified form. Canon 9 rejects sola fide but, as we know, Trent does not reject faith as essential to justification. It only rejects the reductionism implied in the sola. So also, canon 11 rejects "sola imputatione justitiae Christi and sola peccatorum remissione." Surely Trent includes remission of sins in justification. Why would we not say then that it also includes imputation of Christ's righteousness? If faith (canon 9) and remission of sins (canon 11) are essential to justification, then should we not also say that imputation of Christ's righteousness is also necessary? . . .

What is wrong with the Reformation view then? It is the sola part. Faith is essential but not sola fide. Remission of sins is essential but not sola remissione. Imputation via absolution is essential but not sola imputatione.
See my related articles:
Council of Trent: Canons on Justification (with a handy summary of Tridentine soteriology) [12-29-03]
Initial Justification & "Faith Alone": Harmonious? [5-3-04]
Monergism in Initial Justification is Catholic Doctrine [1-7-10]
Salvation: By Grace Alone, Not Faith Alone or Works [2013]
I agree that the sacraments confer grace and that we feed on the body of Christ, but not without the help of faith and freedom. We Protestants reject the passivity of the human being in receiving grace through the sacraments and, although this is not the appropriate place for this debate, I take the opportunity to ask: when the Roman Catholic feeds on Christ, does he not believe that he feeds on Christ? if also of its merits? Or is the Christ of the Eucharist not the crucified, dead and risen Christ? Does the Christ of the Eucharist come without the merits earned by his obedient life and death on the cross? And if he comes with the merits of his obedience and death, how can anyone not be perfectly justified if Christ himself with his righteousness is in us?
We believe that the infinite merits of Christ were received upon initial justification, which is monergistic and includes imputation, as just explained.
Saint Paul says: "And if Christ is in you, the body is dead because of sin, but the spirit lives because of righteousness." Romans 8:10
That sure sounds like infused, not imputed justification, to me.
To deny the present perfection of justification is to deny the real presence of Christ in the Eucharist and this logical consequence is devastating for the Roman Catholic.
It's not at all, per the reasoning and Bible passages I have already presented in this reply. Catholics have a moral assurance of salvation, which for all practical purposes, isn't all that different from Protestants' belief in a past justification. We simply acknowledge, with Paul, that we have to remain vigilant, so we don't fall away from faith and grace. Calvinists have the insuperable burden of having to rationalize and explain away the many verses along those lines. I never accepted eternal security or perseverance of the saints (though I came close and thought that only deliberate rejection of Christ would cause apostasy), which is why I was an Arminian evangelical. I was making arguments against Calvinism in the early 1980s. But I've also been positively influenced by many great Reformed Protestant theologians.
The idea that there is merit to be rewarded (congruity or condignity) presupposes a self-originating work, . . . 
I used the phrase "self-originated works" — in context — with the meaning of "without God's prior enabling grace." I was opposing (as the Catholic Church does) Pelagianism and works-salvation but not works altogether, which obviously involve human free will and choice.
To say that there is merit to be rewarded is against Christian ethics from every angle. To paraphrase Luther: there is no merit, either of congruity or of condignity; all merit belongs to Christ on the cross. But the Church of Rome teaches that the person has merit, contrary to what is said: "that God crowns his own merits".
Yes, St. Augustine wrote that, and it perfectly harmonizes with our conception of merit. I've written many articles about merit, as taught in the Bible. Here are some of those:
Catholic Merit vs. Distorted Caricatures (James McCarthy) [1997]
Does Catholic Merit = "Works Salvation"? [2007]
Catholic Bible Verses on Sanctification and Merit [12-20-07]
Our Merit is Based on Our Response to God's Grace [2009]
Merit & Human Cooperation with God (vs. Calvin #35) [10-19-09]
Scripture on Being Co-Workers with God for Salvation [2013]
The Bible Is Clear: Some Holy People Are Holier Than Others [National Catholic Register, 9-19-22]
God crowns his own merits, not the merit that man has earned; God crowns Christ, and the merits we have are all of Christ and received by faith, not works, which is why we have no merit.
I contend that that's not what the Bible teaches. The Old Testament refers to "the righteous" 136 times and the New Testament uses the same sense 15 times. Every time that occurs, merit is present: someone has achieved a relatively better status under God, with regard to an attainment of greater grace and righteousness and less sin. They've done meritorious actions (all of which were necessarily preceded by the grace of God, to enable them) and have been rewarded for them. That's merit (and God's lovingkindness).
I've also written about the biblical teaching on differential grace offered by God. Lastly, I would note that Protestants themselves believe in differential rewards received in heaven (see, e.g., Lk 14:13-14; 2 Cor 5:10), which is no different — except for the place it occurs — from our notion of merit. Here are many passages proving that merit is biblical teaching:
Psalm 18:20-21 The LORD rewarded me according to my righteousness; according to the cleanness of my hands hath he recompensed me. [21] For I have kept the ways of the LORD, and have not wickedly departed from my God.

2 Samuel 22:21 The LORD rewarded me according to my righteousness; according to the cleanness of my hands he recompensed me.

Jeremiah 32:19 . . . whose eyes are open to all the ways of men, rewarding every man according to his ways and according to the fruit of his doings;

Matthew 5:20 For I tell you, unless your righteousness exceeds that of the scribes and Pharisees, you will never enter the kingdom of heaven.

Matthew 6:3-4 But when you give alms, do not let your left hand know what your right hand is doing, [4] so that your alms may be in secret; and your Father who sees in secret will reward you.

Matthew 19:29 And every one who has left houses or brothers or sisters or father or mother or children or lands, for my name's sake, will receive a hundredfold, and inherit eternal life.

1 Corinthians 15:10 But by the grace of God I am what I am, and his grace toward me was not in vain. On the contrary, I worked harder than any of them, though it was not I, but the grace of God which is with me.

Ephesians 6:6-8 . . . as servants of Christ, doing the will of God from the heart, [7] rendering service with a good will as to the Lord and not to men, [8] knowing that whatever good any one does, he will receive the same again from the Lord, . . .

Philippians 2:12-13 Therefore, my beloved, as you have always obeyed, so now, not only as in my presence but much more in my absence, work out your own salvation with fear and trembling; [13] for God is at work in you, both to will and to work for his good pleasure.

1 Timothy 4:16 Take heed to yourself and to your teaching; hold to that, for by so doing you will save both yourself and your hearers.

2 Timothy 2:15, 21 Do your best to present yourself to God as one approved, a workman who has no need to be ashamed, rightly handling the word of truth. . . . [21] If any one purifies himself from what is ignoble, then he will be a vessel for noble use, consecrated and useful to the master of the house, ready for any good work.
What differentiates one man from another is grace, not the works that each one does, and therefore the one to whom God has bestowed more grace is holier, more just, and more pure, for doing good is an effect of being already transformed by grace, not the cause of grace's transformation.
We agree on differential grace. We Catholics don't believe that good works cause grace, but that it's the other way around. We disagree on whether man can get credit or merit for good works. I think it's perfectly clear in the Bible that we do obtain such merit and reward (see above). We work together with God and He rewards us for so doing. It's "both/and": not the false dichotomy of "either/or."
Works, therefore, cannot be the cause of justification or sanctification, whence we conclude that it is only by faith in Christ that one is justified, and by grace alone are we sanctified, there being no merit on our part.
I've shown with 50 Bible passages that works play a central role in determining who will be eschatologically saved. But they are in conjunction with grace and faith. I'm providing tons of Holy Scripture. My proofs are inspired. :-)
I agree that the doctrine of works as the cause of salvation is Pelagianism, but is it not Mr. Armstrong who teaches that faith alone is insufficient to justify man? Is it not Mr. Armstrong who maintains that works are also causes of salvation?
Voluntary grace-originated works in regenerated, initially justified Christians are perfectly biblical, and required in the overall mix to be saved. I've shown that, and it hasn't been overthrown by contrary Scripture (precisely because the Bible doesn't contradict itself). Pelagianism is completely different. It falsely claims that man can start the process of doing good; but only God can start that process. It's works without grace, lifting ourselves up by our own bootstraps: nothing that anyone should depend on. We simply don't teach works without grace. We believe in Grace Alone (as the ultimate cause of salvation and all good things), as Protestants do.
[I]n spite of having already demonstrated it before, I will quote again some verses that prove the existence of a justification before men . . . 
If it was done "before," then I'm sure I answered before, in which case, 1) I need not answer again, and 2) Francisco needs to answer my counter-replies, rather than simply repeat his arguments, and 3) we ought not bore our readers by repeating "old news." Repetition does not make any argument stronger. It works for propaganda, political campaigns, and television commercials, but not in reasoned debate about Christian theology. It suggests the weakness of one's case.
I do not question the legitimacy of anyone objecting that justification before God is not acquired by faith alone, but to deny the necessity of a good testimony for men also to consider us righteous is indeed a surprise to me. Does Mr. Armstrong believe that our witness to the world is irrelevant? Does he deny that men also consider us fair when they see our behavior change?
No to both questions (being such a witness myself, as my vocation and occupation); I just don't think that's what the Bible is referring to when it refers to justification. When I replied to these arguments that are now being repeated, as I recall, usually context proved my point.
The debate must revolve around our justification before God, whether it is by faith alone, which I claim, or whether it is by faith and works, which Mr. Armstrong claims, but to deny that there is a justification before men is an extreme that cause astonishment. Ask "where is this distinction found in Holy Scripture?" It is the same as saying: there is no teaching in Scripture of the need for a good witness before men, when Scripture says: "You are the light of the world; a city built on a hill cannot be hidden; Nor do you light a lamp and put it under a bushel, but on a candlestick, and give light to everyone in the house. Let your light so shine before men, that they may see your good works, and glorify your Father which is in heaven."
The witness is all well and good and quite necessary. I would use the same proof texts for that. But I don't see that this is justification in any sense. The phrases "justification before men" and "justified before men" never occur in the New Testament (RSV), and it seems to me that they would if this was supposed to be a biblical teaching. Francisco cites another passage:
1 Peter 2:12 Maintain good conduct among the Gentiles, so that in case they speak against you as wrongdoers, they may see your good deeds and glorify God on the day of visitation.
Once again, this is simply successful evangelistic strategy. If anything, it would fit under the Protestant category of sanctification: supposedly completely distinct from justification.
My goal [by citing Calvin] was to bring a definition in line with Reformed theology, so that no one accuses me of inventing concepts or making any inaccuracy about what I am advocating. This is not against the rules of debate. . . . I quote Scripture and I also quote John Calvin in support, not as a foundation of what I believe. I quote John Calvin because I believe what he stands for agrees with Scripture, . . . 
I agree. I just cited Strong and Hodges (and Louis Bouyer and Kenneth Howell), so Calvin can also certainly be cited for the purpose of definitions. We have to give each other a little leeway. My rules were designed so that things didn't get out of hand and go off in all directions.
The same words can have different meanings, and I believe that's the case here.
I agree again. And we both need to work hard to accurately understand the definitions of the other side.
I claim that there is a deviation of focus here, as my objection has not been answered. My contention is that there is a practical difference whether we believe otherwise, to which Mr. Armstrong responds by making a defense of justification as a process and not by imputation. Mr. Armstrong, to answer my question, should show why there are no practical differences even though there are theoretical differences. Instead, he only ratified the theoretical differences and did not show how these differences do not impose practical differences.
Fair enough. I would answer that the "peace" that Catholics have, within a paradigm of justification and salvation as lifelong processes, is our moral assurance of salvation. I linked to an article about that before, but for the sake of our book I'll actually cite its words now:
We're not out to sea without any hope or joy, because we're not absolutely certain of our salvation. God wants us to be vigilant and to persevere. This is a good thing, not a bad thing, because human beings tend to take things for granted and to become complacent. Unfortunately, much of the Protestant theology of salvation (soteriology) caters to this human weakness, and is too simplistic (and too unbiblical).
Bottom line: in a practical, day-to-day "walk with Christ as a disciple" sense, Catholics (broadly speaking) are — or can be — every bit as much at peace and joyful and "secure" in Christ, with an expectation of salvation and heaven in the end, as any Protestant. I've experienced it myself in my own life. I don't sit around worrying whether I'll wind up in hell. I simply do my best by God's grace and the guidance of the indwelling Holy Spirit to love and follow and worship God and love my fellow man, and share the Good News with as many as I can through my writing. I trust that God is merciful, and I know how good He has always been to me (and now my family): true to His promises and filled with blessings for us that we can't even imagine: both in this life and the next. All praise and honor and glory to our wonderful God!
Francisco responded to a number of Bible passages that I brought up. He complained that I went off-topic. I did, a little (as I can see now), but I was replying directly to his comment, "This peace will not be obtained if justification is a lifelong process" with a list of passages showing that it is exactly that. If that point is established, then Francisco has to grapple with what he sees as a disconnect between the process of justification and spiritual peace. The first passage he examined was Romans 8:13-17.
What Mr. Armstrong calls justification, I call sanctification. Incidentally, there is no mention of the word justification in this verse. 
One doesn't need the exact word for the concept to be present. The passage refers to "sons of God," "children of God," "heirs of God," and "fellow heirs with Christ": all of which are perfectly compatible with being justified in the Protestant definition (and much more so than to their category of sanctification). None of those titles would apply to a non-justified person in that schema. So this is a moot point.
This initial grace, which already transforms because it is monergistic (to use the author's own term), can be rejected. Here, however, we have a logical problem. Pay attention: if it is grace that grants faith, and this initial justification is monergistic, how can man not believe if faith is already in grace? Can a man have faith and not believe? And if man needs not to resist grace so that he can have faith, then this grace needs the concurrence of freedom, not being monergistic, but synergistic.
We agree, which is why Catholics agree with Protestants (particularly Calvinists) with regard to the predestination of the elect. God has to do this initial work. That's what I've been saying over and over. It's a great area of agreement.
*
*
*
Luke 6:43-45 "For no good tree bears bad fruit, nor again does a bad tree bear good fruit; [44] for each tree is known by its own fruit. For figs are not gathered from thorns, nor are grapes picked from a bramble bush. [45] The good man out of the good treasure of his heart produces good, and the evil man out of his evil treasure produces evil; for out of the abundance of the heart his mouth speaks."
*
I agree that this is before men, but again, why classify it as its own category of "justification before men"? Why not classify it under the Protestant conception of sanctification, since it refers to "good fruit" and producing "good"? I don't understand why a third category is created. Three chapters earlier, Jesus said a related thing:
Luke 3:9 Even now the axe is laid to the root of the trees; every tree therefore that does not bear good fruit is cut down and thrown into the fire. (cf. Mt 3:10; 7:19)
*
*
Francisco then commented at length on this same topic, citing James 3:12; Matthew 11:16-19; and Romans 11:16. Again, I agree that there is a witness before men; I don't see how that is justification in the secondary Protestant sense. If it's regarded as such within the Protestant paradigm, it could have nothing to do with salvation, because they've already removed works altogether from that scenario. I dealt with the proposed supporting data in James at length in my last reply.
*
*
*
*
We need not posit this (though it, too, is a common biblical motif, that I am often pointing out to atheists, who don't get it). God rewards those who do good, and (eventually) punishes and (if repentance never occurs) sentences to hell those who reject Him and act badly. That is a theme throughout the entire Bible.
*
*
*
This need not get into predestination and the timelessness of God, etc. It's simple: either we willingly suffer with God, or else we won't be His children, heirs, etc. (i.e., we won't be saved or in the elect). God knows from all eternity who will do this, so I would say that He simply chooses not to predestine those who won't. But from where we sit, we either obey Him and suffer with Him or we will be lost. He gives us that choice. Paul uses the very familiar biblical conditional again in asserting: "if by the Spirit you put to death the deeds of the body you will live" (Rom 8:13). We have to do certain things to gain eternal life. It's not just abstract belief and assent. Faith without works is dead.
*
*
*
*
*
*
*
*
*
*
*
*
*
He also got baptized, even though He had no need to, since it regenerates and follows repentance and He had no need for either. Some things He did simply as an example.
*
*
Nonsense. He couldn't and can't fall because He is God, and therefore impeccable. I've never claimed nor remotely implied otherwise. I defend the classical attributes of God; always have in my 41 years of apologetics.
*
*
*
*
The elect cannot fall away by definition, because the word means that they are eschatologically saved, and predestined to be so.
*
*
*
2 Timothy 4:6-8 For I am already on the point of being sacrificed; the time of my departure has come. [7] I have fought the good fight, I have finished the race, I have kept the faith. [8] Henceforth there is laid up for me the crown of righteousness, which the Lord, the righteous judge, will award to me on that Day, and not only to me but also to all who have loved his appearing.
*
*
After one has examined himself and made sure no conscious serious sin is being committed, and particularly after confession and absolution. The peace is not conditional on being perfect, and even ultimate salvation is based on not being in serious sin: as Paul warns about (passages that refer to sins that prohibit one from heaven). As I contended above, Catholics have just as much peace and joy and assurance of salvation as any Protestant: who is no more "certain" of salvation than we are, since he or she doesn't infallibly know the future. All that any of us can do is to make sure we are not involved in serious sin.
*
*
*
*
*
*
*
Ecclesiastes 12:14 For God will bring every deed into judgment, with every secret thing, whether good or evil.
*
*
*
*
*
The fifty taken together overwhelmingly show that good works play a very important role in the whole equation.
*
*
*
*
That's not what Paul states:
*
*
*
Francisco then ignored no less than 22 (44%!) more of my fifty passages, which again violates our agreement to engage each other point-by-point (No. 3 in the suggested rules). I insisted on that rule precisely because I know from long experience that Protestants quite often engage in this sort of selective, pick-and-choose response. The only good thing about it is that this reply can be shorter. I'm already at nearly 12,000 words. Francisco stated as his reason for the mass dismissal:
*
*
Calvinists, too, are notorious for the droning sameness of their arguments. I could just about make them myself, they are so familiar.
*
*
I answered that earlier. It's the wrong question to ask and presupposes caricatures of Catholic soteriology.
*
*
*
*
*
Francisco then partially responded to my summary of fifty attributes that the Bible teaches are connected with being saved at the last judgment. I introduced them as follows:
[H]ow would we properly, biblically answer the unbiblical, sloganistic question of certain evangelical Protestants?: "If you were to die tonight and God asked you why He should let you into heaven, what would you tell Him?" Our answer to his question could incorporate any one or all of the following 50 responses: all drawn from the Bible, all about works and righteousness, . . . 
*
*
*
*
*
*
*
Good ways somehow came out as "manners" in the translation to Portugese. "Good ways" is simply referring to being good and righteous, rather than a thing like manners that is indeed culturally relative. It looks like I substituted "good ways" for "doings" in Jeremiah 4:4, because we don't say in English, "we have good doings." It's still the same thought.
*
*
*
He engaged in the same wrongheaded legalism in individual counter-questions for #18-22, then grouped together #23-28 and did the same thing. He grouped #29-34, and seemed to ignore #29-32, in his response, which appeared to be to #33 and #34:
*
1 Thessalonians 3:12-13 . . . may the Lord make you increase and abound in love to one another and to all men, as we do to you, so that he may establish your hearts unblamable in holiness before our God and Father, at the coming of our Lord Jesus with all his saints.

1 Thessalonians 5:23 May the God of peace himself sanctify you wholly; and may your spirit and soul and body be kept sound and blameless at the coming of our Lord Jesus Christ.
John 15:12 This is my commandment, that you love one another as I have loved you. (cf. 13:34)
Paul again states in Ephesians 1:4 that we should be "we should be holy and blameless before him." My list numbers 33 and 34 merely repeated what the Bible already taught.
*
*
*
2 Thessalonians 1:8 inflicting vengeance upon those who do not know God and upon those who do not obey the gospel of our Lord Jesus.
*
*
Again, he totally misses the point. I dealt at great length and in great depth with James 2:10 ("For whoever keeps the whole law but fails in one point has become guilty of all of it") last time. No need to do so again now.
*
*
*
Matthew 23:23 Woe to you, scribes and Pharisees, hypocrites! for you tithe mint and dill and cummin, and have neglected the weightier matters of the law, justice and mercy and faith; these you ought to have done, without neglecting the others.
*
Ecclesiastes 7:20 Surely there is not a righteous man on earth who does good and never sins.

*

Proverbs 20:9 Who can say, "I have made my heart clean; I am pure from my sin"?
*
*
Jeremiah 1:5 "Before I formed you in the womb I knew you, and before you were born I consecrated you; I appointed you a prophet to the nations."

*

Luke 1:15 for he will be great before the Lord, . . . and he will be filled with the Holy Spirit, even from his mother's womb.
Job is described by God as follows:
Job 1:8 And the LORD said to Satan, "Have you considered my servant Job, that there is none like him on the earth, a blameless and upright man, who fears God and turns away from evil?" (cf. 1:1; 2:3)
*
*
The great Baptist Greek scholar A. T. Robertson exhibits a Protestant perspective, but is objective and fair-minded, in commenting on this verse as follows:
In this fashion, the sinlessness of Mary is proven from biblical principles and doctrines accepted by every orthodox Protestant. Certainly all mainstream Christians agree that grace is required both for salvation and to overcome sin. So in a sense my argument is only one of degree, deduced (almost by common sense, I would say) from notions that all Christians hold in common.
*
*
*
*
1 John 1:8 If we say we have no sin, we deceive ourselves, and the truth is not in us.
1 John 1:6 If we say we have fellowship with him while we walk in darkness, we lie and do not live according to the truth;

*

1 John 2:1, 3-6 My little children, I am writing this to you so that you may not sin; but if any one does sin, we have an advocate with the Father, Jesus Christ the righteous; . . . [3] And by this we may be sure that we know him, if we keep his commandments. [4] He who says "I know him" but disobeys his commandments is a liar, and the truth is not in him; [5] but whoever keeps his word, in him truly love for God is perfected. By this we may be sure that we are in him: [6] he who says he abides in him ought to walk in the same way in which he walked.

*

1 John 2:29 If you know that he is righteous, you may be sure that every one who does right is born of him.

*

1 John 3:3-10 And every one who thus hopes in him purifies himself as he is pure. [4] Every one who commits sin is guilty of lawlessness; sin is lawlessness. [5] You know that he appeared to take away sins, and in him there is no sin. [6] No one who abides in him sins; no one who sins has either seen him or known him. [7] Little children, let no one deceive you. He who does right is righteous, as he is righteous. [8] He who commits sin is of the devil; for the devil has sinned from the beginning. The reason the Son of God appeared was to destroy the works of the devil. [9] No one born of God commits sin; for God's nature abides in him, and he cannot sin because he is born of God. [10] By this it may be seen who are the children of God, and who are the children of the devil: whoever does not do right is not of God, nor he who does not love his brother.

*

1 John 3:17-19, 22-24 But if any one has the world's goods and sees his brother in need, yet closes his heart against him, how does God's love abide in him? [18] Little children, let us not love in word or speech but in deed and in truth. [19] By this we shall know that we are of the truth, and reassure our hearts before him . . . [22] and we receive from him whatever we ask, because we keep his commandments and do what pleases him. [23] And this is his commandment, that we should believe in the name of his Son Jesus Christ and love one another, just as he has commanded us. [24] All who keep his commandments abide in him, and he in them. And by this we know that he abides in us, by the Spirit which he has given us.

*

1 John 4:8 He who does not love does not know God; for God is love.

*

1 John 4:20 If any one says, "I love God," and hates his brother, he is a liar; for he who does not love his brother whom he has seen, cannot love God whom he has not seen.

*

1 John 5:16-18 If any one sees his brother committing what is not a mortal sin, he will ask, and God will give him life for those whose sin is not mortal. There is sin which is mortal; I do not say that one is to pray for that. [17] All wrongdoing is sin, but there is sin which is not mortal. [18] We know that any one born of God does not sin, but He who was born of God keeps him, and the evil one does not touch him.
Francisco then addresses the extensive argumentation I made from James 2:10 ("For whoever keeps the whole law but fails in one point has become guilty of all of it"). I wrote:
*
*
*
*
*
*
*
*
*
*
*
*
*
*
*
*
*
*
We move on, then, to the issue of whether the Bible teaches the notion of both mortal and venial sins. I first cited the "classic" Catholic prooftext of 1 John 5:16-17. Francisco made his reply:
*
*
*
*
*
*
*
I think the interpretation of Pope St. John Paul II is more plausible:
Obviously, the concept of

death

here is a spiritual death. It is a question of the loss of the true life or 'eternal life', which for John is knowledge of the Father and the Son (cf. Jn 17:3), and communion and intimacy with them. In that passage the sin

that leads to death

seems to be the denial of the Son (cf. 1 Jn 2:22), or the worship of false gods (cf. 1 Jn 5:21). At any rate, by this distinction of concepts John seems to wish to emphasize the incalculable seriousness of what constitutes the very essence of sin, namely the rejection of God. This is manifested above all in

apostasy

and

idolatry:

repudiating faith in revealed truth and making certain created realities equal to God, raising them to the status of idols and false gods (cf. 1 Jn 5:16–21). (

Reconciliation and Penance

, 2 December 1984, 17)
All pretty much agree on the unpardonable sin. But there are also sins that exclude one from heaven (the same as spiritual death or damnation). I've listed the passages that denote this sins twice. Here they are again: (1 Cor 6:9-10; Gal 5:19-21; Eph 5:5; Rev 21:27; 22:15). Now that the point is belabored, I will list all of those sins individually, in the order of the books they appear in, but without repetition (I'll indicate multiple mentions with a number):
"no . . . [list] has any inheritance in the kingdom of Christ and of God . . . because of these things that the wrath of God comes upon the sons of disobedience" (Eph 5:5-6)

"shall [not] enter [heaven]" (Rev 21:27)

"Outside are . . . [list]" (Rev 22:15)
*
The sin he committed was objectively blasphemous, but not subjectively so; therefore he was not as culpable for it, since he acted in ignorance, and (as we see) obtained "mercy."
*
*
Matthew 12:34 You brood of vipers! how can you speak good, when you are evil? For out of the abundance of the heart the mouth speaks. (cf. Lk 6:45)

*

Luke 12:48 But he who did not know, and did what deserved a beating, shall receive a light beating. . . .
*
*
*
*
*
*
I think I made additional clarifications, as asked. I hope they are considered satisfactory. I obviously think they are.
***