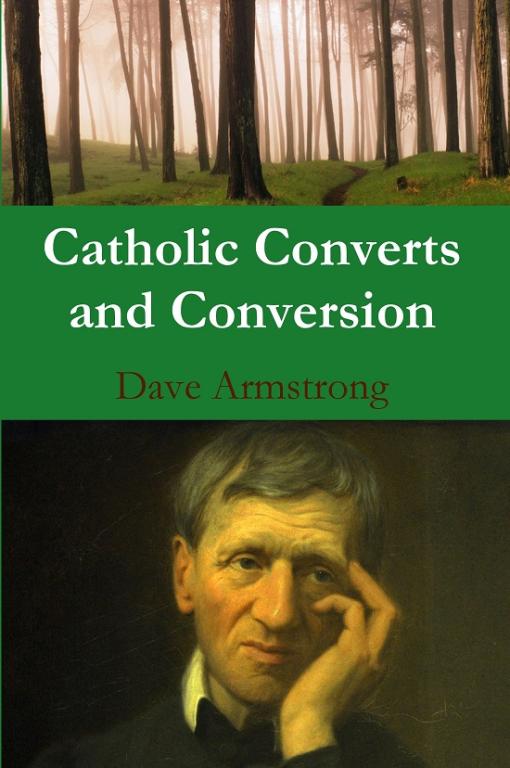 [published in 2013]
[see full book and purchase information]
*****
INDIVIDUAL CONVERSIONS
G. K. Chesterton's Conversion to Catholicism (In Brief) [1991; published by The Coming Home Newsletter, Sep. / Oct. 1996]
Ronald Knox's Conversion to Catholicism (In Brief) [1991; published by The Coming Home Newsletter Jan/ / Feb. 1997]
Malcolm Muggeridge & His Conversion to Catholicism [1991; published by The Coming Home Newsletter, March / April 1997]
Why I Returned to the Catholic Church; Including a Searching Examination of Various Flaws and Errors in the Protestant Worldview and Approach to Christian Living (Al Kresta) [transcript of his talk in my home, 26 April 1992]
Absurd Anti-Newman Rhetoric in Anti-Catholic Polemics [3-19-02 and 9-27-05]
On Irrational Hostility to Conversion Stories (Esp. Scott Hahn's) [3-3-06]
James White's Lies Re the Return of Francis Beckwith to the Church [5-6-07]
Fifteen Conversion Stories (in my book, Catholic Converts and Conversion: 2013)
Cardinal Newman's Conversion Odyssey, in His Own Words (September 1839 to December 1845) [3-19-15] [see also the Spanish version (shorter version) ]
Cardinal Newman on Catholic Conversion & Converts (Especially His Own & that of Anglicans Who Become Catholics) [May 2015]
Malcolm Muggeridge: The Iconoclast (Old Links Page) [4-18-16]
Blessed John Henry Cardinal Newman: "Father" of Vatican II (Old Links Page) [4-18-16]
G. K. Chesterton: The "Colossal Genius" (Old Links Page) [4-18-16]
Malcolm Muggeridge & Mother Teresa: A Blessed, Fruitful Meeting [9-6-16]
The Holy Collaboration of Mother Teresa and Malcom Muggeridge [National Catholic Register, 6-20-18]
Cardinal Newman's Conversion Agonies: Jan. 1842 to Feb. 1844 [10-10-19]
My First Book, by God's Grace, Helped Someone Come Into the Church (Coming Home Network Testimony) [Facebook, 9-14-20]
MY METHODIST AND PAGAN YEARS / EVANGELICAL CONVERSION (1977)
My "Romantic / Imaginative" Conversion to Christianity [1997; rev. 9-19-03 and 9-23-15]
Gratefulness for My Evangelical Protestant Background [3-18-08]
My Two Conversions: Interview with Spanish Journalist Itxu Díaz [3-31-11]
My Nature-Mystic, Occultic, Practical Atheist  Period (1967-1977) [7-27-11]
Dialogue with a Friendly Atheist #1: My Pagan / Occultic Period (+ Circumstances and Factors Regarding my Evangelical Conversion in 1977 at Age 18 and Catholic Conversion at Age 32) [8-3-17]
[see also the earlier portions of my ten-part conversion story in the next section below]
MY CATHOLIC CONVERSION (1990)
My Odyssey from Evangelicalism to Catholicism [9 December 1990 / revised: July 1992 / expanded: 1993. My draft of what was later somewhat edited and included in Patrick Madrid's 1994 runaway bestseller book, Surprised by Truth] [see also the Spanish version]
150 Reasons Why I am a Catholic [1992; revised 9-28-05] [see also the Spanish version (1992 original) and Portugese version]
How Newman Convinced Me to Become a Catholic [1996; published in Latin Mass Magazine and Coming Home Newsletter] [see also the Spanish version and Portugese version]
My Catholic Conversion (Radio Interview with Al Kresta) (free download of the audio also available) [9-8-97]
Radio Interview: My Conversion Story,  with Al Kresta, Kresta in the Afternoon [4-30-02; free download]
Radio Interview: My conversion story, with Steve Wood, of Faith and Family Live [7-10-03; free download]
Epistemology of My Catholic Conversion + My (Protestant) Letter to Karl Keating in 1990 / How I Became an Apologist [4-25-04]
White's & Hays' Anti-Catholic Analyses of My Catholic Conversion [Dec. 2004; added dialogue from 2-21-17; additional citations added on 2-24-18]
My Catholic Conversion in a Nutshell [5-1-06]
My Conversion: Not Due to Hostility to Evangelicalism [9-9-06]
My Supposed "Hybrid" Post-Conversion Faith [9-19-06]
Flawed Conversion Blurb & James White's Personal Insults [9-7-07]
Am I a "Protestantizing" Catholic (Formerly "Catholicizing" Protestant)? [7-24-08]
My Earliest Catholic Apologetics (1990-1995) [1-5-11]
My Two Conversions: Interview with Spanish Journalist Itxu Díaz [3-31-11]
My Conversion to Catholicism: "Five Minute Version" [1-17-13]
My Conversion: Apathy, Occult, Evangelicalism, & Catholicism (Ten Parts) [2013]:
Part One: Nominal Methodism, Occult, and the Seeds of a Serious Christian Commitment (1958 – early 1970s)
Part Two: Nature Mysticism, Romanticism, Bible Movies, and the "Great Depression" (1968-1977)
Part Three: Evangelical "Born-Again" (?) Experience, More Lukewarmness, and Personal Revival (1977-1982)
Part Four: Apologetics, Abundant Evangelical Blessings, and Protestant Evangelistic Campus Ministry (1983-1989)
Part Five: Collapse of My Protestant Ministry: Disillusionment and the End of One Chapter of My Life, But with Faith Intact (1985-1989)
Part Six: Pro-Life Rescue Movement, Letter to Karl Keating, My Ecumenical Gatherings, & the First "Domino": Contraception (1988-1990)
Part Seven: Ecclesiology (the Church), the "Protestant Myth" of Church History, and My Vehement Opposition to Catholic Infallibility (1990)
Part Eight: Bombshell and Paradigm Shift: Blessed John Henry Cardinal Newman's Essay on the Development of Christian Doctrine (1990)
Part Nine: The Slow But Inevitable Paradigm Shift, Fr. John A. Hardon, and Another View of the "Reformation" (1990)
Part Ten: Thomas Howard & Liturgy, My New Catholic Apologetics Career, and the Long-Awaited Fulfillment of My Calling (1990-1991)
Radio Interview: My conversion story,  with Al Kresta, Kresta in the Afternoon [4-14-14; free download]
Why This "Jesus Freak" Became a Catholic [published at Catholic365 on 22 March 2015]
Here's What I Discovered That Made Me Become Catholic [National Catholic Register, 9-29-16]
Dialogue with a Friendly Atheist #1: My Pagan / Occultic Period (+ Circumstances and Factors Regarding my Evangelical Conversion in 1977 at Age 18 and Catholic Conversion at Age 32) [8-3-17]
Todd Baker's Exodus from Rome (Attack on My Conversion) [4-24-18]
30-Year Anniversary of the Beginning of My Conversion Odyssey to Catholicism [Facebook, 2-8-20]
*
GENERAL OBSERVATIONS AND INFORMATION
Catholic Conversion: Classic Analyses (Chesterton, Belloc, Pelikan) [1991]
Catholic Conversion: Random Thoughts & Reflections [5-13-03]
Catholic Converts' Qualms: Mariology, Formal Worship, Etc. [2-11-04]
Conversion to Catholicism: Reflections on its Complexity [9-7-05]
Catholic Fundamentalism & "Insufficiently Converted Catholics" [2-21-06]
Potential Catholic Converts: My "Hands Off" Approach [7-1-06]
Christianity & Judaism, Messianic Jews, & Jewish Converts [12-4-07]
Vatican II on Effectively Sharing the Fullness of Catholic Faith [2-18-08]
Difficulty of Catholic-Protestant Marriage: Some Thoughts [5-7-08; rev. 4-25-18]
"Official" Catholic Use of "Convert" to Describe New Catholics [4-6-09]
Augustine's Confessions: Model for Conversion Stories [6-10-09]
Dialogue: Do Vatican II & Ecumenism Discourage Converts? [Sep. 2009]
"Why Convince Protestants to Become Catholics?" [4-30-15]
Cardinal Newman on Catholic Conversion & Converts (Especially His Own & that of Anglicans Who Become Catholics) [May 2015]
Should Catholics Try to Persuade Protestants? [5-25-16]
Catholic Ecumenism + Apologetics (James Swan's Cluelessness) [11-18-17]
Why Not Become a Protestant, Due to the Sex Scandals? [3-7-19]
Ironclad Rule #13 in Anti-Apologetics Rhetoric: "If such a screed goes on for more than ten seconds, the statistical probability of a disparaging remark about Scott Hahn approaches one." / Cyclical History of Interest in Catholic Conversion Stories [Facebook, 7-1-19]
Fruit: 156 Reasons Why Catholic Apologetics is a Good Thing (Documented Conversions or Reversions in Part Due to My Work: Completely Caused by God's Grace) [7-3-19]
*
C. S LEWIS AND CATHOLICISM
C. S. Lewis' Views on Christian Unity & Ecumenism [6-16-03]
C. S. Lewis' Childhood in Belfast & Contra-Catholicism (Biographers and/or Friends Kreeft, Pearce, Derrick, and Possibly Tolkien Think This is Why Lewis Never Became a Catholic) [6-26-12]
Why Didn't C. S. Lewis Become a Catholic? [8-29-14]
Dialogue on Why C. S. Lewis Didn't "Pope" [9-1-15]
C. S. Lewis vs. St. Paul on Future Binding Church Authority [National Catholic Register, 1-22-17]
Why C. S. Lewis Never Became a Catholic [National Catholic Register, 3-5-17]
C. S. Lewis on Catholicism (Correspondence: 1934-1947) [9-13-19]
*
PROTESTANT ANALYSES OF CATHOLIC CONVERSION (AND MY COUNTER-REPLIES)
Latest Anti-Catholic Theory on Catholic Converts: Filthy Lucre (Scott Hahn and Steve Ray Supposedly Were Motivated Primarily or Solely by Financial Gain, to Become Catholics?) [7-15-04; rev. 1-27-17]
Is Conversion to Catholicism Mainly Emotional or "Doctrinal"? [9-11-04]
Catholic Conversion: Some Silly Protestant "Analyses" [3-6-04, 3-30-04, and 9-26-05]
My Conversion: Not Due to Hostility to Evangelicalism [9-9-06]
James White's Top Ten Questions for "Romanist" Converts Answered [9-4-07]
Am I a "Protestantizing" Catholic (Formerly "Catholicizing" Protestant)? [7-24-08]
Todd Baker's Exodus from Rome (Attack on My Conversion) [4-24-18]
Why Not Become a Protestant, Due to the Sex Scandals? [3-7-19]
James Swan Foolishly Attacks Catholic Conversion Stories [11-25-19]
*****
Last updated on 19 November 2020.
*****